Any serious gamer needs a microphone that's of the highest quality. This is especially important if you plan to stream your gaming simultaneously on Twitch or YouTube or another streaming service. Some awesome microphones on the market will offer you professional sound quality so that you can be heard perfectly clearly by your fellow gamers or the people watching your streams.
You want your mic to offer great sound and offer a durable construction so that it continues to work for a long time. Value-for-money has to be considered too. Fortunately, some of the best mics are also affordable, so there's no need to break the bank to get exceptional quality.
To make sure that you purchase the very best microphone for gaming, then consider this list of our top seven on the market, as well as the buying guide that follows it, which will inform you of all the best features to look out for so that you invest your money wisely.
View The Best Gaming Microphones Below
This USB microphone is one of the best for gamers who wants an external microphone that offers professional sounding audio for an affordable price. It features a simple plug-and-play setup, so you just need to plug it into your laptop or desktop via the USB port, and then you're ready to go. The key to this mic's quality is the quality of sound that it offers.
The frequency response that it delivers is between 50Hz and 16kHz, so that means that your voice sounds warm, rich, and well-rounded when you speak through it. You also don't need to worry about annoying external noises ruining your audio.
The omnidirectional polar pattern is complemented by noise-canceling technology so that the main sound source is the only one that will be picked up. This also means that you don't need the mic to be held up close to your mouth, allowing you to focus entirely on gaming.
Pros:
+ Professional Sound Quality
+ Plug-And-Play
+ Smooth Frequency Response
+ Noise Cancelation
+ Affordable Price
Why We Liked It - This microphone for gaming delivers quality across the board. Still, its greatest feature is the smooth, flat frequency response it delivers, which gives you professional-sounding audio quality, all for an affordable price.
EQ and compression - It's easy to get over-excited when gaming, and that can be a nightmare for anyone whose headphones you're screaming down. Use some compressing to tighten up your dynamic range without squashing your voice. Add some low and high-frequency boosts with EQ to get that broadcast depth and shimmer in your voice.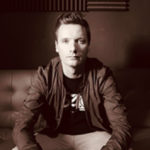 2. HyperX QuadCast Gaming Microphone
Gamers love HyperX. And this microphone is built with the same attention to detail that gamers adore about all of HyperX's products. As it is a condenser microphone, it offers exceptional sound quality, making it a good choice for gamers or streamers. And it's built with user-friendliness in mind. Gamers can choose from four different polar patterns.
Cardioid, bidirectional, omnidirectional, and stereo are the four choices. Another handy feature is the mute button on the top of the gaming mic, which you can tap to silence yourself easily and quickly. This microphone comes with a very high-grade, shock mount mic stand too, which ensures that there are no issues with vibration ruining your voice while you're using the microphone. Other handy features include adjusting gain directly on the mic itself and the in-built pop filter.
Pros:
+ Built-In Pop Filter
+ Exceptional HyperX Quality
+ Mute Button
+ Four Polar Patters
+ Gain Adjustment
Why We Liked It - This is a premium, high-quality microphone. Gaming enthusiasts will love the sound quality, durability, and wealth of features that it offers and the reliability that gamers come to expect from HyperX.
3. TONOR USB Microphone for Game
This is one of the best budget USB microphones for gaming sets on the market. For an affordable price, you get a high-quality cardioid condenser microphone, a USB A-to-B cable, a sturdy, all-metal boom mic stand, and an excellent pop filter. As it's a plug-and-play system, then the microphone just needs to be plugged into your laptop, and it's ready to go.
When it's plugged in, then it offers a wide frequency response of 20Hz to 20kHz. It includes anti-noise technology, which means that there's no need to worry about external noises or echo harming your audio. And it also has a volume control on the actual mic to change the gain level and get optimum audio reproduction for your voice.
Pros:
+ Wide Frequency Response
+ Large, 16mm Diaphragm
+ Adjustable Volume on Microphone
+ Includes All Essential Accessories
+ Plug-And-Play
Why We Liked It - This is a good gaming mic package that's available for a very reasonable price. It offers some of the best audio available in the budget price range. And the fact that it comes with all the accessories you may require is another big plus.
Using a boom arm - If you are a gamer of any experience level, you will know that things don't always go to plan. Everyone suffers from those moments when you want to smash the keyboard or toss the controller. Using a boom arm not only makes it easy to get a great position but also keeps your microphone out of harm's way if things go wrong.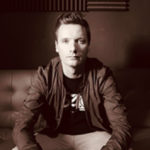 4. MAONO AU-A04 USB Microphone for Gaming
This another gaming microphone that's up there with the best of them. It's a condenser mic with a 16mm diaphragm that contributes to a frequency range of 30Hz to 16kHz. The sound chipset inside it is a high-quality component that delivers a sampling rate of 192kHz or 24 bits. This all means that the mic offers you great audio quality similar to what you hear from professional streamers.
So if you want to sound like your favorite Twitch or YouTube streamer, this may be the best microphone set for you, especially when the low price is considered. It connects to your laptop or desktop via USB 2.0. And this microphone also comes with lots of handy extras, such as a durable boom arm, a pop filter, and a foam windscreen.
Pros:
+ Superb Sound Quality
+ Low Price
+ 192kHz/24bit Sampling Rate
+ Includes Useful Accessories
+ High Sensitivity
Why We Liked It - It delivers lots of great features, such as the professional sound chipset, all for a very reasonable price, making it one of the best USB microphones for gaming on the market.
5. SUDOTACK USB Streaming Podcast PC Microphone
This microphone for gaming features a cardioid polar pattern and a 16mm condenser diaphragm, which combine perfectly to deliver audio quality that sounds great. The frequency response is 30Hz to 16kHz, and that is ideal for the human voice. As it is a cardioid condenser microphone, it's designed to pick up audio just from the front of the mic, so there's no need to worry about external noises hampering your sound.
It also comes with lots of other useful accessories to further enhance the quality of audio that you can capture when using this microphone. These accessories include an anti-wind foam cap, a pop filter, and a shock mount. It also comes with some handy extras to ensure you have a professional setup, like a table clamp and a great mic stand.
Pros:
+ Good Price
+ Includes Lots of Accessories
+ Excellent Sound
+ Cardioid Polar Pattern
+ 16mm Condenser Diaphragm
Why We Liked It - This mic is proof that the best gaming microphones can be bought for a very low price. It offers good sound, includes lots of accessories, and it's built to last too.
6. Blue Snowball iCE Recording and Streaming Mic
Blue microphones have an excellent reputation. Perhaps the most famous of all Blue microphones is the Blue Yeti, which is commonly used by podcasters and broadcasters worldwide. And, of course, that means that the Blue Yeti is an expensive microphone. The Snowball iCE is one of the cheaper Blue microphones on the market.
Unlike the Blue Yeti, which has four polar patterns (cardioid, bidirectional, omnidirectional, and stereo), the Snowball iCE has just a cardioid polar pattern, which is why it's cheaper. But it still offers the same exceptional sound quality that you'd get from a Blue Yeti. To use it, you just need to plug it into your computer via the USB port. And it also comes with an adjustably, high-quality mic stand.
Pros:
+ Quality You'd Expect From Blue Microphones
+ Cardioid Pattern
+ Exceptional Quality of Sound
+ Includes Mic Stand
+ Plug-And-Play
Why We Liked It - If you want a great gaming microphone that offers a quality of sound compared with the Blue Yeti without having to spend the money that a Blue Yeti costs, this is the best mic for you.
7. Klim Gaming USB Desk Microphone
Sometimes the best microphones for gaming are simple, offering you great sound, easy connectivity, all for a low price tag, which is exactly what this gaming mic does. Despite the low price, it is still a very robust, durable gaming microphone that is constructed from thermoplastic (also known as ABS).
It's one of the few microphones that you'll find that looks great, too, as it has a very colorful design, and it can be purchased in a range of colors. There's also a backlit base, which can complement your gaming headphones too. The neck is adjustable so that you can find a good position when you use it.
It offers easy connectivity too, as it has a USB connection. Another handy extra in this microphone for gaming's favor is that it comes with a booklet that gives you all the tips you might want to get the most out of it to get optimum audio quality.
Pros:
+ Very Cheap
+ Durable
+ USB
+ Colorful Design
+ LED Backlights
Why We Liked It - It could easily be the best budget microphone for gaming on the market. There are few microphones like this one in the budget category, as it offers great sound, a durable construction, and colorful design.
Gaming Microphones Buyers Guide
To ensure that you purchase the best mic for your needs, then you want to choose a microphone that includes all the important features that you will require. In this buying guide, we'll look at all those top features, as well as explain what they are exactly. At the end of the guide, you should be able to choose a great gaming microphone that ticks all your boxes.
Polar Pattern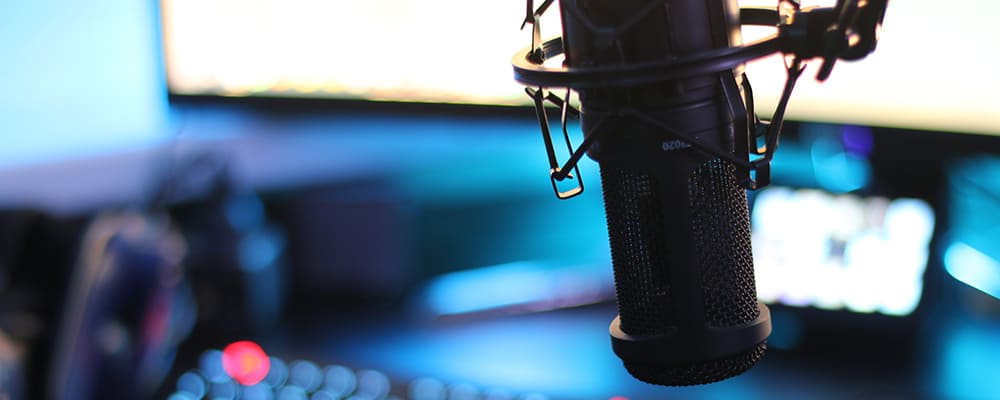 The first feature of a gaming mic to look out for is the polar pattern. Some of the best mics will include several polar patterns. Cardioid, bidirectional, omnidirectional, and stereo are the four most common polar patterns that you'll find on a gaming mic.
The polar pattern is the direction in which the microphone is sensitive to picking up sound. Of course, this is important for gamers as you will want to choose a microphone that will pick up your voice in the direction you intend to speak into it.
Some polar patterns are more sensitive from a distance, but they may pick up external noises because of the increased sensitivity to picking up noises from more than one direction. Each polar pattern type is better suited to different types of vocals too. Let's have a look at those four most common polar patterns, cardioid, bidirectional, omnidirectional, and stereo.
A cardioid polar pattern is most sensitive at the microphone's top, rather than at the back or sides. This means that it is an omnidirectional microphone, picking up sound in just one direction. It is an extremely sensitive form of a microphone, but it is only sensitive in that one direction, which means that when you use it, you need to ensure that your mouth is always placed in the optimum position or it won't pick up good sound.
A bidirectional polar pattern is as the name suggests, it is sensitive in two different directions. This type of microphone pattern is sometimes referred to as a Figure 8 polar pattern. These mics don't pick up any sound coming from either side of the microphone, just the front and the rear. It achieves a stereo sound.
An omnidirectional polar pattern is sensitive to sounds coming in all directions. This has a big benefit in terms of low frequencies, giving a very bassy quality to your voice, but the downside is that it is prone to picking up lots of external noises, and this type of mic is only good for gaming in a very quiet environment.
Stereo is just as the name suggests. It's similar to the bidirectional polar pattern, just with some minor differences.
Diaphragm
The diaphragm is an essential component of a condenser microphone. It's key to look out for mics with larger diaphragms that will increase the frequency response they offer. It's always important to check that the frequency range that the diaphragm offers is wide and flat. You don't want it to be so wide that it will pick up sounds that aren't vocals, though.
Connectivity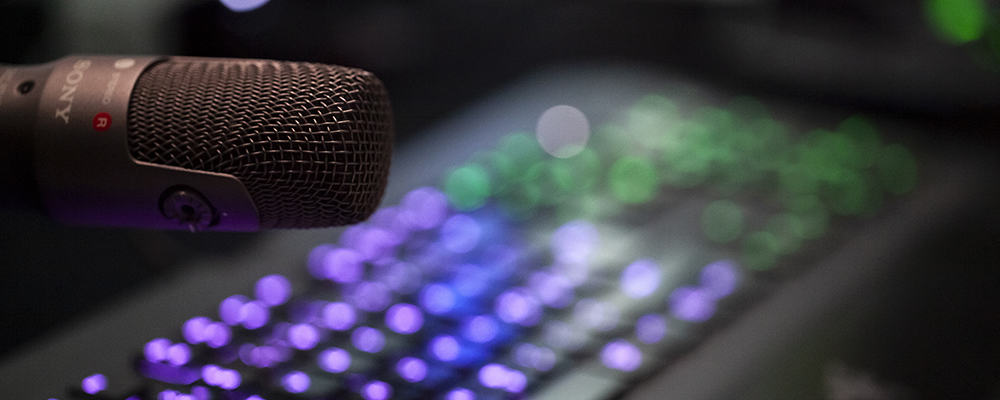 When it comes to modern gaming mics, you'll find that USB is the most common way of connecting them to laptops or computers. In the past, low-quality microphones would plug into the 3 5mm headphone jack at your computer's front. But this doesn't allow for good enough data transfer and would mean that the chipset in the microphone would have to be of lower quality.
You don't want to use a microphone that plugs into the 3 5mm headphone jack. Your best option is a USB mic. Gaming enthusiasts tend to use this type of mic above all else. That doesn't mean that some won't offer you the option to plug it into the headphone jack. But always go for a microphone that can be connected via USB.
It's also important to check that your computer's audio interface is compatible with the microphone. These days, if you have a modern laptop or computer, then the audio interface should be up to scratch. Still, if you're using an older laptop or computer, you may be best just checking that your desired microphone is compatible with your computer before investing your money.
Accessories
The best microphones for gaming tend to come with lots of accessories to get the very best quality out of them.
Some of the best accessories to look out for are:
A pop filter will ensure that those harsh consonant sounds or plosives won't sound too poppy when you're speaking into the mic.
A shock-resistant stand can ensure that vibrations or knocking of the table that the stand is mounted on won't harm the quality of audio that the microphone is capturing.
A windshield is also handy. Although, in most cases, you'll be gaming in a room that shouldn't be windy, so it isn't necessary, but it can also help if you tend to exhale loudly, especially if you're prone to doing this when you're disappointed with how something has gone in the game.
A boom arm is another handy feature. This will allow you to move the microphone close to your mouth and move it away, and just to adjust the location of the mic with great ease.
Adjustability
When it comes to the microphone itself, then some microphones offer better adjustability than others. For example, you'll find gain control on many mics. This will allow you to control the volume of your voice. It works like the headphone volume control on your headset.
And just like the headphone volume, all you do is simply use a slider or press up and down so that you can alter the gain on the microphone and get the best level for your voice while gaming.
Another handy feature that a lot of gamers and streamers like is a mute button. You may want to mute your voice when you're midway through gaming, and being able to tap a button is much easier than needing to pause the recording or do something on your actual computer.
There are many times when this can come in handy like when you receive a phone call, or someone knocks on your door, and you want to have a quick conversation without your fellow gamers or the people watching your stream hearing what you're saying.
What's the best mic for gaming?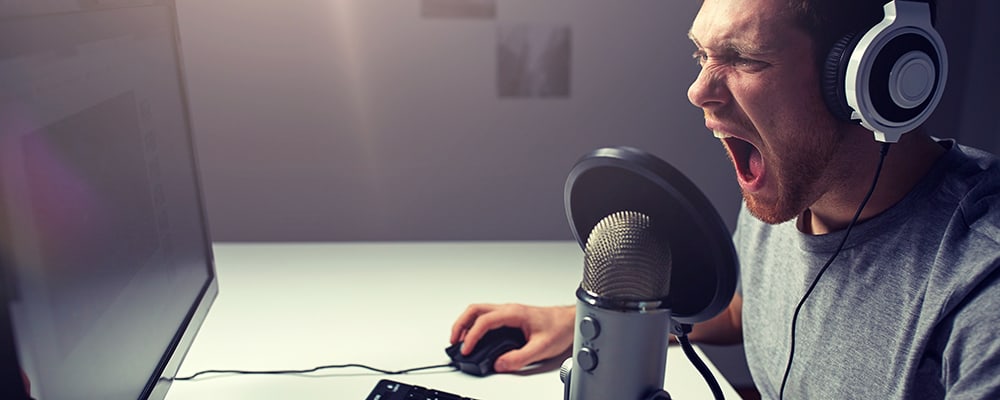 Gamers are always a hard-to-please bunch of people. Each has his or her own setup and will always argue that their microphone is simply the best. Objectively, though, you can't go wrong with any of the seven microphones on our list. Each offers exceptional sound quality. And they also come with lots of great accessories.
However, when it comes to the very best, we think that either the FIFINE USB mic or the HyperX QuadCast Gaming microphone is hard to beat. Some gamers will tell you that the Razer Seiren or the Zalman ZM-Mic1 are the best. They're much more expensive than our top choices, though, and we think that the HyperX QuadCast Gaming Microphone offers better sound quality than the Razer Seiren.
What mics do pro streamers use?
Each streamer is different. Some of the most popular gaming microphones that streamers use include the Razer Seiren microphone, the Blue Yeti, and the HyperX QuadCast Gaming Mic. These gaming mics offer great sound quality, a good construction, and will provide you with easy connectivity.
What microphones do YouTubers use?
YouTubers always want the best quality sound, but that doesn't mean that they all use the same microphones. Some like to have a lavalier mic attached to their lapel, while other YouTubers prefer to have a cardioid condenser microphone sat in front of them. Some of the most popular microphones with YouTubers include the Blue Yeti microphone, the Audio-Technica AT2035, and the Rode NT-USB.
But everyone is different. The common theme amongst all serious YouTubers is that their microphones are fit for a professional broadcast. Don't be distracted by who uses what when you're picking your next microphone. You want your mic to suit your voice and your needs. So, choose a microphone designed for your voice, how you like to talk into the microphone, and your price range.
There's no need to spend hundreds of dollars on a mic just because your favorite YouTuber uses it. Often, YouTubers will be sponsored by a company, so they will receive that microphone for free. You're better off looking for a microphone that offers the same sound quality for a much more reasonable price, and the microphones on our list certainly do that.
Expert Tip
It can be easy to be overwhelmed when looking at the lists of specs for dozens of microphones. But there's no need to spend so much time looking at the minor differences between each different mic.
If you're a gamer, you just need to focus on finding a microphone in your price range, which offers the best sound in that price range. You also want one that includes very useful features, such as anti-noise technology that can block out unwanted external sounds while speaking into the mic.
Did you know?
In 2019, the League of Legends tournament received a whopping 3.9m viewers for its semi-final round. That made it one of the most-watched E-Sports events of all time. No other event received such a large audience in the whole of 2019.
Conclusion
It always comes to small margins when you're gaming. You always want to have the edge over your competitors, and having the highest quality gear can provide you with that edge. Of course, a microphone might not make you a better gamer, but it can improve your communication, which is essential for team games.
A gaming mic isn't just good for communicating with your teammates or competitors, though. It can also be used when you stream your gaming exploits with other gamers or gaming enthusiasts via Twitch or YouTube or another streaming service. If that's what you're seeking a microphone for, then sound quality is certainly you're number one priority.
Ensure that you choose a microphone that features one of the major polar patterns that suit your speaking style and environment. You also want the microphone to come with lots of handy accessories, including a high-quality stand, a boom arm, and a pop filter, as these can also enhance the quality of sound.
Adjustability is always handy too. Being able to control the level of gain on the mic or mute it with a button press are both useful features. Remember, there are some excellent microphones available that can be bought for an affordable price, so don't spend extra if you don't need to.
If you've enjoyed this review by Music Critic, please leave a positive rating:
[vc_separator