If you want crisp, authentic vocals, then you need a large-diaphragm condenser mic. The outstanding original AKG C414 condenser mic shaped the recording industry, but the new C414 XLS has taken things one step further by including extra polarity patterns. It allows users to record with extreme transparency.
The C414 XLS is durably made with a high-end enclosure to house its FET circuitry and high linearity engineering. It has a good weight to it, with a quality you can feel. The internal components are surface mounted to help keep self-noise low. The grille is rugged and reinforced with a central band.
This condenser mic has a wide dynamic range (152 decibels) and a sensitivity of 20 mV/Pa that helps it to maintain a reliable, neutral sound. The inner workings borrow from the legendary C414 B-ULS that started the entire line of C414 mics.
The frequency range is pretty standard (20-20,000Hz), making it ideal for both the human voice and a variety of instruments. It features state-of-the-art technology that gives it its own identity.
The signal-to-noise ratio is professionally acceptable - 88 decibels with an equivalent noise level value of 6dB, without attenuation. It's omnidirectional, which isn't always a typical choice in the studio; most opt for cardioids. Yet, you can switch the pick-up patterns up, which is where things get interesting.
The previous models in the line had five patterns you could choose from, with an easy-access, robustly-made switch at the base of the microphone grille. There's a lock mode that ensures you can't switch accidentally during live use, so you don't have to worry about accidental reconfiguration.
The C414 XLS serves-up four additional modes, making a total of nine different polarities to explore. The original five are your standard omnidirectional, as well as three traditional cardioid settings; they are wide cardioid, cardioid, and hyper-cardioid, the final option being a figure of eight (a little more like a retro ribbon mic).
The additional four settings are a go-between mode that sits somewhere smack-bang in the middle of the modes either side of it - a sort of incremental stepping stone. It also has been calibrated with three bass cut filters with three attenuated slopes; 12 dB/octave at 40 Hz and 80 Hz and a 6 dB/octave at 160 Hz.
With the nine patterns on offer, you have flexibility like no other from the C4141 XLS. A green LED lights each setting when in use to help you keep a visual record of what you're doing. This LED will also turn red if it detects peak overloading for the polarity selection. This enables you to choose the right setting for your environment and sound source.
It can handle a range of sound pressure levels, with a max of up to 158 decibels. This lends it great versatility for a variety of instruments. It has a traditional, studio-quality three-pin XLR connection. Being a condenser mic, it will need 48volt phantom powering to run.
AKG provides a professional hard-carry case with padded insides to store the mic in. It also comes with an industry-ready spider mount that ensures it's suspended appropriately. No vibration interference is picked up from the mic stand.
Akg C414 Xls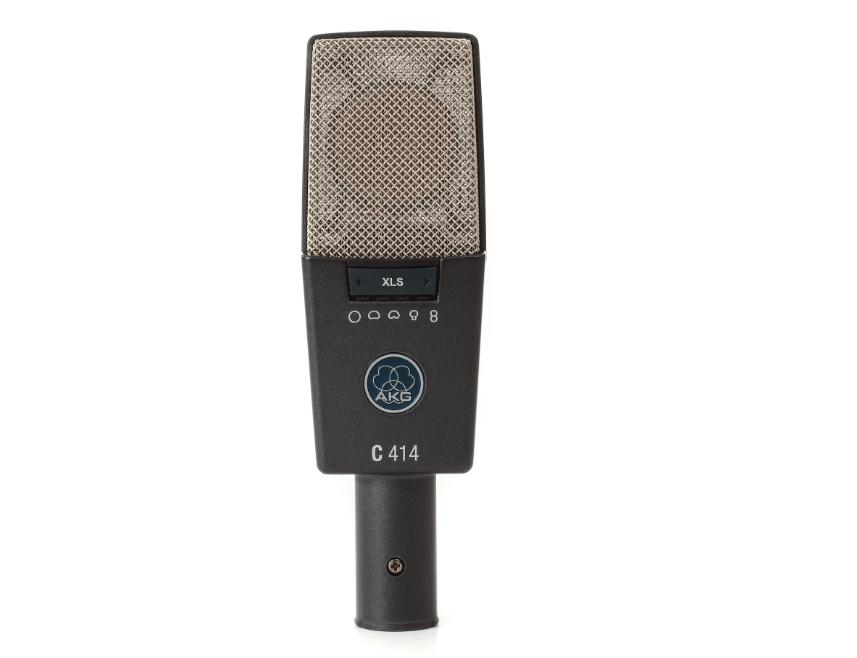 Summary
The C414 XLS builds from where the previous C414 left off. It offers four new intermediate polarity patterns between the original settings: omnidirectional, wide cardioid, cardioid, hyper-cardioid, and figure-eight.
The patterns can be locked to prevent accidentally changing it mid capture. The C414 XLS has very low-self noise and is highly sensitive. It can pick up sounds from a great distance and handles things up-close with a max SPL of 158 dB. It has been tuned with three bass cut filters and three pre-attenuated levels, ensuring you get an optimal transparent capture.
This condenser mic is extremely well engineered, with top of the range Field-Effect Transistors, and the circuitry is surface mounted to a high degree of quality control. It comes with sensible storage and a pro-level spider mount.
Pros
+ Large Diaphragm condenser mic.
+ High-quality components.
+ Rugged roadworthy build.
+ 9 polarity patterns to choose from.
+ Lock mode for securing settings.
+ 3 bass filters and attenuations.
+ signal to noise ratio of 88dB.
+ Max SPL of 158dB.
+ Impedance; <=200 ohms.
+ Quality case and mount.
Cons
- You will probably fall in love, which could end up a pretty expensive venture.
Why We Like It
This is an exemplary large-diaphragm mic featuring a solid build with a durable grille and top of the line circuitry. It has a superb response and provides a pristine capture. It presents nine different patterns and can do the job of three high-end mic types. The C414 XLS is highly versatile and strongly recommended.
If you liked the article, please leave your feedback.