The Shure SM58 is a cardioid, dynamic microphone that offers a frequency response of 50Hz to 15kHz. It has an output impedance of 150 ohms. It weighs approximately 0.66lbs. It is 6.3-inches long and is 2-inches wide. The Shure SM58 comes with a carry case and a stand adapter.
Our Review of the Shure SM58 Microphone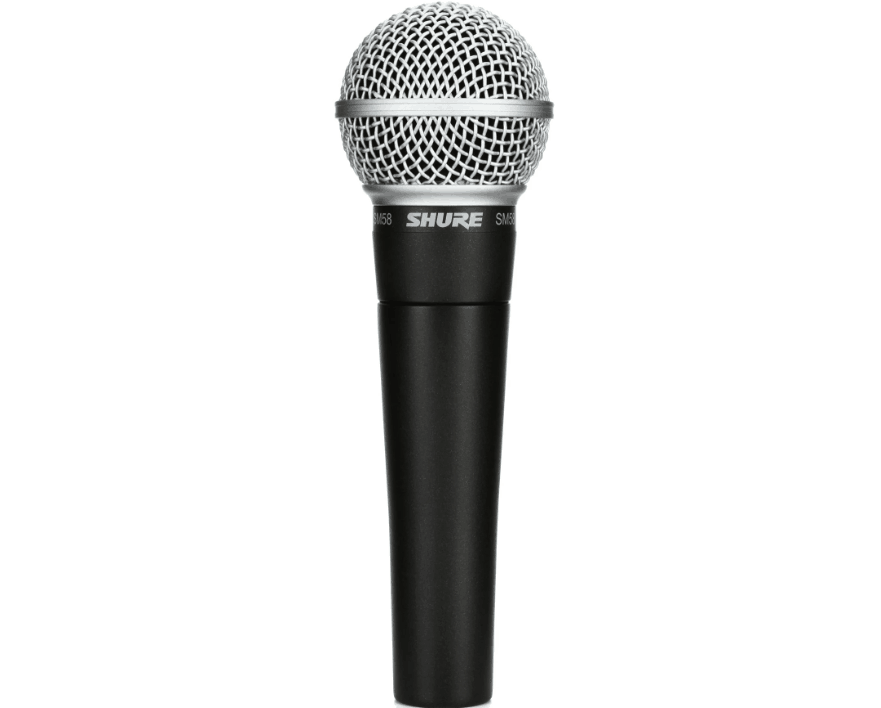 Summary
Shure is a vocalist's best friend. It is one of the most popular, well-respected manufacturers of microphones in the world. It has earned this reputation because it has been producing the world's best microphones ever since 1932. Shure has a wealth of experience that allows it to design incredible microphones that perform better than its competitors' efforts.
The Shure SM58 is a microphone that every singer and music producer knows. Why? Because it is almost every singer and music producer's favorite microphone. It is one of the best-selling microphones in the world.
First produced back in 1966, it still continues to have an outstanding reputation. The fact that Patti Smith, Henry Rollins, Paul McCartney, Alice Cooper, and Roger Daltry are just a few of its fans helps contribute to its position as one of the best microphones on the market.
Key to the Shure SM58's success as a live microphone is its durability. In fact, the Shure SM58 is more than durable. It is positively indestructible. Through the years, it has undergone many remarkable tests to prove this indestructibility. It has been frozen, submerged in Guinness, shot with a shotgun, run over by a bus, and cooked, and it still performed after each of these tests.
Incredible. It's no wonder why Henry Rollins loves it so much. Amazingly, the Shure SM58 can do more than just withstand an incredible amount of pressure and impact, but it also works perfectly in zero gravity, as exemplified in 2011, when it was used for an interview with astronauts inside the International Space Station.
Sound is key to any great microphone. The cardioid design ensures that there's no feedback when it's used on stage. It also has an in-built pop filter, allowing for smooth vocals without any of the horrible pops and plosives that you find when using a microphone with lower quality than the Shure SM58.
This microphone also features something called a "presence peak", which means that your vocals sound smooth, rich, and warm, rather than tinny or unbalanced as you find with worse mics. The Shure SM58 has also been tuned to provide you with wider frequency response. And it performs perfectly right across the frequency range, allowing for deep lows, clear mids, and well-represented highs.
Overall, the Shure SM58 is simply an outstanding microphone. It sells better than its competitors because it is better than them. It provides vocalists with outstanding sound quality, a consistent performance, as well as an indestructibleness than cannot be equaled. On top of all these benefits, it is an affordable microphone, that will pay off its investment before long, and last a lot longer afterward.
Pros
+ It is an indestructible microphone. There is almost nothing that can destroy it, as exemplified by the numerous crazy tests it has been put under, including being shot at and dropped from a helicopter.
+ The sound quality is outstanding. There is little chance of background noise, breath noise, or harsh plosives while you're singing. It represents a wide frequency response perfectly, performing just as well at the low end as the high. And the quality of voice that you get can easily be described as warm and rich.
+ Consistency is important for a microphone. Especially a microphone used for live performance. You want to be able to be sure that you can rely on your mic night after night, performance after performance, and the Shure SM58 is the most dependable microphone on the planet.
+ If it's good enough for Paul McCartney, Roger Daltrey, Henry Rollins, and Patti Smith then it's good enough for almost all other vocalists. It's the most popular microphone on the planet for a reason.
Cons
- It is generally meant to be used as a handheld microphone, which can be an issue for some vocalists. Then again, when you purchase the Shure SM58, it comes with a stand adapter, so that you can attach it to a mic stand, if that's you're a preference.
Why We Like It
The Shure SM58 is the world's bestselling live microphone. The reason why it is so popular – and has been popular ever since it was released in 1966 – is because it offers exceptional sound quality, a wide frequency response, consistency, and above all else, it is the most durable microphone imaginable. There is nothing you can do to break it. The Shure SM58 is a perfect choice for any vocalist who performs live.
If you liked the article, please leave your feedback.