The Shure SM7B is a microphone that uses a cardioid pattern. It offers a frequency response of 50 – 20,000 Hz. The Shure SM7B is renowned for its warm tone, making it perfect for close-proximity usage in the studio. It has also been designed to shield from all electromagnetic hum.
Shure SM7B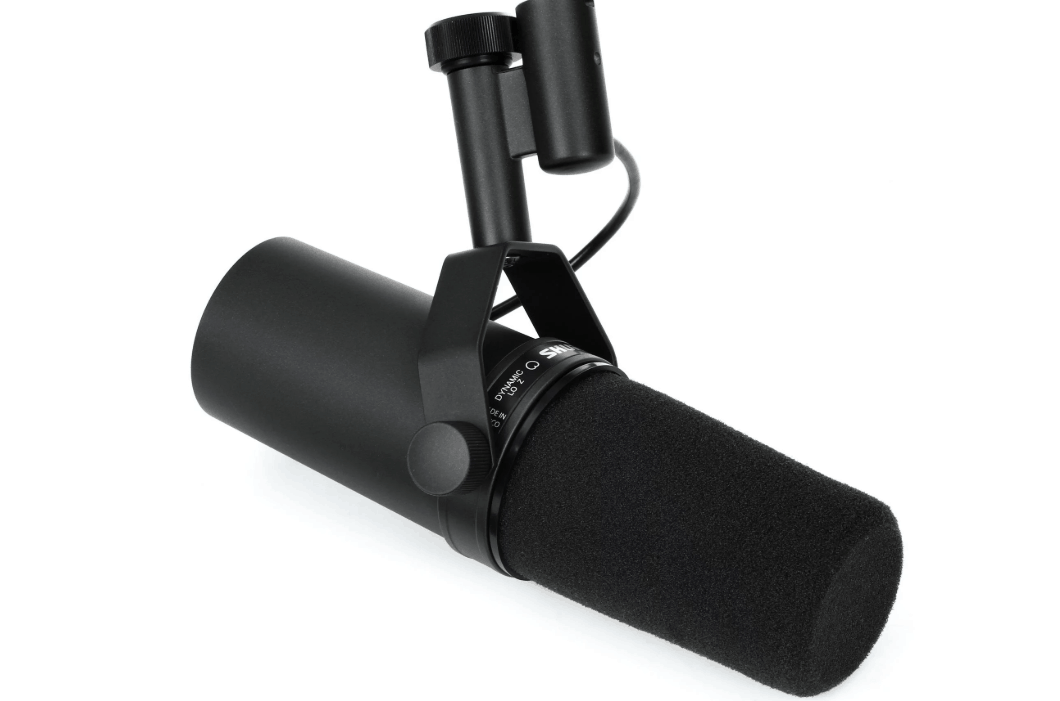 Summary
Shure has been manufacturing microphones since 1932. In the years since they put their very first wired microphone on the market, they have honed their craft and turned into one of the world's most famous and well-regarded microphone manufacturers. At the forefront of Shure's microphone collection is the Shure SM7B, an iconic microphone loved by everyone, from radio broadcasters to pop singers. It was a Shure SM7B that Michael Jackson used when he recorded his classic hit, "Thriller."
Why is the Shure SM7B so well-loved? There are many different reasons. But the one that is above all else is the flat, wide frequency response this microphone offers. It allows for a natural sound reproduction, which means that voices come through clean and clear – as well as warm and smooth – making it perfect for broadcasting or singing.
The frequency response is 50 – 20,000 Hz, which microphone enthusiasts will recognize as being a much bigger number than you'll find on microphones at a comparable price. Another thing that all users of the Shure SM7B note, is how effortless the low-end is. It's here that the microphone comes into its own, especially as the proximity effect is very predictable — an excellent combination.
Electromagnetic hum is the scourge of many music producers. This irritating, destructive sound is often present with low-quality microphones. It is especially common in the modern world because of the presence of broadband and computer monitors.
The Shure SM7B has optimized its shielding so that there's zero chance of any electromagnetic hum at all. And that's a promise this microphone keeps. The internal shock mounting also means that there's no mechanical noise transmission.
You don't need to worry about searching for a reliable, effective pop filter to attach to the Shure SM7B. That's because it comes with one of the finest pop filters around. It's highly effective, no matter how close you get to the microphone. It also comes with the A7WS external windscreen. This is another high-quality, premium component that further allows for close-talking into the microphone, without any plosive pops or hissing or lisping.
Connection for the microphone is the standard XLR. And the Shure SM7B also comes with two cases; an excellent case for the microphone and one for the windscreen.
The Shure SM7B has stood the test of time for a reason. It is one of the finest dynamic microphones that has ever been put onto the market. It comes with a hefty price tag, but you'll be handing over your dollars for quality. Professionals use this microphone in broadcast studios all around the world, and it's been used to record some of the bestselling pop songs in music history, including – of course – the inimitable Michael Jackson's Thriller.
Pros
+ The natural reproduction offered by the Shure SM7B is always consistent. It is one of the most reliable microphones in the world because of its ability to deliver crystal clear, well-balanced reproduction across a very wide frequency response.
+ It is a versatile microphone. The predictable proximity effect contributes enormously to this. That's why it can be used for broadcasting, as well as singing. It always offers professional sound quality that is utterly flawless, despite how loud and varied the vocals are.
+ There is no chance of any electromagnet hum when using the Shure SM7B. In the modern world, where computer monitors with broadband are present in almost all recording studios, there's a high risk of electromagnet hum. But the shielding that's incorporated into the microphone makes this irritating, unpleasant sound invisible.
+ The pop filter and windscreen that come with the Shure SM7B are both highly effective, meaning that there's no need to purchase external components – you can be certain that when you buy the Shure SM7B, you are getting a complete microphone package.
Cons
- It has to be said that the Shure SM7B is an expensive microphone. It's a question of priorities, though. If you want to invest in a professional microphone that is loved by singers, broadcasters, and audio engineers around the world, then it is the best choice.
Why We Like It
It is one of the most well-respected and best-loved microphones in the world. It offers exceptional sound quality across a wide frequency range. It's also versatile, meaning it can be used for both broadcastings and to record singing. Overall, the Shure SM7B is a flawless, faultless microphone that is well worth its price.
If you liked the article, please leave your feedback.