Whether you're pairing audio with a video recording or you want something for interviews, you'll need a top-notch recording system. Unfortunately, it's not always ideal to bring an entire kit with you. However, there are quite a few handheld recorders that allow you to get the best of both worlds wherever you go.
After looking through all sorts of recorders, we came across consistently positive reviews of the H4Npro Zoom H4N Pro Handy Recorder. This compact device is great if you need something that can record on the go. It's also the perfect size to carry with you at all times, just in case you might need it.
Zoom H4N Pro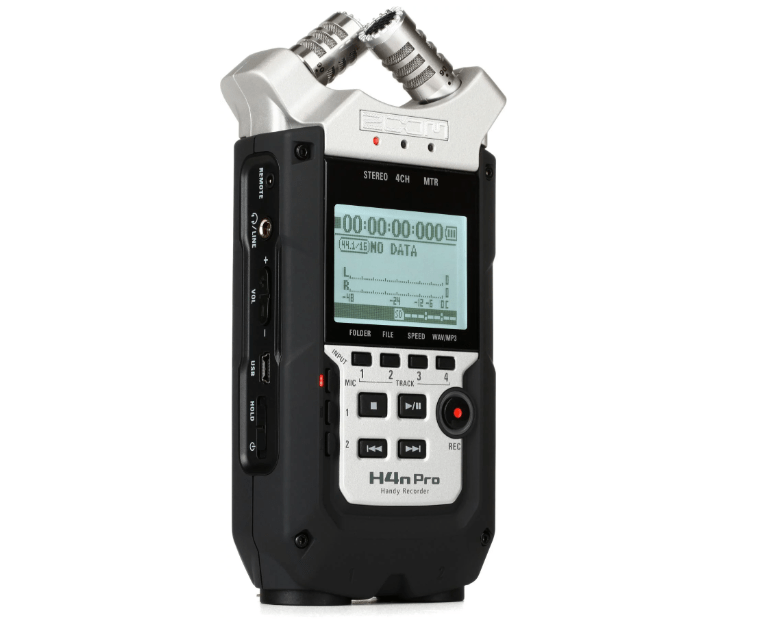 Summary
The H4N Pro Handy Recorder has dozens of great reviews from satisfied customers around the world. If you're trying to step your recording system up to the next level, then this is going to be your best bet. From the beginner-friendly interface to the pro-quality microphone, you might not find something better for the price.
It can be tough to know exactly what you're recording on most devices, but this recorder has an inline headphone jack. You'll no longer have to guess if you're close enough, or if you need to apply pop filters. It's all right there for you to hear. There's also a USB port right next to the jack for uploading your audio files.
Another impressive feature of the H4N recorder is the fact that it has 360-degree recording capabilities. The two angled microphones at the top allow you to record everything from all sides. This isn't limiting, like when you use a shotgun mic. You can also adjust the volume to get the perfect sound quality for the distance you're sitting at.
The simplistic interface is as easy as it gets. There's a bright red recording button, fast-forward and rewind buttons, a stop button, as well as a button to pause the recording. You can also cycle through folders, files, speeds, and formats of your choosing. All in all, it's a fantastic solution for on-the-go recording.
Pros
+ Made for people of all experience levels. There's nothing too complicated about the setup, but you won't be limited to the number of options at your disposal.
+ Being able to have 360-degree recording is as good as any recorder, regardless of the price. This handheld recorder has two mics, ensuring that you'll capture crisp, clear audio from start to finish.
+ If you're filming with a camera, you can use the inline jack to hook them up together. Rather than overlapping an audio file with a video, you can combine the two during the recording process.
+ Uploading and accessing your recordings is as easy as hooking it up to your laptop or a PC with the provided USB cable. It even has adapters for Mac computers.
Cons
- The battery life of this recorder stretches from 6 hours in normal mode to 10 hours in stamina mode. This is lower than a few other handheld recorders in the same price range, which can have up to 16 hours of battery life.
- There aren't any USB-C ports on this device. That may or may not be a con for you, depending on what type of equipment you're using
Why We Like It
We like the H4N Pro Handy Recorder because it's a great device for intermediate usage, and it doesn't have much of a learning curve. Upon immediate inspection, you'll be able to use it without too many problems. The fact that it has multiple ports to hook up various types of equipment makes this versatile recorder a top contender.
Another reason we liked it so much is the fact that it works as an audio interface for both Mac and PC software. While many other recorders on the market only function with one or the other, having something that works for both is ideal. You never know what type of equipment you'll be working with in the future.
The backlit LCD screen is a huge draw for potential buyers. Some recorders have digital screens without a backlight, which makes it hard to see in bright and low-light situations. The wide, 1.9" display is super easy to understand, thanks to the bold letters and numbers.
Finally, if you get the Zoom RC4, you can use this device with a remote.
Connect it to the top of your camera via the shoe mounts, and you'll be good to go. The simplicity and ease-of-use make the H4Npro Zoom H4N Pro Handy Recorder a fantastic choice for everyone. If you're in the market for a new recorder, then you should consider this diverse, well-equipped device as your next upgrade!
If you liked the article, please leave your feedback.