Everyone knows that large-diaphragm condensers do a superb job of capturing the subtler details in a recording. We have looked at several great options in the past and have sung the praises of AKG's Microphones highly.
While the majority of us prefer the C414 for vocal capture, the C214 from AKG holds equal much merit. The C414 is a long-standing condenser mic for singing, but the C214 is more of an all-rounder.
One of the biggest praises for the C214 is how it works in the guitar department. The C414 can be a little too sensitive and, therefore, temperamental when you try to 'mic-up' a cab. The C214 takes the edge with this task. It also provides a punchier sound, which makes it a great go-to if you want to mic-up your electric guitar. That isn't to say it should only be used for your ax; its vocal recording capabilities are a given.
This cardioid pick-up microphone is well designed. The retro shape gives it appealing aesthetics, and it's pretty durable for an affordable model, as well.
The construction is complete with an all-metal body that allows you to travel with it. The grille is double-meshed to keep it hardy. The die-cast body prevents interference from radio frequencies. It's also impact and scratch-resistant.
Originally, this model was designed as a cheaper version of the acclaimed C414 B-XLS. It's fair to say that it shares much of the same construction when it comes to the internal components. It houses the same one-inch, edge-terminated, dual-capsule as the single-diaphragm AKG C414.
It also has an excellent dynamic range of 143dB, which gives it an impressive transient response. These features lend it the same advantages as the more expensive microphone when it comes to the detail of the capture.
The self-noise is very low, as it needs to be with a larger diaphragm, and the headroom is very generous. It can handle higher sound pressure levels up to a maximum of 136. It also has a plus 20-decibel pad switch.
This lets you give it a little gain reduction where required, taking the SPL handling up to the 156dB mark, which is excellent for loud instruments such as drums. It also lets you relax if you have a particularly hot guitar or heavy effects in use.
This model also sports a bass roll-off switch to ensure you don't get any low-end rumbles, preventing background noise that might spoil your recording. The roll-off is attenuated at 160Hz, allowing you to mic a cab at closer proximity, or place it near to the floor without any vibrations transferred.
The frequency response range is 20-20000Hz. The curve is flattened from 60 to 1000Hz and dips a little between 1000 and 2500. From that region, it then lifts and curves higher. This gives the sound accurate low-ends and a better presence for your vocals, but, at the same time, stops guitars from being ear-splitting.
This microphone sells with a robust and road-worthy storage case to it keep protected. Along with the case, you also get a high quality H85 shock-mount and a W214 windscreen, adding extra value to its already affordable price-tag.
AKG's C214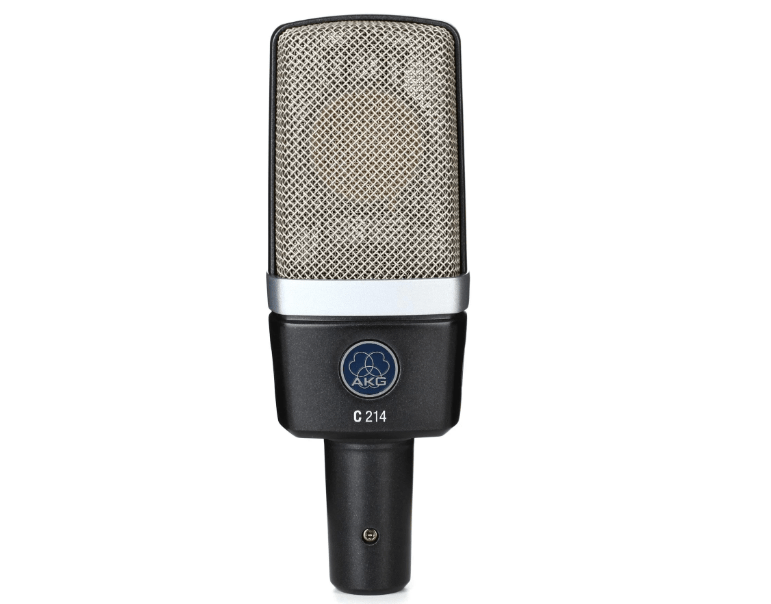 Summary
The AKG C214 is a solid choice for anyone whose budget won't stretch to an AKG C414. It's a lower-priced mic, but that doesn't lessen its abilities. In some applications, it may even be a little better than others, as we have highlighted.
This microphone is an excellent large condenser with a good frequency curve attenuation. The capsule is the same as that of the C414 model, which gives it a wide dynamic response and ensures it captures the finer nuances of a recording.
The C214 provides a 20-decibel filter pad along with a bass roll-off switch, making it very versatile. It has low self-noise and can handle high sound pressure levels.
The double mesh grille and impact-resistant metal body ensure that it's solidly-built to handle the knocks of life. If you're looking for a flexible studio condenser, then the C214 is a prime choice without a premium price.
Pros
+ Durably built.
+ Retro aesthetics.
+ Large diaphragm with good sensitivity.
+ High-end 1-inch capsule.
+ Impressive dynamic response.
+ Great transient response.
+ Low self-noise.
+ High SPL handling.
+ 20-decibel filter pad.
+ Bass Roll-off filter.
+ Punchy sound with great vocal presence.
+ Comes with a shock-mount, windscreen and protective storage case.
+ Affordably priced.
Cons
- The low-end frequency response curve flattening means you can't use it for bass guitar capture like you would use a guitar.
Why We Like It
Studio miking can end up an expensive venture, especially if you buy a mic for different processes and applications. The C214 from AKG is a great middle-ground mic that provides excellent versatility for a lower budget.
It features much of the same technology and components as more expensive models. It's also durably manufactured to make sure it lasts, and it comes with some great bonus accessories.
If you liked the article, please leave your feedback.