The Neumann U87 Ai is a cardioid, omnidirectional, and figure-8 studio microphone. It offers a rated impedance of 200 Ohms, as well as a rated load impedance of 1 Kohms. It weighs 500g, is 200mm in length, and 56mm in diameter. The Neumann U87 Ai microphone offers a frequency range of 20Hz to 20kHz.
Neumann U87 Ai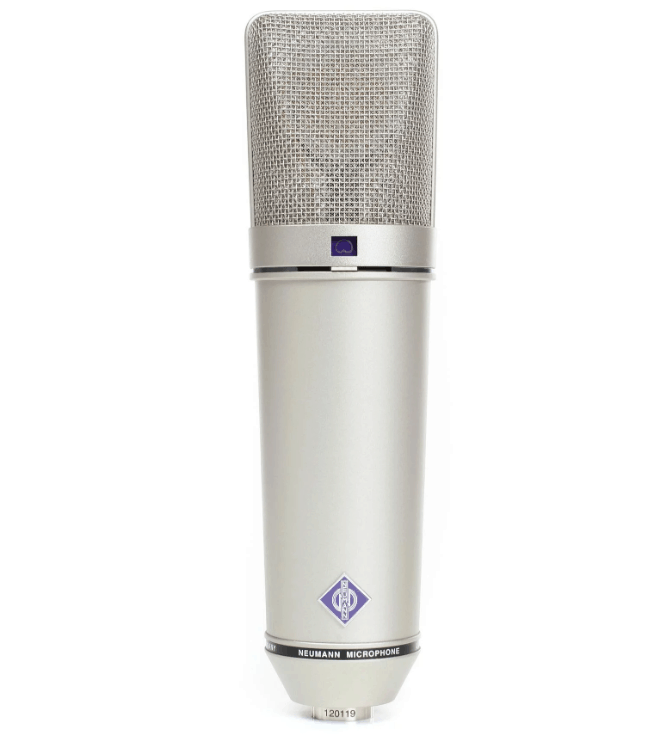 Summary
If you know anything about studio microphones, then you will have heard of the Neumann U87 Ai. The original Neumann U87 was released in 1967. It was available until 1986 when the Neumann U87 Ai replaced it. Even if you've never heard of either microphone, Neumann has been omnipresent in studios around the world. These models have been used on countless recordings, ranging from jazz to pop, as well as spoken word and broadcasts.
Why is it that audio engineers, musicians, and broadcasters all love the Neumann U87 Ai so much? There are many answers to this question, but let's begin with its versatility. As a studio microphone, it can be used for a wide range of purposes, with the spoken voice being as well-represented as a singing voice or that of an instrument.
The reason why it is so versatile is thanks to the three polar patterns (Omni, cardioid, and figure-8), as well as the pad and switchable low-cut options that give audio engineers a lot more choice over its usage.
Of course, with a microphone, the sound is the most important feature. And the great thing about the Neumann U87 Ai is how unique that sound is. Yes, it offers a flat on-axis frequency response, but the sound isn't characterless or bland. A Neumann U87 Ai has its own personality.
If you have a trained ear, then you'll immediately recognize that it's a Neumann U87 Ai you're listening to. That doesn't mean that the sound is altered in any negative way. A Neumann U87 Ai is free of distortion, and it reproduces the human voice perfectly clearly, perhaps more clearly than any other studio microphone, which is why it has such everlasting popularity.
Despite being a vocal microphone, the wide frequency response allows it to be used just as easily as a spot microphone. And when used as a spot microphone, it continues to offer a profound amount of versatility. In the past, it's been used for instruments as diverse as cellos, drum overheads, and everything in-between.
The final reason why audio engineers adore the Neumann U87 Ai so much is because of the assured quality that they know it offers. When you order a Neumann U87 Ai, you won't be sent a defective microphone that will cause you nothing but headaches. Each Neumann U87 Ai is made by technicians who take their craft seriously.
The microphone will have gone through a stringent testing process, so you can be confident that the one you have offers the same quality as all the other Neumann U87 Ais that have been used in studios worldwide over the last 50 years.
Pros
+ It's a very versatile studio microphone that can be used as a vocal microphone for both talking and singing, as well as a spot mic for almost all instruments. The three directional patterns that it offers are integral to this versatility.
+ The Neumann U87 Ai is a microphone that has character. Its distinctive voice is subtle, but at the same time, it is instantly recognizable.
+ It's a studio microphone that has a proven track record. Ever since 1967, the Neuman U87, and then the Neumann U87 Ai, have been used in professional recording and broadcasting studios around the world. The fact that it is still popular over 50 years after its original release is a testament to its quality.
+ The exceptional quality that a Neumann U87 Ai offers is down to the fact that it is handbuilt by experts, meaning that each Neumann U87 Ai is flawless.
Cons
- The only downside to the Neumann U87 Ai is the price. It is undoubtedly an expensive microphone. But you only need to buy it once. If you want the best studio microphone available, then it's worth the investment.
Why We Like It
The Neumann U87 Ai is quite simply the highest quality studio microphone on the market. It has 50 years of proven success, and it is still as loved by audio engineers as it was when Neumann released the original model in 1967. The key to its success is versatility and a unique sound, instantly recognizable to audiophiles who know about microphones.
If you liked the article, please leave your feedback.