If you are looking to take your acoustic instrument recording capabilities to the next level, then you might be surprised to learn that the technology required to do so lies within a much older piece of electronic equipment. Back before capacitor mics were invented, the entire professional industry relied on ribbon microphone technology, which reached the peak of its development in the late forties and fifties.
Royer, a Californian based company, decided to pick up where the abandoned technology left off, working to develop the functionality further with a modern edge and the benefits of current scientific knowledge at their fingertips.
Ribbon microphones, though a little old-fashioned, are used in many high-end studio set-ups and have been featured on countless infamous recordings. The Royer R 121 Ribbon mic is one of few microphones able to capture a wholesome, authentic reproduction of what our ears hear. The translation of live sound to captured content is very faithful to the original, sometimes eerily so.
It is very well-engineered and finely tuned with very low residual noise. In principle, the working design is conventional as far as ribbon mics go. All components are high-caliber and made from modern equivalent materials.
Due to its figure-of-eight design, the ribbon has a bi-polar pick-up polarity, meaning the sides are incredibly powerful at detecting changes and are equally powerful front and back. There is no chance of stray external field pick-up (again common with the original models) because the magnetic flux has been carefully controlled with a motor.
The ribbon itself is a thick aluminum piece, but unlike the ribbons of yesteryear, it sports two cutting-edge neodymium magnets as its pole pieces. This modern upgrade gives it a powerful boost in field-generation and, therefore, improves the response.
The ribbon design helps it to provide a better-flattened response than many dynamic mics and condensers. Having a flat frequency to begin with, means that it is more accurate to note the changes in its field with no coloration of its own 'enhancing' (or ruining) the capture.
It also features a transformer to keep track of impedance matching and voltage control for your output, which also helps to protect the mic if you accidentally feed it any phantom power from your desk.
The capsule itself is very durably made and has a good weight. The whole thing is only around an inch wide. Because ribbon mics are powerful at the sides, it is obviously a side-address capsule. Each side has 12 horizontal slots with a thin, but well-protected, grille. It has a studio-quality XLR connection, and the insides are padded with dense cotton to stop any rattling, which could impede the quality of the recording.
It boasts a 2-in-1 recording nature. This is because it captures front and back, effectively giving a sort of dual recording, one closer, and one more distant, giving tracks a warmer feel. Brass is exceptionally bright and smooth, but you can use it for the piano or drums, and just about everything in between. It can effectively handle very high SPL levels, so it is more than equipped for placing in front of a heavy gain, over-driven amp cab. The ribbon is replaceable and easy to change.
Royer R 121 Overview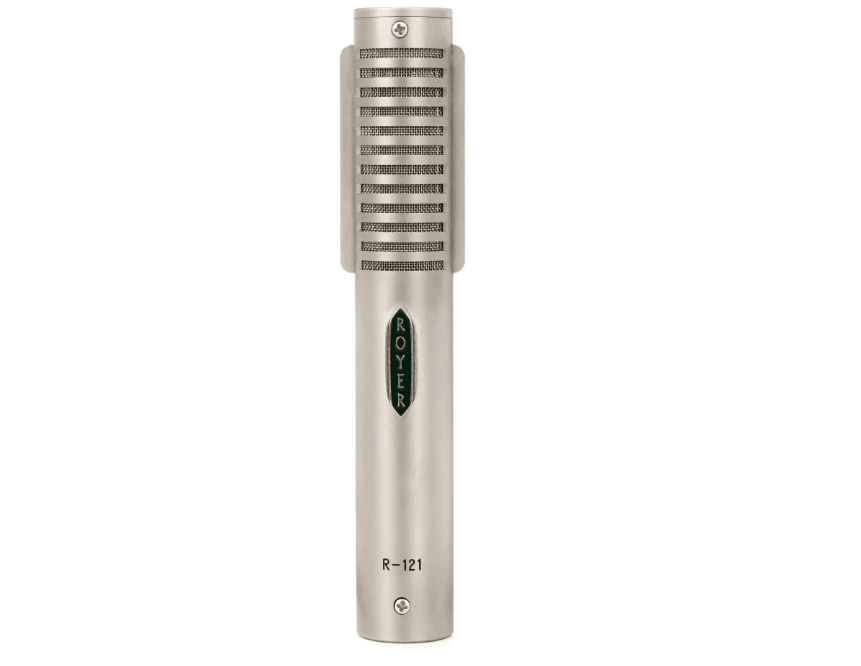 Regardless of its high price tag, this exemplary example of a modern ribbon microphone has tempted many, and they've never looked back. It is compatible with any current set-up, protected against accidental phantom powering and built to withstand high SPLs.
Versatile enough for any instrument, with a flattened tuning response that remains consistent from any distance and a replaceable ribbon. You can use it to capture anything with a life-like quality. The extra brightness of the backside capture gives your recordings a beautiful tonality. The high frequencies don't distort, and the lows are exceptionally rich.
It is expertly engineered, with modern components integrated into an older design and built to last. Royer has shaped the future of the industry by breathing new life into overlooked technology.
Pros
+ High-quality aluminum ribbon Mic.
+ Neodymium magnets.
+ Durable shell.
+ Side-address design.
+ Highly responsive.
+ Low residual noise.
+ Can cope with high SPL's.
+ Field replaceable ribbon.
Cons
- It is a costly recording route.
Why We Like It
It is an elegantly designed ribbon mic with top-notch components. We like that it is side-addressed, and the sophisticated SPL protection makes it a versatile little mic as well.
Although it has a price that might make you wince, you won't regret the addition to your studio. It can give recordings a fresh lease of life, capturing nuances you probably missed at the moment. It has an idyllic sensitivity to grab sound waves, without coloring your recordings with any unwanted background noise.
If you liked the article, please leave your feedback.