When Moog pitched their semi-modular Mother-32 synth model, naming it as the mother of all synthesizers, it seemed grandiose, but many quickly bowed down to its capabilities. So, with the arrival of the Grandmother synth, you may be asking yourselves how in the heck have they surpassed it?
While the majority of high-end Moog instruments and electronics are each equally as impressive and have their own place, the Grandmother puts a fair few together into a cohesive package. It makes for a fantastic analog hub for your musical needs. It's great fun to explore the possibilities with or without any real synth experience.
Rather than boasting any cutting edge digital features that give its competitors a real run for their money, it has stuck with an all-analog functionality and has gone to town, packing a huge range in.
As expected, the manufacturing quality is top-notch. The dials feel secure and all connections are professional studio quality. It weighs a hefty 7.25kg's and is built for a long-term investment.
In principle, you have a dual oscillator at your fingertips. There is a triangle, saw, and square and pulse wave-forms to choose between and you can adjust the pulse width modulation. The various stages of the synth are color-coded to help keep things easy to use. The mixer stage section allows you to add noise to your oscillation, giving it a retro analog vibe, creating those infamous Moog synth sounds.
It features a well-thought-out design that pairs a 32-note bed of keys with a vintage oscillator and patch-bay. The keys are produced by Italian based company Fatar, one of the leading brands in digital piano and keyboard manufacturers.
The mother-32 that came before it offered velocity sensitive buttons in the place of the keyboard. This is a welcomed step-up for any instrumentalists that prefer the tactility of a piano for production. The notes are velocity-sensitive and have a nice response, allowing for expressive play.
They are joined at the bottom half of this grand architecture by a pair of wheels for pitch bending and modulation. They are sprung and have good resistance to them; they don't feel like they're going to break on you. There are three transposition buttons in the same section - these are to shift the octaves.
There is also a glide dial that functions as a portamento. You can adjust the global settings to achieve six types of portamento by playing with the linear constant time and rate. The transpose buttons are highly-effective for additional control over the built-in arpeggiator functions and you can even transpose a sequence during playback, once it's recorded. You can store three monophonic sequences with up to 256 notes.
It has a high-pass filter as well as an attenuator with bipolarity. There is an LFO, as well as an ADSR envelope filter to give you a wide range of parameters and the sustain can be controlled with an independent fader.
To create a sequence you need to select the Rec mode and play the notes. You can add rests, ties and program accents as you go. Transitioning is easy - you can produce a nice legato and use the CV contour for emphasizing notes.
It comes with predestined pathways that allow you to play with it as a stand-alone device, or you can get creative and expand it with patch cables.
There are a total of 21 inputs and 16 outputs, along with a 4-jack passive multiplier. It's parallel wired to copy your signals. This makes it a versatile piece of kit, that will be easy to incorporate into a Eurorack or, indeed, any other rig.
Moog Grandmother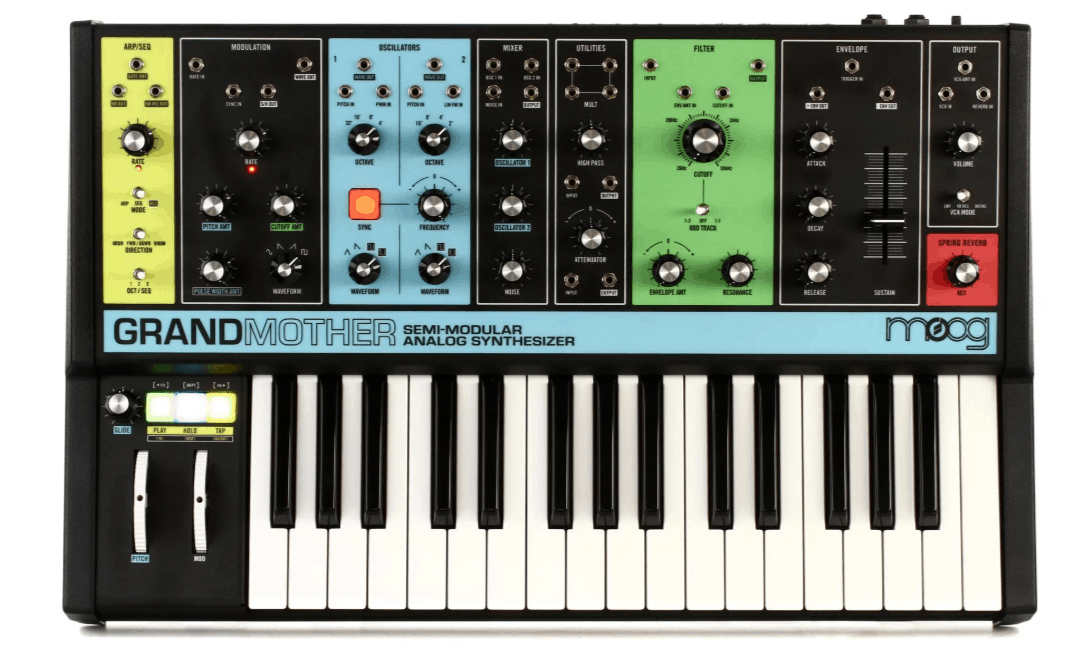 Summary
The Grandmother's Semi-Modular Analog Synth has a vintage buzzing character by the bagful. It's a durable investment that's far better than the lower end of the line, competing with Moog's high-end professional synths but priced comfortably below the thousand dollar glass ceiling. It has an authentic sixties Moog sound and the low end is impressively Phat.
It offers a high-quality Fatar key-bed and two analog oscillators with a range of wave-forms and a tonne of variables to adjust. It offers a dedicated portamento dial as well as a pitch bend and modulation wheel. It can be patched and extended for a versatile hook-up via its generous range of I/O options.
Pros
+ Dual oscillators with a range of wave-forms on offer.
+ 32 note professional key-bed.
+ LFO and High-pass filtering.
+ Pulse Width Modulation adjustment.
+ ASDR envelope filter.
+ Can be patched.
+ Versatile I/O.
+ Reasonably priced.
Cons
- Being all-analog, it may not provide the refined sound everyone is after.
- The attenuator high-pass and LFO are not voltage controlled.
Why We Like It
It's exceptionally well-made and provides a great central hub for any set-up. The oscillators are based on those featured in the MiniMoog. It also shares much of its filtering circuitry with the original 60s analog giants. It has a well-defined sound. We love the experimentation it presents for beginners and pros alike.
If you liked the article, please leave your feedback.