'The Minilogue 4' is an analog synthesizer that has some great features, putting it in league with the pro-level synths that arguably sell in a region that starts at almost double the asking price of this.
It is unsurprising when you consider Korg's analog heritage. Despite having followed in the footsteps of the rest of the industry, focusing on equipment aimed at digital music-making, the recent rekindling of analog synths has inspired some of the industry giants like ARP and Moog to pursue revamped reissues. It is only natural then, being a household brand in the world of vintage synths, that Korg revisits their roots.
Korg Minilogue 4 Voice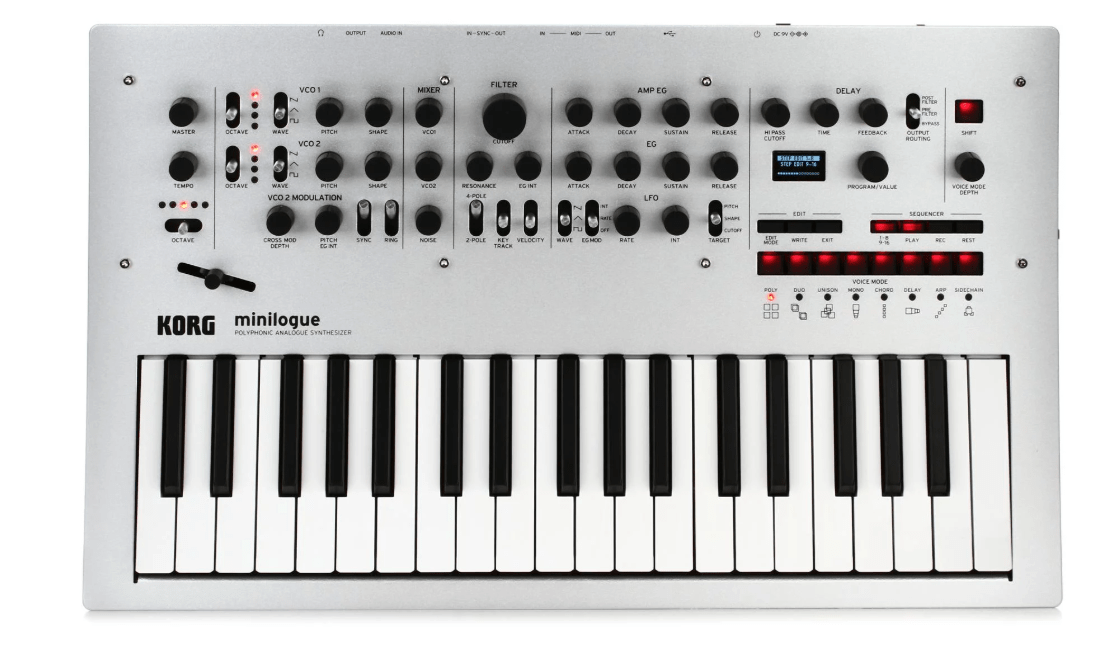 Summary
The Minilogue is a very comprehensive analog synthesizer with a built-in step sequencer. It has 100 presets and offers four voices, which is unheard of at this price level.
It is beautifully manufactured, offering two ASDR envelope generators and a great LFO. The sequencing is easy to get started, with automation that creates complex patterns in a facile manner. The filter has 2/4 pole functionality and can be key tracked or voltage controlled, which again is great flexibility.
It provides eight different voice modes and a 37 key piano bed. It has a good range of I/O and could be a great addition to your rig.
Pros
+ 37 keys.
+ 4 voices.
+ 8 modes.
+ 3 wave forms.
+ Great filter.
+ 100 presets.
+ 16-step sequencing.
Cons
- Not a lot to fault on this one, slim-keys might not be to everyone's preference.
Why We Like It
It is a solidly built analog synth that presents an armada of parameters at your fingertips. It is very flexible and comes packing 100 presets and eight different modes of function. The sequencer is idiot-proof, and the keys, although slim, get the job done.
Overview of the Minilogue by Korg
The Minilogue is a capable synth that has 4-note polyphony and serves-up two voltage-controlled oscillators, one voltage-controlled filter, two envelope generators, one VCA, and one LFO. It has a durable front panel formed from sand-blasted anodized silver aluminum to protect the lightweight plastic. The rear panel is made from an Asian hard-wood and houses the I/O connections. There is a ¼" input as well as a 1/8" sync along with a 1/4" output and 1/8" sync out to match. There is MIDI in/out and USB and a headphone auxiliary too.
It has a well-organized control panel. It sports 14 metal switches and 29 metal-shafted plastic dials with rubber-coatings that feel far from cheap. Starting from the left-hand side, you have a large main dial, a time dial, and octave switches for the key-bed.
Then you have a set of oscillator controls with an independent octave selection, three wave-forms to choose from, pitch and shape dials, and a subsection of modulation controls for your second VCO, including a ring and sync switch. Shape lets you play with the harmonics of the pitch.
Next up, you can control the mix of the oscillators and add noise. They have a well defined retro sound, with their authentic voltage-controlled oscillations. The filter bay has cut-off and resonance dials and switches, from 2-pole to 4-pole, and offers velocity and key tracking.
There are attack, decay, sustain, and release (ASDR) dials for the Amp EG and second EG, and the audio-rate-capable LFO has its own wave-form choices and switches for pitch, shape, and cut-off. You can also change the pulse width modulation, assignable EG, and add white noise.
The 37 slim keys are a good size as far as streamlined key-beds are concerned. They are modeled on the ARP Odyssey, but they have been upgraded to velocity-sensitive like the MS-20. Sadly it lacks its MIDI Aftertouch translation.
There is an OLED display screen and an integrated 16-step sequencer. You can create phrases in a step-by-step manner or record in real-time. You can also over-dub with the latter and use automation to create something far more rhythmically complex.
It has eight different voice modes to choose from; Poly is its default 4-voiced setting, which you will use for your standard melody lines. Duo mode is smack bang in the middle of the Poly and Unison mode and with good reason. It is, in essence, a combination of the two. It works as the name suggests, in a dual polyphony manner turning your four voices into a pair of double unison voices.
Unison is a straight-forward, powerful lead/pad setting with four oscillators. Mono mode is self-explanatory; in place of the multiple oscillators, you get a beefy sub-oscillator. Chord mode turns each note into a one-note chord trigger. You can program your own chord sequences with ease.
The next mode, Delay, triggers each voice one after the other, splitting the sounds for an echo effect, which can be adjusted and tweaked.
Arp mode gives you access to arpeggiator sequences, and Sidechain mode is another interesting multi-voice mode. It drops the background level as you bring in each new note, giving them the limelight at the forefront of your music. The extra presence they come in with is useful for emphasizing a softer patch.
If you liked the article, please leave your feedback.