Spectrasonics Keyscape Collector Keyboards is a virtual library of keyboard tones ranging from recognizable classics to mind-warping experimental. The collection is fully compatible with most major DAW's and is usable as a plugin.
It is a collection of some of the most unique and coveted keyboard sounds ever created by the original analog-style keyboards. You will even enjoy sounds from keyboards dating back over a hundred years ago.
Spectrasonic's STEAM engine is the power behind this extensive keyboard plugin. If you need a keyboard collection that will take your studio to the next level, Keyscape Collector Keyboards from Spectrasonic's may be exactly what you need.
Specifications:
• Wide range of keyboard sounds
• Compatible with most major DAW's
• Powered by Spectrasonics STEAM engine
• Easy to set-up
• 64-bit depth
• Flash drive plugin
• 500+ sounds
• 36 Instrument models
• Highly coveted keyboard sounds
Spectrasonics Keyscape Collector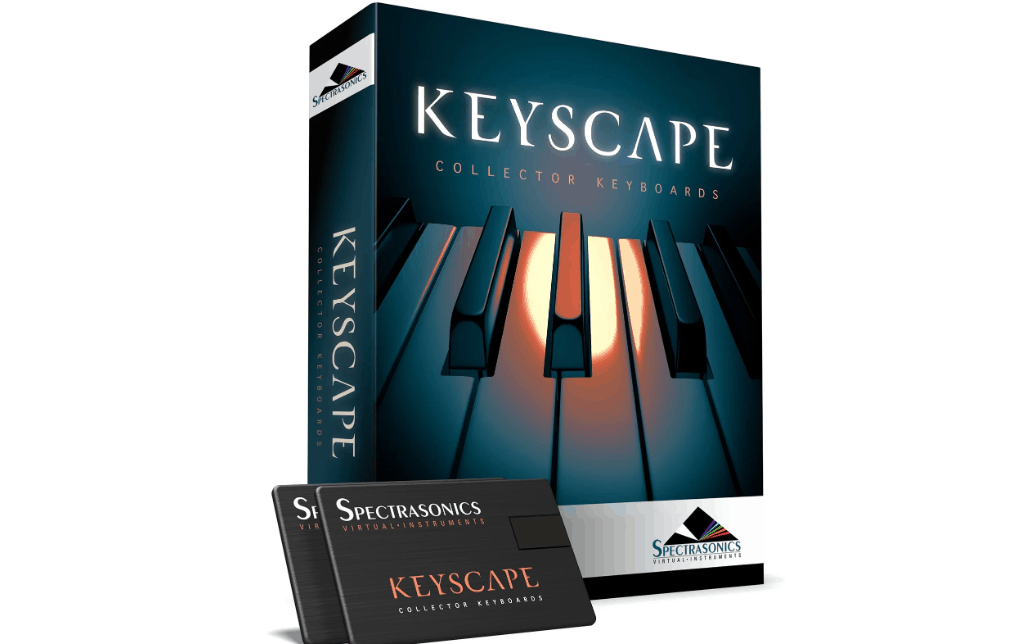 Summary
As far as a virtual keyboard library goes, Keyscape Collector Keyboards is one of the most extensive and exciting packages you will find. It contains over 500 plus keyboard sounds featuring some of the fest keyboard styles from across history.
Some of the keyboards included are LA Custom C7 Grand Piano, Wing Tack, Dolceola, Rhodes Piano Bass, Electric Harpsichord, and much much more.
Built-in to the programming is custom sound tweaking, which allows you to tweak the tones of your keyboards down to the most minute detail. Each patch within the collection has its customizable controls.
The interface is also incredibly easy to use. Everything is entirely user-friendly, easy to understand, and doesn't come with too much of a steep learning curve. That will make tweaking your sound and finding the perfect keyboard tone all the more fun and easy during a recording and mixing session.
One of the most exciting aspects of old keyboards, and instruments for that matter, are the imperfections and quirks that they were built with. Often, virtual collections will omit these imperfections, causing everything to have an incredibly polished finish.
One thing that Spectrasonic's has done is to leave the flaws intact, giving all of the keyboards a real-life feel. It will sound as though a piano or keyboard player of old is right there in your recording studio playing one of their original keyboards.
They have also included the behavior of old effects models and pedals. With mechanical, release noise, and pedal noise behaviors, it adds to the throwback feel and sound of all of these iconic and sought after keyboards.
With a 30GB Lite installation option, it is possible to download onto a live patch system. Whereas, if you're putting it straight into your DAW, it has a full installation package that contains 80GB. Good news for any live keyboard player.
You don't have to worry about compatibility as it has been designed to work with both PC, MAC, and all of the major DAW's. Also, it will work as a satellite instrument if you're a user of Omnisphere 2.
The fully boxed version ships with a credit card-sized flash drive for installation. It may take a little bit of time to integrate the entire library fully, so make sure you've got a little bit of time before the keyboard players show up.
There is a ton of care and attention to detail put into this collection, and it is sure to take care of every single one of your virtual keyboard needs.
Pros
+ Over 500 keyboard sounds
+ Compatible with all major DAW's
+ Imperfections modeled for complete authenticity
+ Highly coveted keyboard models
+ Easy to use interface
+ Customizing tone controls
Cons
- Won't make up for lousy keyboard playing
Why We Like It
A complete collection of some of the best keyboards and pianos ever manufactured is a fantastic plugin for any keyboardists looking to take their ton to the next level. The sheer number of options you have to choose from is the first significant tick in the pro column. With sounds such as Classic C7 Pianos and Rhodes in the mix, you really can't go wrong.
The customizing features give you total control over the tone of each and every keyboard. Also, one of the coolest things a virtual library can have is authentic sounding instruments. Having classic imperfections and character modeled genuinely gives the whole library an extra kick of interest. It is the next best thing to having the original keyboards right in your studio.
It is relatively affordable for the amount of quality you'll be able to suck out of this collection. It is also pretty simple and easy to set-up, and the interface is super user-friendly. If you need a fully integrated keyboard library for your studio, then the Spectrasonics Keyscape Collector Keyboards is an absolute must-have.
There are not many products out there that will give you the range and quality that this one will. Pick it up today, and you will have every keyboard plugin you'll ever need for the rest of your recording days.
If you liked the article, please leave your feedback.