To keep up with the times, the Korg MS-20 Mini is a smaller reissue of the original classic MS-20, designed to follow the latest technology trends. Electronics are always getting smaller, and with the popular rack-mounting systems for studio set-ups being limited, many older products are coming back sporting new streamlined physiques to compete.
The Korg MS-20 was a popular analog synth with excellent engineering that provided a patch bay and had internal and external processing, so it is no surprise the company has followed suit with this new edition.
It is beautifully built, with new dimensions that allow for better integration. It still retains all the fantastic attributes of the first-generation analog synthesizer, with a near-identical path-layout and components. It is a little overwhelming to look at if you are entirely new to synthesizers. Those with more experience will quickly find it is a regular dual-oscillator VCO/VCF/VCA mono-synth.
The size-reduction is around the 15% mark. The keyboard itself has been restricted to 3 octaves instead of 4, offering up 37 keys. The keys are slim, so they may throw a pianist off, but for synthesizing needs, they are perfectly serviceable. A synth with traditional keys is often more comfortable than a set with buttons in a key-beds place. They give a good visual and translate as an instrument, so if you are already musical, they are easy to start working with from the get-go.
At the electronic-core of the synth are two retro all-analog, monophonic oscillators that match the iconic full-size model. It also shares the filters and VCA with the original, meaning they also harbor the same noise reduction processing refinements that the MS-20 boasts.
The first has four waveforms: triangle, saw-tooth, variable-width pulse, and white noise. The second has a smaller footage range than the first and offers saw-tooth, square, a fixed pulse, and ring modulation.
You can select the shape of the wave and run it through the envelope generators. They have delayed and hold functions, and the filtering can be high-pass or low-pass adjusted. You can overdrive each of them, which will send them into self-oscillation. It has an EG1 trapezoidal contour generator and an EG2. The first has four stages: delay, attack, sustain and release. The second, EG2, is your typical ADSR, but it has a hold before the first step (attack).
Despite being a monophonic synth, the portamento controls are surprisingly smooth, making for fantastic transitions. You can hook-up external or MIDI instruments, and the MS-20's built-in ESO will use the pitch and the levels of the signal fed to it to control the synthesizer. This is a ton of fun and can create some exciting effects.
If you want to add any complexity to your generated sounds, then you are at the mercy of the miniature patch-bay. The controls are named with their predetermined routing source, clarified with the name of the path that it will override should you patch in at this point. This helps newbies navigate.
The output has been changed from a ¼ inch output to a 3.5mm jack, which we understand given the streamlining on their minds, but that could be irritating for some and require adapters. The only other real notable difference, aside from its smaller nature, is nit has been brought up to date with a USB connection for MIDI connectivity, so it can now be used with your DAWS directly.
Korg Ms-20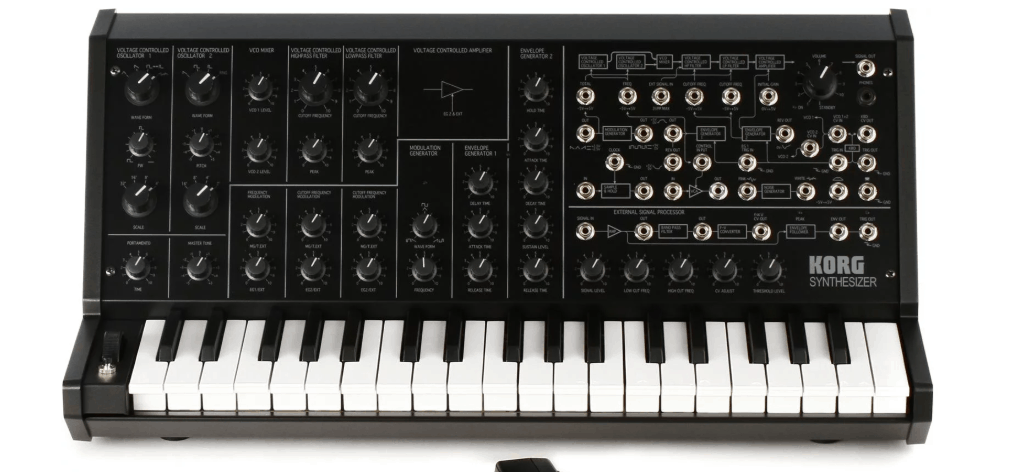 Summary
With 37 slim keys, two old school monophonic oscillators, a mini patch-bay, sophisticated signal processing, and a new USB connection on-board, the MS-20 Mini is the original bad-boy in a smaller package. It provides all the same features found in the first, at an attractive price, and it is now easier to integrate into your set-up.
It has external signal processing, offers excellent delays, and has high/low-pass filtering on-board. Being able to hook up further instruments presents a lot of possibilities, and the miniature patch-bay lets you expand upon your synth creativity.
Pros
+ 37 slim keys.
+ Dual monophonic oscillators.
+ Mini patch-bay.
+ Envelope filtering.
+ High and low pass filters.
+ External signal processing.
+ MIDI in, USB (MIDI) out.
Cons
- Smaller keyboards can be a nightmare, so we suspect some of you may hook up a full-size keyboard.
- 1/8inch jack output could be annoying.
Why We Like It
The original was a welcome addition in any studio set-up, and the remake is much better for the average home studio. It is in line with some of the newer analog-synths on the market but still has the vintage character of the first.
If you are looking for something clean and quiet, the Korg MS-20 Mini brings with it the phat 70's synth sound we all remember.
If you liked the article, please leave your feedback.