Below, we take a look at the Best Noise Gate Pedals. Finding the best noise gate pedal on the market should be of great importance for many guitarists. Yet, astonishingly, few people use them or even understand what they do. This review intends to shed some light on this lesser-known piece of gear.
Noise gate pedals cancel unwanted hiss, hum, and feedback. This is achieved by the elimination of audio signals when they drop below a certain pre-set level.
They're especially useful for people who play hard rock and metal, as they call for high amounts of gain. They're also good for those who use a lot of pedals and have a noisy signal path. Genres that require these high levels of overdrive and effects naturally produce more unwanted output, such as buzzing, humming, and string noise.
We've reviewed the best pedals available for guitar players on Amazon, and taken into account many factors, such as how effectively each product cuts noise, and how much they improve the sound quality.
At a glance:

Our top 3 picks
Our team's top 3 recommendations
Best Overall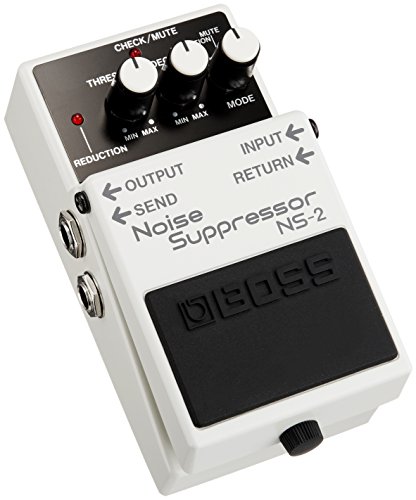 Boss NS-2 Noise Suppressor Pedal

Compact and highly robust design
Flawless cancellation ability
Threshold and Decay knobs
Premium Quality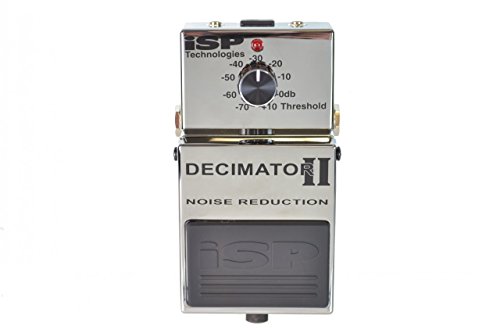 MXR M-135 Smart Gate Noise Gate Pedal with 4 Free Cables

Compact and highly robust design
Flawless cancellation ability
Threshold and Decay knobs
Great value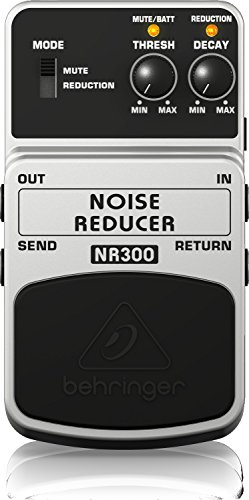 Behringer Noise Reducer Nr300 Ultimate Noise Reduction Effects Pedal

Compact and highly robust design
Flawless cancellation ability
Threshold and Decay knobs
Here is our Review of the Top 10 Best Noise Gate Pedals for 2023 :
1.    Boss NS-2 Noise Suppressor Pedal
Boss is a household name in the world of guitar pedals and the NS-2 Noise Suppressor shows why. It is a regular sight on many pro pedal boards and in typical Boss fashion it does exactly what it says on the tin.
Like all Boss pedals, it boasts a compact but highly robust look and feel. A solid metal casing with the signature Boss rubber strip on the stomp box means you can hit it as hard as you like every time and it will still come back for more.
It sports Threshold and Decay knobs which allow for a generous amount of elimination and tone shaping. One of the main concerns many guitarists have when it comes to using noise gate pedals is the reduction in clarity of their instrument however there is no evidence of that with this bit of kit.
Use this Boss noise gate as part of a large and varied board setup if you really want to see what it can do. The very impressive built-in loop means if you stack your noisiest boxes such as your gain and compressors (click for compression pedals) behind it in the chain and your time based effects after, such as delay, reverb and modulation etc the NS-2 will not detract from the time based effects whatsoever. For even more unique sound, try looking into flange effect pedals (click here for our review).
The NS-2 runs on a single 9V battery or an AC adapter power supply and as standard with all Boss pedals, it comes with a 5-year warranty. Also, there are 4 jack inputs on the pedal - input, output, send and return.
The Boss NS-2 is no frills and not at all glamorous, yet it is highly reliable and utterly essential. In typical Boss fashion these pedals will be a mainstay on your board for years to come, taking a hell of a beating along the way and still performing without a hitch.
Pros:
+ Compact and highly robust design
+ Flawless cancellation ability
+ Threshold and Decay knobs
Why We Liked It -  If you are looking for pedals that are unwavering reliable then this Boss noise suppressor is for you. Boss is synonymous with quality and 'bomb-proof' design and the NS-2 is no different.
Genre - If you're considering buying a noise gate pedal for your guitar, you'll want to confirm that your genre will benefit from the cleaner sound that a pedal will provide. If you play grunge, metal, hard rock, or other genres that benefit from guitar distortion, you won't get much out of a noise gate pedal.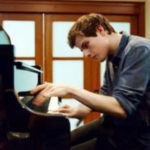 2.  MXR M-135 Smart Gate Noise Gate Pedal with 4 Free Cables
The MXR M-135 Smart Gate is a powerful and popular little stomp box with countless reviews. It has 3 different types of selection cancellation, something which makes it stand out from it's competitors. It has a lightning quick open time and introduces no extra distortion whatsoever.
These pedals have an impressive control knob that alters gate exposure and an LED indicator light to demonstrate the level of reduction. It also boasts an intelligent gating system meaning it will open slowly during sustained notes and quickly when playing speed is increased.
The 3 different kinds of noise elimination are a hiss, mid and full. They are controlled by the 3 band cut switch which allows you to select what particular frequency you wish to eliminate.
The M-135 has 2 jacks - input and output and comes in either stone grey or black. It is slightly smaller yet heavier than the Boss and is definitely capable of withstanding plenty of punishment. These pedals come with 4 free cables (leads) therefore it may be a good choice for less experienced guitarists or those who are looking to start building a pedalboard or expand on their existing setup.
The MXR sports 'Hardwire Bypass' which means that the audio signal is still traveling through some components of your pedals even when switched off. This is in contrast to what is known as 'True Bypass' where the audio signal is not affected at all. It can be powered by a single 9V battery or a Dunlop ecb-003 AC adapter.
Pros:
+ 3 position cut switch for selectable elimination
+ 4 free cables (leads)
+ Intelligent gating opens gate slowly during held notes and quickly during fast playing
Why We Liked It - All in all the MXR M-135 Smart Gate is an impressive bit of gear. The intelligent gating system is excellent and it does everything it claims it can. However at almost double the cost of the Boss it's a tough call.
3.  Behringer Noise Reducer Nr300 Ultimate Noise Reduction Effects Pedal
Behringer is another brand guitarists will be very familiar with. Known for producing a plethora of audio equipment across a wide range of different functionalities they are the world's 14th largest musical product manufacturer.
The Behringer Noise Reducer Nr300 has been on the market for quite some time now and is still a bestseller with an abundance of glowing reviews to back it up. It's an impressive product and is especially effective for guitarists seeking elimination of unwanted buzz produced via single coil pickups in particular.
The Nr300 is essentially 2 pedals in one with 2 distinct modes - Reduction mode and Mute mode. When in Reduction mode the functional knobs can be utilized to shape your tone in order to preserve the overall quality of your sound while simultaneously allowing you to alter the extent of cancellation. While in Mute mode the pedal essentially acts as a highly effective on/off switch for your guitar.
In terms of value for money, the Behringer is one of the best. This thing is as potent as the Boss NS-2 but for a third of the money. It also has a similar aesthetic design to the Boss however being made of hard plastic it does not boast the same aura of invincibility. That being said you are highly unlikely to damage it unless you are stomping seriously hard.
It sports 2 LED lighting displays, 1 to indicate activation and the other to demonstrate when noise suppression is taking place. The operation is about as simple as it gets and the knobs are easy to use. Like most pedals, the Nr300 can be powered by a single 9V battery or by a power supply in the form of a PSU-SB DC adaptor.
Pros:
+ 2 pedals in one with a Reduction Mode and a Mute mode for ultimate flexibility
+ One of the best electronic on/off switch functions of any pedal on the market
+ Unbeatable value for money
Why We Liked It - The Behringer Noise Reducer Nr300 is a top of the line product, just as good, if not better than many of it's competitors on the market that are listed at double the cost.
Frequency Reduction - If you want unfettered access to the higher-end frequencies of your guitar, you might run into problems with cheaper noise gate pedal models that have less flexible DB cutoffs. A noise gate pedal that cannot adjust the way in which it block certain DB thresholds might undesirably affect your tone.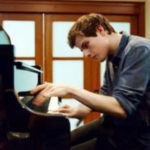 4.  Donner Noise Killer Guitar Noise Gate Suppressor Effect Pedal
The Donner Noise Killer is a classically designed product. Their skull branding is some of the best in the business and the pedal has been designed in the timeless mini-size for ultimate convenience and portability.
Like all good noise gate pedals, it is designed specifically for cancellation of unwanted input frequency while retaining high-quality output. The Noise Killer seems to be particularly effective at eliminating buzz. It is easy to operate and highly functional with an impressive Threshold knob allowing for tweaking of reduction levels between -70 to +10 DB.
The pedal can operate on 1 of 2 different modes - Hard mode and Soft mode. In Hard mode, cancellation will be powerful and incisive with a fast cut.  While in Soft mode the signal suppression will be less aggressive and slower.  Which mode you choose to operate these pedals in is in large part down to what music style you play.  Hard mode is recommended for guitarists of harder, faster genres while those who play slower paced music with more sustained notes should utilize the Soft mode.
The Noise Killer is a 'True Bypass' pedal.  This means when part of a larger setup or pedal board your output signal will not travel through any of its components while not in use, unlike that of 'Hardwire Bypass' pedals.
These pedals are made of strong aluminum-alloy boasting a tough and robust design. An LED light indicates activation and it runs on a 9V DC power supply.  It sports 2 jacks - input and output and is very competitively costed. This is a lot of pedal for a relatively small amount of cash.
Pros:
+ 2 distinct modes - Hard mode and Soft mode to accommodate all playing styles
+ True Bypass make it an excellent choice for use in large setups and pedalboards
+ Effective control from -70 to +10 DB
+ Classic mini-size
Why We Liked It - Overall this is a very impressive little pedal.  The mini-size and 'True Bypass" functionality make it a perfect choice for use in pedalboards.  A great 'set and forget' noise gate pedal that is a lot of bang for your buck.
5.  FOME JOYO JF-31 Electric Guitar Effect Pedal Noise Gate
Joyo are not a brand that can be called a household name by any means and it is likely that many guitarists have not heard much, if anything about them. However that does not hinder their ability to turn out some awesome gear. The JF-31 is testament to this, a great little stomp box with a bargain basement price tag.
Unlike the majority of other noise gate pedals, the JF-31 is designed specifically for use with guitar. The operation is simple but there is a slight learning curve with this pedal. Experimentation will be essential to achieving maximum elimination while still complimenting your sound due to the absence of a mode selector. This absence means that both hard and soft noise suppression is attainable but only through control of the Threshold.
Just like in the review for the Donner Noise Killer above the Joyo is a 'True Bypass' pedal guaranteeing the same high-quality tone when the pedal is switched off. An impressive feature for a product in this price range.
The JF-31 is particularly effective at eliminating buzz from single coil pickup guitars such as Telecasters and Strats. Also for guitarists who play live regularly, this may be an ideal choice for you as the pedal specializes in cutting hum and feedback, an issue most commonly encountered on stage during live performances when surrounded by myriad electrical equipment and audio frequencies.
An LED light indicates on/off and operates by way of just a single 9V battery or DC power supply. It has 2 jacks - input and output and sports a basic aesthetic design in grey. These pedals feel sturdy enough and should be able to take plenty of punishment but lack the robustness and professional finish of some of its competitors. Although to be fair to Joyo, considering the cost there is absolutely nothing to complain about, a very good piece of kit indeed.
Pros:
+ Designed just for guitar
+ 'True Bypass' for preservation of tone quality
+ Good value for money
Why We Liked It - All said and done this is a quality noise gate pedal at a very respectable price. Low cost along with the 'True Bypass' functionality and the fact that it is designed specifically for guitar are definitely the strong points JF-31. There are however some very impressive products on the market right now within a similar price range so it would be advisable to shop around first.
6.  Donner Compressor Pedal Ultimate Comp Guitar Effect Pedal
Compressors? I thought this was a review of noise gate pedals? Compressor pedals and noise gate pedals are very similar. A noise gate pedal eliminates the effect of unwanted audio signal below a preset level, while a compressor pedal will cut unwanted audio signal above that level.
Compressors are mainly used by guitarists seeking a clear, professional resonating tone.  When a note is played it is at first very loud, a compressor works by reducing the initial volume then releasing as the guitars audio signal dissipates. A good compressor pedal should give you maximum sustain without undesirable tone distortion by controlling the density of your signal.
A compressor is ideal for those of you who like your fingerpicking, pull-offs and hammer-ons. Also, they are very useful in a recording and mixing environment to ensure a professional and polished finish.
The Donner Compressor Pedal is one of the best on the market right now. Unlike many of their rivals, Donner do not subscribe to the notion of specializing in a single area of guitar effects pedals. Ostensibly they do a bit of everything and really excel at it, which can be rare in this field.
The Donner gives you a clean, compressed tone with a simultaneous boost, every note will be recording studio quality. It has 3 function knobs - Level, Comp, and Tone. Also, it sports a Normal/Treble toggle switch. This toggle switch combined with the Tone knob has been added to give you maximum control over the extent at which the pedal can influence your sound. This is because of the debate among guitarists which is as old as the invention of the compressor itself about how much these pedals should influence your overall tone.
Like the other Donner pedals on this list, it comes in the classic mini-size making it highly convenient and perfect for pedal boards. Also, it boasts 'True Bypass' design. It is powered by a 9V DC power supply, has a strong aluminum-alloy housing and input/output jacks.
Pros:
+ Normal and Treble mode toggle switch
+ Level, Comp and Tone knobs for effective tone shaping
+ 'True Bypass' technology
+ Classic mini-size for maximum convenience and portability
Why We Liked It - Just a great product overall, Donner have done it again. These pedals will have you thinking every note you play was mixed in the studio. An excellent compressor pedal at an excellent price.
7.  Electro-Harmonix The Silencer Guitar Noise Gate Pedal with Effects Loop
Electro-Harmonix are heavyweights of the guitar world. They have been pioneers in the field of guitar effects pedals since the 70's and boast an almost unrivalled back catalogue of gear, maybe only Boss comes close in terms of kit volume and number of positive reviews.
The Electro Harmonix Silencer is a professional and highly sophisticated noise gate pedal. The 3 control knobs - Release, Thresh, and Reduction endow the user with an unsurpassable ability to precisely fine tune sound through the gate. So what exactly do these 3 controls do?
The release allows you to regulate the length of time the gate remains open after the signal level has dropped below the threshold and is adjustable from 8 milliseconds to 4 seconds. The Reduction knob is used to regulate the level of signal reduction through the gate and can be set from -70DB to +4DB. While the Threshold control is used to adjust the level at which the gate opens to allow signal through.
One of the stands out features of the Silencer is that it can be used as a regular inline noise gate or to gate an entire loop of effects. Also, it is a 'Buffered Bypass' pedal meaning you can have retention of the effects loop even when the pedal is bypassed.
The pedal sports 4 jacks - input, output, send and return, has a great compact design and a rugged build capable of plenty of wear and tear. It can be powered by a single 9V battery which is included with your purchase or by way of a standard EHX 9.6 DC/200 AC adapter. The jet black color and professional looking design give it slick and polished finish. This thing will look and perform great on your pedalboard.
Pros:
+ 'Buffered Bypass'
+ Can be used as an inline gate or for effects loop gating
+ Adjustable Reduction from -70DB to +4DB
+ Release control from 8 milliseconds to a total of 4 seconds
Why We Liked It - What can we say, another great release from Electro-Harmonix. The EHX Silencer is a top of the line product. If precision tuning of your sound is a priority then this could be the pedal for you.
8.  Mooer MNR1 Noise Killer Gate Pedal
Mooer may not be the most well known brand name on the market yet they seem to quietly go about their business producing some great products, especially for a company of their size and in the price range they operate within. They place a strong emphasis on research and development prior to product creation. Think MXR for a more well known brand name they can be compared to in terms of the type of pedals they manufacture.
The MNR1 Noise Killer is aimed at single coil players looking to eliminate the associated humor those who use a number of different effects. The pedal is 'True Bypass' which makes it ideal for guitarists who operate large setups and therefore a sound with a lot of processing.
It has 2 functional modes - Hard and Soft. Hard mode gives you an immediate and incisive cut which favors those who play faster, harder styles. Whereas Soft mode provides a less intense and more gradual elimination, more suitable for those who play gentler genres with more sustained notes.
The MNR1 sports a full metal housing, a solid build, and a highly convenient small design. It has 2 jacks - input/output and power supply come in the form of a 9V DC adapter. An LED light indicates off/on and it has a single control knob which can be set from -70DB to +10DB. In terms of price the Mooer is competitive, coming in at around the $60 mark.
Pros:
+ 2 modes - Hard mode and Soft mode to suit players of all styles
+ 'True Bypass' technology
+ Small and solid design
Why We Liked It - The Mooer MNR1 is a great pedal from an exciting brand. At just $64 it won't break the bank and the brilliant small and rugged design means it will not take up valuable real estate on your pedalboard.
9.  MXR M195 Noise Clamp Noise Reduction Guitar Effects Pedal
MXR were originally founded in 1972 in New York. Known for their pioneering effects and almost indestructible stomp boxes they were hugely popular with guitarists and have no shortage of excellent reviews. In 1987 Jim Dunlop acquired the MXR trademark and the legacy lives on to this day.
The M195 Noise Clamp is ideal for players operating large pedalboards and effects loops, cutting the unwanted hiss that so often plagues busy setups. It works by identifying your dry output signal and attacking. It is important to bear in mind that it's designed mainly to kill unwanted hiss/hum when you are not playing, therefore won't kill noise when the output signal falls above the Threshold limit.
The gate level can be set by way of the single trigger knob. It is capable of reducing frequencies up to the 26DB level which ensures maximum retention of sound definition and quality, even with gain at the most extreme end of the spectrum. This suppressor is very similar to the ISP Decimator which costs an astonishing 2.5x as much.
The pedal has 4 jacks - input, output, send and return which means that it works best as part of an effects loop. A slick blue/purple LED light indicates activation and really complements the minimalist design and jet black color scheme.
It is certainly not the smallest pedals on the market right now however in typical MXR fashion the M195 has a rugged, solid steel housing and was definitely built to last. It is powered by a single 9V battery and is in the region of $80-$90.
Pros:
+ Single trigger Knob
+ Excellent as part of an effects loop
+ Capable of reducing frequencies up to 26DB
Why We Liked It - Another solid offering from MXR. The M195 is not by any means overly priced however it is definitely not the cheapest pedal on the market, therefore it is important to remember that this is a slightly more specialist product aimed primarily at those who use large effects loops.
10. TC Electronic Sentry Noise Gate Pedal w/ 2 Patch Cables
You may not have heard of TC Eletronic yet they have been around since the 70's turning out some extremely interesting products and the Sentry 100% falls into that category. This is a busy pedal featuring some of the latest innovations in gating technology.
This pedal may be the best and most advanced noise gate pedal on the market. It utilizes TC's state of the art multiband system 6000 algorithms which accommodates for both hard and soft noise suppression requirements.
The multiband gating technology is a revelation. Unlike full band gating which will slam the entire gate shut upon reaching the threshold, multiband gating allows you to tweak gating levels in incredibly intricate ways. This means you can realistically account for all unwanted frequency types while retaining unharmful output for the purest possible sound.
Another outstanding feature is the Sentry's send/return loop. A noise gate usually works by setting the Threshold and provided the signal does not exceed it the gate will remain closed. However, a common issue that arises is when the overall frequency level starts to conflict with that of your guitar. The send/return loop allows you to split the signal meaning you can set your level much lower for masterful sound quality.
TC's TonePrint technology is yet another amazing feature of this product. Get the app for Android or iPhone and you can download one of an entire library's worth of pro guitar players individual settings to your Sentry. If this isn't for you then there is corresponding PC and Mac software that allows users to customize settings for their specific rig.
It has 3 functional knobs - Damp, Decay and Threshold, comes with 2 great patch cables and can operate as either a 'True Bypass' of 'Buffered Bypass pedal. It has a tough and rugged design and is powered by a 9V DC 100mA adapter, although this does not come with the product.
Pros:
+ Cutting edge Multiband noise gate
+ TonePrint technology
+ Comes with 2 patch cables as standard
+ Highly versatile send/return loop
Why We Liked It - This is a strong contender for the best and most sophisticated noise suppressor pedal ever produced, even better than the ISP Decimator. There is very little the Sentry cannot do, every aspect of gating can be customized down to the very last detail giving your tone an unsurpassed professionalism.
Live Performance - If you are frequently performing live in genres that are dependent on a smooth, clean guitar tone, you will definitely benefit from a noise gate pedal. If you are mostly playing at home and recording into audio interfaces and not performing live, a noise gate pedal might not be a necessary purchase.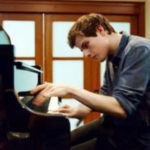 Complete Buyers Guide
Top Pick
Boss NS-2 Noise Suppressor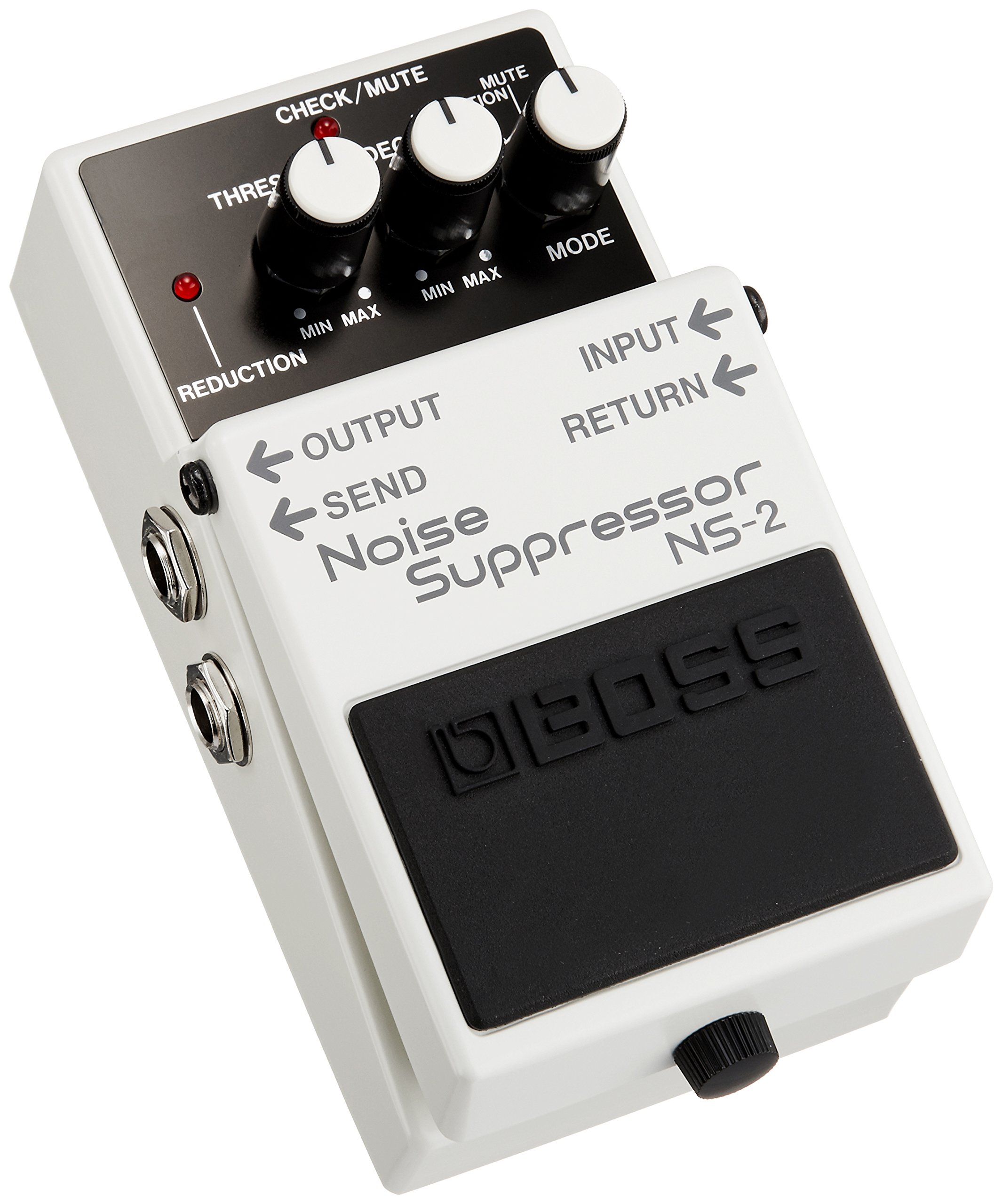 There are a multitude of different factors to take into consideration when it comes to purchasing a noise gate pedal. Effective elimination of unwanted hiss and hum is imperative yet overall guitar sound must remain intact.
Other key factors are durability and size. A pedal that can withstand the wear and tear of relentless use is almost essential.  As is ensuring that the pedal is a convenient size, real estate is precious on busy pedalboards so it's important to be economical with space. Last but certainly not least is the price. It must be reasonably priced and value for money is key. Even if you are willing to pay more you must ensure you are getting the quality to justify the price tag.
Boss is a brand name synonymous with quality, undoubtedly one of the best in the field of guitar effects pedals. Their products have 5-star reviews and feature on the top of many guitarists wish lists for countless different effects. The NS-2 Noise Suppressor is everything you expect from a Boss pedal - Maximum functionality, near indestructible design, reasonable price, and flawless execution. Check out our review above for more info.
Premium Choice
TC Electronic Sentry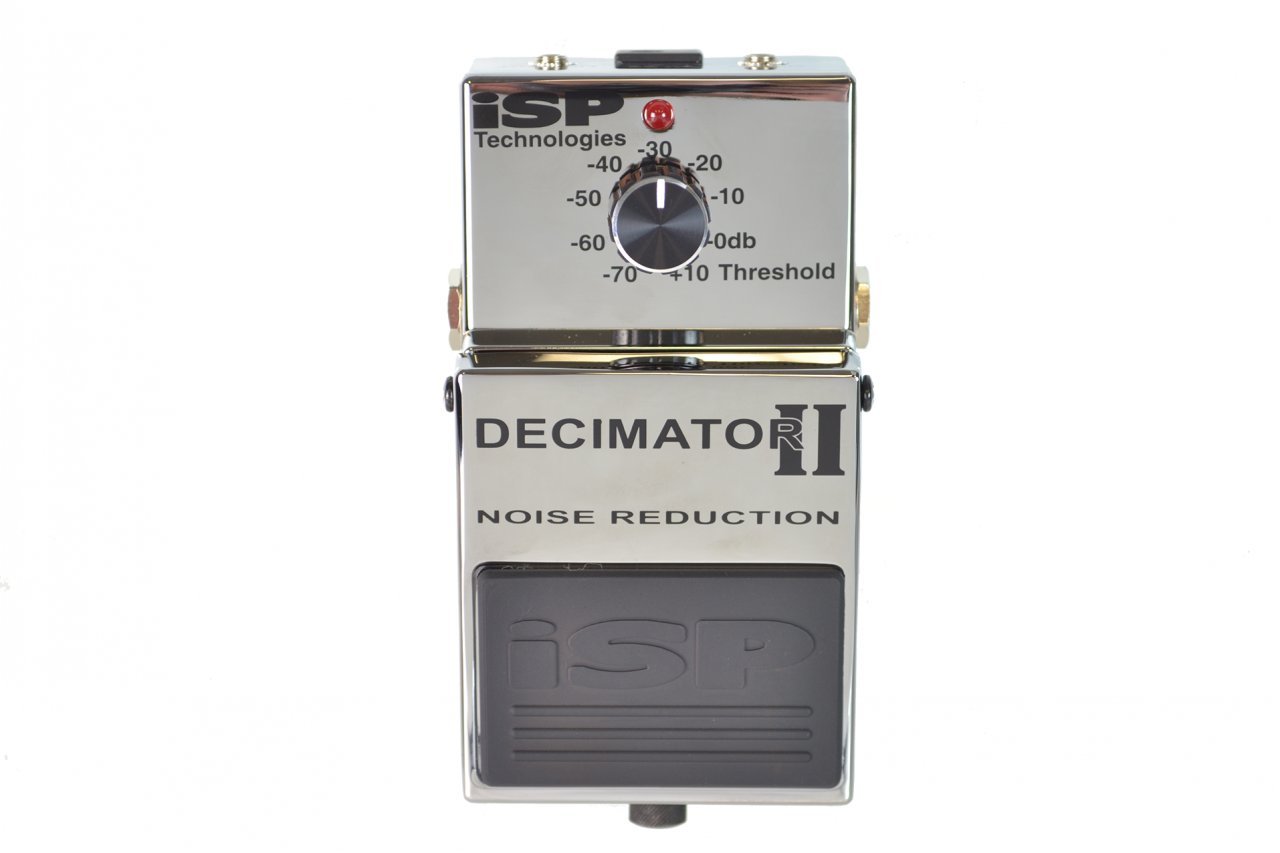 If you are not restricted by price, want the best and are willing to spend then the Sentry by TC Electronic is the noise gate pedal for you. Even better than the ISP Decimator, this is invariably the most sophisticated product of it's kind on the market right now. The level of customization and functionality that the Sentry offers is unparalleled.
It really is hard to summarize the plethora of outstanding and cutting edge features it has. Bypass selection, send/return loop, cutting edge multi-band gating, TonePoint technology, the list goes on and on. You can be sure this is not a purchase you are going to regret as the Sentry maybe the best of it's kind that money can buy. Be sure to check out our review above for more details
Great Value
Donner Noise Killer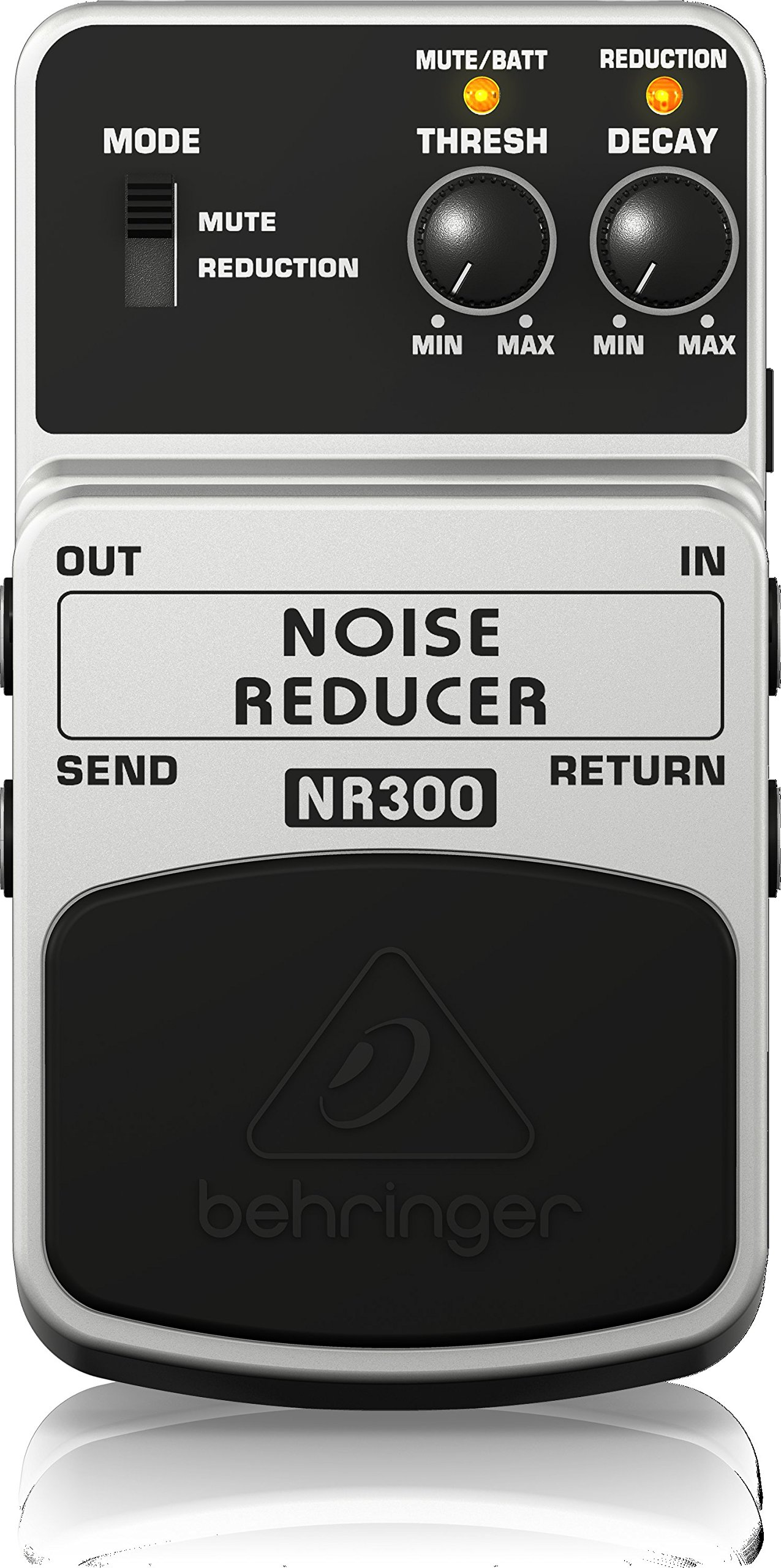 If you want the best budget option but are not willing to compromise too much on quality then the Donner Noise Killer should be your first choice. It's hard to believe the price of this product considering its functionality.
Adjustable Threshold from -70DB to +10DB, 'True Bypass' technology, 2 distinct modes - hard and soft to cover all music styles and excellent mini size and design all for a fraction of the price of many of its competitors. Even if you are not operating on a budget this would still be an outstanding choice. Be sure to check out our review above.
What is a Noise Gate Pedal?
Noise gates are guitar effects pedals used primarily by guitarists and bass guitarists who want to suppress unwanted signal created as part of an electric setup. Most, if not all effects pedal manufacturers create noise gate pedals and they are usually utilized by guitarists in live performance or recording studio environments to ensure a professional sound is achieved.
What does a Noise Gate Pedal do?
The noise gate pedal has a simple but extremely important purpose - to eliminate unwanted signal while retaining the quality of the overall guitar output. Between your guitar and amp, there is a whole range of audio signals being produced from a variety of different sources. The most common culprits are single coil pickup guitars and effects loops that are part of large pedalboards.
Sometimes, a guitarist is looking for an all-in-one pedal that includes many effects in one. This is the multi-effects pedal, and it may be something you wish to consider (click here for our full guide)
How do you use a Noise Gate Pedal?
When using a noise gate pedal the most important feature is what's known as the threshold level and the concept is relatively straightforward. Noise gate pedals have a control knob which can be used to set this level within a predetermined range depending on which brand of pedals you are using, for example anywhere between -70DB to +10DB. Once the audio signal exceeds this level the gate opens and works to cut unwanted hiss/buzz/feedback etc.
How effective is a Noise Gate Pedal?
It obviously depends on brand and product quality however the majority of noise gate pedals are extremely effective. In fact, they may be the most overlooked, under-appreciated products on the market for guitarists.  Anyone who plays regular live shows and/or records their music should definitely have one as part of their pedalboard as they really can take your sound to the next level.  An essential for a professional and polished finish.
What budget is required for a Noise Gate Pedal?
The truth is there's no definitive answer to this question. There is such a varied and extensive catalog of products on the market with wide-ranging price tags that there really is something out there for everyone.
It goes without saying that price will affect quality, however, if research is done there are bargains to be had. If operating within a tight budget look for simplicity, effective functionality, and rugged design. Ignore models with unnecessary features. Simple and effective is the name of the game. Stick to this strategy and you should find some great products which are very reasonably priced. Our review should help you with this.
Conclusion
It's easy to get bogged down in the seemingly countless numbers of noise gate pedals on the market at the moment. As technology continues to advance new pedals are being released all the time. However, it is important to do effective research and understand exactly what you are looking for to ensure you make an informed buying decision that's right for you.
Maximum elimination of unwanted noise and retention of overall quality of tone. This is the foundation of your decision. Add to this foundation your additional personal requirements to find the best noise gate pedal for you. We hope this review will help you with your research.
If you liked this review, please leave a positive rating:
[vc_separator