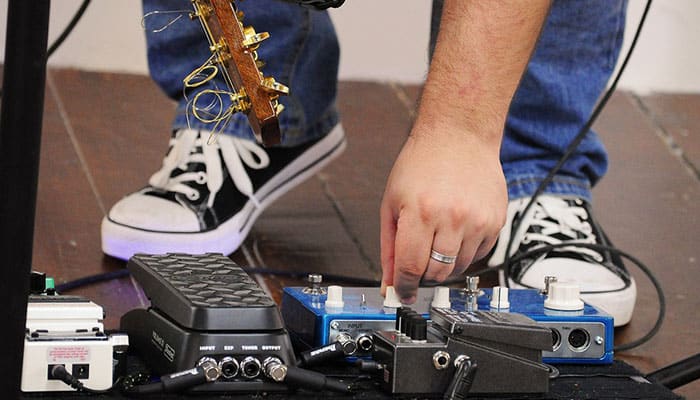 So, you've decided to buy a volume pedal. Great decision, because they can really help you to easily make your music more interesting. But how can you know which is the best volume pedal? Don't they all do basically the same thing?
If you found this article by chance you might even be wondering, what exactly is a volume pedal anyway, and why would a guitarist be interested in using one? We understand, there are lots of unanswered questions, but we're here to help! First, we'll introduce you to nine different volume pedals that are among the best on the market at the moment. We've searched the internet far and wide and have read countless of reviews that we've used to write this article.
We've also made sure to link to YouTube videos where you can learn more about the different volume and expression pedals and even hear them in action, so make sure to check them out! After we've taken a look at all the pedals, we will answer the most common questions about volume pedals, so that you'll learn everything you need to know before you buy your own!
Ready to learn more about the nine different volume pedals we've found? Make sure that you write down the ones you're interested in as you read our reviews, it's easy to forget which one is which, and then you have to re-read it all! You could even add your own pros and cons to your own list so that it's easier for you to compare the different pedals for guitar.
At a glance: Our top 3 picks
Your shortcut to our team's top 3 recommendations
View The Best Volume Pedal Below:
1. Donner Wah Cry Volume Pedal
Who doesn't love two-in-one solutions? Shampoo and body wash in one, popcorn coated in chocolate, a laptop that can become a tablet, we just love the stuff! If you too like buying one product but actually getting two, you're going to like Donner Wah Cry Volume Pedal. This is a mini pedal that you can use both as a wah pedal and a volume pedal, which is great.
It offers excellent response and takes up very little space on your pedalboard. The volume mode is designed so that it keeps every detail of your sound, so you can use it without it compromising your tone and chords.
Listen!
The best way to find out which is the best pedal on the market for you is actually hearing it in action. Check out this review that we found very helpful and informative as well as letting you hear what this pedal is all about.
Donner "Vowel" Wah & Volume Mini Pedal
Pros:
+ Volume/Wah pedals in one
+ Mini
+ Keeps every detail of your sound
Why We Liked It - This pedal works for most guitarists and is perfect for someone who might just have started to build up their pedal collection and are intrigued by the thought of getting two in one. It's also great if you don't have much extra space on your pedalboard, or want to be able to squeeze in as many fun pedals as possible in the future since it's really small.
2. Ernie Ball MVP Most Valuable Pedal
Maybe you really liked the idea of getting two guitar pedals in one, but you already have a wah-wah pedal or you don't want one. In that case, you might want to check this volume and expression pedal out instead, Ernie Ball calls it 'Most Valuable Pedal', or Ernie Ball MVP for short, and this is not only a volume pedal but an overdrive pedal as well. You can also connect your tuner straight into this pedal or grab a great tuner pedal. It works anywhere in your signal chain, so it's easy to use for beginner's that think it's tricky to know where to put the guitar pedals.
If you are a beginner and trying to figure out whether to just buy a really cheap one to start out with, it might be good to consider this one anyway, since you won't have to upgrade from it, like, ever. It's ok to buy a budget option if you're not quite sure how much you will actually use it, but if you're serious about your guitar playing you can just as well go for this one and get something proper from the start!
Listen!
Again, we want to recommend you to take the time to watch a video review if your truly interested in this volume expression pedal. This one is really good, and you'll be able to get a full picture of what this pedal can do for you.
Ernie Ball MVP - Most Valuable Pedal
Pros:
+ Volume/overdrive pedal
+ Works anywhere in the signal chain
+ High-quality
Why We Liked It - This Ernie Ball MVP most valuable pedal is one that many people love, because it just does exactly what you want it to do, and both beginners, intermediate and advanced guitarists use it.
3. Quik Lok VP-2611 Volume Pedal
Let's face it, sometimes many of us are kind of broke sometimes and can't really afford to splurge on all the effect pedals for guitar playing we wish we could buy. That's when we need good budget alternatives that will keep us going at least for a while.
Another scenario when Quik Lok's volume pedal would be great is if you're not quite sure about how much you will use the volume expression pedal. Maybe you just want to try a volume pedal out to see if it's something for you, or maybe you've just started playing the guitar and don't even know if you'll be able to keep it up. I mean, the last thing we need is more expensive stuff in the garage or basement that we're never using, right?
Obviously, this is not a pedal that a professional musician would use, but rather a beginner who's just playing for fun and just needs something to get started with.
Pros:
+ Very affordable
+ Easy to use
+ Sturdy
Why We Liked It - This volume expression pedal works ok for guitars and keyboards and has a heavy base to make it stable and safe to use.
4. Signstek Guitar Stereo Sound Volume Pedal
Next up is another bargain for those of us that aren't ready to commit to a pricey volume pedal just yet. This is a very basic volume pedal that is good for beginners or maybe guitarists that don't use a volume pedal very often but would like to have one at home for those times when you just have to have one. No battery is required, which is nice. You could even use it for two instruments at the same time.
This is a pedal that does what it says on the box and that many beginners would be happy with, but if you're a picky guitar player it might be better to save up for something more expensive and get a volume expression pedal that you really like. But as we said, if you're a beginner that just wants something that works, go for it!
Pros:
+ Cheap
+ Easy to use
+ Good for beginners
+ Minimum volume setting
Why We Liked It - The pedal is easy to adjust and you can set the minimum volume underneath the volume expression pedal.
5. Ernie Ball VP Jr. P06180
If you read through reviews before you make a purchase, what do you normally need to read in order to buy a product? One thing that we noticed in lots of reviews for Ernie Ball VP Jr volume pedal is that there are incredibly many guitarists who swear by it and say that it's by far the best volume pedal they've ever owned. Just that would convince most people to give it a go.
It's a passive volume pedal that really allows you to have 100% control of your volume, and you can plug your tuner in it as well. It's really sturdy, and the top is almost sandpaper-like, so your foot won't slide off it. One thing that is kind of funny is that Ernie Ball markets it as a small pedal, but it's actually really big, but don't let that put you off, it's good enough to earn some space on your pedalboard!
One great thing about getting this pedal in the very start of your guitar playing life is that you won't have to upgrade it, and you'll be able to focus exclusively on your guitar playing instead of getting upset at a bad volume pedal. If you play professionally, or maybe just a lot in general, you'll really appreciate the texture on top of the pedal that means that you can relax and won't have to worry about keeping your foot in place, which is great. Basically, it's a volume pedal for a guitar that lets you just think about making music, it's just there to help and doesn't want any extra attention.
Listen!
We found a really good YouTube review that we think you should watch. This guy will tell you everything you need to know about this Ernie Ball VP Jr volume pedal and will also demonstrate how to put it on your pedalboard and how to use it. He claims that it's the best volume pedal on the market that he has ever used, and he seems to know what he is talking about!
Ernie Ball VP Jr. Volume Pedal - Gear Review
Pros:
+ Works like a charm
+ Sturdy
+ Your foot won't slide off
+ Tuner jack
+ 100% volume control
Why We Liked It - This Ernie Ball VP Jr volume pedal for guitar is the kind of volume expression pedal that any guitarist can use, no matter if you're a beginner, an intermediate player or a professional.
6. Valeton EP-2 Guitar Stereo Sound Pedal
Sometimes we don't have very much money to spend, and sometimes we just don't feel like it, when we can actually get a product that does the same thing as the big brands for half the money or so. Valeton's EP-2 stereo volume pedal is a really good option for any guitar player that wants to buy a reasonably priced pedal with a fun color that will last you for years to come and does what it says on the box.
This stereo volume pedal works without a pedal power supply, no matter if you want to use it for your guitar, bass guitar or some other digital instrument. The Valeton EP2 Passive volume expression pedal is lightweight and made from hard plastic, but it's still sturdy and seems to be very durable, which is important if you will be using it a lot.
Listen!
Check out this YouTube video that does exactly what we've done, namely listing guitar volume pedals! The Valeton EP-2 stereo volume pedal came in second, and they'll tell you a little bit more about it!
10 Best Volume Pedals 2018
Pros:
+ Affordable
+ Compact
+ Durable
+ Works without power supplies
Why We Liked It - This is a great stereo volume expression pedal for beginners to intermediate guitar players, or maybe musicians who have the electric guitar as a second instrument they want to be able to play once in a while.
7. Fender FVP-1 Volume Pedal
Next up is a volume pedal for guitar that is quite different from the other pedals we've looked at. Just the way it looks is different, it's quite big and chunky, a little bit tank-like, but still nice, just different. The second thing that is different about it is that it actually alters your tone. When you lower the volume, it kind of enhances the trebles to create a special effect, which is cool, but important to be aware of, since not everybody likes it.
You could say that it's more like the kind of effect pedal that alters your tone in a cool way, rather than just letting you adjust the volume.
The pedal is made of aluminum, unlike many other pedals for guitar that are made of plastic and therefore not as durable.
This Fender FVP-1 volume expression pedal is probably best for guitar players who are after its particular sound, so if you're not familiar, look it up and listen to it, so that you know what you're getting yourself into. Which brings us on to…
Listen!
… This! If you're interested in this pedal, we recommend that you check out this YouTube video with a really good review (it's quite entertaining as well, actually!). They also tell you a little bit about how you use a volume pedal and what it's good for.
Fender FVP-1 volume pedal review.
Pros:
+ Passive volume pedal (no power required)
+ Aluminum casing
+ Tuner outputs
Why We Liked It - This Fender FVP-1 is a passive volume pedal that doesn't require batteries or power, which is super. It also features a Tuner jack, which lets you conveniently tune on stage.
8. Morley PLA Steve Vai Little Alligator Volume Pedal
Second to last we've got an alligator of a volume pedal for guitar. But the funny name is not even the best thing about this volume expression pedal. It is extremely high-quality and very sturdy, as well as good-looking. It has electro-optical circuitry and the battery compartment features a LED indicator.
This Morley little alligator optical volume pedal comes with a 2-year warranty, which we think says a lot about the confidence Morley has in it. I mean, they wouldn't offer such a long warranty if these things regularly broke and they had to replace them. Still, if something would be wrong with it, you don't have to worry, unless it's something you've done that has caused the breakage.
We should think this Morley PLA Steve Vai little alligator pedal would work well for guitarists of all levels!
Listen!
Curious to learn more about this Morley PLA Steve Vai little alligator pedal? Check out this video review that will tell you everything you need to know!
Morley Little Alligator Volume Pedal Review (Steve Vai Signature)
Pros:
+ Fun design
+ High-quality
+ Easy to use
+ Has electro-optical circuitry
Why We Liked It - This Morley little alligator pedal is very easy to use and it just does everything you want it to do!
9. Boss FV500L Volume Pedal
Ready for the very last pedal? We've saved the best for last! The Boss FV500L low impedance pedal is a great volume pedal made of aluminum that makes it durable, and with rubber that makes it comfortable to play with and saves your foot from slipping around.
Sure, it's more expensive than most other volume pedals, but sometimes it's worth spending a little more to become truly satisfied with your purchase. And besides, sometimes it's actually cheaper to buy the expensive option from the start than to buy three cheap ones that break after a few months. It's like shoes, it hurts to pay much more for real leather, but you know they're going to last you much longer than the plastic ones, so you can just as well pay the money all at once and spare you the trouble of getting new ones every season.
This Boss volume pedal is awesome for advanced guitarists who want to splurge a bit on their volume pedal. If you are looking to buy a volume expression pedal as a gift for someone, this is certainly a really good option, since most guitarists would want one! This is an alternative to the Boss FV500H Volume Pedal, high impedance volume pedals.
Listen!
Hope you have the energy to watch one more YouTube video, or rather, listen to it! This video will really allow you to hear how well this pedal works!
Boss FV500L Stereo Volume Pedal - Demo by Simon Gotthelf
Pros:
+ Durable
+ Aluminum and rubber
+ High-quality
Why We Liked It - It's easy to use to create lovely swelling and vary your volume, and it's also great for keyboards.
Conclusion
What have we learned by looking at these nine guitar volume pedals? Hopefully you have found one or two that you're interested in buying, and we've also learned that it's most often best to pay as much as you can afford, especially if you will be using your pedal a lot, but then some people might just need a pedal to try out as a beginner, and that's when the cheap pedals for guitar are a good alternative.
We've learned that there are volume pedals that only allows you to alter your volume and let the tone swell, and then there are products that give you two guitar effects in one pedal if you, for example, want some overdrive or wah-wah. But wait, there are a few things we still haven't learned about! I mean, what is a volume pedal anyway, and why would a guitarist/bassist/keyboardist need one? And what should you look for when buying one? And then there's the million-dollar question: Which one of all the nine pedals in this list is the best? Check out our buyer's guide for the answer to these questions!
Lastly, we just want to mention that if you still have no idea what pedal to go for, it might be a good idea to go to a music shop and ask the staff for some help. They will probably know which pedals they sell the most of, which one is their personal favorite, and you might be able to try a few out. Another alternative is to get together with a bunch of friends that have volume pedals and see if you like one.
Trying them out is usually the best way of finding the volume pedal that feels best for you. But when you try them out, or when you simply read about them online or watch video reviews, it's good to know what to look out for, so that's a question we will tackle too in our Buyer's guide!
Volume Pedal Buyers Guide
What is a volume pedal and why is it necessary?
Even though guitars, bass guitars, and keyboards, are some of the most popular musical instruments today, there is one problem they all have in common. What is it? As soon as you have plucked a string or hit a key, the note is going to slowly but surely disappear.
Other instruments, for example, a saxophone or a violin, can play with the tone, changing the volume and hold the length as long as they feel like it (with some limitations), but what's a guitarist/bassist/keyboardist to do? The answer is: use a volume pedal.
When you press it down, you turn up the volume of the tone you've already played, and you can make the note swell as you like and be in charge much more when it comes to crescendos and diminuendos. It's also much easier to change the dynamics in your music, from loud to soft and so on. So you could say that a volume pedal is great for bringing more life to your music and allowing you to dodge some of the limitations your instrument naturally has.

What do you look for when choosing a volume pedal?
For a beginner, who has maybe never even used a volume pedal before, it can feel really confusing to try to figure out which one you want to buy. Some first-time buyers will simply just pick a cheap one and hope for the best, while others will want to know what features they should be looking for. Below we've listed some things that you can look out for, and of course, decide whether they are important to you or not.
+ Size
Volume pedals come in different sizes, and you need to make sure that you have enough room on your pedalboard for your new volume pedal. If you don't have much space, look for a mini pedal.
+ Quality
As with everything else, it's nice to have a volume pedal that has both a high-quality casing, as well as works flawlessly. Look for a pedal that has aluminum casing if you're going to use it a lot, but plastic can be ok if you only play once in a while and don't have many gigs planned any time soon.
+ Price
We know, it's boring, but you get what you pay for. It's like getting a donut at McDonald's or Dunkin' Donuts, the cheap one is just like a bad copy. But the 'bad' donut can still fill your craving for a donut and might be the only way to go if you can't afford a better donut. Ok, we'll stop talking about donuts now, otherwise, we'll have to go and get some, but you get the point. The more you pay, the better the product. It's not true for all kinds of products but when it comes to volume pedals and donuts it's definitely true.
+ Extra Features
Even though it might seem like all the volume pedals are the same at first glance, some of them stand out a little extra. It can be designer details like what they look like, or how the surface where your foot goes is (the less slippery, the better), but it can also be other things, like getting another effect, for example, overdrive in the same pedal, which can be nice if you don't already have an overdrive pedal.
Which are the best volume pedals?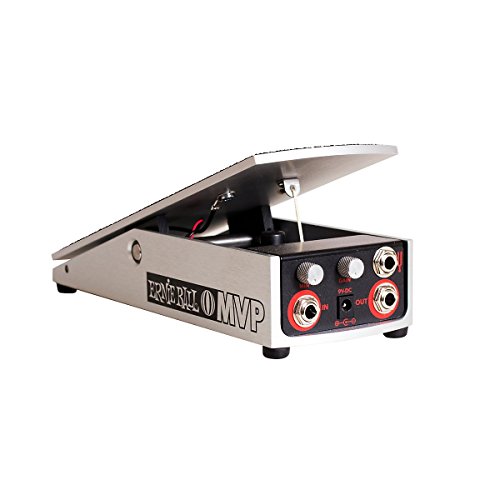 We still have the million-dollar question left, the one we've all been waiting for: which volume pedals are the best? But wait a minute… How are we going to answer that? If you think about it, all guitarists will have their own personal favorite pedals, and what someone might like is someone else's dislike.
We can't tell for sure which pedal you think is best, but we feel like we've given you the tools to find out.
You know about nine really good volume pedals, now you have to think about what's important to you in a volume pedal (see the questions above if you haven't already). It's the whole 'teach a man to fish'-sort of thing, but we've taught you how to find the right volume pedal for you.
Expert tip:
Look for aluminum casing if you're going to use your volume pedal a lot!
Did you know?
A volume pedal is an easy way of bringing in more dynamics in your music.
If you've enjoyed this review by Music Critic, please leave a positive rating: