There are many different types of guitar pedals on the market today, and we've noticed that many guitarists are hesitant when it comes to buying a new one. For example, how can one know what the best octave pedal is?
There are many different things to keep in mind when selecting the most suitable pedal for you, individually. Do you want one that can bring your tone down, up or perhaps both? Do you want it to alter your tone in any other way as well? Or perhaps you are looking for an 'all-in-one' pedal, such as a Multi Effects Pedal (click for the full guide).
Let's face it, it does take some research. You'll want to compare the sound and the casing to make sure that it's good quality. You'll also want to hear from others who've tried the pedals, so that they really are the best and as good as it says on the box. Then there's the pricing, it needs to fit within your budget.
If only there was a list with, I don't know, 11 of the top octave guitar pedals out there, that described everything you need to know in order to make a decision...
But wait a minute... There is! It's down below! Your wish has been granted. We've found the greatest guitar effects pedals you can get your hands on in 2023. No matter your budget, you can be sure to find the very best alternatives here. If you're not quite sure what these pedals really are, we've described that for you as well - along with some info about how to use them, some interesting history and info about the octaver. You'll also find out why the pricing can be so different, even if it might seem like they all do pretty much the same thing.
Looking for a Delay pedal instead?
We hope that this list will make it easier to find the right pedal for you. May the hunt begin!
At a glance:

Our top 3 picks
Our team's top 3 recommendations
Best Overall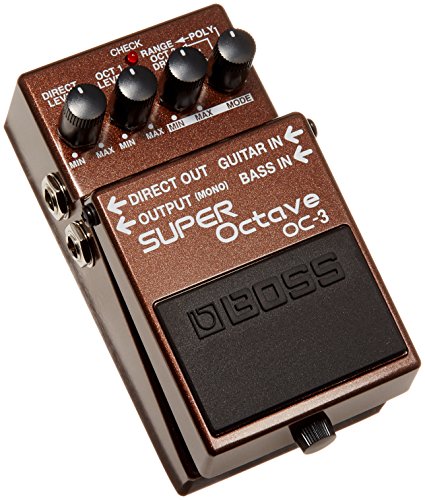 Boss OC-3 Dual Super Octave

Polyphonic
Choose to bring your music down one or two octaves
5-year warranty
Great distorted sound
Premium Quality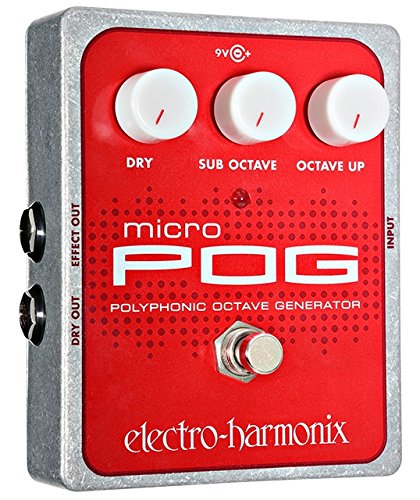 Electro Harmonix Micro POG

Polyphonic
Choose to bring your music down one or two octaves
5-year warranty
Great distorted sound
Great value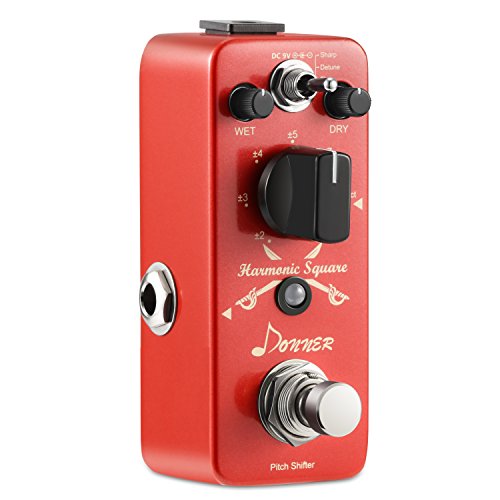 Donner Digital

Polyphonic
Choose to bring your music down one or two octaves
5-year warranty
Great distorted sound
Review of the Greatest Octave Pedals for Acoustic Guitar, Bass and more!
1. Boss OC-3 Dual Super Octave
Let's start off with this great pedal from Boss. This is, as Boss themselves say the 'world's first compact pedal with true polyphonic octave effects'. That sounds nice, but what does it really mean?
Polyphonic means several notes played simultaneously, so it means that it can handle for example chords and arpeggios, which is best if you're not just playing a single line of melody. This means that it's versatile, which of course is a good thing. It also means that you won't have to be careful all the time when you're playing, you won't have to constantly think about making sure not to play two notes at the same time.
The best thing with this octaver is the bass drive mode that adds distortion which gives your tone more dirt and makes it fatter. It can bring your tone down, not just one, but two octaves! The sound it produces is really great, and makes any music cooler in an instant.
This octave pedal is best if you're looking for a bassier sound, it doesn't have the alternative of transposing your music up, only down.
One of the best things about this one that makes it stand out from other octaver's is that it comes with a 5-year warranty, so if it would unexpectedly break down, you'll get a new one. We always feel like a warranty that long is a sign that we're dealing with good guitar effects pedals, because if the manufacturer knew that it wasn't any good, they wouldn't offer a warranty at all.
Pros:
+ Polyphonic
+ Choose to bring your music down one or two octaves
+ 5-year warranty
+ Great distorted sound
Why We Liked It - This is the best choice to go for if you just want something that does the job well and can't be bothered with any extra stuff to wrap your head around. It's easy to use and can take your tone down one or two octaves. It's polyphonic, so you don't have to worry about only playing one note at a time.
It also comes with a 5-year warranty, so you can be certain that this octaver will be on your pedalboard a long time. One of the best and top quality octave guitar pedals that would work for most musicians!
Experimentation - Don't forget that you don't have to limit yourself to only using octave or any pedals with guitar. Try out using other electric instruments, or even your vocals. One thing to note, however, is that analogue pedals may bring more distortion to a sound than a computer signal altered an octave up or down.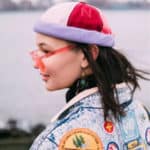 2. Electro Harmonix Micro POG
On to our second option, and this is really something extra! Electro-Harmonix has done it again! Just unboxing this is the best experience and makes us think that it's not like the other pedals! This octave pedal looks amazing, and after just a few notes you will also notice that it sounds amazing! It's got all the controls you will ever need in an octaver. This Electro Harmonix Micro POG is polyphonic, which is the best, so you can play whatever you like, it will catch all the notes easily. This can be a good feature if you play chords or just want to add extra notes to the melody line in a solo.
The best effect pedals are, in our opinion, the ones that you don't really have to think about. You just select your settings, and then they do exactly what you want them to do, and we would argue that this is one of those guitar pedals!
The pedal is small, yet sturdy and the best thing is that you can choose to set it to Dry, Sub Octave or Octave Up, meaning that no matter if you want to get a fat bass amp or a distorted treble, this is the best one to go for!
This is an extremely versatile pedal that can really change the tone of your instrument, for example it can make your normal six-string electric guitar sound like a 12-string, or it can emulate an organ. If you use it with a bass guitar, prepare for some really cool sounds, that will in the best scenario shake the walls and make your annoying neighbor choke on his coffee.
Pros:
+ Polyphonic
+ Make your guitar sound like a 12-string, a bass or an organ
+ Looks great
+ One of the best on the market
Why We Liked It - This is the best choice for a musician who knows he or she will be using the pedal a lot and only wants the very best. After buying this you'll never have to look for other octave pedals! It can bring your sound up or down, it's polyphonic and it can even make your guitar sound like a 12-string or an organ. We imagine this would be the coolest effect at a wedding, just imagine 'Here Comes the Bride' on an organ-sounding electric guitar! Electro Harmonix also do an Octaver called the pitch fork - which is also one to be considered.
We can't tell you how excited we are about this pedal, it will revolutionize your music in ways you've never imagined! It's simply the best!
Everybody loves a bargain, right? That probably means that everybody loves cute little orange pedals, like this one from Donner, because it's the best bargain available! You would think that since it's so cheap compared to other pedals it can't be any good, but it is actually not bad at all!
Ok, the sound might not be as good as the best premium models', but then we wouldn't expect that to be the case. It still does what it says on the box, and if you're simply looking for something to take your tone up or down, this is one of the best options.
Within its sturdy aluminum casing is everything you need to get started using octaver's, including the possibility of choosing between dry or wet sound. This pedal not only lets you change the octave, but the best thing about it is that it also enables you to change your tone 2, 3, 4, 5, 7, 12 or 24 semitones.
This is the best if you quickly need to transpose a song, for example if you're accompanying a singer, or perhaps if you're playing with a musician that plays a transposing instrument, such as the saxophone, we guarantee that musician will be extremely thankful not having to transpose the sheet music.
This little fellow has true bypass, so that your tone is only affected by it when you want it to be. This is the best option for somebody looking for their first octaver.
Pros:
+ Cheap
+ Aluminum casing
+ True bypass
+ Change your tone stepwise
Why We Liked It - Sometimes we simply don't want to spend much on a guitar effect pedal such as the octave. We might be unsure how much the pedals will be used, or maybe it's a gift to somebody.
Whatever the reason this is the best bargain that will do the trick. It has true bypass, you can choose between wet and dry sound and you can change the tone stepwise. Even though it's cheap and small its aluminum casing makes it strong and sturdy.
What is an Ocatve? An octave refers to 12 semitones higher or lower than a particular note. This also translates to your guitar frets – If you play a note on a certain, a note an octave higher will be 12 frets above or below on the same string. Detuning your octave pedal slightly (if you have this control) can produce a chorus-like effect.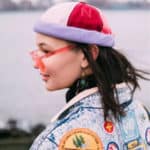 Next on our list is this octaver in poisonous green from Joyo. It's a really fun little gadget, and it's obvious that they've had a specific type of person in mind when they designed it. This is the best pedal for people who like to go a bit crazy (in a good way!) and who love to experiment.
This pedal is an octave up, so it's best if you're looking to get those really cool highs. Joyo themselves describe best one of their favorite sounds it can make as 'tin cans falling from the sky and breaking into glass figurines on marble flooring, which is actually very accurate!
This pedal features both distortion as well as the octave effect and it's really nice to get a two-in-one solution. You have the option to choose whether you want some fuzz or not. If you choose to use it, you'll get the best harmonics that really fills the room with something that doesn't feel like just a guitar anymore, but rather pure art. The fuzz isn't to powerful and is sweet enough to be used for jazz and country music.
The pedal has true bypass, to make sure that it doesn't affect your tone when you don't use it, and it's sturdily built with aluminum casing. It's a little big, but on the other hand it looks so cool so we'll let that pass.
A really good tool and pretty cheap as well!
Pros:
+ Cool design
+ Affordable
+ Octave up
+ Distortion
Why We Liked It - This is one of the best pedals for cool musicians who like to try new things! We think this would for example be an excellent gift for a teenage guitarist, but there are many adults that would love to bring out their inner child as well.
The sound it produces is pretty unique if you do it right, and it's best if you add some distortion too. A really cool octave pedal that is perfect if you need to achieve a nice, high-pitched octave and pitchshifting sound!
5. AROMA AOS-3 Octpus Polyphonic
Time for another bargain! This affordable Aroma pedal is available in yellow, red and white and looks good in all colors. It's a cheap octaver that has the most basic features. It's the best option if you're just looking for something simple that does what it says on the box. Sometimes there is no need to overcomplicate things, and if you just want a pedal that changes the octave, you might just as well settle for this one.
Pedals like this would probably be best for beginners that just want something simple to get started with and that don't want a lot of extra stuff to wrap their head around.
This pedal has true bypass so it's completely quiet when you're not using it. You can choose either to let it change octave completely or add an octave above or under what you're playing. This pedal is best for guitars and other high instruments, it doesn't work as well for basses.
A good octave pedal if you don't feel like spending too much but still want something that works.
Pros:
+ Affordable
+ Sturdy
+ Easy to use
+ Simple
Why We Liked It - This is a good little pedal that doesn't cost you much but adds a whole new dimension to your sound. It's easy to use and lets your guitar sound like two instruments, if you like.
If you desperately want the best rated octave pedal possible but you don't want to spend too much, this pedal is definitely worth your consideration! There is nothing to lose, really, since it's so cheap. We think 'Octpus' is a pretty funny name as well!
6. Electro-Harmonix Octave Multiplexer XO
Next up is this product from Electro-Harmonix. If you're a bass player, or a guitarist wanting to pretend like being one, this pedal is the best! It makes your bass amp notes really full and fat, it just sounds like we always have wished a bass would sound like!
This pedal is monophonic, so it's best suited for playing basslines, one note at a time, it can't do chords and even fast playing like arpeggios isn't really its thing. But if you're just using it for making that bass stand out, you'll be richly rewarded.
It has two separate smoothing filters. This means that you can customize the sub-octave signal to get the best sound exactly like you want.
Electro-Harmonics suggests that we should run vocals through it to sound like Ike Turner, which we haven't tried but it's certainly very tempting!
Pros:
+ Amazing bass
+ Monophonic
+ Customize your sound
Why We Liked It - There are many genres where a really luscious, fat bass is essential, and this pedal would work well for them all. It enables you to customize your tone so that you get it exactly as you want it, however, the pedal is monophonic, so it only works for one note at a time. We really like this octave pedal and are convinced that many other bassists would too!
7. Electro-Harmonix Octavix
Next up is another of Electro-Harmonix pedals! As soon as we saw this pedal we knew that we were going to like it. The design gives promises of really nice vintage sound, and it doesn't lie. It's made to resemble classic pedals from the late 1960's and gives you that nice fuzz as well as changing the octave.
It has three controls to let you play around with the octave, the volume and the boost. It has true bypass so unless you are using it, you won't know it's there. You can choose whether you want to plug it in or power it by battery. You can adjust the tightness of your sound to what you like the best thanks to the switchable 24/9 volt power rails.
This pedal can easily compete with much more expensive brands, both sound and design wise!
Pros:
+ Fuzzy vintage sound
+ Boost control
+ True bypass
+ Awesome design
Why We Liked It - This one is among the best pedals we've tried and would be good for beginners as well as professionals. The design is super cool and the sound has a true vintage vibe that is bound to impress! Truly a great product that we're happy to recommend!
Good old EarthQuaker never fails to impress us. This time they're doing it with this octave up-pedal with a design to die for! EarthQuaker's pedals are hand-built in the U.S.A. and this one is polyphonic, however we find that it works best playing one note at a time.
EarthQuaker recommends that you put this at the front of your signal chain, and we agree that this is best. The sound is extremely good quality, very real and no delay. If you want delay, check out our review on the top delay pedals here. On this pedal though, take a look at the picture. You might notice that there are no controls. This is because they wanted to make it as user-friendly as possible, and it can't get any easier than this! The only thing you have to worry about is pressing the pedal at the right time, and your music will sound just as good as if you could change the controls.
The fact that it's so user-friendly makes it one of the best options for beginners and people who aren't tech-savvy, but the sound is so great and high-quality - that it would suit many professionals as well.
The downside (no pun intended) is that it only does octave-up and not down, so if you're looking to get the best bass sounds you should look for other pedals.
This is a classic, analog pedal that will make you wonder how you've been living all your life without it.
Pros:
+ Cool design
+ Octave-up
+ Analog
+ Amazing sound
Why We Liked It - This is one of our favorites today, and if you're looking for octave-up pedals it's definitely one of the best available. The fact that you don't have to bother about changing any settings is really refreshing, just plug it in and you're good to go!
The sound is incredible, since it's analog. We're also in love with the design of this pedal, it's really eye catching! This is a pedal that doesn't disappoint!
9. TC Electronic Sub 'N' Up
If you're looking for some fun, look no further! This pedal from TC Electronic is like a toy that really lets you play around with your tone. Of course it does the ordinary stuff, like taking your music an octave up or two (!) octaves down, but that's not even the best thing about it.
Among all the octave pedals on our list this feels like the most modern, really taking advantage of the technology available today.
There is an app you can download which lets you either create your own custom sound or download toneprints somebody else created. This means that even if you might find it difficult to play around with settings, you can easily do this by picking a toneprint you like.
This means that really cool sound now isn't just something for professionals or people who are experienced using effect pedals, but easily accessible to anyone.
This is a polyphonic product with true bypass, meaning that you can just play and don't have to worry too much about it!
This is the perfect gift for a young guitarist who needs to be encouraged to practice or compose more, and the best thing is that it's not that expensive considering all the features it offers.
Pros:
+ Polyphonic
+ True bypass
+ Toneprint app
Why We Liked It - This is the best option for people who like cool gadgets and fun music. It's much more than ordinary octave pedals and the toneprint app lets you either create your own sound or take somebody else's. It's the best way to take your music to the next level and it doesn't require a lot of knowledge to get started with. This is the future of octave pedals, and we're so happy to have found it!
10. MXR M288 Bass Octave Deluxe
Number 10 is one of MXR's bass octave pedals and if you're a bassist make sure to check this one out! This is a really cool pedal that not only changes the octave but also enables you to change your tone. It's analog and dual-voice and it has true bypass.
The growl knob allows you to create a throaty mid-range, octave below tone, and the girth control makes the tone deep and smooth instead, and if you prefer to play without any extra color there is a dry option as well. There is also a mid+-switch, that adds up to 15dB of mids.
The tracking of this product is simply the best, it doesn't limit you in any way. It's sturdy and made of the best aluminum and feels very high-quality.
This pedal works very well for both guitars and basses and is a joy to use.
Pros:
+ Analog, organic tone
+ Exceptional tracking
+ Add girth or growl
Why We Liked It - Now this is really nice octave pedal that makes your bass fat and juicy and really adds that little extra. You can choose between a dry, natural tone, growl for that throaty feeling or girth to make it smooth as velvet.
The best thing is that the tones it's able to produce has everything you could wish for, no matter which kind of music you prefer playing. A truly good product!
Effect Chain Placement - Generally, you'll want to place octave pedals towards the beginning of your effect chain to produce a clean sound. For more experimental tracks or sections, try placing your octave or pitch shift pedal after your preliminary effects to see how your sound is affected.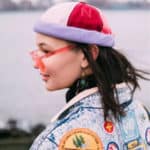 11. Catalinbread Octapussy
The last pedal of today is Catalinbread's Octapussy, and it's so good that it's hard to know where to begin. Ok, let's start with the pun, because that's the best thing ever! It's hilarious that somebody came up with this, and not only that, other people agreed and were like 'Yeah, let's call it the Octapussy and let's put a cat with eight arms on it!'.
After some thinking we realized that it actually makes a lot of sense to present this pedal like this. For starters, it's an octave pedal, but not just that, it has so many great ways to alter your tone that it's like it has eight figurative arms, it's extremely flexible, just like a cat. And instead of just doing the obvious like some others on our list and call it an octopus, they took it one step further and we love them for it!
This pedal makes it possible for you to add some gain or body to your tone and lets you play around as much as you like. It's really nice to be able to get so much sound from just one pedal, especially since it's an octave pedal and therefore we didn't really expect this much from it.
Pros:
+ Wonderful, creative design
+ Great organic sound
+ Add gain or body to your tone
Why We Liked It - What a great way to finish our list! This pedal is high on our wish list and one of the best we've tried. Although we must admit that the design probably made us a bit partial straight from the beginning, we desperately wanted it to sound as good as it looks, but we think that this pedal would win a blind test no problem at all! Any musician would be lucky to have this octave pedal!
Octave Pedal Buyers Guide
Top Pick: Boss OC-3 Dual Super Octave Pedal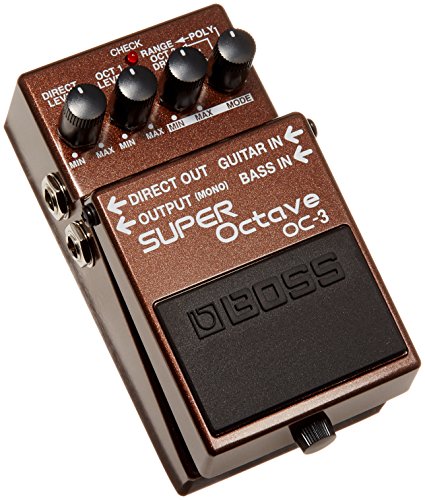 Our Top Pick for today is Boss OC-3 Dual Super Octave Pedal! We believe that this is a product that would work well for most musicians, and is the best, whether you're a beginner or a pro. It's the first compact octave pedal that is polyphonic, meaning that it handles chords and arpeggios well and you can play whatever you like without worrying about if it will keep up. It's a very versatile pedal and the sound is great!
If you want to add some distortion to make your tone even cooler you can do that, and it's able to go as low as two octaves below what you're playing.
This octave pedal is best if you are looking for extra bass, it doesn't have the alternative of transposing your music up, only down. This doesn't mean that it's not as good as other pedals that might be able to go either way, everything depends on what you're going to use it for.
This pedal feels like very good quality and there is no reason to believe that it should break down any time soon, but if that would happen you'll have a 5-year warranty, so you really have nothing to lose!
This pedal is sub-octave only, so if you want one that can get you those nice highs you should look for another one, perhaps our Premium Choice? But if you want to get that nice fat bass, this is a really nice pedal!
Premium Choice: Electro-Harmonix Micro POG Octave Effects Pedal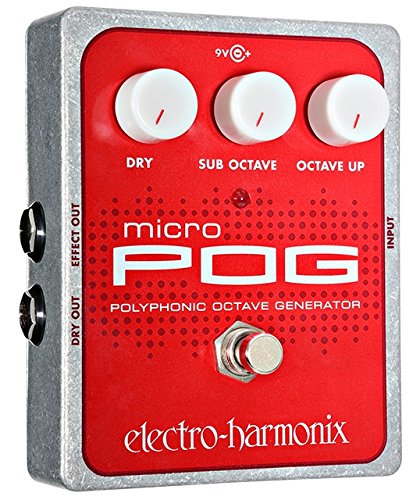 Sometimes you just want the best product out there and we believe we have found it! If you feel like treating yourself to a really good octave pedal, then this is the best option for you. If you're a professional, or a serious amateur, you'll love what the Electro-Harmonix Micro POG Octave Effects Pedal does to your music.
The octave pedal is polyphonic and lets you play whatever you want without any delay, whether you're playing a melody line, chords or arpeggios. It can take your music both up and down and it can make your normal six-string guitar sound like a twelve-string in an instant. It can also give you that nice organ feeling, both if you want something churchlike or something jazzier.
The pedal is really high quality and chances are that you'll never have to buy another pedal once you've bought this!
There is a certain feeling you get when you know that you're using a really good product. It's a feeling of luxury, functionality and design, and we must say that we really get that feeling from this product! So if you're into luxury goods, this is the best pedal for you!
Great Value: Donner Digital Octave Guitar Effect Pedal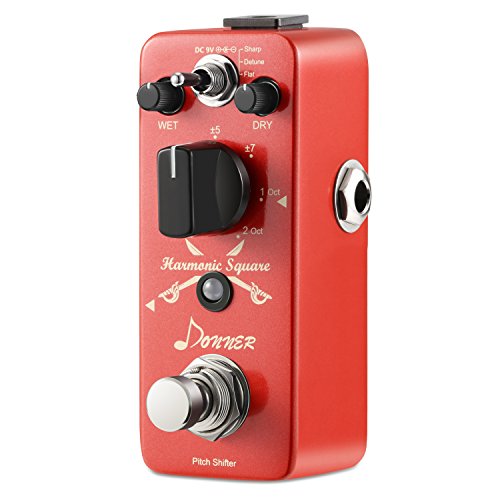 Ok, so we would probably all want our Premium Choice if we could afford it. But sometimes finances don't allow us to buy everything we want and that's when we need to find the best bargains out there. But don't worry, that doesn't mean that you can't get a really good octave pedal!
For example there is this Donner Digital octave pedal that definitely does what you want it to do without breaking the bank. In fact, this pedal is able to do something that most other pedals on this list aren't, it can move your tone, not just octave by octave, but stepwise.
You can move your tone up or down 2,3,4,5,7,12 or 24 semitones, meaning that you can actually do this instead of transposing, which can be very helpful when playing with other musicians, especially singers who want to change key to get a more comfortable range for their voice.
This pedal has true bypass, even though it's so cheap. This means that it doesn't affect your tone at all when it's not being used, which of course is something you would want in all your effect pedals.
All in all a really good pedal for a very affordable price. We like the orange color as well!
What is an Octave Pedal?
There are plenty of different effect pedals out there, and no matter which way you want to change your tone you can be sure that somebody has created a pedal to make that tone come to life. This is of course very exciting but can also feel very daunting for somebody who is new to guitar effects pedals.
Before you start choosing which pedal you want to buy from our list it is of course essential that you know exactly what octave pedals are and what you use the pedals for.
So let's start with the most obvious question: What are octave pedals?
Let's break this question down, shall we? Before we get into what octave pedals do it's necessary that we know what an octave is. Do you remember the song 'Somewhere Over the Rainbow'? If you sing the first two notes; 'some' and 'where', you'll notice that even though the second is much higher, they kind of sound the same. That's because they're an octave apart!
So now you know what an octave sounds like, but what is it?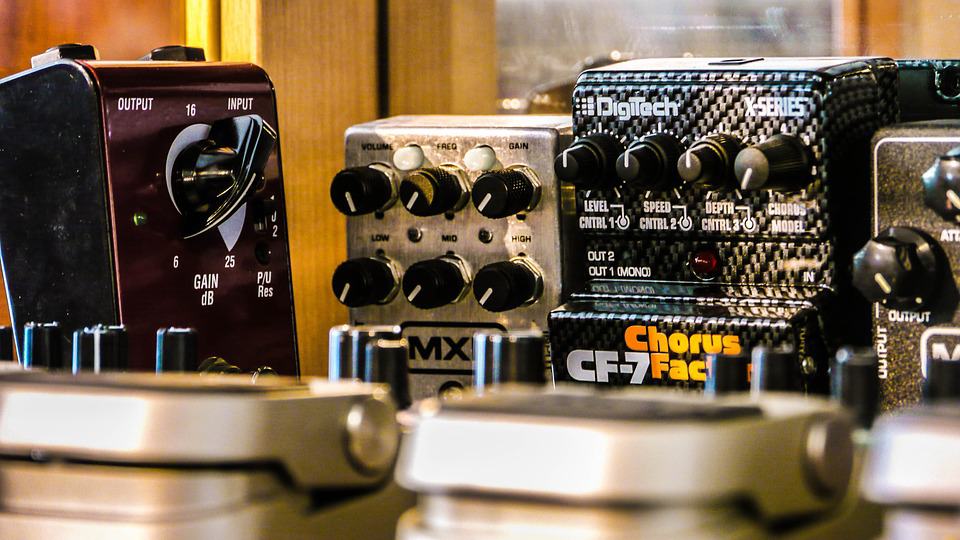 An octave is a musical term for an eight, named after the Latin word octavus. If you look at a piano keyboard, you can visually see this by looking at the pattern of the keys. If you, for example, play a C, you're able to locate a few other C's (how many depends on what type of keyboard you have). If you play them together you can hear that it's the same note, but some sound lower and some higher. They are all C's, but in different octaves.
It's a little bit like the color. Blue can come in different hues, it can be dark blue like the night, or baby blue, but no matter how dark or light it is, it's still always blue. It's the same way with a note, you get the same note in different octaves, but they are all the same in a way.
This pattern that we're so familiar with in western music is called octave equivalency, meaning that we recognize that C is always a C with similar qualities and sound, no matter which octave you find it in. We build our scales within an octave as well, it's almost like we can take different journeys there, but in the end, the octave is always on top and demands its rightful place in the scale, being a shadow of the keynote, if you will.
From one C to another is twelve semitones, or if you're playing a normal major or minor scale including whole and half steps, eight notes, hence the name Octave.
Is this something that musicians have come up with? Is it just something that is used in western music, or perhaps only in modern music? It might surprise you to find out that the answer is found in the mathematical field of science. Let us explain.
People have used octaves in music for as long as anybody can remember (well, actually much longer than that!), without really thinking about how it actually works. An octave is something that feels natural to us, and when a man and a woman sing the same song together and it sounds the same, they are actually singing in different octaves, so it's not something that is super complicated or new.
The person who normally gets the honor for figuring out what octaves actually are is Pythagoras. Do you remember him? The guy with the triangles you sort of hated in math class? He had a few ideas about the math behind the music as well!
Pythagoras was interested in how the length and thickness of a string change the pitch. What he noticed was that when you have a string and shorten in half by pressing it down, only allowing the half your picking to vibrate, you get the same tone that the loose string had, but higher, namely an octave higher.
This means that an octave is not something random, but there is a mathematical principle behind it, which is often the case with natural things we just instinctively feel make sense.
In order to dig deeper and truly understand what an octave is, without having to use a string to prove it, we need to look into the frequency pattern octaves follow.
You know what frequency is, right? Let us remind you quickly. Frequency is, simply put, how many vibrations a sound is made of. A very low sound, like a bass guitar, has fewer vibrations than for example a little singing bird. In music, we don't speak too much about frequency, we mostly call notes by their names and we talk about the pitch. We could, for example, say A, when we're talking about a frequency of 440 Hz. If we would have 430 Hz when we're aiming to play an A at 440 we would just say that it was off the pitch - click to read the study on octave pitch.
The higher the frequency is, the higher the note is, it's as easy as that.
Now that you know both what an octave and frequency is, let's see if we can combine that knowledge to understand what is was that Pythagoras actually did. Let's say that we have an A string, 440 Hz. If we cut in in half or just press it down in the middle, we'll still have an A, but it will vibrate twice as fast, at 880 Hz. If you would instead find a string that is twice as long, the frequency would be 220 Hz. Mathematically it just makes sense that they vibrate well together, but you don't have to do the calculation to realize that it works, you'll just hear it.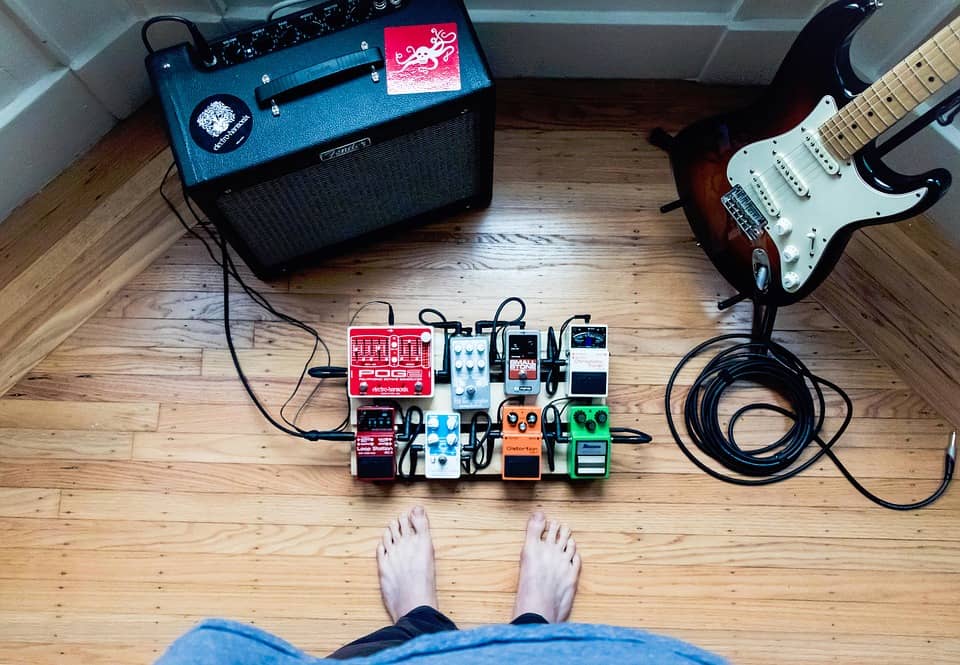 This also explains what happens when an instrument is out of tune, the vibrations don't match.
Playing music using different octaves is an excellent and easy tool to instantly make your music more interesting and it also helps certain parts to stand out, so that everything doesn't sound the same.
Ok, so know we know exactly what an octave is, now we just have to look into what the pedal is needed for. As you might have guessed, octave pedals change the octave of the music you're playing. But when would this be useful? Keep reading to find out!
What are Octave Pedals Used For?
Now we know what an octave is, and we know that we can use octave pedals to change the music we're playing an octave up or down, but when would this be useful? After all, the guitar already has a pretty wide range of octaves, however, octave pedals often alter your tone in additional ways as well, to provide you with a unique sound.
Octave pedals are great for situations when it just feels like your guitar isn't enough on its own, if you, for instance, want your guitar to act more like a bass, an octave pedal allows you to add extra depth to your guitar. Solos played an octave lower can sound really cool! The same goes if you want to have some really high, glimmering notes, the pedal will let you achieve them without having to climb ridiculously high on the fretboard.
In a band situation, octave pedals can actually mean that you almost have a couple of instruments more. Many pedals add an extra octave on top on what you're already playing, so it sounds like there are two instruments playing. It also means that you can use a regular guitar as bass, either instead of finding a bassist or why not to accompany your bassist and have two cool bass sounds now and then.
Octave pedals can also be useful if you need to change octaves really quickly and don't have the time to move your hand, or if you're not familiar with the octave you want the music to be in and don't have time or energy to find out where you find the notes you're looking for, in other words, it's useful for cheating! It can also be good when you're playing a phrase and want to move the exact same phrase up or down an octave, just let your hand stay and play the same thing all over again and let the pedal do the work!
Some octave pedals also come with the opportunity of adding other minor effects, like growl or girth. Others can really change your tone and make your six-string guitar sounds like a twelve-string or an organ. They can make your bass sound either distorted or smooth and rich, and they can make your trebles sing like a choir or punch like an angry mouse (that was terrible, but you get the idea!).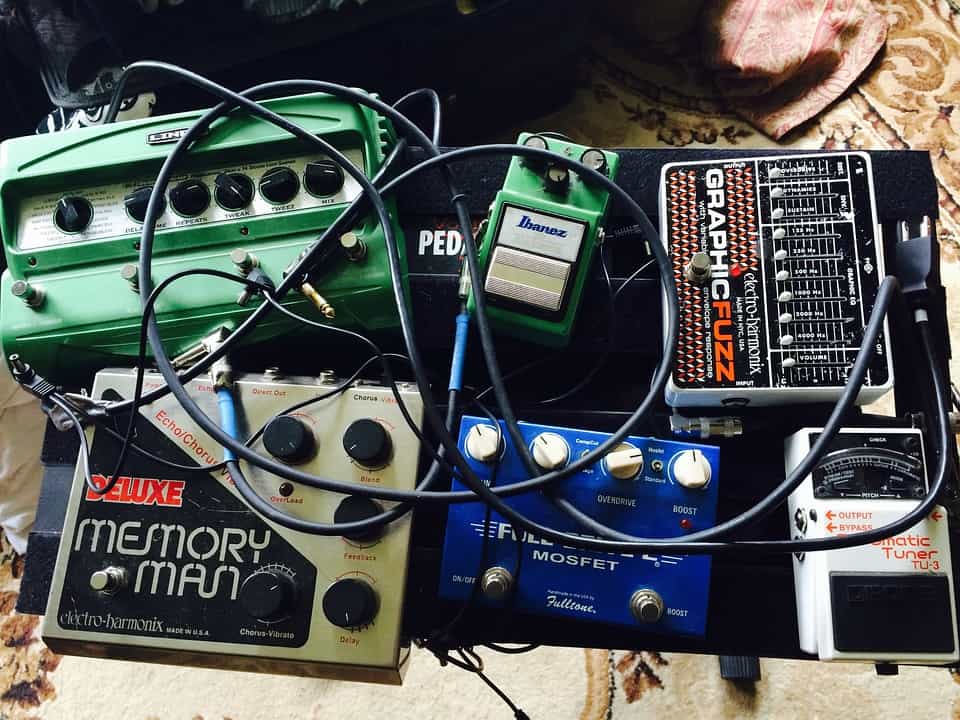 In other words, octave pedals can be very useful, not only for changing your tone up or down but to color it. If you still feel like you don't really know what octave pedals can do for your sound, just look a couple of pedals up on YouTube so that you'll be able to hear for yourself! Also keep in mind that many pedals come with the option of changing your tone, so just because you hear one-octave pedal doesn't mean that they all sound like that.
As you can see, it might at first glance seem like octave pedals are pretty boring and only really do the one thing, but a closer look shows us that there is a wide range of sounds available on the market that can be really fun to play around with and chances are there is an octave pedal out there that would really give your music that little extra magic.
What are the Top Rated Octave Pedals?
Perhaps you scrolled directly to this subheading. You might feel like you don't have time to read through reviews and compare different pedals that seem to have the exact same features. If this is the case, take a look at the three best pedals on our list, our Top Pick, Premium Choice, and Great Value. It's very likely that one of them will suit you!
If you have had a look at them, and maybe even read the rest of the reviews, and still feel hesitant, try to select maybe three different pedals you're interested in, and look them up on YouTube, so that you can hear them being used and see what they're like in action.
It's impossible to say which octave pedal is the very best since it all depends on your needs. How much are you willing to spend? How much will you be using it? Which features do you need besides the most basic ones? And most importantly, what do you want it to sound like? These are all questions that everybody would answer differently, which means that there really isn't one single pedal that is the best. But there might be a pedal that is the best for you, and that's why we put together this list, to help you navigate in the jungle of octave pedals.
Price and Feature Variety of Octave Pedals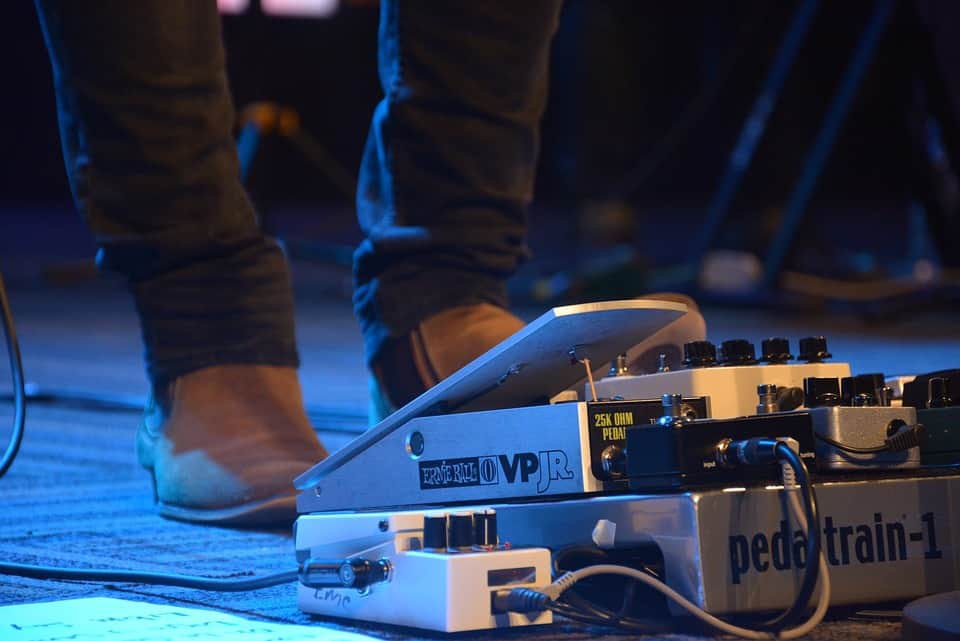 You might wonder why there's such a wide range of octave pedals and why the price can vary so much when they kind of do the same thing.
We must say that just like so many other things in life, you get what you pay for. Two things that seemingly do the same thing can be very different. It's like buying dinner plates. You might just want a white plate, and you could either buy a cheap or an expensive one. They might look similar, but there will be minor differences that will affect how you're feeling about them in the long run. The cheap one might scratch, or even break, much quicker than the expensive plate.
For the same reason, we encourage you to spend as much as you can afford so that you truly can enjoy your new pedal, however there are a few things to keep in mind when comparing octave pedals. If you pay attention to the things below it will be much easier for you to find the best and most suited octave pedal for you.
One thing to be aware of is that some pedals tend to have some latency that can become very obvious if you're playing fast. You want a pedal that tracks well so that it never affects your music in a bad way. Octave pedals are like dogs, if you have an obedient one you barely notice it, it just makes everything a bit better, but if it's disobedient you can't help but notice it, and it's pretty annoying. It's definitely worth spending a few extra bucks to get rid of that irritating latency!
Another thing that makes the pedals different from each other is what they're capable of in terms of range. Some pedals can only bring your tone one octave down, some two, other pedals only bring your tone up, and then there are the octave pedals that can do either. Some pedals can even change your tone one semitone at a time. Just because a pedal can do it all doesn't necessarily mean that it's way more expensive than the others, it's almost the other way around.
It feels like many of the pricier pedals focus on doing one thing extremely well. They would rather do one thing in an excellent way than do two or three things ok. This can mean that if you are very particular about which sounds you're after you might end up with a couple of octave pedals so that you can be fully satisfied no matter if you're going up or down.
But as we mentioned, octave pedals will most often do more than just change the octave.
Some pedals have extra features that let you change your tone and really customize it, allowing you to decide what kind of bass you want, for instance. This can be really good if you're playing different genres and want to be able to achieve that fat, full bass with lots of dirt for your metal band, but want to be able to play smooth, seducing notes at a wedding reception as well.
As with everything else, good quality costs more. If you want a hand-built work of art you'll have to pay more than something made in a factory in China, it's just the way it is. So something to think about when choosing your pedal is how much you will use it. If you're just wanting to get one to play around with to try it out, you might not want to spend very much, as long as you can use the pedal and it does what it's supposed to do.
On the other hand, if you play often and know that the pedal will have to endure a lot it will probably be worth it to spend a little extra, to save you money. It might sound like a contradiction, but the fact is, that if you keep buying cheap stuff that you need to replace often, you might as well spend money on something good in the beginning. It might sting a little to pay much, but you'll be happy you did, and it will save you having to order a new one every year.
One tricky thing to be aware of when it comes to most shopping is that you are sometimes paying money simply for the brand.
You need to ask yourself: 'Is this pedal really as good as they want me to believe it is?'. If it's a very well-known brand, chances are that they spend a lot of money on advertising, and where does that money come from? Your wallet. Try reading through our list and select three pedals you're interested in without looking at the brand. It might be tricky, but if you manage to do that, you might be surprised to find that many of the not so well-known brands are pretty good as well, and might save you some money!
Other people might argue that if you go with a famous brand you can know for sure that you're getting good pedals, since so many others have tried it out, and that is, of course, true, so there is nothing wrong with getting a pedal from one of these brands, but it's always good to be aware as a consumer.
We hope that this list along with the extra information about octave pedals has helped you in the quest of finding the best and most desired octave pedal for you! Take your time and compare all the pedals to each other, and hopefully, you'll find an octave pedal that will stay on your pedalboard for many years to come!
For the study, and to learn more, about Guitar Effects processors such as the octave pedal, click here.
If you've enjoyed this review by Music Critic, please leave a positive rating:
[vc_separator