Finding the best boost pedal isn't always top of the priority list for guitarists on the hunt for tonal perfection. Distortion Pedals (click here for the review),  Reverb  and other effects units often steal the limelight, but that doesn't mean to say that your board is complete without a really nice booster. If you are looking for an all in one, you may wish to read our guide on Multi Effects Pedals here.
This versatile piece of equipment can help not only cut through the rest of the band to take the lead during solos, but it'll also help give you a really solid signal to put through your board, and many have additional features to add tonal character too. That is of course, if it's a good one. With this in mind, we've brought together 11 of the greatest options you can buy new today.
If you are into soloing, you may wish to experiment with the delay effect, using a delay pedal (click here for guide).
At a glance:

Our top 3 picks
Our team's top 3 recommendations
Best Overall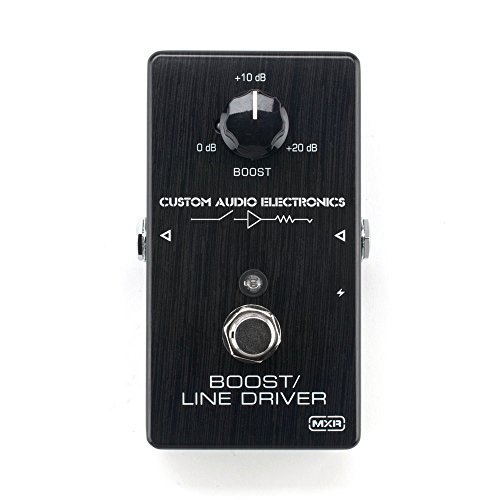 Jim Dunlop MC401 MXR

Strong, clean boost with no coloration
Really well built for gigging dependability
True bypass to prevent contamination when switched off
Premium Quality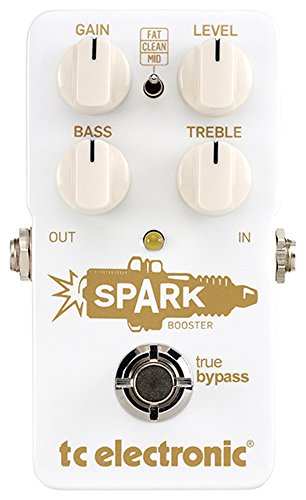 TC Electronic Spark

Strong, clean boost with no coloration
Really well built for gigging dependability
True bypass to prevent contamination when switched off
Great value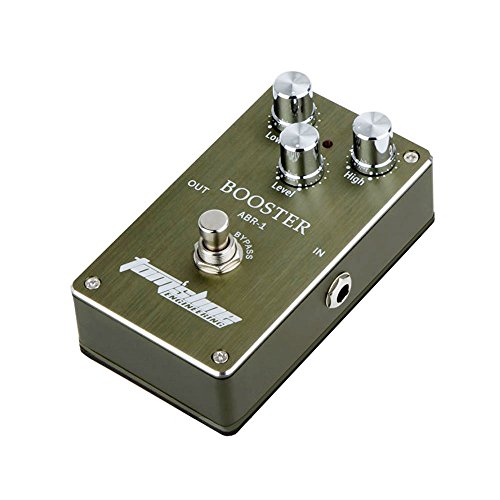 Aroma ABR-1 Booster

Strong, clean boost with no coloration
Really well built for gigging dependability
True bypass to prevent contamination when switched off
What is the Greatest Clean Boost Guitar Pedal for Solo Playing?
First up is the MXR MC401. With a true bypass and one goal in mind, this boost pedal is for those who need more boost without any coloration whatsoever. With boost adjustable between 0 and +20 dB, there is a decent amount of variance available, but otherwise, this is a no-frills option that really delivers.
One knob and one switch is exactly what you need if you're looking for a swift injection of boost, and it's exactly what you get. Premium hardware inside the chassis also ensures that you won't suffer any signal interference whatsoever, which is ideal if you don't want any change to your tone - only boost. Looking for Flanger pedals? Find them here.
The MC401 is also an extremely well built piece of equipment, being die-cast and robustly bolted together. We don't see why it won't stand up to years of touring use. The black brushed-metal-effect also looks great, and would certainly be at home on a more aggressive board - which just goes to show the potential for a clean boost even in a metalhead's arsenal.
Pros:
+ Strong, clean boost with no coloration
+ Really well built for gigging dependability
+ True bypass to prevent contamination when switched off
Why We Liked It - There's nothing too fancy about this pedal, with just a level knob present, but if you need straightforward, reliable boost in a great chassis, then it's hard to look past this as one of the very best & most popular boost pedal options on the market. Throw it before or after your effects chain and it's going to work wonders.
In front of an overdrive pedal - Placing a boost pedal in front of an overdrive pedal is one of the most popular ways to use it. Instead of increasing the volume, the boost pedal will increase the gain and compression of your overdrive pedal. Because the overdrive pedal doesn't have the headroom for increased volume, you get more clipping and overdrive. It's a great way to make your tone sound thicker and more overdriven without increasing volume.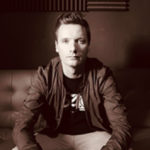 TC Electronic's Spark is one of the more versatile units on the market today, making it ideal for those that want a little bit more from their boost pedal than just a decibel increase. Rather than just a level knob to adjust the boost, you'll also find a gain knob to really push your tone with a bit more grit and compression. For this effect exactly, you may wish to look at compressor pedals (click for the full guide).
There's also a bass and treble adjustment, along with a nifty little toggle that sits between the knobs, which allows you to move between a pure, clean boost tone, and a couple of preset tonal options, one in the mid-range, and another that adds a bit of 'fatness'.
That said, the TC Electronic Spark is really very effective as a pure, boost-only unit. The level knob will take you right up to an impressive +26 dB, and with the rest of the adjustments left alone, it's ideal for gatecrashing the mix with high-powered solos and licks. In terms of looks, the housing is fairly plain, but it's smart enough, and will blend into most boards nicely. Build quality is high, and the mini toggle is usefully placed between the level knobs to avoid being knocked.
Pros:
+ Adjustment up to +26 dB of boost
+ 2-band EQ adjustment
+ Mini-toggle for added versatility
Why We Liked It - A very high quality pedal, with plenty of options, the TC Electronic Spark is ideal for guitarists that are looking for a feature-packed option that can do more than boost. It's great for really bringing out solos and choruses when used only for clean gain, but tone shaping options mean that it's very flexible indeed. Excellent choice for most players.
This budget choice would probably not be on most guitarists' lists, mainly because Aroma isn't well known as a manufacturer. That however, doesn't mean it isn't worth you taking a look. Despite the price, you're getting a true bypass boost pedal with level adjustment up to +14 dB, and knobs for low and high ranges too. Those are features you'd expect from a much pricier pedal.
If we're being honest, the ABR-1 does alter the tone slightly, even with no low or high adjustment, so if you're dead set on a unit that does nothing more than give you boost without any coloration, then this might not be the one for you. That said, there are very few pedals on the market that give you this much for so little.
Construction seems to be decent, with the chassis made from an aluminum alloy. The brand isn't hugely well known, so longevity over touring use isn't known, but initial impressions are good. The design is fairly basic, but the industrial feel is actually quite cool.
Pros:
+ Incredible value
+ Gives more than just clean boost
+ True bypass
Why We Liked It - A left-field option from Chinese manufacturer Aroma, the ABR-1 has a couple of drawbacks as a pure clean boost pedal, but ultimately is such good value that it's worth giving the unit a try - the quality and range of features will surprise you. Possibly the best budget option on the market.
Effects loop - Using a boost pedal in your amplifier's effects loop is a very effective trick. Usually, the effects loop is reserved for reverb, delay, and modulation pedals. Engaging a boost pedal at this stage will increase the volume of your amp. But, the sound of your amp will remain unchanged, so basically, you get a clean and pure volume boost.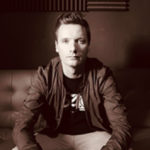 4. TC Electronic Spark Mini
The little brother of the standard Spark, TC Electronic's Spark Mini offers the same high-quality components for clean, interference-free boost, but in a smaller package, and without a few of the bells and whistles. Aside from the footswitch, you get just the one single level knob which moves from +0 dB to +20 dB.
It's not as strong as the full-sized spark, and it won't allow you to alter your core tone, but it does do a superb job of giving you an extra kick for solos and other lead parts. One useful feature is 'PrimeTime', which allows the pedal to be either switched on and left, or you can hold the footswitch down just to boost for a short period. And it does this at an amazing price, making this little boost pedal a really good choice for those who just want clean boost and good components without breaking the bank.
And it might be small, but let's face it; this thing looks great. The cream and gold detailing is stunning and actually looks cooler than the full-sized Spark. There's clearly an aesthetic going on here, and it'd look the part plugged into a brass and cream Marshall. Construction is again excellent as you'd expect from TC Electronic.
Pros:
+ Awesome value
+ Looks great, with fantastic attention to detail
+ PrimeTime feature is great for short bursts of boost
Why We Liked It - A great looking little unit at a hard-to-beat price point make the TC Electronic Spark Mini a sound choice for anyone who needs a boost pedal that gets the job done. We'd highly recommend it if you've found your tone already and just want a high-quality kick in a small package.
The Joyo Roll Boost is one very interesting little pedal. The boost knob label is expressed only as gain on the front, which somewhat hides the fact that it's capable of giving you a +35 dB increase. That's some serious power, which means that whether you use this as part of your effects setup, or just to boost the signal into the amp, you're going to notice. It works well, adding some extra sparkle at the top end, but it does feel like there's a little bit of a tonal change. Certainly not bad for the price, which is why the Roll Boost deserves to be on this list.
Design-wise, this is a pretty shallow little unit, but it's a good looking thing, and it should neatly fit into most boards with ease. Bright yellow might not be to everyone's tastes, but it fits nicely with the funky aesthetic and rounded edges. Build quality isn't as high as some of the boxes on this list, but it's still very competitive at what is an extremely attractive price point.
Pros:
+ Huge +35 dB of boost potential
+ Funky design
+ True bypass
Why We Liked It - A great price, and interesting look, and a huge potential decibel increase combine to make the Joyo Roll Boost a hugely attractive proposition. The brand might not be that well known, and the yellow paint job is severe, but for this price, you really can't go wrong. Give it a try and see just how much difference a +35 dB boost makes to your sound.
6. Electro-Harmonix LPB-1
Branded a 'linear boost pedal', the Electro-Harmonix LPB-1 is a relatively low-budget option that is in fact a reissue of the original effects board released way back in 1968. Don't let the low price fool you however - this is a great choice, and is no poorly made imitation of the original. This thing is made in New York, which is a real surprise, as US-made hardware usually carries a much heftier price tag.
You get just the one adjustment knob, as with all of the straightforward boosters, which packs a serious amount of gain. We'd really recommend this if you're working with pickups that just don't quite have the output you want. The transparency on this unit isn't quite as good as some other options, with a small change in the mid-range but it's good enough.
It's hard to argue that this isn't one of the best-looking boost pedals on our list, with that unpainted metal casing and big, bold logo that reminds us of 80s sci-fi corporations. That metal is die-cast too, which makes the LPB-1 feel very, very sturdy indeed. There are also handy rubber feet on the base of the chassis to make sure it doesn't slip about if you're using it unattached from aboard.
Pros:
+ Awesome looks
+ Old-school approach
+Intricately well made
Why We Liked It - The Electro-Harmonix LPB-1 is a very good value product that looks the part and is superbly made. It might not be perfect for those who are extremely particular about their tonal purity, and want literally nothing but boos, but just about anyone else would really benefit from having this die-cast little beast in their arsenal.
7. BBE Boosta Grande Clean Boost
Right around the mid-range in terms of pricing, the BBE Boosta Grande sets out from the very beginning to be the most transparent clean boost pedal on the market. It's packed with seriously high-quality hardware to achieve this, and offers boost of up to +20 dB.
Does it succeed? We think so. The Boosta Grande really doesn't touch your core tone at all, making it absolutely perfect for those who are nervous about purchasing a boost unit that might mess up what they've achieved already. Our only criticism would be that the bypass switch noise when turning boost off and on isn't the quietest - but that could well change once things have worn in a little.
The casing of this unit doesn't feel quite as robust as some of your alternative choices, and this comes after BBE decided to downsize the box a little. This certainly doesn't mean it's going to fall apart anytime soon, but it's something to consider if you plan to tour with it. It's also fairly plain.
And finally, this pedal does actually come with a power supply unit, which is fairly unusual, and makes it generally good value.
Pros:
+ Superb transparency
+ Comes with power supply
+ High-quality circuitry
Why We Liked It - The Boosta Grande gets into this list for its excellent hardware and engineering, which means that it's arguably the most transparent clean pedal we've reviewed. It's good value for this reason, especially with the supplied power unit. If you want something mid-range that genuinely gives you clean boost, then it's hard to argue against this option.
A much smaller cousin of the MXR we've already covered in our list, the M133 is branded as a 'Micro Amp', and we like that name, because that's pretty much what it is. Crank up the dial and you get some serious extra boost without any real coloration. Just amplification.
We think this little unit would be ideal when twinned with an old Marshall or Vox and either no other or a very restrained set of, pedals. There's a bit of extra brightness when applied, but aside from that, it's just pure, clean boost that you can feed into the amp. You'd get a really nice sound by pushing an older valve amp just a little bit harder than it's used to.
Finally, it's minimalist, but certainly not in a bad way. This little box would slot nicely into just about any board while looking good. In fact, we think it's probably one of the nicest looking units on our list.
Pros:
+ Great quality
+ Almost perfect transparency
+ Useful miniature chassis
Why We Liked It - This has been one of the top-reviewed clean boost units on the market for quite some time now, and we'd tend to agree. It does a very good job of boosting cleanly like a little preamp, and is very simple to use. The miniature chassis is also very welcome, and is almost surprising for how much of an effect the unit can have on your sound.
The Donner 'Boost Killer'. Interesting name, and we think something must have got lost in translation somewhere, because this little thing certainly doesn't kill boost - it gives you plenty of it! You've got a 30 dB range to adjust through (-15 dB to +15 dB), with a total of four knobs to choose from, namely bass, treble, volume and gain.
This is a genuinely versatile product because it's clearly been designed to give you all kinds of boost. It will very happily be used as a purely clean booster (though the transparency isn't perfect, but far from bad at this price point), but if you play with the other dials, you can get some nice overdrive going, and a bit of general tone shaping.
The chassis is very, very compact despite the functionality, and is made of all-aluminum, so we have no concerns over its durability. There have been some reports of faulty internals on delivery, but these have been rectified quickly.
Note that the Boost Killer can be powered with supply but not a battery, so bear that in mind before purchase.
Pros:
+ Plenty of features for a small price
+ Packs a surprising amount of boost
+ Well made and nicely finished
Why We Liked It - An interesting pedal, because while it's definitely good for entry-level clean boost, it has a fairly wide range of applications. We think it's definitely worth a look, which is why we've included it here, because it's so very flexible for the price, is built well, and looks great.
10. Xotic EP Booster Mini EQ
Named after the EP-3 Echo Machine used by legendary guitarists such as Jimmy Page of Led Zeppelin fame, and fret-tapping genius Eddie Van Halen , this mini boost is intended to do nothing but bring out your tone by giving the bottom end a bit more definition, and brighten the top end. And we're pleased to say it does just that - this is a very, very good clean boost pedal indeed.
All of the marketing spiels claims that you can change the EQ shape of this pedal as well as boost, and you'd be forgiven for being pretty confused by that. There is after all just the one level/gain knob, and the footswitch, right? Wrong - if you open up the chassis, you'll find a couple of additional switches that allow you to make adjustments other than boost. This is an interesting choice on what is a premium piece of kit, priced above almost all of the other options on our list.
Construction is sound - you could throw this at a brick wall and the wall would probably come off worse - and only very high-quality components have been used. It has a very classic look, which should be to most people's tastes.
Pros:
+ Very high quality
+ Excellent sound
+ Strong reputation
Why We Liked It - This is a costly option to say that it does very little other than offer clean boost, but it does that very well indeed. If you want to be sure that you're getting the absolute best, and particularly if you want to buy on reputation, then this is a good option, which is why it goes into our list.
Thicken up your tone - Adding a boost pedal in front of your amp can beef up your tone for an authentic bluesy sound. You don't want the amp settings to be totally clean; you want it to be slightly overdriven. Use the boost pedal like a preamp, dialing in the volume you need. If you get it right, the boost pedal will add warmth to your tone, and your guitar will sound bigger.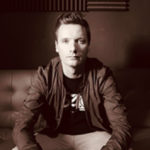 J Rockett Audio Designs (often known as JRAD) have set out with this particular unit to emulate one of the boost pedals of legend - the Klon Centaur - which is well known as the standard by which many other boosters are measured. It's out of production now, which is why enthusiasts will have to make do with this.
We say 'make do', but in reality, this is a fantastic choice for boost. Very clean, very smooth, but with the potential for some nice bite with the boost turned right up. We really cannot fault the sound that it produces, which means that it absolutely has to be on this list, despite a fairly big price tag.
It does look a little odd, but the gold paintwork is pretty cool, and it is attempting to emulate what is now a 27-year-old design, so it gets a free pass on that one.
Pros:
+ Flawless transparency
+ Feels very well made
+ Retro design
Why We Liked It - If you want the absolute best boost, then this just might be it. Yes - it's not a true clean boost pedal because of those additional knobs, but it takes on the task better than pretty much anything else out there. You are paying for some serious hardware, but in our opinion it's worth it, and we can see why its inspirer is used by everyone from Jeff Beck to James Hetfield.
What is a boost pedal?
Boost pedals are probably one of the most underrated pieces of guitar equipment available, along with the Wah Pedal (click here for the full review). Most guitarists tend to think of the flashier, more obvious pedals such as those that add distortion and other effects as being the real showstoppers. After all - they sound more interesting on the face of it, and if you're trying to find that tone that you really like, then surely looking for the right pedal to change your tone is the way to go?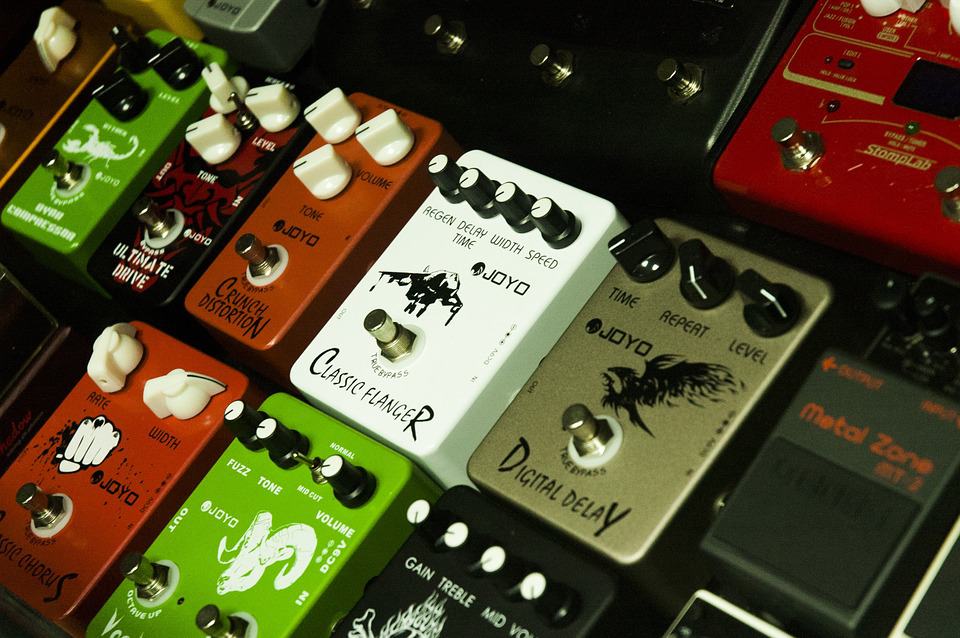 In reality, that's just not always the case, which is why these things can be found on most guitarists' boards, and why the very best guitarists use them (and why you should consider using one too). In short, a boost pedal is designed to increase the volume of the signal going from your guitar into the amp, but without making your tone any muddier, overdriving it in any way, or in fact changing the core tone in any way at all.
Sometimes this is referred to as being 'transparent', but as with many things when it comes to tonal vocabulary, different users will call it something else. There are lots of different potential benefits to this ability to boost cleanly, which we'll look at in more detail in the next section, but ultimately it allows you to either temporarily boost your volume to cut through the sound when you're playing in a band, or it allows you to get a stronger signal into your amp or pedals, which can mean better characteristics from them.
It's important to note that boost pedals often get called different things, such as 'clean boost', 'linear boost' or 'distortion free boost'. In essence, they all mean the same thing, but that doesn't make them all equal, and not all of them are limited to clean boost alone either. Some pedals will be better than others at boosting that signal, and many have additional effects available that really will alter your tone, even if they're branded as a clean booster. They might offer EQ adjustment too, or even other preset tone shaping. They're sometimes known as hybrids, or for instance, treble boost pedals if they have a specific function.
What's more, is that clean boost can actually be achieved sometimes by effects units that are not marketed or branded as clean boost pedals. If you turn off all the levels and effects on some overdrive pedals, for instance, you can reduce the function to simply giving clean boost. That said, in many such cases, there is still some tonal change, which isn't what most users want.
At their core then, boost pedals are designed to get that signal across as cleanly as possible, at a higher level. All good players know that additional metal between their guitar and amp can cause tonal changes, whether good or bad, which is why a lot of work goes into ensuring that doesn't happen with a clean boost pedal.
What does a boost pedal do?
So what is it exactly what happens when you hit that footswitch for more boost, and how can you use this to your sonic advantage?
Your first option is the most straightforward and obvious one. Choose which decibel setting you to want the unit to output at, and then a quick stamp on the footswitch will instantly give you a power lift that's perfect for making the guitar louder at will. At home, this can be useful where you've got varying volume demands over a song.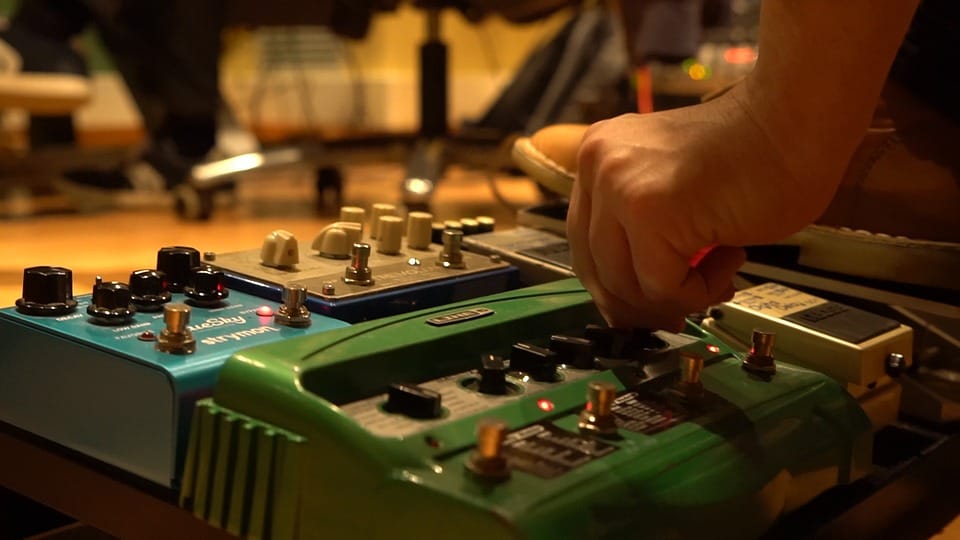 Many people will also ask - "what's the point in a clean booster when you have a volume control on the amp?". Well, the answer is that it's very difficult to very specifically change the volume mid-song - it's far easier just to hit a pedal. In addition, changing the volume on the amp may well alter some of the characteristics of your tone in a way that you don't want - particularly with a nice valve amp. The low down is that increasing the signal going into the amp is not quite the same as increasing the volume coming out of it - or indeed altering the gain on the amp as the signal comes in.
On the stage, in the rehearsal room, or at the studio, this ability becomes pretty much essential for most guitarists. There's nothing more annoying than coming to your solo or even a break, and finding that the rest of the band is still pretty much at your level - preventing you from being able to shine through and make an impact.
A clean boost pedal gives you the ability to suddenly cut through that mix, allowing the guitar to be heard more clearly over everyone else, and then cut back as you need to. You can do this to whichever degree you like too because all boost pedals will allow you to choose the decibel increase/gain that hits when the footswitch is depressed.
Virtually no live guitarist that's part of a band will go on without either a clean boost pedal, or some method of getting a clean boost from another pedal. But that's not all these little units are for.
Remember how we said earlier that changing the volume of your amp might make things sound different in a way that you don't want? Well, there's a flipside to that. Increasing the signal that's going into your amp - even if it's an incredibly clean or transparent signal, can make the amp work harder, which in turn might alter the tone - but in a way that you do want.
An old vintage amp, for instance, will have a little bit more bite to it if the signal coming in is stronger because it'll be working harder, and be a bit more strained. This can be a great thing if your tone is too smooth and just needs an edge to it. There are also lots of players out there who have breathed new life into what they thought was a tired old vintage amp by pairing it with a nice clean boost.
And while all of this is true for amps, it's also true in a way for other pedals. You can put the clean boost pedal at the end of your chain to boost the signal from all of your effects before they go into the amp, to really strengthen them. Alternatively, lots of people put their clean boost either at the front or somewhere in the middle of their chain to give the other effects units a stronger signal to play with. Boost is flexible.
While those are the main reasons you might use a boost pedal, there are others too. You might, for instance, want to be able to bring two guitars with differing pickup outputs closer together, and this is the perfect solution to that.
It is of course entirely up to you as to how you use the pedal and where you decide to place it in the circuit, but these are the primary methods that people use, and why very few boards can be said to be complete without one.
How to choose a boost pedal
Choosing one of these units is certainly not easy. In the next section we're going to look at what makes a pedal good or bad, but firstly, what should you think about when you're picking between them?
'True bypass' is something that you'll see a lot when looking at the different options in front of you. What this means is that when the footswitch is in the off position, and you don't want any boost, there should be virtually no interference whatsoever - it should be as though the pedal isn't even there, and the signal flows through as it needs to.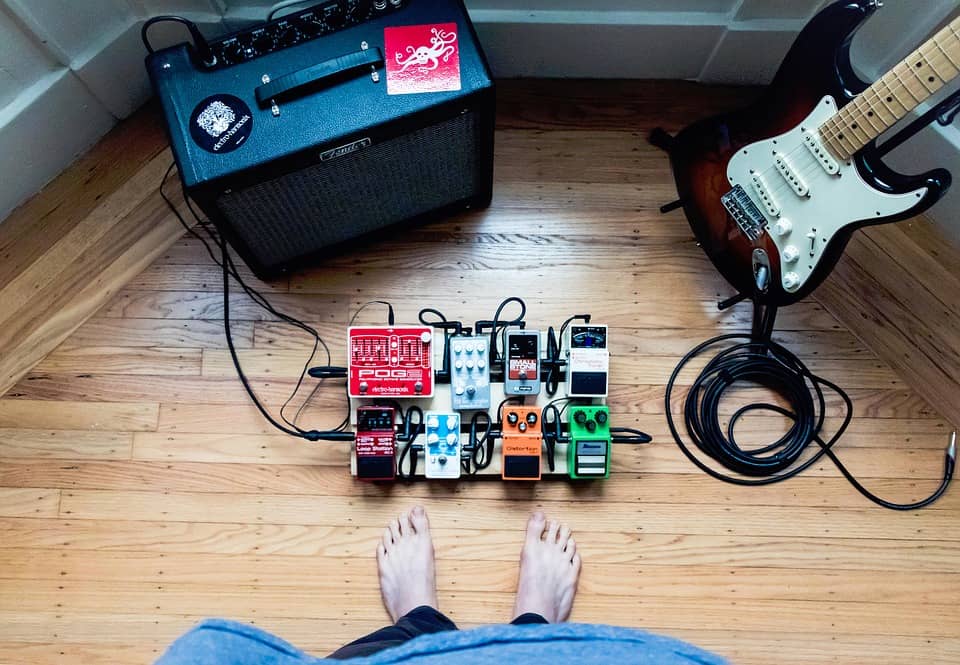 This is generally seen as a big positive, and you'll find that most pedals on the market do come with the feature. It means you can have the unit ready to boost, but it literally will not do anything while you don't want it to, which is very important if you really want to keep your tone as stable and replicable as possible.
The pedal does this by physically switching the circuit so that the input and output jacks are connected to one another without anything in between.
However, true bypass isn't always completely desirable. On some premium boost pedals, you'll find that true bypass isn't a feature - surely that's a mistake if most boutique-made pedals do? Not quite. The true bypass has two issues that may be severe disadvantages to some and not a problem for others.
The first is that the switching of the circuit with the footswitch almost always makes an audible pop or click. Often this isn't too much of an issue if you're not hitting the boost frequently, because it's very quick and will get lost in the rest of the sound if it's live. In the studio however, this can be a really big problem. It's also a potentially big problem if the pedal sits before any effects. If that clicking noise happens before a delay effect for instance, it's going to happen multiple times before it disappears.
The other issue with true bypass is that when you depress the footswitch to make the boost kick in, the change happens instantly. In many cases, that's absolutely fine, but often this is going to be harsh and jarring. Again this is particularly true with effects. Imagine if you have some delay or reverb going on, and it's suddenly killed outright when you switch the pedal on or off - not ideal.
This is why lots of pedals will have vocal processors or buffering instead of a true bypass, which will smooth out the transition. So when considering which pedal to get, you need to have a think about whether you want a true bypass or not. If you do, then try to find one that has the best, quietest switchover.
The next thing you need to consider is whether or not you want or need any additional functionality from the pedal. Many come with EQ options, which might be good if you want more out of the pedal than just boost, and like the idea of having some versatility. They can vary a lot, which will make your decision-making process a lot longer, but if you're clever you can get a lot of features in one pedal for a decent price.
You may also want to consider the size and shape of the box itself. There are generally two sizes on the market - standard and mini. The standard ones are the ones that pack the most tech, but the mini ones are great if space is an issue, and both should be just as durable as one another. It's also worth bearing in mind when comparing boxes that some are physically higher than others too - and you ideally want to keep all of your pedals at a similar height for ease of use.
Next up is power. Not the power that the pedal will give to the signal, but the power needed to make the unit work. Most can either be used with a battery or a power input, but it's always a good idea to check depending on what you're planning on using. And remember that some pedals will come with a power supply or batteries, and some won't.
Finally - and it's a minor point - if you've got a particular look that you like, then bear that in mind when you're browsing too!
What is the Greatest boost pedal?
So we've covered some of the main points that you need to think about when picking a pedal for your own needs and tastes, but what actually makes a booster the best? Knowing this will also help you make sure that you make the right decision.
We've already touched on one of the points - the switchover. Higher quality components in a true bypass pedal will ensure that the click of the circuitry changing isn't too prominent, and this leads us to what is the most important differentiator between pedals.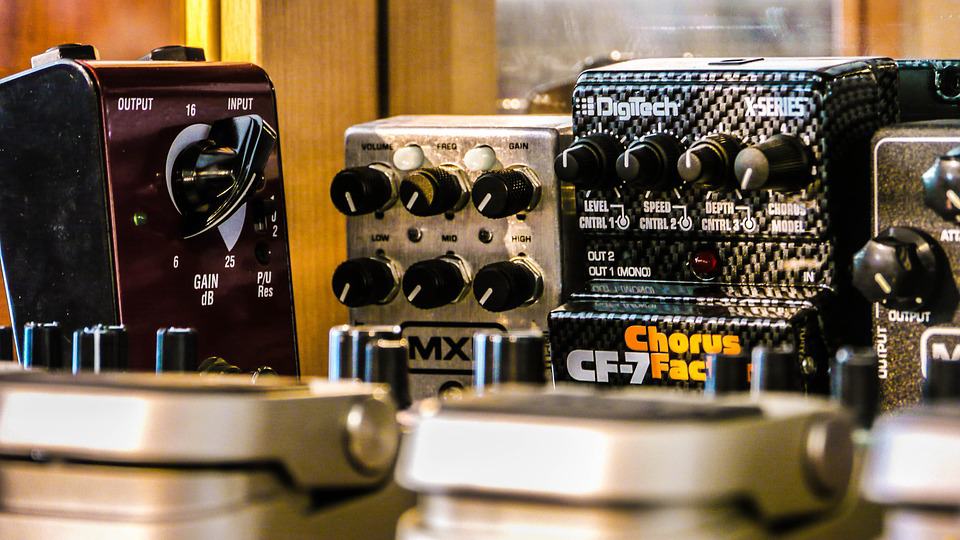 Higher quality circuitry, in general, is what allows a really good boost pedal to get that transparency that so many guitar players desire. It's generally interference from some of the components that affect tone negatively, or indeed the way in which the gain is applied. Ultimately, the greatest boost pedals will do nothing other than open up the tone you've already nailed.
This is something that has been chased for years - famous boost pedals often have their designs copied because they're that good at being transparent, but they'll go a long way in hiding their secrets, which is why they're still prized.
That decibel gauge on the knob isn't always equal between pedals either, and that again comes back to the hardware. You'll find that the very best units will sound better at +20 dB of a boost than lower-end products will at the same level of boost - just because they're both supposedly doing the same thing doesn't mean that they actually are. This is why people are willing to spend more to get better hardware and ultimately better boost.
Build quality is another big one that separates good pedals from average ones, and average ones from poor ones. You're going to be standing on this thing a lot, which means that it really has to be able to stand up to a fair amount of abuse.
Poorly made pedals can suffer from a variety of failures. The circuitry inside the box can become damaged or detached, the chassis itself can crumple or split, the switches can break off, and the back can sometimes even come apart. Sometimes these issues can be repaired, but it's far better to simply buy a high-quality unit in the first place.
It's often the case that a super well-made boost will last years and years. Some vintage ones like the Klon Centaur that we mentioned in the IKON review are now more than two decades old, but still, perform exactly as they did in the early 90s.
So there you have it - the main things that will separate good boost pedals from the top is that the best will use high quality components to be as transparent as possible, really boost the signal, and create a strong chassis and switches for reliable use.
Top Choice - Jim Dunlop MC401 MXR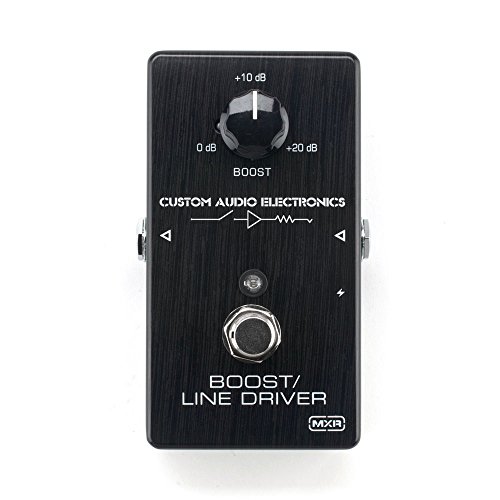 Our top choice has to go to the MXR MC401 made by Jim Dunlop. It's simply the best out-and-out clean boost pedal on our list. While others might have additional features and even more capacity for adding decibels, it's this one that does exactly what clean boost pedals were designed to do in the first place, and it does it in a great package at a better price than other premium options.
The chassis can only be described as feeling bulletproof. It's very clear that this is a pedal that has been designed from the get-go with touring musicians in mind, and it looks the business too. Black pedals are always going to have an advantage in this area and this one is no different. We wouldn't be surprised if it was on the pedalboards of some seriously famous rock and metal musicians.
The takeaway is that if you are looking for a mid-to-high market boost pedal that will do exactly what you need it to, you don't need any tone shaping options, and durability is important to you, then this is the pedal for you. It's just that good.
Premium Choice - TC Electronic Spark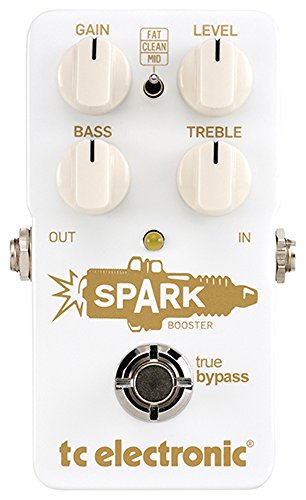 Those with a good budget can do little better than spend it on TC Electronic's Spark, which is our premium choice. It's got loads going for it, including the clever PrimeTime, and simply doesn't fall down in any area. It does cost a fair amount more than other pedals, but it's not a crazy price, and still comes under some other pieces of equipment that aren't as highly specced.
The Spark offers a lot more than just clean boost, which means that it's a really good option for people who want to cut down on the number of pedals that they're using. In fact - you could quite easily use it alone with a nice valve amp and it would sound fantastic with some of the additional effects turned up. That said, when it is being used purely for clean boost, it's hugely competent - you could use it only for that purpose and the price would probably still be worth it.
The whole thing just looks and feels like the premium choice too. It's been designed carefully, with very solid materials that have a definite robustness to them, and this is contrasted with a really slick white paintjob. Just a great all-round pedal.
Great Value - Aroma ABR-1 Booster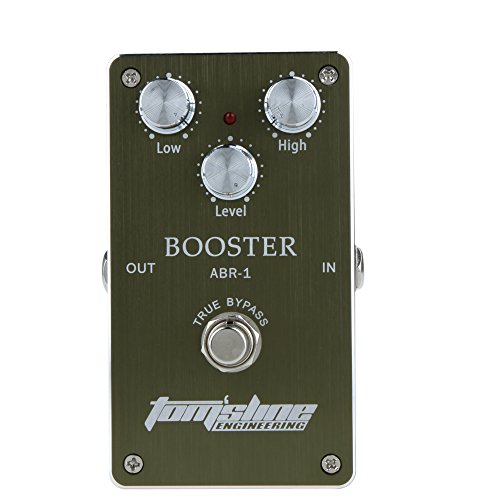 Let's face it - the price is criminally low, which means that this product would find it really hard not to be our great value choice. And the thing is - this isn't a no-frills, one-button product either. It's got plenty going for it, and while none of it is the best, it's a superb choice for someone who is trying a few things out for the first time, or is even new to pedals entirely.
The TC Electronic Mini Spark certainly came close to beating out the ABR-1, but we simply couldn't overlook the fact that this one has a few different options for you to play with as well as its clean boost function. It's got a true bypass switch and two EQ knobs and it costs this little. Just brilliant. OK, so the transparency isn't 100%, but that really has to be overlooked.
What's more, is that the ABR-1 just does not feel cheap. It has a reassuring weight to it, and the aluminum alloy feels very strong, as does all of the switchgear. Yes it doesn't have any fancy design to it, but it's not bad looking at all, and certainly doesn't look like your typical low-budget knock-off. The engineering of the pedal is most certainly up to scratch, especially when you consider the great value.
Conclusion
So there you have it. 11 excellent clean boost pedals to choose from, with options whether you're looking for great value, the very best, or a good all-rounder. Remember to think about what you want from your pedal before you make a decision, and what to look for when you're deciding which of two options is better.
If you liked this review by Music Critic, please leave a positive rating:
[vc_separator