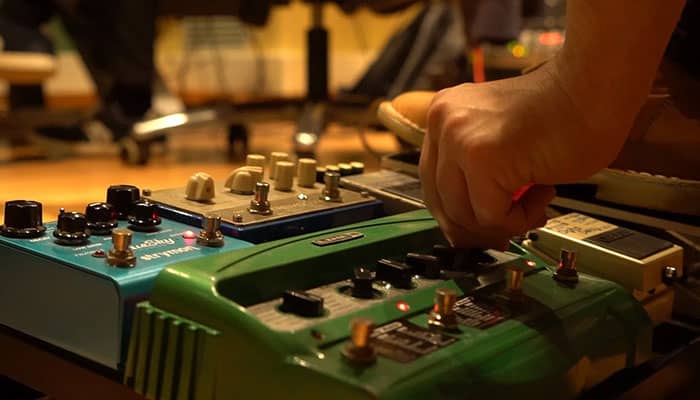 Perhaps it is time to get an overdrive pedal? You've made up your mind. Your guitar has been feeling quite lonely lately. It needs a new friend, and as its owner, it is your responsibility to get the best overdrive pedal possible.
Just think about how happy your guitar will be when you introduce them to each other! They will be so thankful that they will allow you to vary your sound and inspire you to keep creating wonderful music. And you will all live happily ever after.
So, now that we've established that you totally need one there are some questions we need to answer. First of all: What overdrive pedals are the best and what is the difference between different brands? Then we'll look into what an overdrive pedal actually does and what you need to keep in mind when making your decision. If you want to look into different effects, you should see our review on the top pedals with flange effect here.
Ever thought about delay pedals? - Click here for our top 11.
At a glance: Our top 3 picks
Your shortcut to our team's top 3 recommendations
What are the Greatest for a Tube Amp & Metal?
1. Greer Amplification Lightspeed
Our top choice today is this wonderful pedal from Greer Amplification. It is what they call an 'organic' pedal because of the natural sound quality it produces. It has a nice, clean sound and suits guitar players that want a natural light to mild overdrive.
The pedal is very high quality, hand made in the U.S.A. and they even offer a lifetime warranty, which makes it a good investment. It is suitable for all genres where you want to have a natural drive tone. The tone feels clean and you can achieve that radio quality easily.
This overdrive pedal allows you to play without thinking too much about it since it is sensitive to pick attack. Simply put it adapts to the music you are playing in order to make it sound the best. If you're looking for an Equalizer, you can check out our top EQ Pedals here.
This is the pedal with the clearest sound on our list and it is a good choice for both beginners and professionals. It is fresh, clean and natural. Everybody loves organic stuff these days, why should music be any different?
Pros:
+ Organic, natural sound
+ Sensitive to pick attack
+ Lifetime warranty
Why We Liked It - Clear, natural sound that enhances whatever music you play. It offers sensitivity to pick attack to help your playing sound as musical as it does in your head. With the lifetime warranty, this might very well be the only overdrive pedal you'll ever have to buy!
2. Maxon RTD800 Real Tube Ovedrive Pedal
If you are one of those people that move between genres a lot this might be the pedal for you. It is actually not just an overdrive pedal but also a distortion pedal, meaning that with the same product you can achieve everything from a cute love song to death metal.
Because of the two different functions, it does cost a little more but if you are looking to buy two separate pedals anyway this might actually cut the cost for you.
This pedal has a foot switchable boost function which is a nice extra feature. It has also got three independent tone circuits. This helps diminishing frequency overlap and cross-talk and means that you have more tonal options than most other pedals would offer.
This pedal would suit a musician who is versatile and needs to choose between many different sounds. This pedal is for someone who knows he will make full use of all the possibilities it has to offer, someone that will vary their sound often and really try what this little machine can do.
Pros:
+ Overdrive and distortion pedal in one
+ Foot switchable boost function
+ Three independent tone circuits
Why We Liked It - This is the pedal to go for if you are interested in a distortion pedal as well as an overdrive pedal. The sound quality is nice either way you take it and it offers a very broad range of tonal options to help you take your music to the next level. A true premium choice!
3. Behringer Vintage Tube Overdrive TO800
Behringer is known for manufacturing very affordable equipment that actually does what it's supposed to do. Not always more than that, often it can be good products to start off with when you are trying to learn more about music making that you will eventually upgrade from.
But how does this Vintage Tube overdrive pedal hold up? We believe that if we were to perform a blind test, not telling how much this pedal costs, no one would be able to guess that it is one of the cheapest on our list. The sound reminds of much more expensive tube screamers, although it is a lot brighter.
This pedal definitely suits all types of musicians who want to make a great bargain, but we would recommend to mostly use it at home, or when practising, since we are unsure if the plastic would survive on tour. For this price, you have to be able to compromise somehow, though, and plastic casing isn't all that bad! However the green design is actually really nice, it looks a little bit like a fancy toy, which, I suppose, it is!
Pros:
+ Super affordable
+ Good sound for the price
+ Nice green color
Why We Liked It - This is an absolute steal and does really compete with expensive pedals for a fraction of the price. This is a very good choice if you want to try using an overdrive pedal to see if you like it before you spend a smaller fortune on a big brand, but it might just happen that you stick with this one! The extra money you save can be used to buy a complimenting pedal such as a Looper Pedal (click here for full guide).
4. Tom'sline Engineering Vintage Overdrive Boost Pedal
Are you a fan of Michael Angelo Batio, one of the greatest metal guitarists of all time? Would you like his signature and portrait on you overdrive pedal? Then this is the one to go for! It is a compact little pedal but don't let that fool you, it's got lots of character. Michael Angelo Batio actually uses these pedals himself for all purposes!
Its design is very handy as well, it has got a stop bar on the pedal to avoid accidental changes of settings while playing and it is made of aluminum. It is available in blue, green and brown. This might be a good pedal to start with if you want to start using an overdrive pedal without breaking the bank or if you really want a small pedal that is easy to bring with you.
This pedal is affordable and does what it is supposed to do well enough. And let's face it, things are always a little bit more exciting when a celebrity puts his name on them! Especially when it is a celebrity that really knows what he is talking about.
Pros:
+ From the Michael Angelo Batio design line
+ Stop bar to prevent from accidental touch when playing
+ Available in blue, green and brown
Why We Liked It - A cool little overdrive pedal with lots of power even though it's so small. It is also very sturdy despite its size and the stop bar is a useful feature. We like that there are three different colors to choose from too. And if you like Michael Angelo Batio it is a must have!
5. Nady TS-30 Tube Sound Overdrive Pedal
This overdrive pedal from Nady offers good value for your money as it is pretty cheap but very good quality. That great tube distortion you've been looking for? You've found it! It offers a warm, natural tone and it is good for all kinds of modern genres.
The design has a vintage vibe to it which makes it look much older than it is. It is blue with all metal casing which means that it will probably last long, no matter how much you travel with it. It even runs on a 9V battery if needed. This is a nice option if you want to go for a durable but relatively cheap pedal.
A big plus is that the footswitch is very quiet, which of course is crucial when recording, but it is also nice not eliminate as much noise as possible even if you're just playing at home. Even though this isn't the best pedal on our list it does take a professional to notice a difference, try to listen to this one in comparison with a more expensive model and see if you hear any difference!
Pros:
+ Affordable pedal
+ Cool vintage design
+ Quiet foot switch
Why We Liked It - Durable and sturdy, nice design, good price, and best of all- good sound! We especially like the quiet foot switch and the blue color. The fact that it also runs on battery is a plus as well. In other words, a good budget option for all kinds of guitarists.
Our first impression of this pedal was that the design looks extremely professional. Turns out it was designed in collaboration with Eddie Van Halen. We must say they have succeeded, it looks and feels great! This is a very versatile pedal that gives the musician whatever he wants. The sound is very high quality and you will probably feel that it was worth paying a little extra to get this high performing pedal.
The noise reduction is on point and the pedal responds well to the dynamics of your pick attack. This pedal lets you focus only on the music you are playing and it allows you to really make that sound you have in mind come to life. This pedal really brings you the Van Halen sound and you just have to try it for yourself to know how good it actually feels!
Pros:
+ Designed in collaboration with Eddie Van Halen
+ Amazing sound
+ Outstanding noise reduction
Why We Liked It - You can't go wrong with this one. It has got the whole package. It has terrific sound quality, both functional and awesome looking design and for Van Halen fans this is definitely a product worth considering. It is hard to even find any flaws in this overdrive pedal! If you are looking to vary your sound a little more, you can always add a reverb pedal to your collection.
7. Fulltone OCD Obsessive Compulsive Drive
With the funniest name on the list this pedals smiles its way in to our heart. 'OCD' implies that it will not accept any flaws, and it doesn't. There is something about it that makes us want to open our wallets. The lovely name aside, it is a really good pedal. It promises gorgeous overtones and it delivers.
This might be the pedal you have been looking for if you feel like you've tried everything else.
It has become somewhat of a classic that most people feel the urge to have on their pedal board. It is like an old friend that you can always rely on that will never fail you. With the turn of a knob, you can achieve a light, full tone to a blasting high gain that knocks you off the chair. We're also thinking this might be a great gift to any guitar player who suffers from real OCD.
Pros:
+ Extraordinary sound quality
+ Cool design with funny name
+ A classic that always delivers
Why We Liked It - When in doubt, go for the OCD-pedal! It is a reliable option for any musician, from beginners to professionals. The sound quality is wonderful, and the construction of the pedal is sturdy. A versatile, good looking pedal that we can highly recommend.
Are you an amateur guitarist that is looking into getting an overdrive pedal to start out with? Do you want to get a cheap, but well working pedal in order to see whether it's something for you before you spend the big bucks? Then this might be the pedal for you.
Sure, it is plastic and it doesn't do anything to hide the fact that this is a budget option, but on the other hand, it does what it's supposed to do for a reasonable price. The foot switch is pretty big and the whole pedal is low, meaning that it won't tip over easily. It is easy to use and it's responsive and versatile. This is an excellent option for anyone wanting to get a cheap overdrive pedal with all the basic features to play around with.
Pros:
+ Cheap
+ Easy to use
+ Good for beginners
Why We Liked It - This is a good overdrive pedal to start with if you are new to effect pedals and want to try it out. We would recommend this pedal to anybody who wants to get one but doesn't know if they will use it all that much
9. TC Electronic MojoMojo
This is a good all-round overdrive pedal that suits all genres from Blues to Hard rock. It offers the opportunity to vary your sound greatly since it has a number of controls, despite its pretty low price, for example treble and bass controls. It is a stable, durable pedal with metal casing and a really neat design.
The sound is warm, round and full and it does sound very much like other overdrive pedals on the higher end of the price range. This is a good budget alternative that delivers everything it promises and more. This pedal would suit anybody really and has quickly become a favorite amongst many guitarists. It has a true bypass that means no loss of tone and voicing switch for a great mid-shift. It's a pedal that doesn't disappoint, but rather surprises. We like the name MojoMojo as well.
Pros:
+ Affordable
+ Good sound quality
+ Many possibilities in terms of settings
Why We Liked It - Pour yourself a Mojito and play some great music with this MojoMojo pedal! Great sound that competes with the big boys and cool design that gives you that happy feeling every time you look at it. A good budget alternative that we can highly recommend!
Last but not least on our list is another effects pedal from Maxon. This version is an extremely good overdrive pedal and it recreates an authentic tube-amp very well. In other words; it makes you guitar sound really cool. As an alternative you can click here for Wah Pedals.
It is able to do whatever you need. Just like pedal number 2 on this list it has three independent tone circuits to help diminish frequency overlap and cross-talk in order to present you with as many tonal options as possible. It has intelligent noise reduction and is very silent.
This is a good option to go for if you are a professional musician (or perhaps aspiring to be one) that will only settle for the best. Maxon is a well-reputed brand that you can trust. This is a high-quality overdrive pedal that any guitarist would be happy to have!
Pros:
+ High quality sound
+ Three independent tone circuits to diminish frequency overlap and cross-talk
+ Good noise reduction
Why We Liked It - This overdrive pedal is an excellent choice if you are looking for a dependable, versatile pedal with impeccable quality, both sound and design wise. It is a little bit pricier than many others on this list but it is a really good investment that you will be happy you made every single time you use it.
Overdrive Pedal Buyers guide
What are Overdrive Pedals?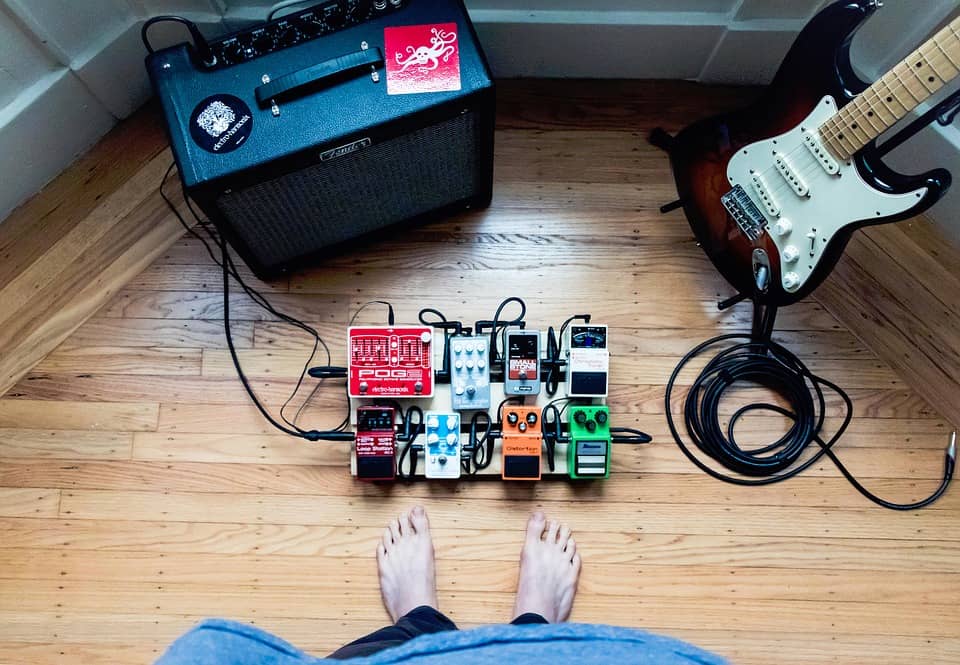 Overdrive and distortion are a way of processing audio signals to change the sound of an electrical instrument, such as electric guitars and basses. The pedal is, in this case, your controller for this process. The pedals most often use solid-state transistors, op-amps, and diodes to imitate the sound of amp tubes overdriven by high gain, this is because they often operate from battery voltages and using actual vacuum tubes would be very impractical.
Simply put an overdrive pedal is a pedal that helps you get that nice crunchy, fuzzy tone. This means that a whole new world will open up since you can decide just how your electric guitar should sound. You can adapt it to whichever genre you are playing at the moment, for example, make it sound more like a blues guitar or eighties rock, pop och heavy metal.
Most overdrive pedals can be used either as a boost to drive an already overdriven amplifier further to alter the tone or it can be used with a clean amplifier to generate the whole overdrive effect itself. It is even possible to stack several pedals together if you know what you're doing so that one pedal can boost another.
What is actually happening scientifically speaking is that the tone varies with the help of overtones. All individual notes have overtones, the lower note is, the more potential overtones it has. If you play your low E-string on the guitar, the high E-string will resonate because it is in the series of overtones. The overdrive pedal helps more or fewer overtones resonate. But no need to worry about this, the only thing you really need to know is that you can vary your sound to a great extent.
This kind of sound effects have been around in one way or another ever since the 1940s and it is deeply established in our ears and senses that this is what a guitar is supposed to sound like. Therefore it is an essential part of your guitar toolbox. But don't see it as a boring must, see it as an adventure that can take your music to new levels. After all, there is a reason why you are playing electric guitar and not just acoustic and the reason is the possibilities!
Do I need an overdrive pedal?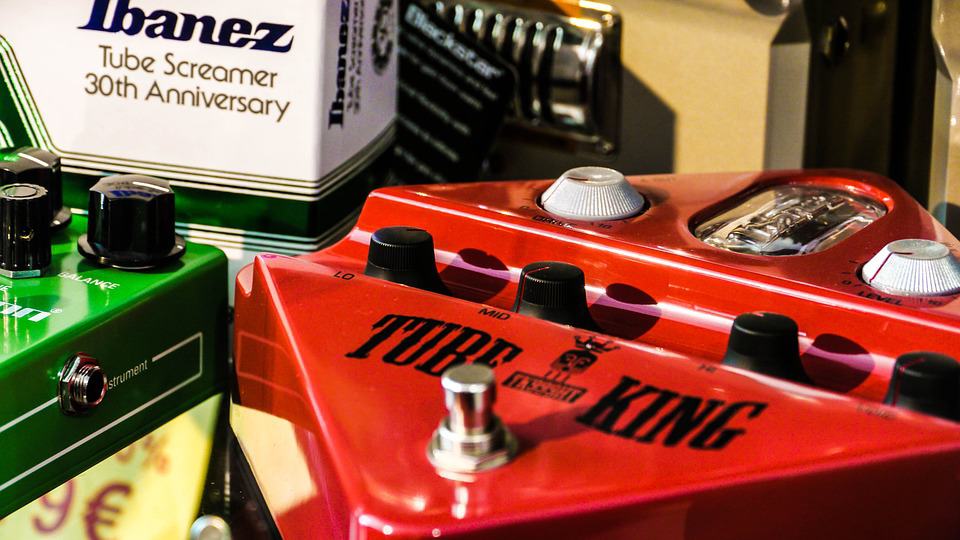 Do you feel like your electric guitar mostly sounds like a normal guitar that's amplified? Do you want it to sound cooler, more rock 'n' roll? Or just be able to play around more with the sound? Perhaps be able to sort of flavor and hold your tone? Then an overdrive pedal is a way to go!
This is the first step to change your tone if you want to take it even further and get a more dramatic effect you should look for a distortion pedal. However, it is very useful to have both. What if you're not entirely sure you need one? We would recommend picking one of the budget options from our list to get started with. It doesn't have to set you back more than $20, but it can really spark that creativity and take your guitar playing to the next level.
The answer to the question if you need an overdrive pedal is pretty simple: yes, if you are somewhat serious about your guitar playing, you do need an overdrive pedal!
What are the top overdrive pedals on a budget?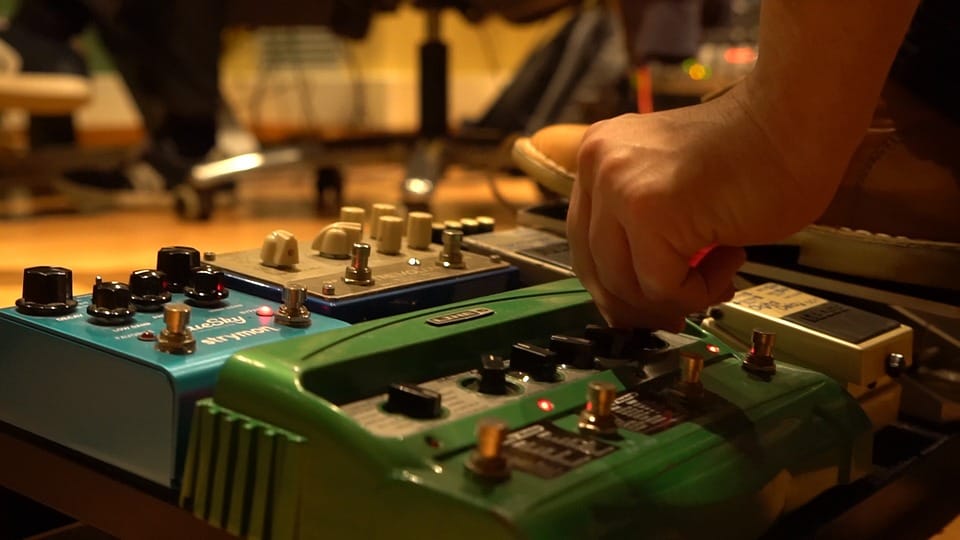 Behringer Vintage Tube Overdrive TO800 is a very good budget option, and immensely popular among all kinds of guitarists. In fact, it could easily be mistaken for a much more expensive pedal. Plastic casing pushes the price down even further. This pedal offers incredible sound for your money and is perfect to start with.
TC Electronic MojoMojo Overdrive Pedal is another favourite of ours with very good sound quality. It has got metal casing and treble and bass control which makes it slighter better than Behringer in those aspects. The sound is warm and full, definitely a keeper!
Nady TS-30 Tube Sound Overdrive Pedal - B001KQ5AYO is affordable with a really nice vintage design. Very quiet as well, which is especially good if you are going to record with it. The less noise in you recording, the better.
How to choose the most suitable overdrive pedal
The first step is to think about your budget. It might sound boring, but it prevents you from wasting time pining for pedals you can't afford. Once you have decided on a budget, think about your needs. How much will you be using the pedal? If you will be using it a lot you should probably look for one with metal casing instead of plastic which isn't as durable.
You'll also want to consider how advanced you want your pedal to be. Do you love trying new things or do you often settle for the same settings? Try to sort out three different pedals from our list that you think would suit you. We would recommend to look them up on Youtube so that you can listen to them all before you make up your mind.
Make sure that you look through our list on what to consider with an overdrive pedal, hopefully, that will be helpful. Also, ask around among your fellow guitarists to see what they prefer. Maybe you have a particular friend whose sound you've always admired/envied? Now you have the chance to try to achieve the same sound!
When you have considered every important aspect there is to consider, see what your gut tells you. For example, if your head says "Come on, you know that the cheaper budget version is just as good as the more expensive, they're just charging for the brand and design" but your heart says "But I like the way it looks and feels. It might not be much better than the other one but I love it", then go with what your heart says.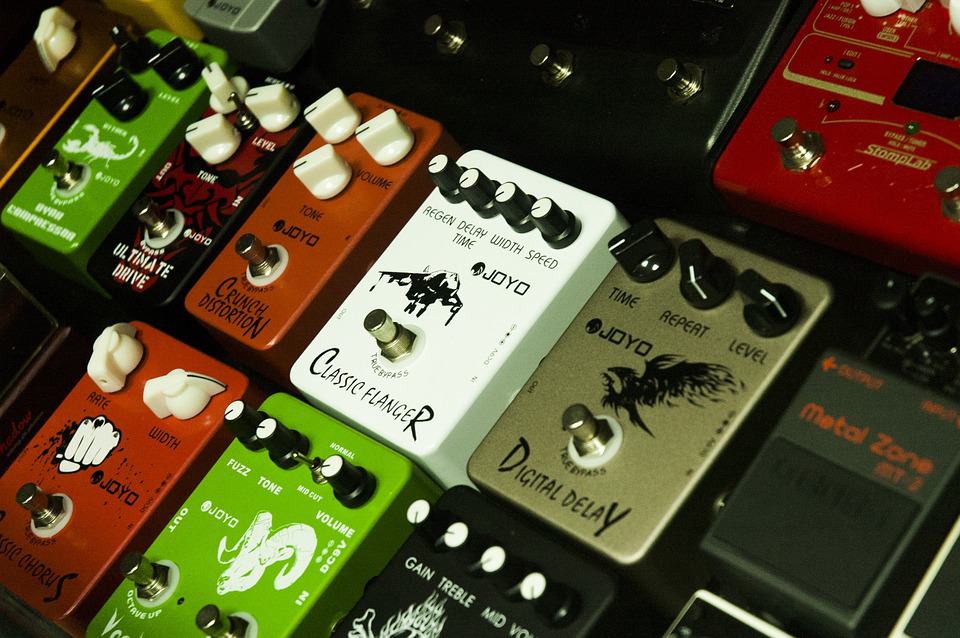 There is research that shows that when you know something is more expensive and exclusive you like it more. One study was made where everybody participating ate the same dinner, some paid a high price and some a low price. Guess who were more satisfied with their dinner? That's right, the people that paid the most. Probably because they treasured the meal more because they had paid so much but even more important, they loved the way the dinner made them feel.
It's the same thing that happens when we get that expensive shampoo at the hairdresser's, we feel much better about it than one from Walmart. It might be illogical, but most of us are not exceptions when it comes to this behavior. If a particular overdrive pedal makes you feel all bubbly and in love then go for that one. Every time you use it you will not only enjoy the good sound it produces, but also the feeling it gives you.
If you are playing live, it's best to read over the review to determine what pedal is most suitable in this scenario, there is a study here too.
What to consider with an overdrive pedal
Price
Why do you want to buy an override pedal? Is it just a fun toy for your collection to play around with or is it something you will be using on a professional basis? This very much determines how much you need to spend. While there are budget alternatives that are pretty good it is generally true that you get what you pay for.
It is always better to pay a little extra than to go for the cheap alternative and be slightly disappointed every time you use it. However, this really depends on how much you will be using your pedal. If it's only once a year you might not care that the quality could be better, but if it's something you will use every day don't compromise. However, there is always the option to go for a cheap one and use that until you can afford a better pedal.
Sound quality
This is, of course, the most important aspect. You need to think about what kind of override you think sounds the best. Look up the overdrive pedals you're choosing between on Youtube and see which one you like the most. Even if some models may brag about cool features and amazing design it all comes down to how the music sounds. And remember, your ears are always right, no matter what other people say!
Make sure you pick a pedal with good noise reduction and that the pedal itself isn't noisy. Also, think about what genres you are usually playing and if there is any particular pedal that would suit your sound needs better.
You will also want to consider sensitivity to pick attack. This is a nice feature that the more exclusive models are better at. It allows you to truly create music without being limited by your equipment. It can be compared with a digital piano. You want the keys to respond differently depending on how you press them down. Similarly, you want the override to vary so that all notes you play don't sound the same.
Material
Think about how much you will use the pedal and where you will use it. Is plastic going to be enough for your needs or do you need metal? Take a close look at pictures online or even see if you can physically hold it in store to be able to determine whether it is sturdy enough.
Don't be too cheap. Buying a pedal is like buying shoes. Sure, you can buy cheap shoes, but they will only last you one season. Next year you will have to buy a new pair because they're not made to last much longer. But in the long run, you are actually not saving money, because if you would have just invested a little bit more and bought better quality you would just have to buy new shoes every fourth year.
The same thing with override pedals, if you buy the cheapest one it might not last you very long and you will end up having to buy another one. It might actually save you money to go for a little more expensive model right from the start.
Design
Decide if the aesthetics are important to you, is color and shape something you care about? You can even match your design to whichever genre you like the most! Some of them look more hard rock, some have a more bluesy appearance and some others would match pop better.
Try to also think if you have any preferences as to how big the pedal is. Try to find one that is quite low if possible, since that will prevent the pedal from tipping over. You may also consider how the potential pedals would match your guitar, other pedals and so on.
Top Pick
Greer Amplification Lightspeed Overdrive Guitar Pedal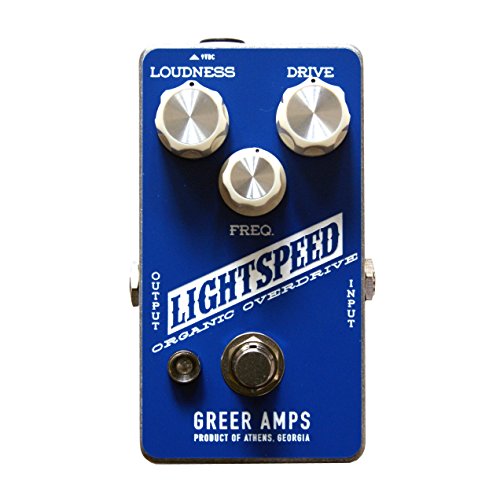 This pedal is truly amazing. It has a lovely organic sound that feels very natural, clear and clean. This in combination with its sensitivity to pick attack means that the music you play will be exactly as you intend it to be, it is enhancing your music instead of limiting it. This is the pedal for making awesome sounding music and making all your dreams come to life!
A really useful tool for your music making that has everything you need. The fact that it has a lifetime warranty and is handmade in the U.S.A. makes it feel like an even safer choice. The quality is remarkable, you can really feel that they have nurtured this pedal like a baby so that it has grown to perfection. Even if it does cost a little more than some others, think about it; that is not much if you spread it out over a lifetime.
If you are a musician that play often, or even professionally, this is an extraordinary option since it is a product you can really trust, love and use- even for the rest of your life! Even if it is a more expensive model it is still user-friendly and could definitely suit a beginner that wants to start playing more seriously. It is our Top Pick for a reason- it's great!
Premium Choice
Maxon RTD800 Real Tube Overdrive Pedal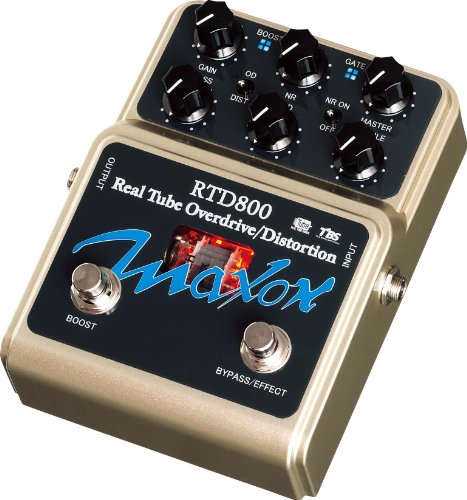 Do you feel like treating yourself (and your guitar)? Then this is the overdrive pedal for you! And not just that, this is an overdrive AND distortion pedal. It's like having a washing machine with built-in dryer, a bed with hidden storage or a tea making kettle- two in one is just awesome!
This is the pedal for the professional or very serious amateur who doesn't settle for anything but the best. It allows you to vary between endless sounds and can handle any genre from pop to death metal. It is called 'Real Tube' and this is the real deal! If you are to take your guitar playing to the next level you will need a distortion pedal anyway, making this a real option for somebody who likes to kill two birds with one stone.
It has got a foot switchable boost function and three independent tone circuits to diminish frequency overlap and cross-talk. Nice design with a metal casing that promises to last for ages, it is really top notch quality all the way through. The feeling of quality shines through in the sound as well. This is a product you will never regret buying, it is simply outstanding!
3. Great Value
Behringer Vintage Tube Overdrive TO800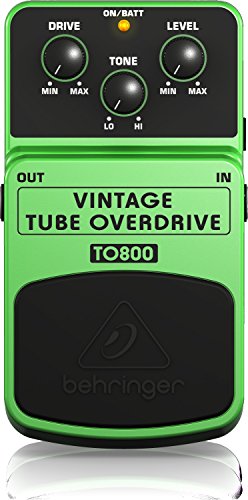 Today's Great Value comes from Behringer! We were surprised to hear what this little, incredibly cheap pedal is capable of. Who would have thought it? Only a tenth of the price of our Top Pick, but you get much more sound than a tenth! It is actually fully possible to mistake this pedal for a much more expensive one, which makes this a superb bargain!
We guess that what keeps the price down is the design and material, it is cheap plastic, let's face it. But then if you're only going to use it at home our when rehearsing with your band and an occasional concert once in a while, who cares? When something is as cheap as this pedal you know that you have to compromise on some things.
If you are a professional musician with concerts and travelling every single day, then this might not be something you're interested in. But everybody else should give this little fellow a chance! It has a warm, vintage sound and it's an excellent pick for your first overdrive pedal… Or second… Or third…. We love bargains like this, it's cheap, good, nice looking. Simply wonderful!
If you liked this review by Music Critic, please leave a positive rating: