Wet and dry signals, oscillations, comb filtration, whooshing jets, Doppler and expanding universes, these are all words and terms used when describing flanger pedals, so of course you want one! But which is the best flanger pedal for you?
Play in the band, but want people to hear your epic solos? Check out our review on the top Boost pedals (click here for full guide).
Generally, these units have between two and four knobs, and can create numerous effects, which at first glance may seem a bit confusing. Try understanding one knob at a time, however, its features and functions, and all should become clear. Oh, and before anyone starts shouting, we know a flanger pedal doesn't recreate the Doppler affect, but because flanger pedals play around with frequencies, the sound is very similar to the Doppler phenomenon.
Very basically, flanger pedals split your sound into two. One is your original or dry sound, and the other is a delayed or wet signal. The wet signal which can be tweaked and played with is then combined with your original, and fed to the speakers.
We've split our review into two sections; the first contains our review of 10 of the best flanger pedals on the market today, the second deals with more technical aspects relating to the different effects and knobs of individual flanger pedals. Looking to get an all-in-one? Try a Multi effects pedal.
Are you a fan of Heavier genres? Look at our review on Overdrive pedals.
At a glance:

Our top 3 picks
Our team's top 3 recommendations
Best Overall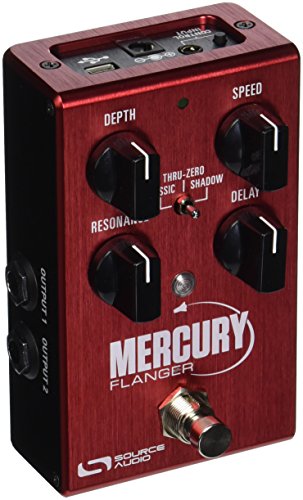 Source Audio SA240 Mercury Flanger Effect Pedal

Full range of flanger effects.
Dramatic variety.
Additional app content.
Premium Quality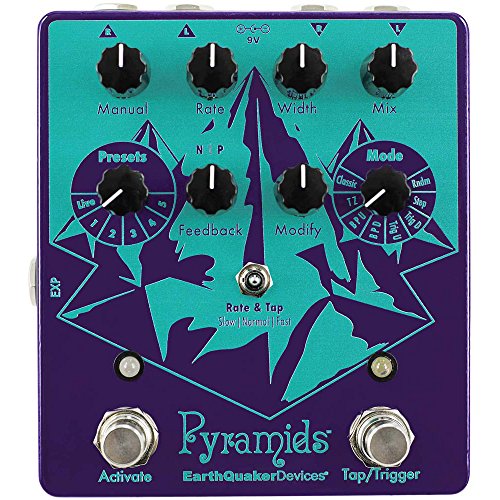 EarthQuaker Devices Pyramids Stereo Flanging Device

Full range of flanger effects.
Dramatic variety.
Additional app content.
Great value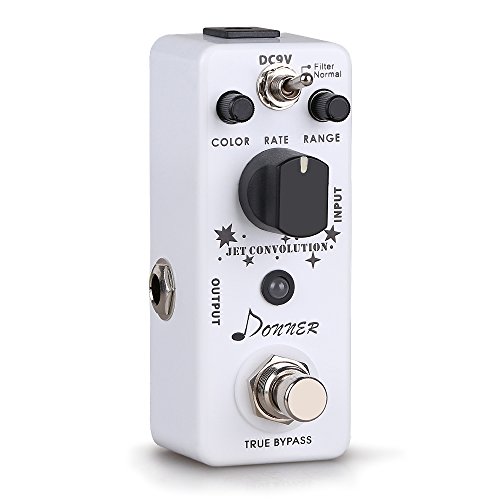 Donner Jet Convolution

Full range of flanger effects.
Dramatic variety.
Additional app content.
Here is Our Review of the Top 10 Best Flanger Pedals for 2023:
1. Source Audio SA240 Mercury Flanger Effect Pedal
We are starting with this superb selection on offer from Source Audio which is a pretty sophisticated pedal chocked-full of impressive effect adjustments.
It has 4 main pot-style dials, with which you can attenuate your rate, speed, delay and resonance. The delay increases from a thickened vibe to a wide cosmic soundscape.
On top of this, there are 3 separate switch settings, one is a cleaner flange that creates a twisting wave (Thru-Zero) and the others for classic and shadow.
The shadow set delivers a highly resonant whooshing-sweep effect and the classic gives vintage flange waves.
It has 2 ¼ inch outputs and can also be connected to devices via a micro USB connection. This is where things get even more exciting. Users are given access to additional algorithms and chorus effects that are downloadable.
If you pair this pedal with a NeuroHub then you can store up-to 128 sounds, for quick retrieval which can then be operated via footswitch.
Pros:
+ Full range of flanger effects.
+ Dramatic variety.
+ Additional app content.
Why We Liked It - It is well made the switch is solid in construction, it has a range of settings for adjustment, dual outputs and downloaded content as well. We love the 3 different switchable modes this one really does present a cocktail of effects to play with.
Effect Types - If you love the sound of your flanger pedal, be sure to try out chorus and phaser effects. While each of these effects has their own sound and set up, they can all distinguish certain sounds in your mix, adding depth and space. The key point is that flangers work on a time-based delay rather than a phase delay.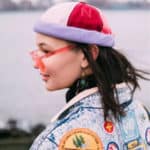 2. EarthQuaker Devices Pyramids Stereo Flanging Device
This final flanger pedal, is another state-of-the-art option which serves up a lot of configuration adjustments to tailor your LFO's with.
It is another very well-constructed, hardy option. It presents top-mounted manual, rate, width and mix dials. The manual dial controls the delay length whilst lowering and raising the pitch as the waves get longer or shorter.
The rate is for the peak and trough speed, the width dial pertains to the sweep curves and mix acts as a filter, so you can decide how apparent or subtle your effects are.
In addition to the 4 main adjustments, the Pyramids pedal has a rotary for 6 separate presets, live and 5 extra which are customizable.
Furthermore, it features8 different modes which go from a classic thru-zero, step and random.
It also offers more focused adjustments, such as barber pole up and down or trigger up and down, that give users swirling undulations, whirls and bouncy pulsations. Low frequency oscillation can be re-triggered for a multi-dimensional quality.
It has an activate foot switch, as well as a tap trigger to set the rate to match what you are playing. There is also a switch, which gives your speed-rate a slow, medium or fast tempo. It is stereo and has flexible I/O options.
Pros:
+ Solid construction.
+ Epic wiggle room.
+ Good layout.
+ Tap trigger.
Why We Liked It - The scope on this thing is immense, it has a premium quality build with exceptional engineering and gives users total flange freedom.
3. Donner Jet Convolution
The Donner Jet Convolution is one of the best priced products on the market. This is
a compact, solidly built and light weight little unit that packs a lot of features.
This Donner features a Rate knob allowing you to control the frequency of the sweep effect. The rate knob is oversized, allowing for easy adjustment whilst on stage.
The Colour knob is capable of supplying plenty of regeneration or feedback, whilst the Range knob allows for all those fancy effects. Crank the Range knob right up for those frenetic metallic effects, or turn it down for a warm, more natural tone.
The Toggle switch is another very interesting feature. Switch from Normal to Filter and the automatic LFO sweep is eliminated or frozen, making for a very genuine, vintage analogue sound.
During our review we found that the Bypass is very effective, with a useful LED light to indicate on or off.
Pros:
+ Sturdy aluminium casing
+ Toggle switch to allow for true analogue flange effect.
+ Large Rate knob for easy, quick adjustments
+ Very well priced
Why We Liked It - Low priced, strong and versatile, we found this to be an incredibly useful little Donner. If you, like John Lennon, think the delay effect, without any additional waves sweeping through your track is best, this flanger pedal could be the choice for you. Remember, with its Rate, Colour and Range knobs, the Donner Jet Convolution incorporates many of the features of its bigger, more expensive opposition.
Effect Chain Placement - Flangers do well towards the end of your effect chain. You'll want to place these pedals after basic effects like compression but before ambient spacious effects like delays and reverb. However, nothing is set in stone. Experiment with chain placement to get yourself inspired!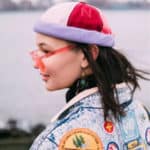 As the name suggests, with these flanger pedals, Joyo have gone for both the classic look and the vintage sound. This is a very attractive squarish pedal with true bypass, Regen, Delay, Width and Speed controls.
Some descriptions of this product describe the warm tube amp sound. An amp featuring old technology valves and tubes would probably be a bit clumsy to use, especially on stage. Luckily the warm, vintage sound is achieved because Joyo have employed the Bucket Brigade Device circuit, a technology we will discuss later.
This is a very affordable product, packed with all the effects and features you want. Play around with this device a bit and you'll find you will be able to create effects ranging from soft, chorus tones, harsher metallic notes and even rapid tremulous vibrato sounds.
The true bypass is effective, allowing you to create clean, clear notes as and when you need to.
Pros:
+ Warm, vintage tones
+ Classic looks
+ True bypass
+ Affordable
+ Excellent Buyers' Reviews
Why We Liked It - We found this to be a very versatile, competent pedal. All the effects you could possibly need are available and controlled via the Delay, Regen, Speed and Speed knobs. Due to the use of BBD technology, however, it is also possible to revert to the more vintage flange effects so popular in the 1960's and 1970's. This flanger was a joy to review.
5. Koogo Vintage Analog Flanger Guitar Effect Pedal
The scope of possibilities offered by this flanger pedal is surprising when you consider the remarkably low price that it is available for. You have three choices in terms of function controls, which are color, ranger, and rate. Through adjusting these knobs then you can create stunning, glittering sounds.
Filter and normal are your two choices when it comes to model settings. This flanger pedal is a sturdy piece of equipment that is constructed from a top-quality zinc alloy. It's an ideal pedal for any guitarist seeking a vintage flanger sound at an affordable price.
Pros:
+ Color, ranger, and rate controls
+ Filter and normal models
+ Very sturdy
+ Vintage sound
+ Affordable price
Why We Liked It - It is one of the best flanger pedals on the market in terms of price and tonal versatility, and its sturdiness makes it feel like a much more expensive pedal.
Be under no illusions, the Boss BF-3 is a heavy duty pedal complete with all the bells and whistles, and is definitely one of the best pedals in our review.
These flanger pedals come supplied with a 9v battery, but be aware that battery life may be limited, as this battery is primarily supplied for testing the flangers, so it would probably be best to ensure you do have a spare battery available. The pedal features an AC adaptor jack but an adaptor is not included.
There are two input jacks, the GUITAR IN Jack which can accept signals from either a guitar or some other sound effects unit, and the BASS IN Jack. The BASS IN Jack is disabled if you are using the GUITAR IN Jack.
Four standard knobs allow you to control Resolution, Manual, Depth and Rate but there is an additional Mode knob with some very interesting settings. Briefly, Ultra Mode strengthens the flanging effect whilst Standard Mode produces a regular flanger effect. When playing in Mono, the Gate\Pan Mode greatly increases changes in volume, in Stereo you get a 'panning' or effect from left to right. The Momentary mode gives you incredible control, allowing you to apply the flanger effect exactly as required.
Pros:
+ Super thick stereo flanging effects.
+ Mono and Stereo outputs
+ In stereo the Gate\Pan effect creates a feeling of 3 dimensional rotations.
+ 5 year warranty
Why We Liked It - This powerful pedal successfully combines all the older, warm vintage effects with lots of newer exciting features, and is a worthy successor to the earlier BF-2 model. The 5 year warranty demonstrates Boss's confidence in these sturdy, adaptable flanger pedals. Whether you are a beginner, just starting on your musical journey, or a seasoned performer, these flangers will not let you down.
Compact, sturdy, reasonably priced and powerful, what more can you want? The Mooer Eleclad Analog pedal boasts a clean, elegant, easy to use design, and plenty of features. There is a large white Rate knob, easy to see in the dimmest of conditions, plus a Colour and Range knob, all set into a full metal casing providing strength and durability.
When the pedal is in Normal Mode, the automatic oscillation sweep provides a light, clean wavy sound. Turn the switch to Filter and you can play around with the oscillation, creating some very dramatic, interesting effects.
This flanger pedal provides true Bypass so that cleaner, noise free, 'dry' sound is always available to you.
The small dimensions and light weight of this unit, only 0.36lbs, means that this tough little pedal is always road, stage or studio ready, and is a wonderful addition to any pedalboard.
Pros:
+ Lightweight and compact
+ Strong, full metal casing
+ Excellent buyer reviews.
Why We Liked It - The Eleclady is a pedal worthy of the Mooer name. We really enjoyed the small, yet very strong metal casing, and all the features packed into an elegant, neat, easy to use design. Switching between Normal and Filter Modes and playing with the Colour and Range knobs allows for a vast array of spectacular sound effects.
At first glance, the TC Electronic Vortex pedal may appear pretty standard. There are the usual four control knobs, Speed, Depth, Feedback and Delay Time, but this attractive pedal has a myriad of extra features. There are both stereo and mono inputs and outputs allowing for some lovely duel amp set-ups.
This flanger pedal also features something called 'analogue dry-through', which means that your original 'dry' sound is never converted to digital, keeping your tones as warm and true as possible.
TC Electronics take great care with their True Bypass, believing that a pedal being bypassed must not influence the final mix at all. Unscrew the back plate of your pedal, however and you will see two small dip-switches, one of these will allow you to switch from True Bypass to Buffered Bypass. Buffered Bypass may suit you if you are using long cables or have many flangers or other pedals on your pedalboard.
Also inside your pedal you will find a 'Kill-dry off\On' switch. If you have selected Buffered Bypass you will be able to switch the Kill Dry to on, and your original signal will be completely removed from your mix.
Finally, this flanger pedal supports TC Electronic's TonePrints, a powerful function allowing you to download the pedal settings of all the best effects from many World famous guitarists. To get the most out of this feature it would be wise to keep your User Manual close at hand!
Pros:
+ Stereo and Mono Inputs and Outputs
+ Supports TonePrints
+ True Bypass with Buffered Bypass available
Why We Liked It - An incredibly powerful pedal, with unlimited potential, in fact this flanger pedal is suitable for both beginner and professional musician alike. The Stereo\Mono Inputs and Outputs plus the 'analogue dry-through' function allow for a wonderfully full, strong, robust sound. Use of the Speed, Depth, Feedback and Delay Time knobs allows for effects from whooshing jets to sweet choruses! This is an extremely competent, versatile pedal with so many features that, during our review, we found it best to frequently refer to the User Manual!
9. Electro-Harmonix Electric Mistress
The Electro-Harmonix Company has an impressive pedigree in the pedal world. Founded in 1968 by Mike Matthews, Electro-Harmonix produced the first pedals that could be used by musicians on stage.
During this review, we have mainly discussed the flanger effect. Flangers operate on a delay time of around 5-15 milliseconds. Chorus, however, works on a much slower delay time of around 30-35 milliseconds, hence producing a sound best described as warmer and more complex.
Not only do The Electro-Harmonix Electric Mistress Chorus Pedals offer truly independent stereo outputs, but it is also possible to merge the Chorus and Flanger effects together, to create some of the greatest, warmest sounds out there! These pedals also feature a Filter Mode allowing you to manipulate or freeze the oscillation effect.
The chassis of these flangers is a tough, muted grey die-cast construction, with cool black, white and neon pink detail. Intuitive Rate, Flanger Depth and Chorus Depth knobs allow for infinite control and endless possibilities.
Pros:
+ Rich stereo tones
+ The Flanger and Chorus Depths can be controlled separately
+ Chorus and Flanger effects can be merged
+ Positive Buyers Reviews
Why We Liked It - A deceptively simple but very adaptable pedal, backed by one of the finest pedigrees. In the past various Electro Harmonix pedals have been used by iconic musicians such as David Gilmour of Pink Floyd fame and John Frusciante of the Red Hot Chilli Peppers. This stereo pedal with its rich chorus tones and flanger effects is a very valuable addition to any musician's toolbox.
During the 1960's Jim Dunlop moved, with his pregnant wife, from Canada to the United States. He worked as a machinist, but in his spare time he began to create products for guitarists. He originally concentrated on acoustic accessories, but in the 1980's he acquired the iconic Cry Baby Line. This led to a long, lucrative relationship between Dunlop and Jimi Hendrix, and later in the 1980's they acquired the, then out of fashion, MXR Line, and sent it back into the musical stratosphere.
Therefore, the MXR M117R pedal, with its classic, rugged good looks, and simple yet powerful controls, has one of the best pedigrees and histories out there. The Manual, Width, Speed and Regen controls will allow you to recreate all the finest tones and effects, so popular during the Golden Age of Rock and Roll.
Buy into the MXR line and you know you are joining a long line of satisfied musicians!
Pros:
+ Excellent buyer reviews
+ Tried and tested design
+ Rugged, elegant casing
Why We Liked It - Sometimes classic rugged simplicity is the best. The MXR has a long, proven history and does everything it says on the box. The control knobs will give you all the effects, distortion and noise you could ever hope for. There is a reason MXR flanger pedals have endured past the Golden Age of Rock and Roll, simply put, they do the job, they do it well and they're up there with the best..
Use Case - These versatile modulators are great for creating interesting fills, otherworldly sounds, and adding texture to your mix. While all flanger pedals work by the same principle, different pedals certainly produce separate tones and moods. If you're a pedal enthusiast, it may be worth trying out more than one flanger pedal.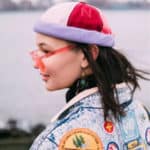 Flanger Pedal Buyers Guide
Top Pick - MXR M152 Micro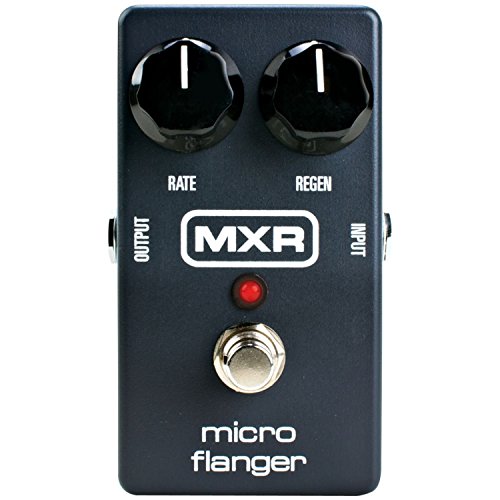 As part of the MXR stable this pedal is bound to be up with the best. Notwithstanding their lightness and compact size, these are still very powerful flanger pedals. You can manipulate both the rate of the oscillation sweep and the amount of feedback, creating some truly impressive effects. The MXR M152 incorporates the older BBD technology, and preferred by many musicians. A technology which really replicates those warm analogue tones favoured in the sixties and seventies and so often lost with later technology. The Bypass switch is extremely efficient ensuring that, when off, your sound is clean and pure. A useful LED display indicates whether Bypass is On or Off. These rugged little flangers can be powered by either an internal 9V battery or a separately purchased power system. If you're looking for affordable flanger pedals backed by the might of one of the big names in the industry, this could be the best pedal for you.
Premium Choice - MXR EVH117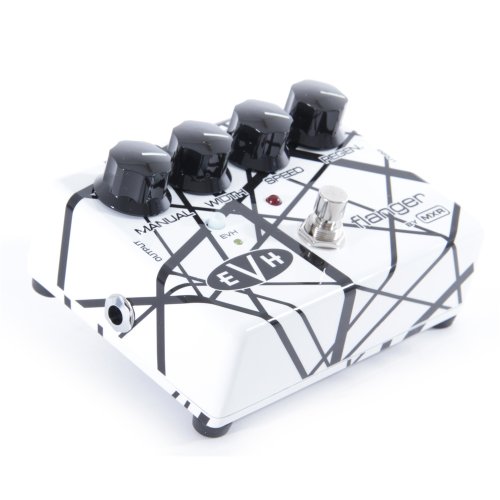 Our Premium Choice is also from the fabulous MXR Line. It was the EVH switch which really impressed us. MXR's association with Eddie Van Halen is legendary, and his input into these flanger pedals is obvious and impressive. With just the flick of a switch your pedal will reproduce the exact settings of his "Unchained" sound track. Plus, quite apart from the EVH switch, these pedals come equipped with Manual, Width, Speed and Regeneration knobs allowing for an infinite number of sound mixes ranging from warm, rich analogue to weird, science fiction, dolphins on speed types of sounds. As with all MXR products, we found the Bypass switch was indeed true Bypass, completely isolating the flanger effects when not in use. A bright blue LED indicates whether the Bypass is on or off, whilst a yellow LED indicates the same for the EVH switch. Absolutely one of the finest pedals out there!
Great Value - Donner Jet Convolution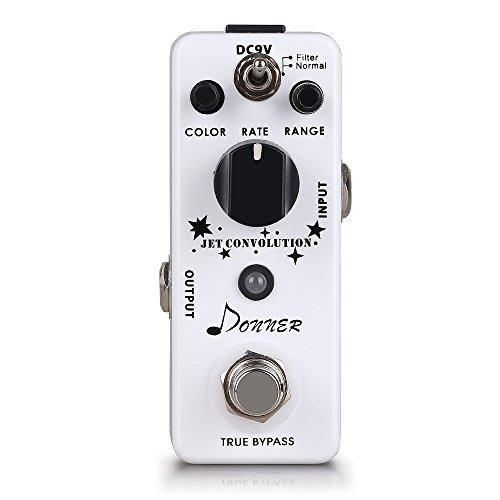 Although this is one of the best priced flanger pedals available on the market at the moment, these are still very impressive little pedals, crammed with lots of great features. The Rate knob is oversized compared to the rest of the pedal, allowing for simple adjustment of the frequency of the 'sweep'. The Colour knob gives you plenty of control over the amount of signal being fed back through the wet phase of your sound mix. Lastly manipulating the Range knob will adjust your sound from warm, analogue type effects to harsher metallic effects. Donner have also incorporated a very impressive Normal\Filter switch into these compact pedals. On most flanger pedals the LFO is set to provide an automatic sweep, or whooshing sound throughout your mix. Therefore this effect is achieved by flicking this switch to Normal. When you switch to 'Filter' you turn off the automated signal. If your desired effects are the old school, simple flanger effects, keep the Rate knob set at zero. If not try playing around with the Rate knob and freeze the oscillation at different levels, you will find the best sound for you.
History of the Flanger Pedal
To truly understand what Flanger Pedals are and how they work a bit of history is required. As far was we can discover the flanger Effect was first used by Les Paul in his song "Mamie's Boogie", recorded in 1946.
At this time, music was recorded onto magnetic tapes, reproducing a true analogue sound. Les Paul was working in his recording studio\garage, running two tapes simultaneously to create a fuller sound and then stuck his finger on the lip/flange of one of the tape recorders, effectively delaying one recording and putting it out of sync. It's not clear why he did this. Maybe it was at the end of a long day of recording, and he tripped and stuck his finger in one of the tape machines stopping it for a second, and then, when the effect turned out to be cool, said, 'Oh yes, I meant to do that, It's the best sound ever, Dude.' Or, more likely, it was a master stroke by a master musician.
Genius or mistake, that's how the Flange Effect was born, but it only really came into fashion in the 1960's with musical greats like Jimi Hendrix and The Beatles.
Obviously, it wasn't possible to reproduce this effect on stage for live performances, so sound engineers began to hunt for ways to recreate this sound live on stage. Hence Flanger Pedals were born.
Function and Terminology of Flanger Pedals
FUNCTION
Remember that the flange effect relies on an original sound and a copy which can be delayed. Thus the primary function of flanger pedals is to split the sound into two separate signals, allowing one signal to be manipulated and then mixed back with the original sound.
BUCKET BRIGADE DEVICE
BBD technology, developed in 1969, was the first technology to recreate the physical flange effect. It's called the Bucket Brigade Device because of the way the analogue sound is stored and then moved along a line of capacitors. The manner in which these chunks of sound are advanced can be best likened to the way water can be transported along by a line of stationary men transferring it from bucket to bucket.
LOW FREQUENCY OSCILLATOR
Low Frequency Oscillators were developed to replace BBD technology. They produce a low frequency wave inaudible to the human ear. Add this low frequency wave to an audible sound wave however, and the two waves together produce a different sound which is audible to the human ear.
WET AND DRY SIGNAL
The dry signal is your original sound. The wet signal is the sound that has been delayed and modified via the LFO.
CONTROL KNOBS
Modern Flanger Pedals usually come with between 2 to four control knobs but, different brands use different names for each control, and this can be confusing. We thought, therefore that it would be best to clarify matters a bit by explaining the following terms;
KNOB 1. RATE = SPEED = FREQUENCY
This knob adjusts the frequency of the oscillation or wave you can hear sweeping through your track.
KNOB 2. WIDTH = RANGE = DEPTH = DEPTH INTENSITY
This knob controls how much dry signal and how much wet signal will be heard in your final mix.
KNOB 3. MANUAL = DELAY = DELAY TIME = FLANGING EFFECT
As suggested, this knob adjusts how delayed the second signal is, and therefore how exaggerated the "Wah Wah" sound of your final mix.
KNOB 4. RESOLUTION = RES = COLOR = REGEN = REGENERATION = FEEDBACK
What this knob is doing is taking some of your wet signal and feeding it back through the LFO, greatly enhancing or exaggerating your effects.
Control Switches
TRUE BYPASS
Sometimes, it's best to just hear your talents shining through without flanging effects, and this is when you would deploy the Bypass Switch. True Bypass means that the flanger pedal has absolutely no influence on your end sound. In some cases, however, a bit of that mixed, distorted signal can sneak through and it is a good idea to test pedals before purchasing them to ensure that, for your purposes, the Bypass is adequate.
FILTER \ NORMAL MODE SWITCH
Leave this switch on 'Normal' and you will hear the standard whooshing noise sweeping through your mix. Flick the switch to 'Filter' and you can either completely eliminate the oscillation effect, creating a vintage flanger effect, or you can freeze the oscillation at a certain frequency.
GATE \ PAN \ ULTRA \ MOMENTARY MODE SWITCH
This switch is available on some Mono\Stereo flanger pedals. If you are working in Mono the Gate Mode will greatly affect the volume throughout your mix. In Stereo the Pan Mode sweeps the sound from left to right and back, creating a 3D effect best described as a revolving effect.
Ultra Mode exaggerates the flanger effect. The Momentary mode allows for optimal control when applying the flanger effect to your mix.
EVH SWITCH
This unique feature is specific to the MXR EVH117 as reviewed by us. With a flick of this switch your flanger pedal will reproduce the exact settings of Eddie Van Halen's famous "Unchained" soundtrack.
FLANGER TONEPRINT TAPE SWITCH
TC Electronics have developed this technology as one of the best ways for you to access flanger pedal settings from some of the greatest musicians out there. The User Manual gives you detailed instructions on how to download and utilise these settings, but we think it's best that, before purchasing these pedals, you ensure that your mobile device be it an Apple or Android device is compatible with this technology.
Doppler Versus the Flange Effect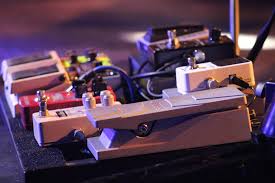 One of the best ways to understand Doppler is the following; Imagine you are standing on a street (hopefully on the pavement), there is a motorbike coming towards you, and it is attached to you by a firm, wavy piece of rubber representing a sound wave. As the bike approaches the piece of rubber will get squashed closer together and the waves will increase in height. This means that, although bike hasn't changed the noise it's making, the noise you hear will get higher and louder. As the bike passes you and moves away, the piece of rubber will get stretched and the waves will get longer and flatter. Hence the noise you hear will get lower and softer although, once again the noise issuing from the bike itself hasn't changed.
This effect can be observed on all waves, water, sound and light. Using Doppler, scientists have put forward the Big Bang Theory, and believe that our Universe may still be expanding, because many stars they observed seem to display a 'red shift', meaning they are moving away from us. Red is a longer wave than blue, if the stars were moving towards us a 'blue shift' should be apparent.
Basically therefore, if you are experiencing the Doppler Effect, the frequency of the wave is changing in relation to you. On the other hand, Flanger Pedals take two waves and mix them together. When two such waves are combined the resultant wave has a different shape, a sort of main wave and some secondary little peaks and troughs. The frequency of the wave hasn't changed, but our poor old ears and brains aren't that sophisticated, so to us it sounds 'a lot like Doppler' - click for the study. If you look at a graph illustrating these mixed waves with their 'notches' it resembles a comb, hence the term "Comb Filtration".
Add sound waves together and you can come up with many complex, interesting and even extreme shapes. For example, if you delay one identical wave so much that as one wave reaches its peak the other reaches its trough, those two waves will cancel each other out. You could be playing your little heart out and there would be NO sound coming out of your Amp!
Verbally understanding sound waves can be tricky, so sometimes it's best to experiment with the equipment out there and listen to examples of different effects available.
How to use Flanger Pedals
To use a Flanger Pedal you will need to attach either an electric guitar, or some other electronic device to the Input Socket of your Flanger Pedal. For this example we'll assume you're using an electric guitar.
The first thing to remember is to ensure that all the equipment is turned off, plugging in live equipment can cause horrible loud pops and noisy feedback that can damage your equipment. It's probably best to connect both your amp and your pedal to their power sources, you can ensure they are switched off before continuing.
If you are just connecting a guitar via a single pedal to an amp, you will only require 2 standard audio cables. You may, however, want to run your sound through several pedals, in which case you will require more cables.
First attach your guitar to the INPUT jack on your pedal. Most pedals only have one Input and one Output Jack, if you have Stereo and Mono options, your User Manual will advise you on what to connect where. Next use a standard cable to connect the OUTPUT Jack of your pedal to the INPUT Jack on your amp.

Once everything is connected turn your Amp on first and set your levels. You can then try stamping on your foot pedal and experimenting with the effects. Again, with pedals that are unfamiliar to you, it is best that you turn all the effects knobs to low before trying out your new pedals.
You are now connected and can experiment and play with your new flanger pedal.
What do Flanger Pedals Sound Like?
As we have already discussed, the sounds produced by individual pedals are almost limitless, plus all flanger pedals are slightly different, so to really understand flanger pedals you need to go and listen to a few to get the idea.
By experimenting you should be able to achieve everything from warm, rounded analogous and even chorus tones, right through to some hectic metallic 'Star Wars On Steroids' type effects.
What is the Best Boutique Flanger Pedal?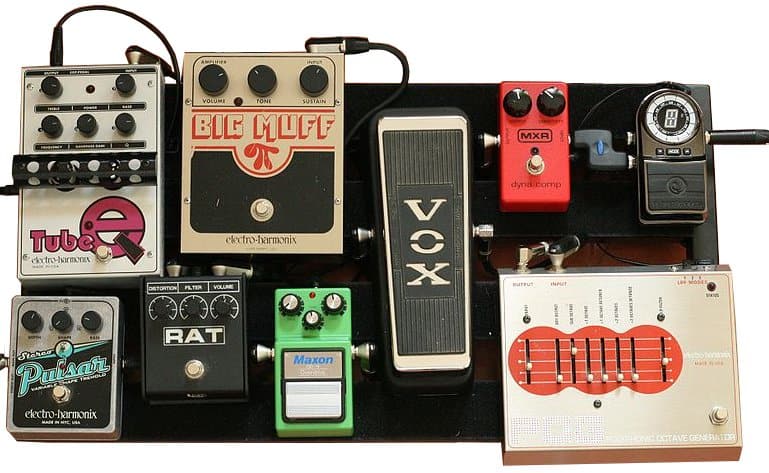 There are some wonderful boutique flanger pedals on the market. Examples such as the Catlinbread Zeropoint Flanger Guitar Pedals and the Empress Nebulas Pedals can offer you some original and interesting effects. Remember however that you will probably be subjecting your pedals and other equipment to some fairly harsh treatment. We would therefore, recommend that before purchasing boutique flanger pedals, you ensure that satisfactory after sales assistance, spare parts, servicing etc. will be available to you.
What is the Best Vintage Flanger Pedal?
We feel that deciding upon the best vintage flanger pedal is a very personal choice. Your opinion will be coloured by many different factors, including which flanger pedals your heroes utilised, what flanger effects you best want to create and many other factors.
Both MXR and Electro-Harmonix have re-issued some of their old favourites, so perhaps researching these models could be a good place to start researching.
Conclusion
Congratulations for jumping into the exciting world of flanger pedals, you and your guitar are about to attain new levels of greatness! There are so many flanger pedals on the market we strongly recommend giving as many of them a try as you can. Perhaps visit your local music shop and irritate them for hours experimenting with all the pedals. Or maybe you have a mate and one of his pedals is EXACTLY what you are looking for? We sincerely help our product reviews will help you make the best choice for you!
If you liked this review by Music Critic, please leave a positive rating:
[vc_separator