If you're looking to create an expansive pedalboard, then you're going to need the best guitar pedal power supplies. With so many on the market, seemingly offering similar technical specifications, it can be confusing to know what one to buy. Fortunately, you've come to the right place, as in this article we'll show you ten awesome power supplied for effects pedals as well as cover all the questions you might have.
Indeed, this isn't the most exciting piece of gear that you'll ever buy. It's much more fun spending your time researching pedals, as they're the equipment that impacts the sound that you'll produce with your guitar. But, still, you shouldn't discount this important piece of kit. After all, if you're running multiple effects pedals at the same time, then they'll require different power inputs, and having the right supply will ensure that everything works smoothly, whether you're on stage, in the studio, or simply rehearsing. This product will also ensure that your pedals' signals aren't destroyed by unwanted hum too.
In our all-encompassing guide, we'll not only show you the top ten power supplies, but we'll also answer key questions you might have and explain why the supply can transform your guitar's sound.
At a glance:

Our top 3 picks
Our team's top 3 recommendations
Best Overall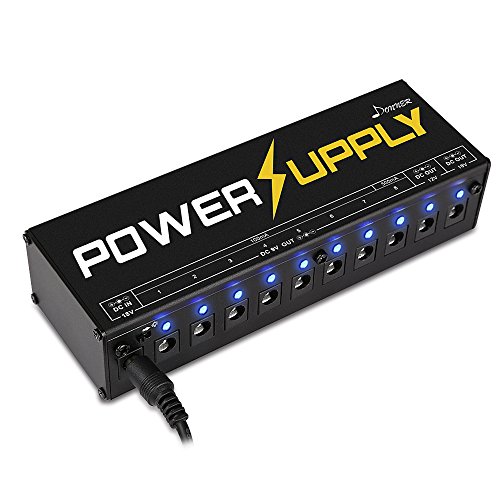 Donner DP-1

Good number of outputs
Lightweight
Reverse polarity cables included
Premium Quality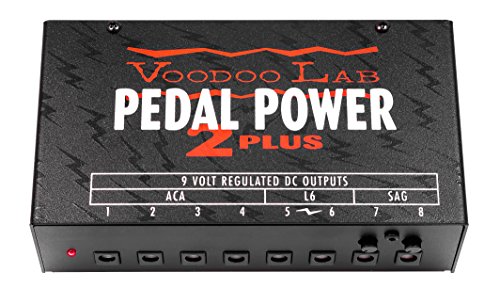 Voodoo Lab Pedal Power 2 Plus

Good number of outputs
Lightweight
Reverse polarity cables included
Great value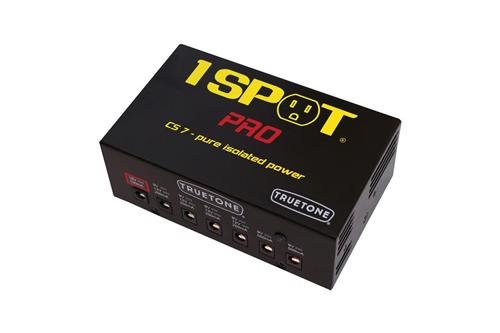 Truetone 1 SPOT PRO CS7

Good number of outputs
Lightweight
Reverse polarity cables included
View The Best Pedal Power Supply Below
Donner is known to many guitarists for its affordable, high-quality effects pedals. It's also a manufacturer of power supplies, and this one is an ideal option for anyone on a budget. It delivers a good balance of quality for an affordable price, which is why it finds itself at the top of our list. Let's have a look at what it offers.
Firstly, it delivers a decent number of outputs. It offers seven 9v outputs at 100ma, as well as a 9v output at 500ma. That's not all, though. As it also has a 12v and 18v output at 100ma. Each channel includes short-circuit damage protection, so if one channel blows then the rest will not be affected.
This product also includes LED indicators, so you'll always know what channels are on and off. It's a lightweight, portable product that is designed similarly to the JOYO model on our list. It might lack the longevity of a more expensive product, but we think that it should still offer a decent amount of durability, especially when the price is taken into account. One feature that it's important to note is that the circuitry is of a high grade. That's something that other budget manufacturers don't offer.
It also comes with polarity reversing cables in addition to the 10 DC power cables which is useful because incorrect polarity causes permanent damage.
Pros:
+ Good number of outputs
+ Lightweight
+ Reverse polarity cables included
Why We Liked It - Despite its cheap price, this Donner product delivers a substantial amount of quality. We're particularly impressed by the vast number of outputs it offers, as well as the high-level circuitry that's integrated into it. For those on a budget, it's a safe investment.
Noise-free - If you're performing frequently, you're going to want to invest in a truly low-noise pedal power supply. There are very few models that cut out the noise and hum entirely, but the more expensive options will usually be the models that get the closest to reducing the noise through individual circuitry.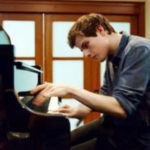 2. Voodoo Lab Pedal Power 2 Plus
This product by Voodoo Lab is a popular, highly acclaimed unit that can cater to a wide range of effects pedal needs. Voodoo Lab is well-known for its high-quality effects pedals that are used by many professional guitarists, so it's no surprise that its power supply is equally as high quality.
This device supplies power for standard 9v pedals, and it also includes two high current outputs. It even has two variable voltage outputs that will simulate the deterioration of low batteries, which is an effect that wah enthusiasts often like to play around with. These are just some of the features that make this one of the best products of its type on the market.
As you'd expect from such a top-level manufacturer, the Voodoo Lab Pedal Power 2 Plus includes many high-quality components. It means that you get completely isolated outputs thanks to the Toroidal transformer that's integrated into it. There is also a separate, balanced winding for each output so that they don't negatively impact each other. This results in a consistent, low-noise power supply.
Pros:
+ Vintage effect power supply options
+ Isolated electronics
+ Rugged build
Why We Liked It - It's one of the best products of its type on the market. It does exactly what you want it to do and then some. The reason why it's so good is down to the exceptional electronics inside it, as well as the superb manufacturing techniques of Voodoo Lab. If you're a serious guitarist, then this is the product for you.
3. Truetone 1 SPOT PRO CS7
This is another impressive product that's been made by TrueTone. It features seven fully isolated outputs, as well as three voltage options to suit your requirements. Five of the outputs can be used for either 9v or 12v operation. You can simply toggle between the two voltages by the press of a button.
This product also comes with lots of valuable accessories, which adds to its versatility. You get everything you will need. But most importantly, you get noise-free sound thanks to the individual circuitry that it features. Each channel is also filtered thanks to TrueTone's patented '1-Spot' technology. An alternative to this product that delivers even more power is the CS12 also made by TrueTone.
Pros:
+ Lots of versatile outputs
+ Intentional input
+ All cables included along with pedalboard mounting bracket
Why We Liked It - It's a superb product that offers a wide range of channels and the ability to switch between 9v and 12v input on five of the channels. We also loved all the accessories that it comes with.
Size - If you're going to be traveling from gig to gig and venue to venue with your pedal power supply, you're going to want a model that is relatively small and lightweight. This might mean reducing the number of outputs you're looking for, but it'll be worth it to not lug around a bulky device.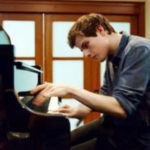 From the company that kick-started the effects pedal revolution and set the industry standard with their rugged stomp-boxes comes the MXR M237 DC power supply. Providing ten outputs - eight of them 9v at different milliamps and two being 18v - makes this product a viable choice for handling a variety of power combinations in your setup.
Ever since Dunlop took over the MXR brand, it has continued to go from strength to strength, as exemplified by this excellent product. The thoughtfully designed short circuit damage prevention is a superb feature, as is the LED indication system that allows you to see what channels are on, off, or have short-circuited. Also, each output is isolated, and the unit includes technology that ensures it never gets overloaded or damaged by power surges.
Pros:
+ Compact size
+ Renowned brand
+ Short circuit protection and fully-isolated outputs
Why We Liked It - It's a good power supply that caters for a range of power combinations, which means that it's not as limited as many other pedal power bricks on the market.
Unlike the first Donner product on our list, this one includes isolation circuitry and other advanced features that put it in the same quality category as the premium Voodoo Lab power supply we looked at too.
It features two high current outputs, as well as six 9v outputs at 100/300mA. If you double up on cables, then you can also provide an output for 24v too.
The casing of this product is far more durable than the previous Donner product too. It's built to last, and we feel that it could more than handle life on the road or regular gigging.
It might have fewer outputs than the DP1 but it does have a Toroidal transformer as well as magnetic field shielding. These features contribute to true isolation and noise-free operation. You can run about six pedals on it at one time, which is more than enough for most guitarists. It's also got switchable input voltages so you can alter it depending on the mains supplies.
Pros:
+ Offers good output variety
+ Isolated circuitry and shielding
+ Affordable option
Why We Liked It - It performs like a much more expensive product than it is thanks to the wealth of options it offers. As a noise-free, fully isolated unit, then it's a solid budget pick.
This product might only offer five channels, but four of them are switchable voltages, which increases the versatility of its output capabilities. It also features a high-grade, Toroidal transformer that keeps your current hum-free when it turns an AC into a DC. It can cope with high currents, but the maximum output that it offers is 550mA. This means that it's better suited for guitarists who want to use their home pedalboard setup on stage, rather than for a professional musician to use on the road.
Another great feature of this power supply is the short circuit protection that it offers, as well as the loop-free, hum-free signals it offers.
It's a superb entry-level product, in our opinion. It comes with handy cables for each output, so you don't need to worry about buying them too. It's also a compact size that won't take up much room in your rehearsal room, on stage, or with your gear when transporting it. Even though it's a compact size, it still is built to last, and we were impressed by its durability.
Pros:
+ Fully isolated outputs
+ Solid construction
+ Hum-free
Why We Liked It - It's a solid entry-level power supply that will suit lots of amateur guitarists. We like that it comes with lots of useful accessories, such as cables. And we find the price hard to argue with too!
This is one of the cheapest power supplies on the market. But the low-price doesn't mean that it's low quality. Not at all! This product is designed to last a long time, and we think that it will too.
It features high current functionality with outputs of 18v and 12v. Its manufacturers say that the outputs are all isolated, although we must admit that we don't think the isolation is comparable with the more expensive models we've looked at. You can expect a little bit of circuitry interaction.
It's not designed to be used by a pro on stage, so you can't expect it to be perfect, especially when the price tag is taken into account. We think that it would be better suited to be used for rehearsals or practicing at home.
It does feature some advanced features that once again make the low price so startling. For example, it protects you against short-circuiting. It might not be completely free from noise but we found it to be low noise, which is more than enough for such a cheap product.
Pros:
+ Seven 100mA /1 high current 9v outputs, one 12v output, and one 18v output
+ Unbeatable value for money
+ Bright LEDs light up the entire board
Why We Liked It - If you're looking for a bargain, then you can't go wrong with this product. It might not be up to a professional's high standards, but for amatuers and hobbyists then it provides ample quality, in our opinion.
Let's begin with the vital statistics of this superb power supply. It's got two 9v outputs at 100mA, two 9v outputs at 300mA, two 9v outputs at 450mA, and two 18v outputs at 250mA. That makes it a highly versatile product. And to make it even more versatile, then you get two variable voltage outputs that are adjustable from 6v to 15v at 250mA. If you're hungry for power then this beast will be up your street.
In our opinion, the variable voltage outputs are enough to buy this product alone. It allows you to play with the power you want, and also adds to your sound, as you can create the vintage, battery drain effect that many guitarists admire.
It's also one of MXR's most lightweight power supplies. The compact design further enhances its portability. And as you'd expect from a Dunlop MXR product, it's reliable and designed to last a long time. It also incorporates some of the newest isolation circuitry and surge protection, which are both top-quality features too.
Pros:
+ Diverse operation options
+ High-quality circuitry and is ultra noise-free
+ Trusted brand
Why We Liked It - It is an incredible product. We'd go as far as to say that it is flawless. It offers so many options, is reasonably priced, features a durable construction, and is made by one of the most trustworthy and reliable brands out there. An excellent, safe investment.
This model from JOYO is so strikingly similar to the Donner DP1. We can't help but wonder if JOYO took its inspiration from Donner.
It is - once again - a budget option that provides exactly what you need from a power supply without any frills. We aren't entirely convinced of its transformer capabilities and isolated circuitry but it does seem to offer good low-noise performance. It's got ten channels. Eight are for 9 volts at 100 ma and two are for 12v and 18v. It's fit for purpose for most setups and can run a large power system with the aid of a doubling cable.
It also comes with all the cables included, so it is a good entry-level product, but good luck with the instructions, as they are poorly written. It has had a little upgrade to its housing so that it's now a little slimmer than it used to be. That means it will fit snugly beneath your pedalboard which will keep things neat.
It exceeds a lot of expectations for an affordable product, but we must remind you that it is remarkably similar to the Donner DP1, which features a 9-volt channel that is 500 mA. That is a notable difference that you might need if you have bigger power requirements. Besides this difference, they are both good cheap options.
Pros:
+ Surprisingly well made for such a low price product
+ 10 outputs
+ Affordable option
+ Cables included
Why We Liked It - It does a superb job for under fifty bucks. It doesn't offer a huge range of output variables but if you have a basic pedalboard then it definitely offers a lot of bang for the buck.
This product is also similar to our last one. We've included it on our list because of the low price that it's available for. People are often wary when they see that a product has been made in China. But there's no need to worry that this product hasn't gone through a rigorous quality control procedure, as we found it to be very well made. It's important to remember that China is a leader when it comes to making advanced technological products, so don't be put off that it's been made in Chine.
The specs are also similar to the Joyo product. It offers eight 9v channels at 100mA and one 12v and one 18v option. It is a very simple-to-use device. The only thing that sets it apart from the Joyo above is that it is typically retailing at a price marginally lower, so if you're not aiming for the best and your rig is relatively respectable in requirements then go ahead and bag yourself a bargain.
Pros:
+ 10 outputs
+ Perfectly adequate for home use or for rocking out in your garage with your bandmates
+ Cheap and cheerful choice
Why We Liked It - It's another affordable power supply that delivers exceptional value-for-money. We like the wealth of options that it offers, as well as the good build quality than ensures it will have longevity despite the low price.
Outputs - Depending on how you plan to use your pedal power supplies, you might need many outputs with a variety of current capabilities. Some pedal power supplies have fewer than four outputs and cap at 9v when you might need 12v or higher. Check the specifications before your purchase.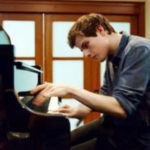 Pedal Power Supply Buyers Guide
What does a Guitar Pedal Power Supply do?
It provides power to several guitar pedals all at once from one FX power source. The isolated, brick-type pedalboard power supplies we have listed work using transformers.
What Power Supply do I need?
There are plenty of ways to supply your guitar pedals. You can use battery options that you can recharge but can be tough to keep a tab on levels. You can plug in daisy chain leads that can, unfortunately, generate a lot of noise as the current flows from one pedal to the next.
The best way to truly get an individual noise-free current to each pedal, in our opinion, is with an isolated power supply. It provides individual pathways for each output but is convenient like a daisy chain setup.
What type you need is down to the effects pedals you want to include in your chain and their individual requirements. Most of the brick-style isolated power units we have reviewed above can cater to a variety of voltage and milli-amp combinations, but some can only be used one way or the other, so you have to think things through one step at a time to work out your needs.
How do you set up a Pedal Board Power Supply?
They are pretty easy to set up once you have worked out what you are going to plug into each output.
JustinGuitar.com has provided this useful setup video. It features the original Voodoo Lab Pro II model similar to the one we reviewed in our list.
https://www.youtube.com/watch?v=P4YgKu2VthQ
How do you use a Pedal Power Supply?
If you follow the instructions in the video link above, then it will be as simple as plug-and-play.
Best Cheap Pedal Power Supply?
The Donner DP 3 is our choice for the best cheap power supply for pedalboards. The only disadvantage is that it only has one 300ma 9v output, so you can only power one advanced pedal at a time. It does, however, deliver a versatile, isolated output performance.
Conclusion
Whether you have noise issues with your daisy chains, lack the power requirements that your new pedal requires, or are simply fed up of using batteries to power your pedal collection, then opting for an isolated brick pedal power supply is the ideal solution.
You just need to do a little research into the pedals that you own so that you know what their polarity and power consumption are. Then, you can easily work out what product is the best for you. If you're a bit overwhelmed by all the technical jargon, then we recommend that you choose a versatile product that allows for a lot of adaptability. The flexibility of such a product ensures that it will work with your pedals, as well as giving you an option for the future when you add to your collection.
If you're a performer - or intend to perform - then you'll need to ensure that the power supply offers genuine circuit isolation and also is housed in a metal chassis that will stand up to rugged use. You'll also want to ensure that it delivers zero noise and zero hum. If you're simply an amateur guitarist who needs a supply for use at home, then you'll find one in the budget price range that will more than satisfy your requirements.
We can highly recommend any of the products on our list. We found them to be the best performers as well as to offer the greatest value-for-money too.
Expert Tip
Doubling cables are a sound investment alongside any isolated pedal power supply. They are converters to drop voltages. These key items can be used in conjunction with one another to provide virtually any power setup you require.
Did You Know?
If you are looking to power an array of effects, you might want to start saving your cash in preparation for the 25v output Cioks ~Overkill that will be hitting the market next year.
If you've enjoyed this review by Music Critic, please leave a positive rating:
[vc_separator