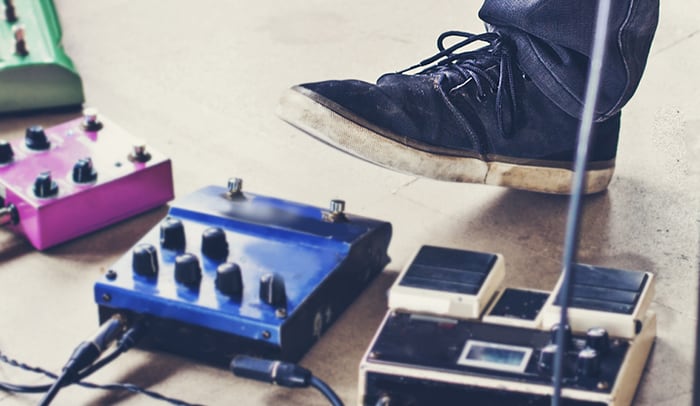 Choosing a power supply for your effects pedals is a little more complex than you might think so with a little digging we have unearthed the 10 best guitar pedal power supplies to review. Now whilst shopping for a pedal supply isn't nearly as exciting as shopping for your effects it is a vital item especially with multiple pedals getting smaller in the modern age cutting out space for batteries on board. With multiple effects pedals differing from model to model in regards to their powering requirements making an informed decision about which power supply you buy is paramount. An isolated power supply is the best way to keep signals hum free, providing pristine paths to your guitar pedals and acting as a barrier to any problems from your venues mains.
In our inclusive guide, we aim to answer key questions and further explain why a good supply really can make all the difference to your sound.
At a glance: Our top 3 picks
Your shortcut to our team's top 3 recommendations
View The Best Pedal Power Supply Below
You might be surprised to learn that we aren't starting our reviews with a leading brand. The Donner range of multiple pedals are proving they can hold there own especially for those on a lower budget, there are some of us who have a range of effects that come to the sum of just one boutique pedal. So if you have a shoestring set up it makes sense to look at Donners dedicated peal power supply.
It provides a decent amount of outputs, 7 standard 9 volts at 100ma, 1x 9v power supply 500ma as well as 12v and 18v bot at 100 ma.` Each individual channel helps to protect against short circuit damage if one blows the rest stay safe. It has LED indicators so you know what is on or off. It is lightweight and portable, it looks like it may be the same design as the JOYO model. To be completely honest it doesn't look overly durable so may not meet the longevity of a more expensive build. The circuitry is pretty good which is something that can be a concern with cheaper manufacture however it reveals that clearly isn't as isolated as advertised.
It also comes with polarity reversing cables in addition to the 10 DC power cables which is useful because incorrect polarity causes devastating damage.
Pros:
+ Good number of outputs.
+ Lightweight.
+ Reverse polarity cables included.
Why We Liked It - Despite it's cheap import nature and misleading isolated channels this does provide individual power and supplies 10 noise-free channels which is great.
2. Voodoo Lab Pedal Power 2 Plus
The Voodoo Lab Pedal Power iso5 is a critically acclaimed best selling unit which caters to a wide range of effects pedals needs. From the company responsible for some of the best heavy effects pedals who clearly understand a guitar player's power requirements. The device universally supplies power for typical 9 volt products and include 2 high current outputs, and even 2 variable voltage outputs to simulate deterioration of low batteries which some find popular on a wah effects for example. These capabilities make it easily one of the best FX pedal power sources going.
The company responsible for some of the greatest heavy effects pedals going have designed this edition to make a great addition to their pedal power products. 

The Voodoo Lab Pedal Power iso5 features 8 genuinely isolated outputs and incorporates a Toroidal transformer with a separate balanced winding for each output ensuring they can't interact in any way for consistent low-noise power supply.
Pros:
+ Vintage effect power supply options.
+ Genuine isolated electronics.
+ Rugged build.
Why We Liked It - The Voodoo Lab Pedal Power iso5 has set the bar as a music industries standard providing seamless clean power to isolated outputs.
3. Truetone 1 SPOT PRO CS7
The Truetone 1 SPOT PRO CS7 makes for an impressive power supply. It features 7 fully isolated outputs and 3 different voltage options for different voltage requirements. Outputs 1 through 5 can be switched from 9 to 12 volt operation via individual toggles on the bottom It has 2 high voltage outputs and international input switching. The Truetone 1 SPOT PRO CS7 comes with a menagerie of essential accessories and makes it one of the most versatile power supplies on the current market covering virtually all pedal needs. The individual circuitry is fully isolated for noise-free sound. Each channel is filtered utilizing its patented 1spot technology. If 7 doesn't seem like enough for you we would also recommend checking out their CS12.
Pros:
+ Decent range of versatile outputs.
+ Intentional input.
+ All cables included along with pedal board mounting bracket.
Why We Liked It - You can take this Truetone 1 SPOT PRO CS7 power supply pack your pedal board a play worldwide without a problem.
From the company that kick-started the effects pedal revolution and set the industry standard with their rugged stomp-boxes comes this MXR M237 DC power supply. Providing ten outputs, 8 of them 9 volts at different milliamps, and 2 18 volts makes the MXR M237 DC Brick a viable choice for handling a variety of power combinations in your setup.
Dunlop has really done themselves proud since take-over and revival of the MXR brand. The specially developed short circuit damage prevention which is LED indicated. This helps keep each isolated output from affecting the next and the whole thing has precautionary power surge protocols in place to prevent power overloads.
Pros:
+ Small footprint.
+ Renowned brand.
+ Short circuit protection fully-isolated outputs.
Why We Liked It - The MXR M237 DC Brick caters for a range of power combinations not as limiting as some pedal power bricks.
Unlike its first attempt reviewed at the top of the page this power brick from Donner actually sports isolate circuitry and some capabilities that raise it to on par with the voodoo lab power supplies. It feature 2 high current outputs and six 9 volts at 100 /300 mA. Using doubling cables you can achieve solutions for 24v as well. It appears that the housing framework has been improved.
The DP-3 offers 2 fewer outputs than the DP1 but has a Toroidal transformer with magnetic field shielding which its progenitor did not, giving users true isolation and noise-free operation. It will run combinations of about 6 guitar pedals (obviously depending on their requirements). It also has a switchable input voltage to accommodate different mains supplies and their voltage requirements.
Pros:
+ Offers good output variety.
+ Isolated circuitry and shielding.
+ Affordable option.
Why We Liked It - It does a capable job of providing capabilities we expect in more expensive models for a fraction of the cost.
The Power 5 only actually provide 5 channels but 4 of these are switchable voltages. It features important Toroidal transformers which keep currents free of hums when tuning ac to dc current. It can cope with high current but only offers a maximum pf 550 mA output loads. This means it won't power a huge array it is more than fitting for a taking a humble home set up to the stage. It has very effective short circuit protection with each circuit separated providing ground loop-free, hum-free signals.
It makes for a good entry level power supply it comes with cables for each output the footprint it a good size so as to not hog too much space and the construction seems pretty decent. It is probably fair to describe it as medium-sized the housing itself seems pretty durable.
Pros:
+ True isolated outputs.
+ Solid construction.
+ Hum free.
Why We Liked It - It makes for a good entry level power supply it comes with cables for each output the footprint it a good size so as to not hog too much space and the construction seems pretty decent .
The Caline power 5 is one of the cheapest power sources we were able to find that boasts decent use over a long period. This 18v/12v pedal has high current functionality and in a pinch is a superb choice if you aren't planning on playing live. Whilst advertised as isolated outputs we aren't 100% convinced with several users reporting hum s probably due to some circuitry interaction going on under the hood.
For a tiny price tag you typically shouldn't expect too much but with this being around a 5th of the price tag of a typical official isolating model but offering a lot more diversity in terms of output options it makes for a notable product to review. This 12v and 18v output pedal have some measures towards preventing short circuitry but as mentioned it isn't the noise-free alternative to daisy chaining we are ultimately looking for in pedal empowerment.
Pros:
+ 7 x 100mA /1 high current 9v power output 1x 12v and 18v outputs.
+ Unbeatable value for money.
+ Bright led lights entire board up.
Why We Liked It - It demo's pretty well and most buyers seem generally satisfied overall, we guess probably only time will tell the truth as to it's longevity. If you aren't searching for real clarity over signals it will fit the bill for far less bills, if you catch our drift.
Let's cut straight to the chase upfront this beastly power supply for pedalboard offers two 9-volt outputs at 100mA, two 9-volt outputs at 300mA, two 9-volt outputs at 450mA, and two 18-volt outputs at 250mA which makes it a flexible power supply . On top of this we get two variable voltage outputs. adjustable from 6 to 15-volts at 250mA for power hungry guitar pedals that demand more.
The variable voltage outputs are really something else allowing you to play with your power to add the sound and feel of vintage battery drain emulation on your effects pedals.
One of the Dunlops most lightweight compact guitar pedal power supplies that still has the trademark durability we readily associate with their reliable long lasting products. This Iso-Brick incorporates some of the newest isolated circuitry and surge protection going for bona fide zero noise signals.
Pros:
+ Diverse operation options.
+ High quality circuitry and housing ultra noise-free.
+ Trusted Brand.
Why We Liked It - It is a top contender for the best pedal power supply on the market and has a reduced footprint weight and price-tag whilst still providing the uncompromising quality the brand is famed for.
This model from JOYO is so strikingly similar to the Donner DP1 we can't help but wonder if they aren't clones. It is once again a budget option which provides exactly what you need from a power supply we aren't entirely convinced of its transformer capabilities and isolated circuitry but it seems very low noise. It offers 10 channels 8 9 volts at 100 ma and 2 higher volts (12 & 18) so it should be fairly fit purpose for most setups and run a large power system with the aid of a doubling cable.
The Joyo JP-02 comes with all the cables included so is a good entry level product, but good luck with the instructions as they are poorly written. It has had a little upgrade to its housing now a little slimmer so it will fit snugly beneath your board which is neat. It exceeds a lot of expectation for an affordable alternative but we remind you that the remarkably similar Donner DP1 features a 9-volt channel that Is 500 mA that is a notable difference you might want if you have bigger power requirements. Asides from this they are both good cheap options.
Pros:
+ Surprisingly well made for low end production.
+ 10 outputs.
+ Affordable option.
+ Cables included.
Why We Liked It - It does a bang up job for under fifty bucks, it doesn't offer a huge range of output variables but if you have a basic board it definitely offers a lot of bang for your bucks.
Again We think this is probably the same product re-branded it offers specifications which match the Joyo above to a T. We added it to our list because we are always asked about the lower priced options as well as the quality of component used in the construction of cheaper imported models. On close examination the thing is fairly well-built something to remember when your opinion is tainted about cheap Chinese productions is that China is actually at the forefront of building some highly advanced technology and not everything with a small price tag comes with the compromised quality especially with today's scruples set highly.
The specs as with the Joyo are 8x 9-volt options at 100mA and one 12 and one 18 volt option. It is a really simple to read device and the only real thing that sets it apart from the Joyo above besides its logo is it is typically retailing at a price marginally lower so if your not aiming for the best and your rig is relatively respectable in requirements then go ahead and bag yourself a bargain.
Pros:
+ 10 outputs.
+ Perfectly adequate for home use and rocking out in your garage with your friends.
+ Cheap and cheerful choice.
Why We Liked It - Despite some reporting a few anomalies ruling this one out for reliable live use we think this one appears to do the trick and we always like to give the low down on these low-end models that seem to be shrouded in mystery.
Pedal Power Supply Buyers Guide
What does a Guitar Pedal Power Supply do?
It provides power to a number of guitar pedals all at once from one FX power source. The isolated brick type pedalboard power supplies we have listed work using a transformers
What Power Supply do I need?
There are a variety of ways to supply your guitar pedals from battery options which you can recharge but can be tough to keep a tab on levels, to plug in daisy chain leads which can, unfortunately, generate a lot of noise as the current flows from one pedal to the next.
The best way to truly get an individual noise free current to each pedal is with an isolated power supply it provides individual pathways for each output but is convenient like a daisy chain set up.
What type you need is completely down to what effects pedal you want to include in your chain and their individual requirements. Most of the brick style isolated power units we have reviewed above can cater to a variety of volt and milli-amp combinations but some can only be used one way or the other so you really have to think things through one step at a time to work out your needs.
How to set up a Pedal Board Power Supply?
They are pretty easy to set up once you have worked out what you are going to plug into each output.
JustinGuitar.com has this useful setup video and it features the original Voodoo Lab Pro II model power supply similar to the plus we reviewed earlier.
https://www.youtube.com/watch?v=P4YgKu2VthQ
How to use a Pedal Power Supply?
If you follow the instructions in the video link above, then it will really be as simple as plug and play.
Best Cheap Pedal Power Supply?
The Donner DP 3 on our list makes a good option for best cheap power supply for pedalboards though it only has one 300ma 9v output so you can probably only power one fancy pedal but it is pretty versatile isolated output choice.
Conclusion
Whether you have noise issues with your daisy chains, lack the power requirements that your new pedal purchase craves or are just simply fed up of using batteries to power your pedal collection opting for an isolated brick pedal power provider is the ideal solution. You will have to have a fair amount of knowledge about your pedal collection their polarity and their consumption before you can possibly weigh up which you need. If the lingo is still over your head we recommend choosing an adaptable design for its flexibility and as it ultimately gives you the most potential for possible set up changes and future pedal additions.
If you plan on performing you will want to seek something that harbors genuine circuit isolation and in terms of housing, you need a solid metal shell for zero noise. If you are more of at home Hendrix you will find your needs are comfortably met with the majority of guitar pedals reviewed regardless of your budget limitations. As always the decision rests on your shoulders but we hope we have helped a whole deal.
Expert Tip
Doubling cables are a sound investment alongside any isolated pedal power supply as are converters to drop voltages, between them these 3 key items can be used in conjunction with one another to provide virtually any power set up you fancy.
Did You Know?
If you really are looking to power an array of effects you might want to start saving your cash in preparation for the 25 output Cioks ~Overkill that will be hitting the market next year.
If you've enjoyed this review by Music Critic, please leave a positive rating: