A great tuner pedal is an essential and altogether under-rated tool. We have sifted through the ten best tuner pedals on the market to help you find the right one for you. Clip-on instrument tuners don't always cut it in terms of tuning accuracy. If you forever find yourself in a tuning limbo, stuck between a little flat and ever-so-slightly sharp, then you're in luck. Tuner Pedals offer some fine-tuned meters these days. This is cutting-edge tuning accuracy that works in such tiny increments, that they really enable you to hone in on the note you're after.
They're akin to studio-level rack-mount tuning rather than a clip on tuner, but won't cost an arm and a leg. With industry brands like BOSS, Korg, TC Electronic, etc. constantly developing, we really are seeing some astounding models. These models include polyphonic and chromatic modes that account for every tuning type you could possibly desire. They deliver unparalleled response times, quickly tuning your guitar or bass.
Not everything on the market offers these high-end mod cons, so to really get the 411 on tuner pedals, let's review ten of the best instrument tuners on offer, and answer some frequently asked questions within our enlightening buyer's guide.
At a glance:

Our top 3 picks
Our team's top 3 recommendations
Best Overall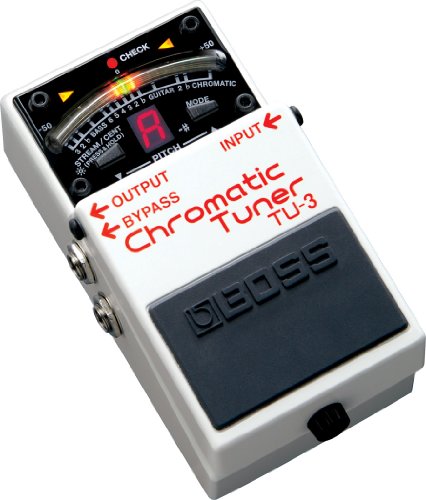 BOSS TU3 Chromatic

True Bypass switch
21 segment LED display meter.
Guitar or Bass suitable.
Premium Quality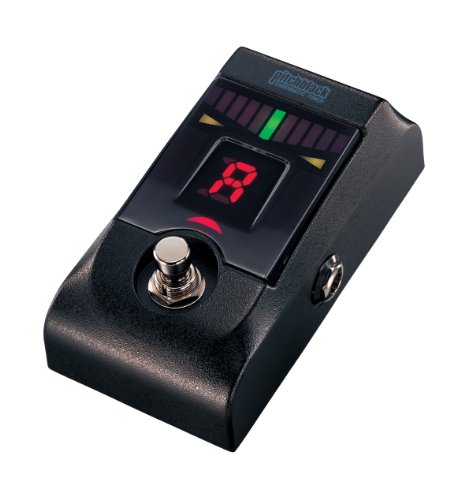 Korg Pitchblack Chromatic

True Bypass switch
21 segment LED display meter.
Guitar or Bass suitable.
Great value
TC Electronic PolyTune 3

True Bypass switch
21 segment LED display meter.
Guitar or Bass suitable.
View The Best Tuner Pedal Below
A superb stomp-box style tuning pedal from BOSS an acclaimed pedal manufacturer who is synonymous with tuner accuracy.  The BOSS TU3
 is a chromatic tuner pedal which is effectively an upgrade on the TU2 which is regarded as the worlds best-selling pedal tuner.
The BOSS TU3 Chromatic
 tuner has a glare-free, high brightness mode to accommodate for reduced visibility specifically aimed at outdoor playing.  The Accu-Pitch function gives you visual affirmation in each mode.
It features a switchable electric Guitar/Bass mode as sometimes traditional tuners don't cope with lower frequencies too well or even register them at all.  The modes account for 7 string guitars and 6 string basses.  The BOSS TU3 Chromatic
 tuner also offers an additional mode with drop tuning support up to 6 semitones below standard pitch.
Pros:
+ True Bypass switch
+ 21 segment LED display meter.
+ Guitar or Bass suitable.
Why We Liked It - The BOSS TU3 Chromatic
 tuner is a streamlined version of arguably the top tuner on the market going it functions in a range of tuning methods at the touch of a button and accommodates for a wide range of non-standard guitar and bass types which gives them an edge over other pedal competition.
Tuning Modes - Don't forget to experiment with modes outside of standard tuning. If you're not sure what tuning options are available, you can always do a quick Google search to explore new possibilities. Sometimes, having your instrument deliberately slightly out of tune can have a cool effect as long as it's paired with the right instrumentation.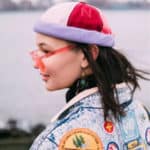 2. Korg Pitchblack Chromatic
Korg's Pitchblack Chromatic tuner pretty much sets the bar for standard chromatic pedal tuners, you will find the majority of clip-on tuners emulate the Pitchblack.  This one has been well thought out and hasn't changed much since its first release as its tuning accuracy and ease of use is pretty darn perfect.  It has sturdy aluminum die-cast housing and a small footprint.  Despite is small size the screen is large making it clear to read.  The black finish of Korg's Pitchblack Chromatic tuner also helps to better contrast the light emitted from it's screen giving it added visibility, especially when performing on stage.
The LED meter can switch between 4 different featured modes including full strobe, half strobe, mirror, and regular meter.  This provides a range of visual aids for the different ways our brains interpret things.  Korg's Pitchblack Chromatic tuner also clearly displays the note and ranges from an E0 to a C8.  It features True Bypass which keeps tone intact and allows for muted input signals so you can silently tune.
Pros:
+ True Bypass.
+ Highly accurate.
+ From one of the most successful industry companies.
Why We Liked It - The Korg Pitchblack Chromatic tuner sales really speak for themselves it is undoubtedly one of the most popular on the market it screen is awesome and is degree of tuning accuracy is next to immeasurable.
3. TC Electronic PolyTune 3
Third on our list is this exceptional, polyphonic tuner from TC Electronic. It's the most recent iteration of the highly acclaimed PolyTune series of tuners.
This version is an improvement on the previous models, which were already superb products. Key to its quality is the accuracy it offers. There are three modes to choose from, including polyphonic, chromatic, and strobe. If you're using the chromatic mode, then accuracy is 0.5%, while for the strobe mode, it will be 0.02%.
The design is hard to fault. Not only is it very compact – with dimensions of 4.76" by 1.77" by 2.87" – but it is also durable and hard-wearing. It's an easy tuner pedal to operate too, thanks to a soft, stomp button, as well as an easy-to-see, 109-LED display.
For live performances, this is a handy option too, as it has an integrated Bonafide buffer inside it, which always ensures a strong signal with complete transparency.
Pros:
+ Extremely Accurate
+ Ultra-Compact Design
+ Excellent Visibility Due to LED Display
+ Long-Term Durability
+ Bonafide Buffer
Why We Liked It - It's an accurate tuner pedal that can be trusted to perform when the stakes are high, such as during a live gig.
Tuning Usage - While tuning pedals aren't necessarily vital to a guitarist's toolkit, they can certainly make your workflow more efficient. Having one of these pedals available for live performance is critical, since you can't necessarily rely on your ear in an echo-y venue. Luckily, tuning pedals are fairly inexpensive due to their simple yet effective design.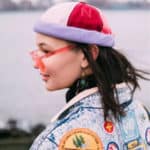 The Donner DT Deluxe is a good chromatic tuner of a classic design.  It is of a mini size and design so won't hog your board space.  It features True Bypass which is essential for a pedal of this nature.  The screen is typical of those found on clip on tuners to buy on Amazon - nothing fancy but it is back-lit for improved visibility.  The center display changes to blue when you have hit the note on the head which is a great visual aid.  It tunes chromatically from E0 – C8 as standard.
This guitar tuner pedal is extremely easy to use and makes for a good entry level tuner and the price on Amazon is relative to the abilities, rendering it a sensible affordable choice It may not provide some of the complexities of a higher end model but it get's the job done response time is reasonably good.  It features a new strobe mode which it previously did not which is becoming a popular way to display
Pros:
+ True Bypass.
+ Highly accurate tuner.
+ Affordable option.
+ Strobe mode
Why We Liked It - It is more responsive than their D1 and has refined tuning accuracy.
5. TC Electronic PolyTune 3 Polyphonic
The PolyTune from TC electronic has revolutionized tuning since its introduction and the entire wide range of models has been outstanding.  The third incarnation is no exception.  One quick strum is all you need to detect the fidelity of your intonation thanks to its polyphonic tuning capabilities.  TC Electronic PolyTune 3 Polyphonic tuner offers the same inscrutable versatility with variable tuning options as previously.  This Pedal, however, has a built-in genuine buffer that preserves tone better than ever placing at the start of your chain.
The TC Electronic PolyTune 3 Polyphonic tuner pedal also provides a true bypass option if you are finicky.  In buffer mode, the tuner responds the entire time you play providing a constant visual of your intonation.  This is ideal if you are a playing who changes tuning from tune to tune.  The TC Electronic PolyTune 3 Polyphonic tuner is also a sure fire way to catch strings that aren't holding intonation through your set before they become so out it affects play.  It is ultra compact and ultra accurate.
Pros:
+ Polyphonic/chromatic/strobe tuning.
+ Upgraded auto-sensing LED display.
+ On board buffer with traditional true bypass option.
Why We Liked It - The response on this TC Electronic PolyTune 3 Polyphonic tuner pedal is incredible, the continuous streaming tuning visuals provided by the buffer is genial.
This electric guitar tuner pedal made our review as one of the best budget tuner pedals on offer.  It manages some pretty sought after features in a tuner for a fraction of the cost.  Whilst it is not going to be as robust as a BOSS model this mini pedal for guitar or bass seems to be a pretty solid build and roadworthy too.
This mini pedal tuner has a large uncluttered display which is clear to read and understand.  It has good visibility under the scrutiny of different light settings.
This electric guitar tuner pedal is pretty accurate, let's be honest some of the more finely accurate guitar pedals you could never tune in so finely with your tuning pegs without plenty of time rendering the convenience of a pedal tuner redundant.
You can tune with a muted input which is highly desirable for live situations.  The tuning frequency allows for bass compatibility and goes from A0 to 8.  In addition there flat tuning mode that works four semitones below standard tuning making it a pretty nifty tool for a low cost.
Pros:
+ Simple layout screen.
+ Suitable for bass as well as electric guitar.
+ Muted tuning.
+ Flat tuning.
Why We Liked It - This mini pedal tuner offers a variety of tuning and some features beyond what we typically find on a budget tuner pedal providing low value versatility.
A rather surprising pedal from a little-known company that began out of necessity and are quickly making a bit of a name for themselves on the east coast.  KliQ was formed by musician frustrated with clip-on instrument tuners who demanded finer tuning accuracy of pitch calibration, faster responses with zero noise and no frills to detract from the functionality.  The KliQ UberTuner was the original product line that delivered just this into the hands of the masses.  They have taken things one step further with this awesome mini pedal version.
The KLIQ TinyTune pedal for guitar is incredibly fast and accurate and well manufactured in a rugged metal chassis with a heavy duty switch that prevents accidental triggering! There are no hidden buttons or confusing modes on the KLIQ TinyTune.  It features drop/flat tuning up-to four semitones below standard tuning and it mutes as engaged for silent tuning.
Pros:
+ Zero noise switch free.
+ Bass suitable.
+ Drop/flat tuning.
Why We Liked It - The KLIQ TinyTune tuner pedal really is highly responsive and we like to shine some light on lesser known guitar accessories available on the current a good mini pedal tuner entry from KliQ. 
Let's cut to the chase this is essentially the budget version of the Donner Deluxe we have already reviewed.  This bare bones model still makes for a pretty effective tool for your pedal board.  For the money shelled out this does a relatively good job.  It's chromatic nature allows for a variety of tuning although they aren't as accessible as higher end guitar accessories make them you should still be able to configure what you need from it.  The LCD display is well back-lit for easy visibility on stage and it is clear to read and understand it makes for a good tuning pedal for less seasoned guitar players.
The Donner DT-1 Chromatic

 tuner performs exactly as expected the level of tuning accuracy is spot on for most needs it may not have a discrepancy as low as some models boast but this is such a fine line of degrees it hardly matters.  You will be sufficiently in tune to perform.  The tuning mode is automatic no frills here once again some of us only really ever play in standard tuning so drop tuning is unnecessary for our needs.  The Donner DT-1 Chromatic

 tuner pedal tunes A0 -C8 as typical instrument tuners do.
Pros:
+ Easy to use.
+ Classic design.
+ True bypass.
+ Bare essential tuner pedal.
+ Budget option.
Why We Liked It - The Donner DT-1 is a classically designed chromatic tuner that does a great job making a top cheap tuner pedal.
There is always a little snobbery lurking when a little-known pedal comes on the market.  The GoGo chromatic tuner pedal surpasses most users expectations.  The companies clip-on tuners are an ever popular choice for many guitar players.  The GoGo electric guitar pedal has been reviewing pretty well elsewhere whilst it isn't comparable with the capabilities of the TC Electronic PolyTune it holds it's own among other chromatic tuners in is direct competition.  It demo's really well on a test run and we honestly think it's generalized product description don't really do it any justice.
It is of robust durable build with a great metal chassis and stomp knob.  It features true bypass to stay true to tone when daisy chaining with other guitar pedals.  It can be left on the entire time you play so you can keep an eye on tuning it makes it especially good for those who play in a variety of tuning options throughout one set.  The display has pretty suitable visibility in a range of different setting indoor/outdoor daytime/nighttime.  The entire thing is red until you are in the key which makes for an unmistakable visual.  It is also compatible with Bass guitars and despite its heavy duty switch, there is no discernible click we sometimes get stuck with.
Pros:
+ Bass suitable.
+ True Bypass.
+ Can be left on whilst you play no hum etc.
Why We Liked It - It is solid and accurate and has a massive user friendly screen.
10. Monoprice 611220 Chromatic
Is another one of those guitar pedals that is being sold under a number of brand names including Modtone which are charging twice as much as Monoprice for the same deal.  There are 2 power output choices so you can choose to mute your power output for silent tuning in performances or to hear it better for at home and rehearsals.  It is incredibly fast and accurate with great response times allowing for tuning between tunes without disruption to your set.  It is very user-friendly has several modes it can work in and is suitable for a variety of electric instruments.
Sleek housing with a real emphasis on the functional design on this, one, for example, one of the feet doubles as a battery slot lift, which shows there was a bit of thought that went into this product.  You can run it off of battery as well.  Again it has the range of A0 to C8.  It switches on as you insert the jack which keeps battery life extended.  It can also be powered by mains if you get a suitable power supply.
Pros:
+ Surprised most customers.
+ Quickly tunes
+ Guitar or bass suitable.
+ 2 power output options (True Bypass for a silent tune).
+ Outdoes several competitive budget guitar accessories.
Why We Liked It - Price to performance value comparison it is hands down unbeatable, it does a fantastic job far better than any clip on it is the lowest cost product we have reviewed and is a good one to finish on.
Live Peformance - Tuning pedals are indispensable live performance tools, especially if you need to switch from one key to another throughout your show. Alternatively, you can try out clip-on tuners that sit on the neck of your guitar to determine signal frequency, though these might not be as accurate in certain situations.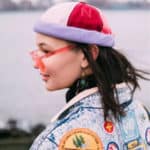 Tuner Pedal Buying Guide
Now we will attempt to answer some of your queries regarding guitar tuners to buy on Amazon.
What is a Tuner Pedal?
A tuner pedal is a pedal option for tuning your electric guitar.  They can be for standard strings but others offer alternative guitar string tuning such as drop D.  Most of them work tuning one guitar string at a time Some offer polyphonic capabilities which means they can detect which guitar string is out when you strum the whole lot at the same time.  They work in a variety of ways detecting pitch measured in Hertz.
Why do you need a Tuner Pedal?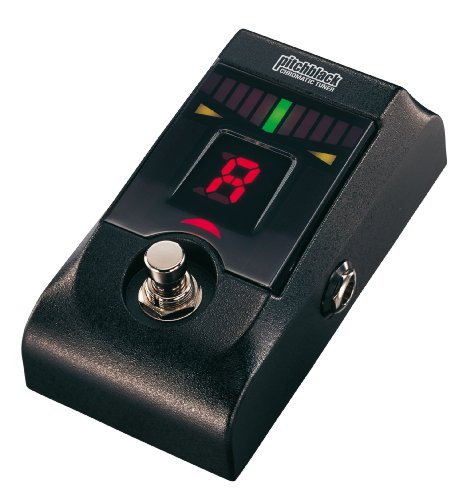 Whilst you don't necessarily need a tuner pedal, you certainly need a tuner of some form, you cannot play an out of tune electric or bass guitar.
Sometimes seasoned musicians have very good natural pitch and you may find yourself able to tune your guitar by ear but in live settings, it can be unprofessional to keep tuning during performances.
Under hot stage lights or playing outdoors, you will find that some strings will inevitably need fine-tuning from time to time as they have changed because of the heat.
If you have a pedalboard style set up a tuner pedal is a great addition instead of a clip-on style tuner.
They are often more accurate than a clip-on which also have the disadvantage of not function as well with a lot of background noise if you are hoping to bring in a crowd with your playing you will need a plugin approach.
They are also less noticeable allowing for muted on the fly tuning without alerting your audience to the need for a quick re-tune or subjecting them to what can be an irritating experience.
Who makes the Best Guitar Tuner Pedal?
We really think BOSS and Korg are constantly at the forefront of tuner development.  There are a few notable runners-up, such as the TC electronic PolyTone but polyphonic capabilities aside from the TU-3 really is the epitome of chromatic tuners.  Out there it is tough to settle between it and the Pitchblack, but the Pitchblack is a little less expensive than it and has a larger clearer display overall.
What is the Best Bass Tuner Pedal?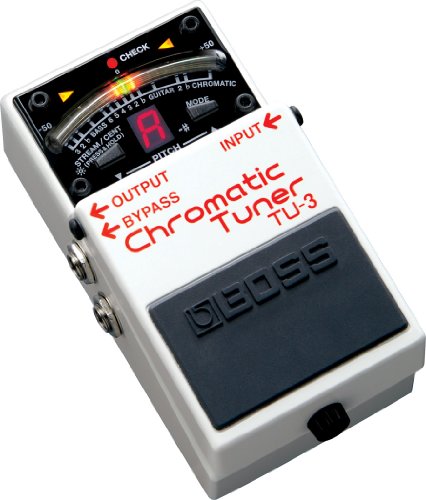 We highly recommend the BOSS TU3 chromatic tuner from our list it is definitely the best bass tuner pedal going and BOSS guitar pedals are built like tanks so the housing will be robust enough for longevity with all your bass notes.
It down tunes a fair amount has a dedicated Bass Guitar mode which is apt for 4/5 and even 6 string Basses.
Best cheap Tuner Pedal
I think we are going to have to tip our hats again to the Monoprice here not just because it is literally the cheapest but because it surpasses the Donners which are another runner for best cheap tuner pedal for guitar or bass.  The Donners come from a more recognized brand and will match a wide range of their other budget guitar pedals they don't necessarily blow anyone away with their abilities.  This one was a pleasant surprise.  To all who took a chance on it.
Best mini Tuner Pedal?
In our opinion, you really can't go wrong with the TC electronic PolyTune mini.  It offers such a diverse range of tuning capabilities.
Where to place Tuner in Pedal chain?
Ideally, you want it at the start of the chain and definitely before any modulation effects pedals on your board.  If you want to be in a key you can't well stick it after a pitch shifter!
What is True Bypass on a Guitar Tuner Pedal?
As you add guitar pedals to your chain you are adding an extra instrument cable to it, therefore, the signal from your instrument is subject to lose every step of a pedal chain.  Even the length and quality of the guitar cable you use to plug into the first affects the degradation of your original tone.  Many guitar pedals use a buffer amp which is there to prevent any signal loss but it has a nominal effect on your signal even when disengaged.  A true Bypass effectively makes the pedal just like an instrument cable when it is disengaged.
Guitar pedals use either a buffered bypass, a true bypass, or both sometimes allowing for the choice between all-analog buffered bypass and true bypass, adjusted via internal DIP switch.
Conclusion
When settling on a pedal tuner good visibility is imperative as is tuning accuracy.  Being able to see the sound is a great visual aid as not every ear is as aware as the next of the tiny subtleties within the space between the semitones.
Sometimes less is more when it comes to displays but it can be useful as mentioned to have meters that operate in smaller degrees for fine tuning so long as the manner doesn't clutter the screen at the end of the day if you can't read what's going on from a head to toe distance it's going to be pretty much useless to you.
Your playing style and intent of use will determine just how many different tuning styles you genuinely require in a pedal for guitar or bass.  Muting your signal whilst you tune is preferable and footprint size is something to consider in relation to the rest of your set-up.  In any case, we hope our reviews and buying guide will help you find the one that is right for you.
Expert Tip
Strobe tuners make for the most accurate tuners in the world capable of nailing accuracy to nominal degrees.  The modern-day strobe pedals are however are virtual versions their LCD/LED displays to mimic the mechanical strobe disc.  An authentic Strobe tuner is much more expensive.
Did You Know?
The first strobe tuner was named the Stroboconn made by the Conn company in the 1930's.  It was motor driven and had a genuine old school tuning fork within with sliding weights to adjust the note to tune to.
If you've enjoyed this review by Music Critic, please leave a positive rating:
[vc_separator