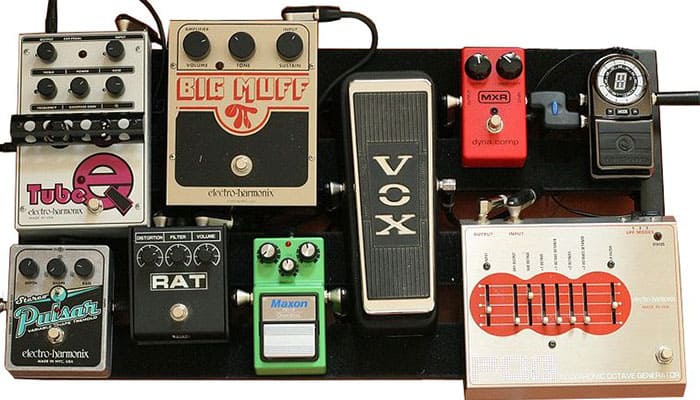 If you are into rock or blues, or if you are perhaps looking to jump into a new playing style, a new fuzz pedal can be a great pick to help you out. It can be hard to find the best fuzz pedal, there are so many options available out there by so many leading industry brands that it can be very confusing to pick the right pedal. Not only are there various features that can be present in some fuzz pedals and not in others, but the colors and designs can be overwhelming to choose from, too.
Getting a new fuzz pedal can be as exciting as it can be stressful, each pedal will give you a different sound and it's best to go and research and see if it fits your style of playing in particular. For every review you read here, it can be very helpful to look up test tracks of how each product sounds to get a well-rounded idea of how it will sound when you plug it into the rest of your gear. If you need a Flanger pedal - click here.
We listed our top picks in a review format to help you decide which fuzz pedal could enhance your style of playing and make your jam sessions much more enjoyable. If you are looking for something new and fresh, a new pedal might just help you up your skill, and we hope that you can get something useful from the review and FAQ section of this article!
1. Wampler Velvet Fuzz V2
The Wampler Fuzz Pedal strikes us from the get-go as an attractive piece of gear. With two interesting and vintage looking designs, Wampler went a step further and decided to provide their customers with two versions of their pedal.Version one has a dark green color with a fading dandelion design in the background, and version two has the 'VELVET' product title wrapped around the front face. Wampler has four knobs to help you customize your jam sessions, they are for: volume, fuzz, brightness and there is also a big/tight switch included to help you control what's happening on the fuzz signal.
Many people who have in the past bought other Wampler pedals say that it's a wonderful addition to the collection. It's a bit more on the pricey side, being 200$, but if you are willing to spend a bit of extra cash and want a very smooth sounding Big Muff that has no volume drop from tone control and has the ability to have very flexible tone sculpting thanks to the toggle switch that is provided with this design. The build is very strong and sturdy and should be able to take a good beating. Wampler picked high grade film capacitors and resistors thanks to the quality of sound they provide, in hope that their superior features (like the sound and response) will help make this product stand out among the others.
Pros:
+ adds good diversity to distortions
+ the deep, fat sound adds power to your playing
+ big/tight switch for clear sounds
Why We Liked It - Wampler's fuzz box is a great addition to any selection of gear if you are looking for a thick, fat and deep sound that will enhance all of your blues and rock jam sessions with only the best selection of features. It will give out a beautiful tone every time you switch it on and combine it with your other pedals and guitar effects. You can be sure that ones of Wampler's top products will help you up your playing game by miles!
EarthQuaker's fuzz pedal is another pedal that has a fascinating design, and also comes in two versions. The first design is black and white, almost fantasy looking, with a wizard figure holding up its staff into the air- a vital piece of gear to have for anyone who is also into fantasy related elements. The second design is blue and white with an old vintage phone as an outline. Earthquaker can help you control the decay length of the reverb and is able to adjust the spread of the reverb. As you turn the diffuse knob clockwise, you will get a more washy and ambient sound, while if you turn it counter clockwise, you will get sharper, more aggressive sounds.
It's meant to be used with a the common 9 volt DC power supply for pedalboard, but it's recommended to avoid using this pedal on a daisy chain since it can cause problems and possibly damage not only the EarthQuaker, but the other devices too. It's also recommended to not run it at higher voltages than stated in the description as it can lead to disastrous consequences for the electronic supply! There are 4 dials here: reverb, repeat, time and mix. If you are looking to explore with a pedal that allows you to use reverb and delay together, this is the best choice on the market right now.
Pros:
+ attractive designs to choose from
+ great for ambient sounds
+ efficient set-up of knobs
Why We Liked It - EarthQauker is an impressive pedal with funky and goofy designs to choose from that will surely attract anyone to come look closer. This is one of the best rated fuzz pedals out there, and if you are looking for a set-up of knobs most efficient for a fuzz box, this is definitely the best solution.
MXR is also another very popular brand in the world of music gear, especially when it comes to fuzz pedals. The design of the MXR is simple but attractive, consisting of only a very deep, burgundy color. The voltage can be set from 5V to 15V and this can give you one of the most sought-after effects when it comes to playing hard-rock or punk, a 'dying battery' effect. You can achieve this by lowering the voltage, and as you increase the voltage, you will get way more clarity with your playing, and more headroom to maneuver around.
You can find all kinds of sounds within this little device that you never dreamed of before, from high-pitched starter violin sounds to the likes of Eric Clapton, to the 70s funk beats. The MXR has a fantastic overdrive feature that doesn't get busy like it does with many other fuzz pedals, it's easy to control and manipulate. You will be able to adjust the knobs to get just the sound you desire, one turn to the left or right will make the difference between a fuzz of the 70s and a fuzz of the 90s! The sustain and tone shaping are also fantastic here.
Pros:
+ a variety of sounds to explore
+ simple, basic design
+ easy access to all features
Why We Liked It - MXR is a fuzz box like no other, it's truly one of the best contestants when it comes to mixing and getting all kinds of different sounds from your guitar. If you are looking for a versatile and useful new addition to the rest of your gear of guitar effects, MXR will fit like a glove to help you explore your horizons.
4. Mooer MFZ4 Fuzz Distortion
Mooer is a brand that has made it their goal to make fuzz pedals affordable for people that don't have hundreds of bucks to spend on buying a new (or their first!) pedal. Mooer is covered in a very attractive, turquoise design that is surrounded by light, yellow-tinged labels. It's very doubtful that you will be able to find a more affordable fuzz box than Mooer, that prices in at around 50$-60$ and still boasts full five-star reviews. It's crafted from an endurable metal shell, and even if you will accidentally forget this little device is right below your feet and step on it or kick it, it will keep working just as new. Due to its size it's also perfect for traveling, putting into bags and taking on tours.
Mooer will give you the best bass fuzz box you can get which can also sound good on guitar, it's very rare to get both of these options in one package. It also has a true bypass, which means the Mooer doesn't have a buffer amp and the signal passes from the input to the output area right away without having to go through any of the circuits in-between. Being on the stock since 2013, Mooer's fuzz pedal has had a long time to update their design and sound of their fuzz pedals.
Pros:
+ true bypass
+ small and compact
+ heavy-duty metal shell
Why We Liked It - Mooer has given us a very affordable piece of music gear that has some of the best sounds on the market at a fantastic price. The true bypass will make sure that you won't get any circuits causing any unwanted noise and disturbance and the small and compact design will allow you to take this little device everywhere and is one of the best-suited fuzz pedals for traveling!
Valeton's fuzz pedal has a very simple and accessible design that will allow you to quickly navigate from knob to knob. It has a very rich green color that resembles fresh, summer grass and is a nice alternative to the usually gloomy, black or gray pedals available out on the market today. There are four knobs on the front face of the box, they are: volume, bass, treble and fuzz. It's designed to be used both with the modern electric guitar and bass guitar. It has a wide range of tones from a smooth overdrive to a very wild, aggressive fuzz that many people are looking for when purchasing this kind of device.
When you turn the bass and fuzz to perform at their full capacity you will get the dark and gritty sound that many guitar players are searching for. It's capable of doing many different fuzz tones and even a bit of overdrive. It's an essential piece of gear for anyone that wants to explore a bit more with a more gnarly sound, or if you are looking for a new set of effects that have all the necessary options to help you achieve a diverse sound. Many people also praise the Lazaro for being very quiet and not giving any feedback when playing, focusing only on the gritty fuzz.
Pros:
+ no feedback
+ simple and accessible design
+ wide range of tones
Why We Liked It - Valeton provides us with a pedal that is not only affordable, compact and accessible, but also packed with features that any fuzz box should have. It has a variety of knobs and a very diverse range of tones that should satisfy even the fussiest of players! The bright green color should also make sure it doesn't get lost among your other music gear, whether or on the road or in the studio. Valeton is truly one of the best!
6. Way Huge WHE401 Swollen Pickle
WayHuge definitely has one of the bulkier designs on this list, this also means that it's heavy-duty and can endure a lot of abuse that can take place on stage or in the studio! The design on the front face of this pedal looks like green varnished wood.or very thin bamboo stripes. The Swollen Pickle Jumbo will also allow you to quickly adjust the intensity of the compression of sound thanks to the knobs provided. It will give you high-gain fuzz with a smooth, deep and rich sounding low-end. WayHuge has had this pedal on the market since 2008, but they are regularly improving it and the customers notice the difference.
The gnarly and gritty fuzz available when using this jumbo fuzz has inspired many customers to look out of their comfort zone and write songs thanks to the inspiration this little device provides. It offers a wide range of tones that can be compared to Jimi Hendrix and thanks to the thick metal casing it's both durable and quiet. You won't have to worry about any unnecessary feedback unless you set the volume to the highest possible. The knobs available on the box are: sustain, scoop, crunch, filter and loudness.
Pros:
+ gnarly and gritty sound
+ thick metal casing
+ smooth low-end sound
Why We Liked It - Not only does WayHuge have an amusing way of naming their products, but their playfulness is also reflected in the design and sound range they provide. There are five knobs to mess around with to help you find your best sound, and the feedback is minimal, especially if you don't turn up the knob to full volume. It's really a fantastic little device full of wonders!
7. Catalinbread Karma Suture
Catalinbread's fuzz box has one of the most eye-catching and attractive designs available out on the market. The Karma Suture Harmonic is covered in a very juicy, purple tone and is surrounded by white and orange patterns that are no-doubt inspired by Indian customs. The other designs available for the same price are white and black alternatives, with slightly different designs. This is the best fuzz box you can get if you are looking for versatility- even though it might give more feedback due to this, it's definitely a worthwhile sacrifice for the sound that you get.
Catalinbread has used a very rare circuit set-up here known as the 'harmonic percolator'. It gives this fuzz box the ability to have very even harmonics which give off stunningly clear distortions, resulting in a very pleasing sound. You will be able to play even the most complex chords, whether they are for jazz, funk or rock and the audience will still be able to clearly make out every note. This is the best feature of this fuzz box and it's definitely a force to be reckoned with! You will not have to worry about having your chords get lost in background noise.
Pros:
+ harmonic percolator circuit set-up
+ clear sounding chords
+ extremely versatile
Why We Liked It - The design and color choices that Catalinbread decided to use for this fuzz box are some of the best, they immediately attract the eye and will not leave you searching for your ideal new piece of gear among the sea of other products laying on the ground. It has very versatile sound and a distortion circuit set-up that will allow you to ring out crisp clear chords.
8. Death by Audio Fuzz War V2
DeathByAudio's fuzz box has a very distinct design that makes you think of fossils and 1980s rock. The patterns are made to look loud and extravagant but are still presented in a simple frame with the only colors used being silver and black. It definitely brings back the vibe of old, gritty rock thanks to its design. This version of DeathByAudio's pedal has moved the trimpot back to the outside due to many customers complaining that they couldn't fiddle around with the fine-tuning options with the trimpot being situated on the inside. The gnarly sound will help you achieve the sounds you would expect to get from a fuzz box.
The smoothness of the big muff is praised by many customers and find it a fantastic addition to their music gear arsenal, especially for bass guitar. It may be too much for some people, but for people who like a bit of crazy, gritty fuzz it's perfect.It has a very rich, smooth, deep bass sound and is not as crazy in distortion as many other fuzz pedals seem to be. It's very sensitive to each string you pick whether it's on a bass or electric guitar. There is no knob to adjust volume here, but it evens itself out with the fuzz and bypass options. You can always throw a boost pedal into the mix if it's too weak for your style of playing!
Pros:
+ durable metal shell
+ deep, smooth bass sound
+ small and compact
Why We Liked It - DeathByAudio is certainly not one of the cheapest brands, but it has given the market a chance to go back in time and play with the gritty and gnarly sound that was very common in the early days of rock. It's perfect for bass and electric guitar alike and will not give you any crazy distortion, but a reliable and gritty fuzz!
9. ZVEX Fat Fuzz Factory Germanium
ZVEX's fuzz box has become an Amazon's Choice pedal and there are a few key reasons as to why! The design is simple but packs a punch with the recreation of street art graffiti on the front, mostly covered with pastel green and silver colors. There is also another version of the design available that is fully blue and with a white sign saying "mastotron" on the bottom. Many customers praise this fuzz box for the interesting sounds that you can get through messing around with the different knobs, which are: volume, gate, comp, drive and stab.
It works well with both a bass and electric guitar and has an exceptional boost of bass when plugged in to work together with both guitars. You will get the presence of a big, powerful fuzz and a distinct bass presence. This feature can be toned down with the toggle switch, but it's really one of the key features of the Factory Germanium. There is plenty of tweaking and mixing to do and so many options that can take months to fully discover and appreciate. Regardless, this is a powerful fuzz box with a very strong bass!
Pros:
+ exceptional bass presence
+ a huge variety of sounds
+ powerful and heavy sound
Why We Liked It - ZVEX's fuzz box is one of the best versatile pedals when it comes to achieving different tones; it has a great, unique graffiti design and is a bit larger than other pedals of its kind, therefore making it easier to find among all of the cables and circuits laying on the floor during practice sessions!
10. ZVex Effects Wooly Mammoth Vexter
ZVEX Effects once again doesn't cease to surprise its customers with their unique take on the designs they put onto their fuzz pedals. This pedal in particular, although a bit more expensive that the previous pedals we listed (pricing in at $260), has the design of a big, yellow woolly mammoth. While this goofy approach may appeal to some, it's definitely not for everyone. This is one of the pedals that is designed specifically for bass guitar, but also works great with electric guitars. It also has a gentle gate that is very helpful for silencing your guitar between notes.
This ZVEX uses a 9V DC power supply and the EQ control that can smoothly select between bass and treble accordingly. It's capable of making a very wide variety range of tones and fuzz noises that you wouldn't expect, it's definitely one of the more versatile pedals out there. It's definitely one of ZVEX's newer additions to the market, and it's easy to see the improvements here from the previous pedals they made. The unique design also catches the eye and should be a good source of conversation when prompted!
Pros:
+ unique cover design
+ variety of tones available
+ EQ control
Why We Liked It - ZVEX can make anyone's day with their happy and original designs, the features they provided with this fuzz box are fantastic for getting very interesting and unique gritty sounds that would be hard to achieve with other pedals. ZVEX is definitely one of the best brands when it comes to unique sounds and designs!
Fuzz Pedal Buyers Guide
What is a fuzz pedal?
Fuzz pedals or fuzz boxes are commonly mistaken to be the same as overdrive or distortion pedals, but that statement couldn't be further from the truth. Each of these pedals are vastly different from each other and are used to achieve very different effects.
Origins of Fuzz Pedals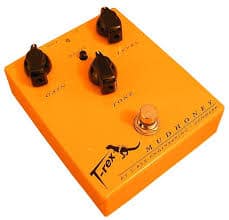 In the 1950s there was a rise of distorted guitar sounds n songs and people were loving it, usually the distortion only happened when you would turn the amp to full volume and then end up recording at the same time, but that was usually not a very convenient way to work. You would have to rely on luck or very specific (and often damaging to the ears and music gear) sounds. Fuzz pedals were designed to make this well-desired distortion sound available for everyone without having to crank up amps to their full potential or fiddling around hoping for a distortion. Fuzz boxes were the first devices to let electric and bass guitarists fully control the amount of distortion they wanted.
Fuzz Pedals
Fuzz pedals are pedals that are designed to provide you with the best sounds that can usually be associated with blues, jazz or classic rock. This usually means that these small devices were made to emulate a distinct sound that used to be associated with well-known pedals such as the Big Muff. They are usually very powerful little devices with 2-6 knobs that you can regulate to help you achieve the gritty and gnarly sound that was common in 1950s rock. They were developed to enable guitarists and bassists imitate the sounds that a horn player would typically make during a jazz session or to help achieve distortion. Many notable figures that have used the fuzz and made it become an iconic piece of their sound style include Eric Clapton, Jimmy Page, and Jimmi Hendrix.
Overdrive Pedals
Overdrive pedals are pedals that will offer you a chance to get natural, warm and "tube" like sounds that can be commonly associated with trumpets and the alike. They are usually used in a blues-rock setting, which is basically a smooth distortion. In essence, they are a type of distortion pedal, but they use soft-clipping, which means the tones are very smooth and were famous for providing harmonics that could otherwise be considered jagged in other types of pedals.
Distortion Pedals
Distortion pedals usually use hard-clipping distortion, which means that they sound more jagged and spiky than the previous pedals we mentioned. The best example of music that uses these types of pedals is anything by Van Halen. These pedals usually create sounds similar to that of high-gain amplifiers and create very thick waves of sounds, they are simply crucial if you want to achieve that modern guitar tone.
Why and when would you need to use a fuzz pedal?
Many guitarists love fuzz pedals because they can help them achieve the high-gain sounds that can be heard within songs like Eric Clapton's 'Layla', if you are not into these types of jagged or very high, smooth, almost violin-like electric sounds then fuzz pedals probably won't be your cup of tea, but these little devices are capable of making a wide variety of sounds that may just suit anyone that has the patience to experiment!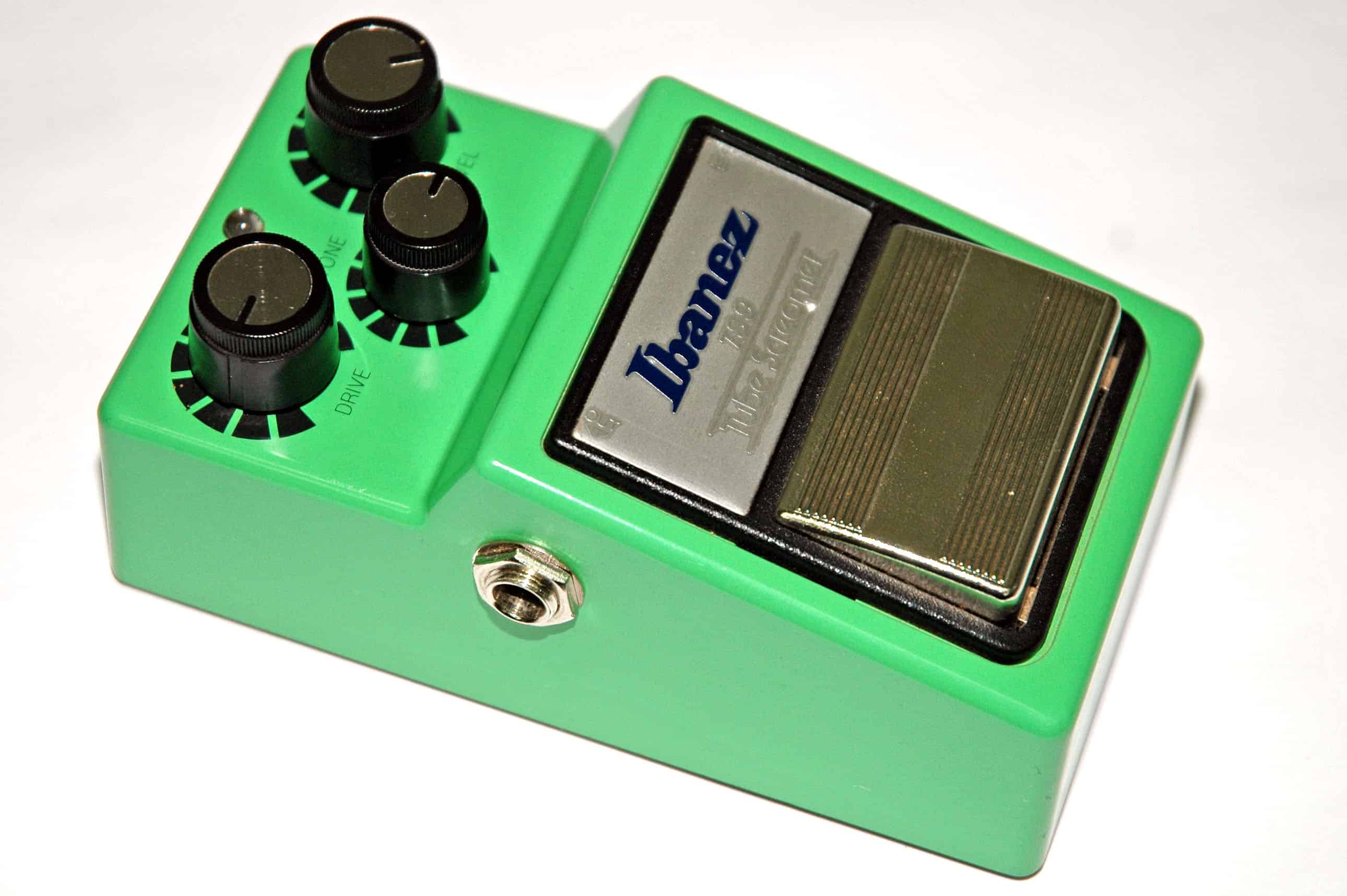 They are really versatile pieces of gear and can add clarity and crispness to your playing too, if you set them to do so. All in all, it comes down to experimenting. Some pedals are very easy to master but others are much harder due to the very high level of distortion (click here for audio effects study) they provide and it's hard to keep them under control sometimes! You can essentially use these pedals for any genre of music, from jazz, blues to classic rock and punk. Whether you are on board to get the gritty and gnarly sound or the clear, violin-like horn tone, it will definitely be an option if you look at buying suitable pedals.
How do you choose the best-rated fuzz pedal?
It all depends on the kind of music you will want to play, but the general rule is to look at all of the knobs that are offered for the particular fuzz box that you will be looking at. Some pedals are bigger, some smaller, but the essential things to look for are what kind of power supply the need, what voltage power batteries you will need to buy (if any) and what size the device is and if it seems to fit the style of music you are into. To be safe it's best to see samples of all of the pedals you are interested in on YouTube to get a glimpse of what they sound like, many people also offer videos that compare fuzz pedals and put the same guitar sound side by side but with different pedals. Also, make sure to look at the design and make sure it suits you and the rest of your gear if you like to have things match!
Top Choice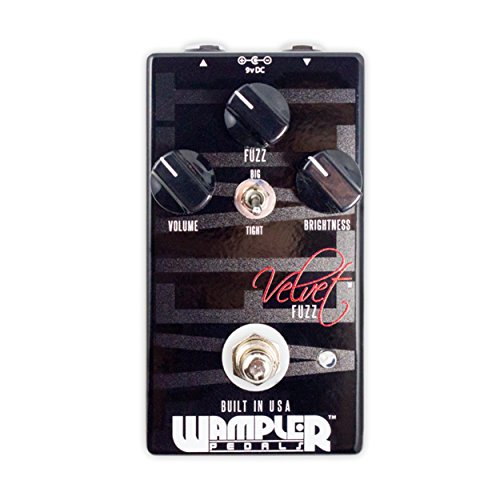 Our Top Choice spot has to go to Wampler! They have a wide variety range of pedals, but the Velvet Fuzz edition is the one that stood out to us most. The design looks great and should look fantastic with any piece of gear thanks to its vintage appeal. Wampler boasts their original design and how their pedals are handmade and ready and fresh for delivery right from the USA itself. The power needed to power the Wampler is 9V and Wampler makes sure to remind everyone how true and faithful the bypass is!
If you already have a few Wampler's laying around and enjoyed the sound they make, the Velvet Fuzz box can prove to be another great addition to the collection. The fuzz knob on this little device can go from giving you a little hint of grit and grind to full-on, aggressive clippings. No matter how you end up exploring the features of this little device, you will most certainly find something to fit you and your style of playing. There are many fuzz features to play around with, and this makes this one of the best rated fuzz pedals out there, simply thanks to all of the options you have to regulate, distort and mix the fuzz you want to create!
Wampler's pedal has to be our Top Choice since it has a fantastic price and works extremely well for anyone that is looking for a bit more originality when it comes to grit!
Premium Choice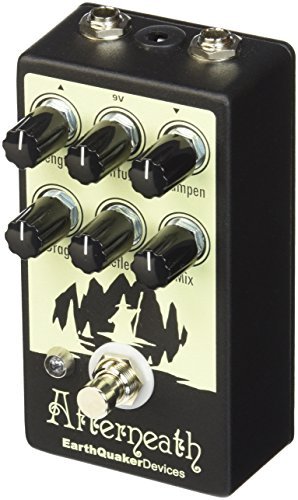 Our Premium Choice spot has to go to Earthquaker's fuzz box, not only is the wizard-fantasy design fun and engaging to look at, but the features included within this pedal, too. When buying this pedal you will get a very easy to use and intuitive device. The Earthquake has six knobs that are all set-out in a way to be as accessible as possible. The names and functions of the knobs you will have to navigate around with to adjust your sound are as follows: length, diffuse, dampen, drag and reflect.
Thanks to all of the options available with the Earthquaker, you will be able to modify and adjust all of the sounds to play to each other's strengths to help you achieve your best performance. The pedal comes with a clear guide that will help you understand all of the knobs, their functions and why they are called the way they are. If you are a beginner or have never bought a fuzz box before, this is definitely the best choice since Earthquaker made sure to make this pedal and its functions accessible for everyone.
Earthquaker is definitely our Premium Choice for anyone that is willing to spend a few extra bucks and is looking forward to learning and using all of the six knobs available with this fuzz box! For testing on Fuzz effects - read the study.
Great Value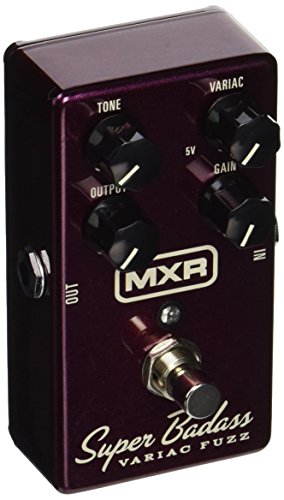 Our Great Value spot has to go to MXR's fuzz box, simply because it's almost half the price of the previously listed pedals (which price in at around 200$-250$) it's a great value for anyone that is looking to try out what a fuzz box sounds like or what it can do for the rest of your gear, both sound and effects wise. It's a simple colored design that should fit any practice room or stage and you will be able to manipulate how clear or gritty your music sounds by increasing or decreasing the voltage between 5V-15V.
It's the best product to try out and see if you are into these types of pedals, and it has all-around five-star reviews from the customers, too. Even though it's cheaper, it's still a very high-quality, well-made and well-crafted piece of gear that should serve you for a long time if you decide to like it and keep working with it to improve your music and explore your music horizons.
MXR's fuzz box has to be our Great Value choice, simply because it's the best product for anyone that is on a low budget, or anyone that wants to go and try out some new options! The Fuzz Pedal is a variation on the distortion pedal, as mentioned before. For more info on this, read the study here.
Conclusion
Each fuzz box will give you a different sound and different options to choose from. It will be up to the customer to find videos to see which pedals sound best and are a good fit! We hope we gave a good overview of the features in the article and that some of your pending questions about this popular pedal were answered! No matter which pedal you will end up going for, we are sure that you will make the best possible choice to suit your guitar and playing style.
If you've enjoyed this review by Music Critic, please leave a positive rating: