Are you looking for the best EQ pedals? Does the hunt for one make you feel like you are lost in a jungle without a map to find the best way? We understand. There are so many good models out there and (let's face it) many bad ones as well and it might feel overwhelming when trying to determine which one is the best for your needs. But fear not! This list is made to make you feel a little less overwhelmed.
This review is a mixture of the best cheap budget models and the best expensive EQ products to die for and you can be sure to find something that suits you! Try to select three or four from the list that you are interested in and look them up on Youtube so that you can hear for yourself what they are all about and determine which one is the best for your particular needs.
You may be interested in: The Top Delay Pedals in the World
Even if some have fancy names and designs, try to see past that and make the sound they produce the most important factor in your decision making. And if you feel like you are unsure whether EQ pedals are for you can always buy a cheap one to try out before spending big sums. Let's take a closer look at our ten candidates now. Happy hunting! For an interesting twist on your sound, see our review on the top flanger pedals.
At a glance:

Our top 3 picks
Our team's top 3 recommendations
Best Overall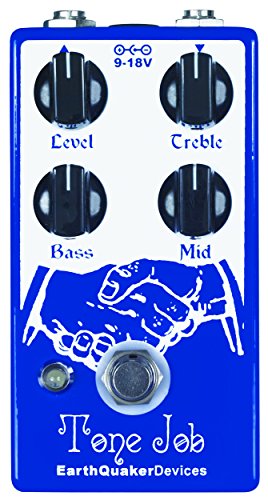 EarthQuaker Devices Tone

Boosts up to 20dB
Handles electric guitar
Perfect tone
Premium Quality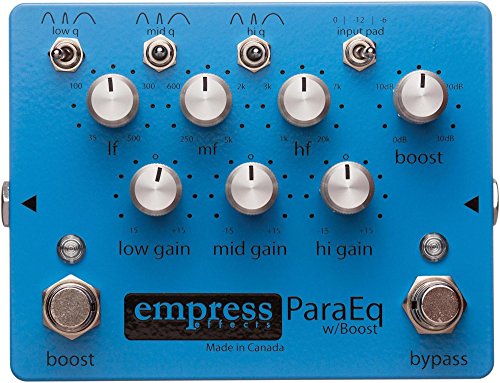 Empress ParaEq

Boosts up to 20dB
Handles electric guitar
Perfect tone
Great value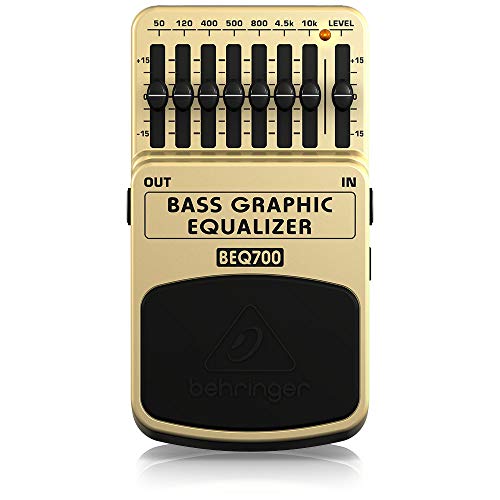 Behringer Eq700 7-Band

Boosts up to 20dB
Handles electric guitar
Perfect tone
What is the Ideal EQ Pedal For Metal Guitar Playing, and Acoustic Guitar?
1. EarthQuaker Devices Tone
This is the best kind of earthquake! This EQ pedal lets you enhance your tone as much as you like. It covers as much frequency as possible since it is designed around a stereo preamp, meaning that it is suitable both for guitars, basses, and synthesizer machines. This EQ pedal cuts or boosts up to 20dB and the level control can post the signal up to five times the input. This pedal can best be used at the front of the chain to change your instruments character and can boost output at the end of your effect chain or fine tune the tone. Alternatively, if you are looking to solely focus on boosting your sound - click here for boost pedals in our review.
This is an excellent device that is user-friendly. The EarthQuaker has taken the internet by storm and has many extremely satisfied users that recommend it. It makes it easy to make that particular sound you have in your head come to life since it really does best what all other pedals aspire to do. It is a good quality EQ pedal that will probably last you a lifetime. We highly recommend this outstanding EQ pedal for a quite reasonable price. You can't go wrong with an EarthQuaker!
Pros:
+ Boosts up to 20dB
+ Handles electric guitar
+ Perfect tone
Why We Liked It - The simple truth why we like and recommend this EQ, is that it does such an incredible job. It might sound cheesy, but it is just one of the best pedals out there and the sound talks for itself. Try it and we guarantee you won't be disappointed.
Effect Chain Placement - Don't limit yourself to just using EQ pedals for simple track toning. By placing your EQ pedal on the end of your effect chain, you can transform your EQ into a live performance controller. You can experiment with EQ sweeps and swells to add color and texture to any set. In any event, having an EQ pedal available makes it easy for you to adjust your sound according to the venue's conditions.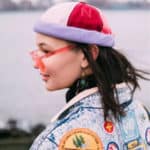 Empress. The name has a royal ring to it that does raise your anticipation slightly. When you see the EQ pedal you get that same feeling. You can feel you fingers itching to touch all those lovely controls. Is it any good, then? Oh, yes, it is the best!
This device offers outstanding sound quality and gives you a warm, full tone, without masking the tone of your guitar. If you use this EQ pedal at the front of your chain and boost it will also reduce the noise from other EQ pedals. It has unbelievable 30dB of boost! Just that is reason enough to buy it, right?
Sure, it's a little bit expensive but, you know, you get what you pay for! At least in this case. Empress has measured the distortion to be less than 0.03% which is just about nothing and much less than many other EQ pedals. This means that your sound will only be altered as you intend it to be. It is super quiet as well, making it an excellent choice if you are looking for pedals best suitable for recording.
It's small and compact and it has a four-year warranty if you register online. The design is just gorgeous as well. So if you are looking to treat yourself to some amazing sound and only want to choose between the top pedals this should definitely be on your wish list!
Pros:
+ Premium, top quality EQ
+ Super quiet and compact
+ Up to 30 dB of boost
Why We Liked It - EQ pedals like this is just one of the little things that make life worth living. Everything about it breathes quality and perfection and the boost goes up to 30 dB. It is very quiet and just allows you to play with joy without having to worry too much about anything else.
3. Behringer Eq700 7-Band
TThis EQ is the best budget alternative for the musician who perhaps is just starting out in the EQ jungle. It is cheap, and to be honest it doesn't really compete with the top pedals, but we would advise anybody low on funds, or not knowing whether they will use it very much, to try it out.
It actually looks really nice, and if you would hide the brand name people would probably guess that it costs more. This EQ has 15 dB boost which is less than number 1 and 2 on our list but still something to get you started. This pedal would suit guitars best, and even keyboards, while it might not be quite enough for electric bass.
All in all an EQ that does what it says on the box, but maybe not much more than that. Best suitable for beginners and people that don't want to spend much money, but we would not recommend it for advanced players or professionals. We're still thrilled that cheap EQ pedals that work this well exist since it means that anybody could try out this wonderful, tone-altering tool.
Pros:
+ Low cost and affordable
+ Easy to use and control
+ OK sound for a few bucks
Why We Liked It - Our guess is that most people that start their EQ journey with pedals like this one will eventually feel the need to upgrade. However this doesn't mean that it is a bad buy, it might best to start with a cheap model to try out the whole thing and it might even help you to know what you feel is important when choosing the next one, enabling you to end up with the ideal EQ pedal for you.
Experimentation -While EQ pedals, placement within your chain is entirely up to you. You might find it most beneficial to sculpt the raw sound before adding effects. Then again, certain effects can bring out undesired frequencies so you may opt to use them after modulation effects. For more complex setups, it may be worth having more than one EQ pedal available so that you can truly adjust your sound according to taste.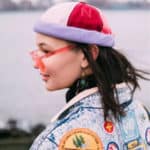 This little cute EQ pedal is a good budget choice that actually produces pretty nice sound despite its low price. It has a sturdy aluminum case so it will probably have a long lifetime, making it even cheaper, really. It is slim and has a really nice, sleek design.
One con with it is that it's only for electric guitars, although this is nothing that you need to worry about if you are a guitarist because for guitars it works really well. This EQ pedal is really quiet making it a good option if you want to use it while recording.
Just like the Behringer pedal, this model is ideal for beginners or guitarists who want to try out an EQ pedal for the first time before committing seriously to it.
Pros:
+ Well built and sturdy little pedal
+ Good for beginners
+ 18 dB boost
Why We Liked It - Are you looking for good EQ pedals for beginners? Do you want it to be cheap but not ridiculously cheap? Do you want a sleek, future-looking design? Is 18 dB boost enough for you? Do you want aluminum casing so that it gets a long and happy life? If your answer to these questions is yes, then this might very well be the top EQ pedal for you!
On to number five on our list! The Caline EQ pedals are balancing on the edge between the top budget pedals and medium price EQ pedals. With ten bands and up to 12 dB boost it is good enough. It is quiet in itself but does sometimes enhance noise from other pedals, so this pedal is best for live playing and not so much for recording. This little extra noise only occurs on certain frequencies though, so it's possible that it won't disturb you.
It also makes a little noise at startup, but this can be prevented by connecting the power supply to it before you connect the lead to your amp. So it's partly got a will of its own, but as soon as you figure these things out it starts delivering.
Each slider tip has red LED lights that glow and makes it look pretty cool and it has got metal casing that makes it strong and sturdy. The back is flat and makes it easy to apply Velcro. This EQ pedal is best suited for both guitar and bass. This EQ pedal is ideal for someone who is looking for a nice looking EQ that does the job well enough without breaking the bank.
Pros:
+ 10 bands
+ Up to 12dB boost
+ Affordable
Why We Liked It - These pedals do what they're supposed to do and for the price we feel like we can't complain. It would probably best suit somebody who knows what he's doing since it does have a bit of a personality, but once you have made yourself acquainted with it it runs smoothly and is as dependable as other pedals. It looks great too!
This EQ from MXR is a high quality gem that offers noise-reduction circuitry that works perfectly. It has a cool design with bright LEDs to let you see what's going on and that are clear even in daylight.
This can be very useful, but we're guessing that it could be a little too bright if you were on a dark stage, they are so bright that the risk is they would blind you so they actually don't help you see, rather the other way around. But if you will be using it at home or in a studio, then they are just helpful.
This EQ pedal has a second output that lets you run two separate signal chains. It has true bypass and ten frequency bands and lets you sculpt your tone however you like and cut or boost up to 12 dB.
The aluminum housing is said to be bullet-proof. We are certainly hoping you will not ever need to find out if it really could take a shooting, but this suggests that it will survive whatever might happen to it along the way.
These pedals are suitable both for guitars and basses and would suit anybody looking for high-quality EQ pedals. MXR is a good brand that delivers what is promises and your sound quality will increase drastically.
Pros:
+ 12 dB boost
+ Dual outputs to run separate signal chains
+ Bright LEDs
+ True bypass
Why We Liked It - This is a good option for musicians mostly playing in daylight since the LEDs are really bright to allow you to see easily. The fact that it has double output and true bypass makes it a winner, along with the sleek design and sturdy aluminum housing. This could easily become one of your guitar essentials!
This pedal is like number 6's little brother. Which is the best? With six bands instead of ten it would be easy to just draw the conclusion that it can't be a good option in comparison, but just like a little boy sometimes grows taller than his big brother, this pedal offers up to 18 dB boost instead of number 6's 12 dB.
This EQ also has the best high visibility LED lights (that work better in a light room than on a dark stage, so you don't get blinded). It is silent with its noise-reduction circuitry, has true bypass switching and top notch aluminum casing.
The only thing that really differs them is the frequency range, if you are looking for EQ bass pedals for your big brother might be the best. He also has two outputs, so he wins in that aspect. But if you're only interested in looking for pedals for your electric guitar, then this is just as good as the more expensive version.
It is not super expensive, it is lightweight and good provides good sound quality. What else could you wish for?
Pros:
+ 18 dB boost
+ True bypass
+ Bright LEDs
Why We Liked It - If you're in love with pedal number 6 on our list but don't feel like spending that much, or don't need two outputs and 10 bands, then this is the EQ for you! It is a champion that will stay with you a long time, giving you that optimal sound you've been looking for!
8. Boss GE-7 7-Band Travel
This is a classic pedal that many guitarists swear by is the best. It's just one of these things that you can really trust, you know that it will last you half a lifetime, or at least many years and it will just keep delivering. It allows you to truly get that sound you're looking for.
Your bass can finally get deep and rich and your treble notes will be crisp, clear and wonderful. Ok, the design isn't the best and it doesn't feel very luxurious, but what does that matter when the sound quality is outstanding?
If you feel like you don't know what to go for, this is definitely a pedal to take into consideration since so many people are extremely satisfied with it. It has 15 dB boost or cut per band. It is very quiet and does just enhance your musical experience. A good device for any guitarist, whether you have tried a few EQ pedals or it's your first one. Good stuff!
Pros:
+ 15 dB boost
+ Quiet
+ Excellent sound quality
Why We Liked It - This is a pedal that is a little bit predictable but in a good way. There is a reason why these pedals are so incredibly popular- it is just that good. If sound quality and function are the most important aspects to you when it comes to choosing an EQ then this is the way to go!
9. MXR KFK1 Kerry King Signature
Did you like number 6, M108S on this list but didn't feel fully convinced? You probably really liked the idea of dual outputs and ten bands. What made you scroll down? Why didn't you decide to just go for that one? It was probably because it wasn't designed in conjunction with Kerry King from Slayer.
I mean, why would you go for one without tattoos when you can get one with? If you're a true Slayer fan you have probably just gone ahead and ordered one by now so we don't know why we're still writing. And if you just googled Slayer, it probably bests that you buy number 6 on our list instead!
When it comes to how it functions this device is just as good as the M108S, it boosts or cuts up to 12 dB and it is able to give you whatever tone you are after. It is sturdy as well and will probably have a long lifetime. These pedals can be used both for guitars and basses and by all types of musicians who are looking for really good EQ pedals.
Pros:
+ Designed in conjunction with Kerry King from Slayer
+ Dual outputs
+ 12 dB boost
Why We Liked It - Our verdict is that this is a really good product. It does what you'd expect and it does it well. However, if you don't like Kerry King, or Slayer, or metal, then you can just as well buy the M108S instead and pay a little less. Still a really good pedal though, totally deserving of bearing the virtuoso's name.
It's been a long list and we get it, you're getting tired. But please, stick around for our last pedal on the list, because it is spectacular! This last pedal on our list is special because it is mainly for acoustic guitars.
Xvive have really put in much effort to create a device that can make your guitar sound as it is supposed to do. They claim that the point of it is to "make up the difference between sound inside the guitar and the sound the guitar makes in the room".
Because think about it, when you plug in your guitar and use a microphone, it will pick up the sound that is inside the guitar. But is that really how it's supposed to sound? Well, no, because who listens to a guitar by putting their head inside it? Nobody we know at least.
They continue saying: "Just plug in any acoustic guitar into the in jack, and the out jack delivers an equalized signal ready for use at the beginning of your signal chain."
Simple enough, right? The fact that it looks amazing is another big plus. This pedal suits any guitar player that wants to get his acoustic guitar sounding amazing. It also works to add clarity to electric guitars and basses.
Pros:
+ Pedal for acoustic guitars
+ Improves sound drastically
+ Nice design
Why We Liked It - A very useful pedal that can first and foremost be used for acoustic guitars to compensate for the fact that the sound you hear in the room isn't really what goes in when it's plugged in. Works to add clarity for your electric guitars and basses as well. A cool product that feels very well thought out.
Sculpting vs. Boosting - EQ pedals can be used to boost or add in certain frequencies. For the best results, try to make subtle adjustments, especially when playing live. Boosting certain frequencies too quickly can make for nasty distortion and clipping, so always exercise caution when doing so.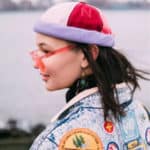 EQ Pedal Buyers guide
Top Pick - EarthQuaker Devices Tone EQ Pedal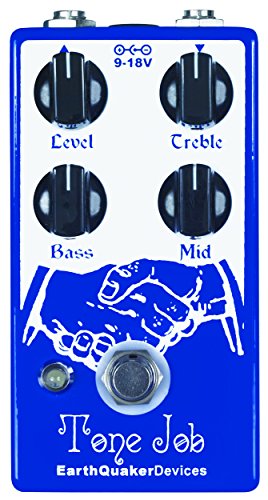 Shaking its way into the Top Pick is the EarthQuaker Devices Tone EQ Pedal. It is one of the best because it covers as much frequency as possible and is suitable for both guitars, basses and synthesizerer machines. It is top quality, both sound wise and quality wise, whatever tone you are looking to get this pedal allows you to make it come alive the best!
Despite this it is still pretty affordable. It is of course not the cheapest on our list but our guess is that if you are even considering this pedal then super-cheap isn't what you're looking for anyway. You want the best! It boosts or cuts up to 20 dB which is more than most on our list and has very powerful level control.
We recommend you to not just take our word for it. Look this pedal up on Youtube to best hear for yourself what it's capable of! You will understand why we made this our Top Pick, it's awesome!
Premium Choice - EQ Pedal by Empress ParaEq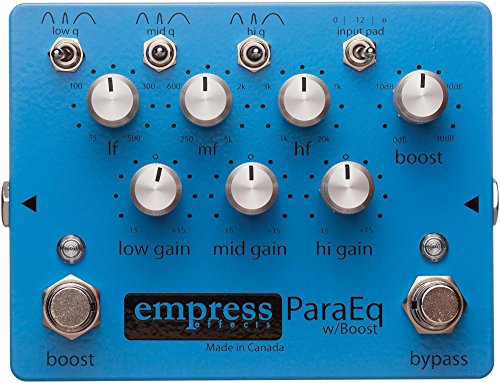 Our Premium Choice is the royalty EQ Pedal by Empress ParaEq. It allows your guitar to shine best with its amazing 30 dB of boost. They claim that the distortion is less than 0.03%, which really means that the clarity is superb. It is also a perfect pedal for recording since it is so incredibly quiet.
Your tone can be altered just the way you like it, limitations aren't really the Empress' thing. They offer a four-year warranty so you can be sure that this pedal is going to be your companion for long. The pedal looks amazing and just the looks of it make you feel like an emperor or empress yourself.
This is the pedal for those of you who want to get that great feeling of quality every single time you play the guitar. It is simply the best. Sometimes things that are a little bit more expensive are not that much better, but when it comes to these pedals it is worth every cent!
Great Value - Behringer Eq700 7-Band Equalizer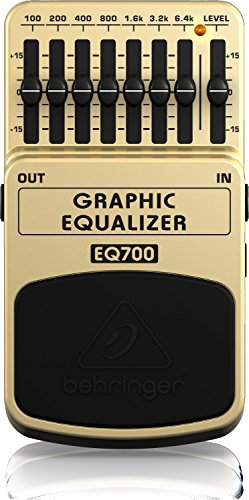 Who doesn't love a bargain? This EQ pedal from Behringer is so cheap but yet so good! It is for sure the best budget option! If you are looking for pedals that doesn't cost very much but does just about as good of a job as many of the more expensive models out there this is the one to try.
This one is best for guitars and keyboards, so if you are looking for cheap bass pedals check out our buyer's guide where you can find something that suits you.
The Behringer has a 15 dB boost or cut which is pretty good. This is a tool that is good for people just starting out using EQ pedals, it doesn't give you as many possibilities as best ones out there, but that might even be a good thing if you're just starting out and just want to get used to using an EQ.
Sometimes you just want something easy and user-friendly. For such a low price this pedal is certainly worth a go!
What does an equalizer pedal do?
There are a lot of different pedals out there. There are wah pedals, chorus pedals, overdrive pedals, reverb pedals for enchanting sound, distortion pedals, boost pedals - the list goes on and on and it is easy to get confused when you're new to this wonderful world of pedals. You can even get a Multi-Effects Pedal! We have to start somewhere, so why not start with EQ pedals?
"Equalizer", you probably think. "I recognize that. Isn't that what I change on my car radio once in a while when I hit the wrong button? And then I always change it back." Yes, my friend, you are correct! Perhaps you even remember vaguely what that button actually does?
"Well, it's got to do with the sound, like making the bass sound the best if it's a cool song with lots of basses, or maybe make the treble stand out if you want that to shine". Wow, look at that! You kind of already knows what it is!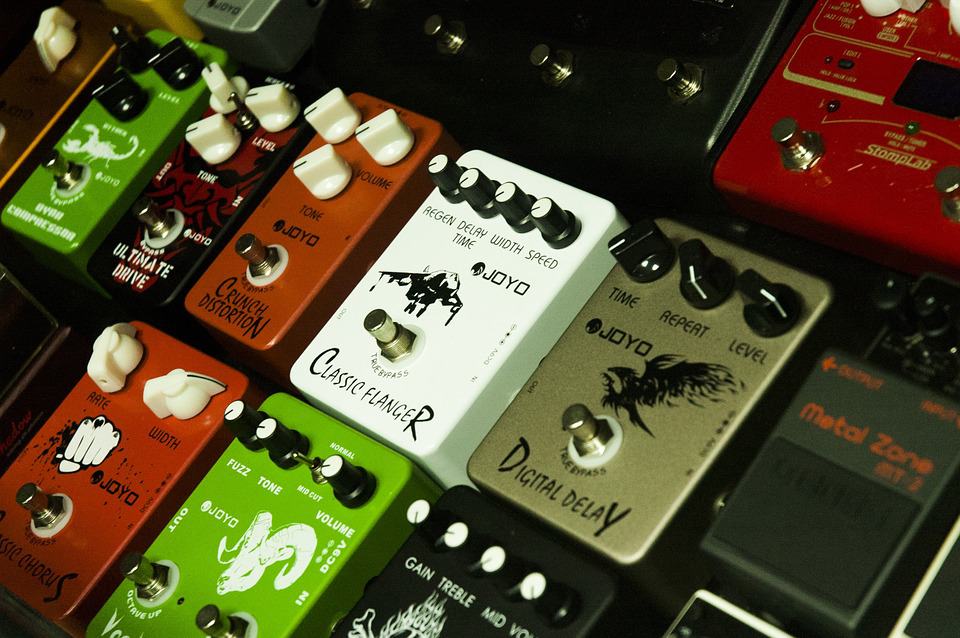 So if we try to transfer this knowledge to EQ pedals, why is this a useful thing for an electric guitar or bass? Well, simply put it helps you to sculpt your music the best. Vary your harmonics, adjust anything that doesn't sound absolutely perfect, make your bass notes sound extra deep and full and just great.
EQ pedals either boosts or cuts certain frequencies and is a tool that lets you fine-tune the treble, bass, and midrange. EQ pedals are for the more advanced guitarists who want to have full control of their tone. There are many amps that are able to work with your tone in this way, but with EQ pedals you have much more freedom.
You can get everything from just a small adjustment to a dramatic change. You can tweak your tone however you want and it expands the range of sound from your other pedals.
There are really three ways to use EQ pedals. First, as we mentioned, you can make minor adjustments to your tone. You might want to do this to change the brightness of your high notes or make your bass notes sound a certain way. These adjustments are meant to correct issues that have to do with your guitar or your amp, or perhaps even the acoustics where you are playing. With EQ pedals you can change things so that everything is to your liking.
The second way you can use it is if you want to change your tonal qualities temporarily, for example, if you have a guitar with a humbucker microphone but would like to create a more single-coil-like sound. The EQ pedals can help you to make that mid-range stand out and sound a little more sharp and precise.
This brings us to our third way of using it, as a solo boost. It allows you to boost or cut frequencies at the same time, which means that you can clarify your tone while you are increasing the level coming from your guitar.
What is the top EQ Pedal for Bass?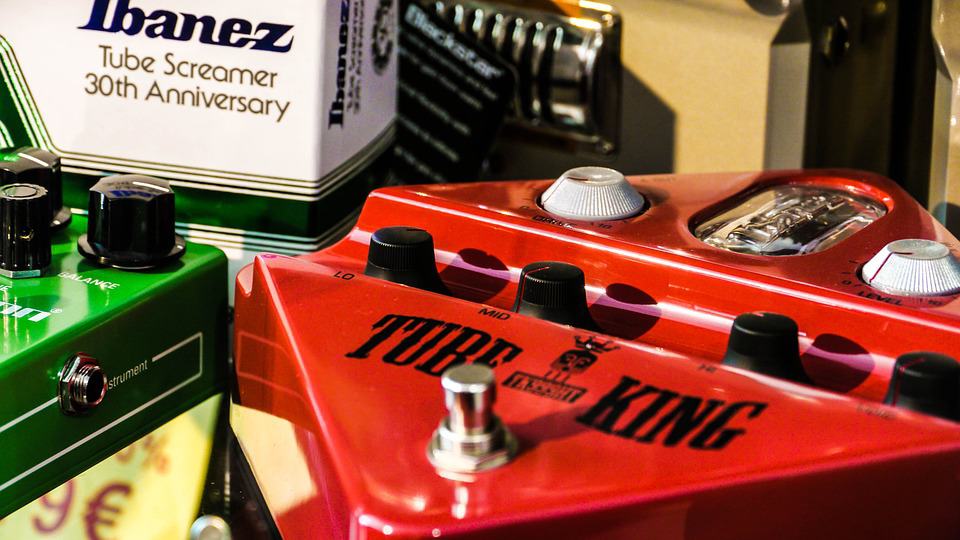 So, you play the bass and you would like to find the best pedals that will make your bass-playing sound so awesome that people stop and stare at you with their mouths open. But which one should you go for? Of course, there are a couple of good pedals for basses on our list as well! Here are the best two bass pedals from our list presented but there are a few others that could work well as well.
Our Top Pick for today EarthQuaker Devices Tone EQ Pedal works perfectly for bass guitars and allows you to best alter your sound any way required. Please see number 1 on our list to best learn more about this little gem.
If you're looking for something cheaper the Caline 10 Band EQ Effects Pedal is a good option that works well enough. That one is number 5 on the list.
Make sure that the EQ pedal you buy is indeed best suited for bass, some are only made for guitars. If you feel hesitant, look up the pedals you are choosing between on Youtube. There you can listen to reviews and see for yourself what pedals you can choose between.
What is the top EQ Pedal for Acoustic Guitar?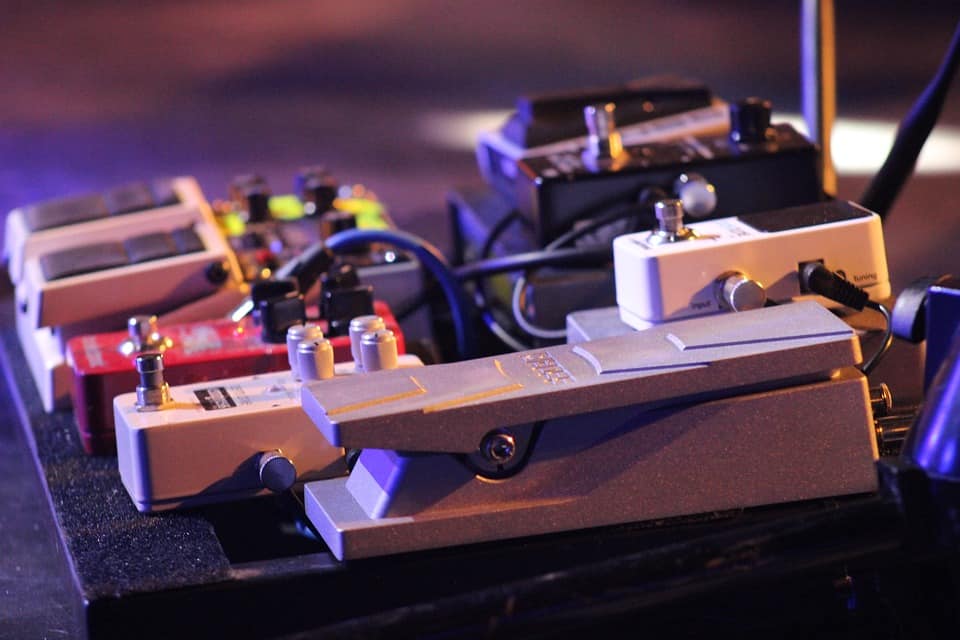 If you play acoustic guitar you might feel a little left out when we're talking about electric guitars and bass guitars all the time, but cheer up, best reader! We have got something wonderful in store for you! When you have read the answer to this question it would be best to head to number 10 on our list if you haven't already read about the Xvive EQ Guitar Effect Pedal.
This one is for sure the best pedal on our list for acoustic guitars. What it does is that it makes your guitar sound like an acoustic guitar without any electrical interference. When you plug your guitar the sound that is picked up is actually not really what the guitar sounds like when you listen to it, but rather how the music sounds inside the guitar.
This pedal compensates for that to enhance the sound quality enormously. It makes the sound very clean and natural sounding and is a must for any guitarist who are looking for perfection and is only satisfied with the best. It seems like Xvive has done a lot of research in order to create it and it has really paid off! This is the only and best EQ pedal you will ever need for your acoustic guitar!
How to use an EQ Pedal?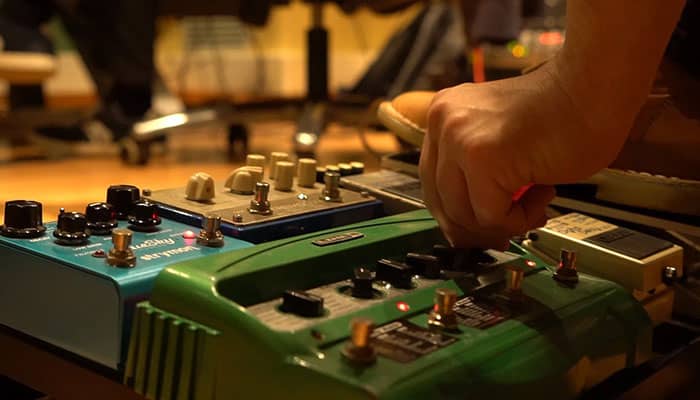 So when you get your pedal home and rip the box open and then rush to your guitar to get started, how does it actually work? What do all the controls do? Here are some guidelines to keep in mind when you are starting experimenting with your equalizer pedal.
The lower the frequency is, the lower the notes are. Meaning that frequencies of 100Hz are low, while for example, 6.4KHz are high. Remember that when talking music high means treble, not loud! We are simply using a system to measure how high the note is.
Look closely at the pedals and you will notice that it says for example +12, 0 and -12. This is the amount of boost or cut that the pedals can handle.
So let's say that you would like to boost your bass a little, well, just change your bass towards the higher end of the scale! It's not that complicated, try it and listen to the different settings and see what you like the best.
If you find it best not to boost or cut, then just leave it at zero and the volume of that particular frequency will be normal. If you want a frequency to sound less, just slide it down below zero.
What Guitar EQ Pedal Settings should I use?
So now that you know how to use EQ pedals, how do you find the best settings? Are there any tricks? This depends very much on your personal preferences, which instrument you have, what kind of room you are in, what other instruments are playing and so on. If you have the requirement of many instruments at one time, you could look into chorus pedals here.
Only your ears know best which settings are the best. Of course we can give you some tips to help you determine which settings to go for, though!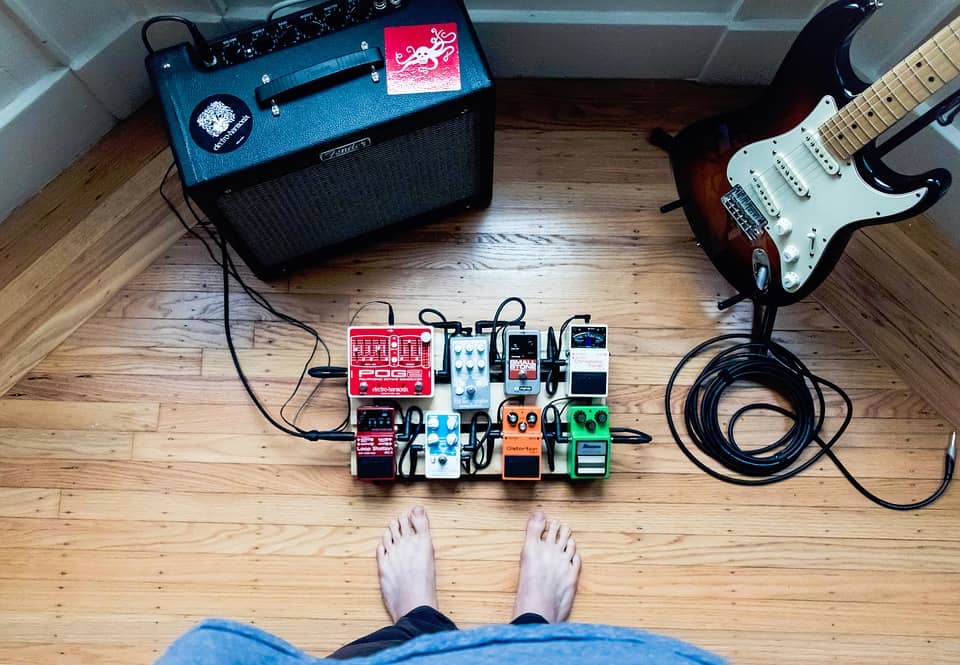 When you boost your bass frequencies you will make it sound fuller and, well, easier. Your mids will sound almost slightly overdriven and bluesy when boosted, making the tone less clear, but in a good way. However cutting the mid frequencies will make that minor overdrive turn into super heavy distortion, so the mids can be very varied if you want them to.
The trebles get defined, clearer and crispier when you boost them, if you cut instead you take away the clarity and it gets really blurry, like if you were underwater. "So, what does 'level-thingy' do?', you might ask. It's a volume control pedal, it boosts the volume and not any particular frequency (click here for a great study on music frequency).
There you go, that's all you need to know to get started using your EQ pedal! Hope you have learnt what to look for when choosing your newest gem to your collection, best of luck!
If you liked this review by Music Critic, please leave a positive rating:
[vc_separator