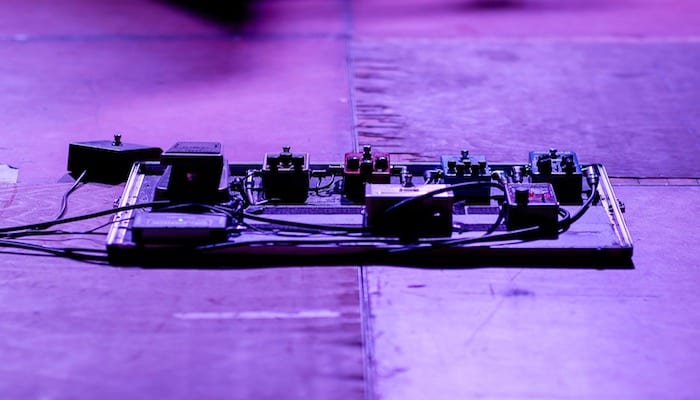 Finding the best delay pedal isn't such an easy task. After all - there's a lot to choose from, and it's not like the latest pedal is the must have either - models that have been around for years are still some of the best. If you're looking for a classic pedal that's been around for some time, you may wish to read our review on the top Wah pedals.
You've got the question of analog or digital, you've got to choose how much you want to spend, and you need to know the kind of sound you're looking for. To make things easier for you, we've brought together some of the very best that you can buy new today, in both analog delay pedals and digital delay pedals, with different styles in mind, and crucially, at several different price points.
Hopefully your next delay pedal is right here on this page! Looking for the Flange Effect? Click here for Flanger Pedals.
Are you looking for an all-round pedal to cover more effects? Check out our Multi-Effects Pedal review. Or better yet, if you're into bands such as Nirvana, or the Police - and want to replicate their sound - see our review on Chorus Pedals (click here).
1. Digitech OBSCURA Altered Delay Pedal
The Digitech Obscura is one of the best delay pedals around. It's loaded with lots of great features that allow you to take control of your sound and mess around with it, so that you get some very fun tones and effects. There are four different delay types to choose from that offer truly unique sounds.
They are analog, lo-fi, tape, and reverse. Delay tails can be easily toggled off and on with a flick of a switch. And there's also a Stomplock, which means that your tone will be secure during live performances, as no accidental knocks will change the settings.
Pros:
+ Four unique delay types
+ Stomplock
+ Vacuum style foot switch
+ 9V DC power supply
+ Secure, high-density mount pad
Why We Liked It - A delay pedal should give you the power to alter your tone to create something unique. The variety in tone offered by this pedal – due to the four delay types – makes it one of the best delay pedals on the market.
2. MXR M169 Carbon Copy Analog
No effects pedal list is complete without MXR's offering making an appearance, and with that in mind, we're pleased to include their Carbon Copy analog delay pedal on ours.
Whether you're just after that slight 'bathroom' effect, or you'd really like to draw out that delay for some progressive soundscapes, you're going to be able to get it with the Carbon Copy's regen, mix and delay dials. It's not quite going to reach digital levels, but it's enviable for an analog. And of course the benefit being you get a really nice, warm feel. Fairly transparent, but just enough warmth to give you that real quality delay sound.
There's also no getting away from the fact that the metallic, almost glittery, green finish on the Carbon Copy is just too cool. MXR have particular style for all of their pedals and it's going to look good on pretty much any pedal board. Now, this isn't a cheap pedal by any means, so you'd expect to be getting quality, and we're pleased to say you are. Build quality is unrivalled. End of story.
Pros:
+ Built like a tank
+ Quality warm sound
+ Plenty of customization
Why We Liked It - The MXR Carbon Copy does sit near the very top of the price bracket, before we start hitting those super expensive boutique pedals, but it really is worth every penny, especially if you need a delay pedal that will not let you down on stage or in the studio. Great tone, good amount of delay effects available, and a superb chassis.
You've probably never heard of Caline pedals, who are another Chinese brand looking to bring excellent value to the market, but that should be no slight to their Blue Ocean delay pedal, which is certainly a respectable little thing.
This is an extremely cheap delay pedal. Which makes it so surprising that is does a wonderful job of giving you a decent range of delay effects. If you just want a little bit of the warmth that classic analog delay adds, then it can do that. If you want something a bit more far out, it can do that too.
Of course, at this price you'd have to expect there to be some sacrifices, and on this unit it's the hardware quality that isn't quite as good as the big brands. The chassis, switches and jacks don't feel super solid, and there is a hint of hiss that gets added to the signal (bypass works perfectly however) at louder volumes - click here for clean boost pedals.
Pros:
+ Ultra-cheap option
+ Level, delay and repeat dials
+ Minimal coloration
Why We Liked It - It does have a couple of downsides, but at this price they can be totally forgiven. This is a pedal that does the job if you're looking for something that you can use at home to play around and have a bit of fun with. It would probably do perfectly well for the odd live performance too. Well done Caline.
Another low-cost offering is the Yellow Fall by Donner. Immediately this one strikes you as looking completely different from Caline's offering. Bright yellow, with a nuclear warning symbol in the middle, and in the smaller mini chassis style.
Again, it does exactly what you need it to, and surprisingly it doesn't make to much difference to the tone - it's great at being transparent, which is ideal if you're looking for a pedal that sticks to the delay. The downside to this low cost pedal is that the dials aren't exactly linear in their adjustment, so it can be tricky to get it to be right where you want it. The miniature feedback and echo dials are also very small, so hard to adjust on the fly.
Build quality is good despite this being a small pedal, and we don't see why you wouldn't be able to use it live on tour. Donner, while not a hugely well known brand, does least have a good reputation for putting together some decent pieces of hardware.
Pros:
+ Impactful looks
+ Transparent tone
+ Good build quality
Why We Liked It - We've decided to include Donner's Yellow Fall in this list because it's extremely cheap, and does a very good job of being a basic delay pedal. There are a few minor issues such as those mentioned with the dials, but they don't get in the way of this being a really nice little pedal once you've got it to where you want it to be. You must consider this pedal if you're on a budget.
Another Donner on the list, but this one's not quite as in-your-face as the last, despite being slightly bigger in form than the Yellow Fall (it's still tiny however). The Wave is again a nice analog delay pedal at a very, very low price, and is good for a really natural analog sound.
You get level adjustment for the input signal, a time dial to adjust the gap between note and delay, and then a feedback dial which adjust how many times you get that delay. There's also a little switch that allows you to change the pedal from normal to modulated, which is a nice addition that you don't see on many budget pedals.
This is also a surprisingly cool looking pedal. It comes in a nice sea green color, with a real 50s/60s beach rock vibe to it. Not at all what you'd expect from a piece of hardware this cheap. As with the Yellow Fall, it's really, really well made, but does have slightly small knobs.
Pros:
+ Awesome looks
+ Good range of delay sounds
+ Fantastic quality
Why We Liked It - A fantastic little pedal at a very low price. You can get some cool oscillating delay out of it, and it looks like it could be a boutique unit ten times the price. The tiny size means the knobs are small and there's no space for a battery, but these are fairly minor points for a budget pedal that's this good in most other respects.
6. Tom'sline Digital Signature
Signature pedals are often more of a vanity project than anything; not often making it onto lists like this one. However, this Tom'sline pedal is a bit different. It's been designed in conjunction with quad-necked guitar wielding legend Michael Angelo Batio, and it is awesome. It's also made by budget brand Aroma, so carries an extremely attractive price.
MAB has been on the forefront of extreme guitar techniques since his time in 80s hair metal band Nitro, and this is his delay pedal of choice. If this interests you, and your styleof playing, you may be interested in Noise Gate Pedals - click here for guide. As you might expect, and analog pedal wouldn't give quite the range of versatility that MAB needs, so this is a digital unit. You can get pretty much anything out of it, except the warmth of an analog.
Construction is very robust, and we have no concerns there. We also really like the stop bar that wraps over the top, protecting switches from being knocked when you hit the footswitch. Definitely a pedal for live performances.
Pros:
+ Michael Angelo Batio signature model
+ Massive delay customisation
+ Excellent construction quality
Why We Liked It - This pedal is simply awesome. It looks great, it's endorsed by Michael Angelo Batio, it sounds good and it has a massive amount of customization going for it. It's not going to give you that classic warm tone, but if you're considering this pedal, that's not what you're looking for.
In the interests of covering the whole market, we've also decided to include this, the Mooer Reecho. It's a digital pedal, but it has three different presets, one of which is 'analog', which attempts to replicate the warm feel you get from a analog. It's pretty good, and you also get 'RealEcho' and 'TapeEcho' effects too.
Let's be clear - it's not going to fool a real audiophile. You can just about tell that this isn't a real analog pedal, but the tradeoff is that you're getting a fair amount more flexibility. Which is great, especially given that this is priced firmly in the mid range. It's not going to break the bank.
You can get some great delay sounds out of this unit - there's a lot to play with, and you get really good control over the effects you're putting onto your tone. It makes it very easy to find just the sound you're looking for.
And finally, pedals don't get a lot more stylish than this one.
Pros:
+ Beautiful finishing
+ Hugely versatile
+ Easy adjustment.
Why We Liked It - You get so much control over your sound with Reecho that it just had to go on our list. While the analog effect isn't perfect, it's a very useful addition indeed. What's more is that this is a really well finished and well priced delay pedal. It has to be on your shortlist.
8. JOYO D-SEED Dual Channel
Possibly the biggest and most versatile pedal on our list, the Joyo D-Seed is a dual channel digital delay pedal that covers pretty much all of the bases. It's a proper, full-on digital effects unit that you can use live or in the studio. Surprisingly however, it doesn't cost all that much.
You get mix, mode, time and feedback pedals to finetune the perfect amount of delay that you're looking for, and then the footswitches will let you choose which of the two presets you've saved is the one you want to output at that time. Really useful if you've got a standard delay sound for the majority of your songs, and then you want something a bit more out there as backup.
Worth noting that it does a good job of being transparent too.
It's not a fancy looking unit - it's all functional, but it's finished very well and comes across as a professional choice. The cluster of knobs and switches might be a little complex for someone new to delay pedals, but it's fine once you know what you're doing.
Pros:
+ Incredibly versatile
+ Useful dual channel functionality
+ Hard wearing construction
Why We Liked It - If you want the most versatile pedal on our list, then this one might just be it. For not a huge amount of cash, you're getting a versatile digital effects pedal that has clearly been designed for people that want full control over their delay effect. Great for beginners and experienced pros alike.
9. Electro-Harmonix Memory Toy Analog
Electro-Harmonix is another one of those brands that you just know is going to have an entry of any top list. The Memory Toy nano delay pedal is the one we've picked, and is just a really great little unit.
Let's begin with the options. There are delay, feedback and blend dials, and then the fun modulation switch (which does add a little bit of gain). It feels like you're getting a lot to play with, but if we're honest, there isn't a massive range of sounds.
That doesn't matter though, because the depth and quality of the sound that this tiny analog pedal gives is very nice indeed. There are very few pedals that will give you delay that sounds this good. It's hard to describe, but it just feels ever so slightly raw while being just what you want.
Finally, the chassis is very robust, is made in the USA, and we like the art style on the face. Top quality.
Pros:
+ Awesome quality delay
+ High quality hardware
+ USA made
Why We Liked It - If you're looking for something in the mid-range, and your priority is quality of sound rather than versatility, then we'd have to suggest the Memory Toy. It works very well with both electric guitars and electro acoustics, and comes highly recommended.
10. TC Electronic FlashBack
The penultimate pedal on our list is one that's going to be very hard to argue against if it's already on your shortlist. This is simply one of the best delay pedals out there, and is based on one of TC's famous models - the 2290.
It's supremely versatile, with more knobs than you'd know what to do with at first glance. There are no less than eleven different types of delay that you can select, along with a knob that controls the level of the particular effect you've chosen. There's then the standard delay and feedback controls too. If you need something that ranks among the best in any price range, this is it.
It's a nice looking thing too, with a high quality metallic blue finish. Everything feels very well screwed together, which is why you'll find that a lot of professional musicians use TC Electronic gear.
Pros:
+ Amazing versatility and variety
+ Great finishing
+ High quality hardware
Why We Liked It - If the FlashBack is in your price range, then it's going to be very hard not to choose it unless you're dead set on analog. There's so much to play with, that the best way we can describe this little thing is that it's just plain fun. But that's not to say this can't be a serious touring pedal if you want it to be.
Year in, year out, the Boss DD-7, much like many of their other pedals, works its way onto the lists of the very best delay pedals out there. Which is one of the reasons that it's on our list.
This is pretty much all the pedal you'll ever need, and if you don't mind the admittedly big price tag, then there isn't really a more obvious digital choice on the market. You can create virtually any kind of delay sound that you want, and it even does a very good job of emulating the warm sound of an analog too. It's almost the perfect pedal, which is why so many guitarists will swear by it. So many options, so easy to use, all in a great looking unit.
And of course, we couldn't not mention Boss' reputation for making their pedals feel like military grade equipment. Especially because of that nice footswitch. This is undoubtedly a pedal designed for professional musicians, and many famous ones use it too.
Pros:
+ All the digital pedal you could need
+ Amazingly high quality
+ Good analog imitation
Why We Liked It - It's very hard to argue against the DD-7 as being the very best rated delay pedal on the market full stop. It's well regarded, it'll do pretty much whatever you want, and it'll last you years and years too. Its only real downside it the price, which is just going to be too much for many people.
Delay Pedal Buyers Guide
What is a Delay Pedal?
A delay pedal is one of the most common types of effects pedals after the usual distortion or overdrive pedals, and is used by pretty much all professional guitarists at some point. The purpose is fairly simple - it take the signal from the guitar, and then repeats it, almost like an echo.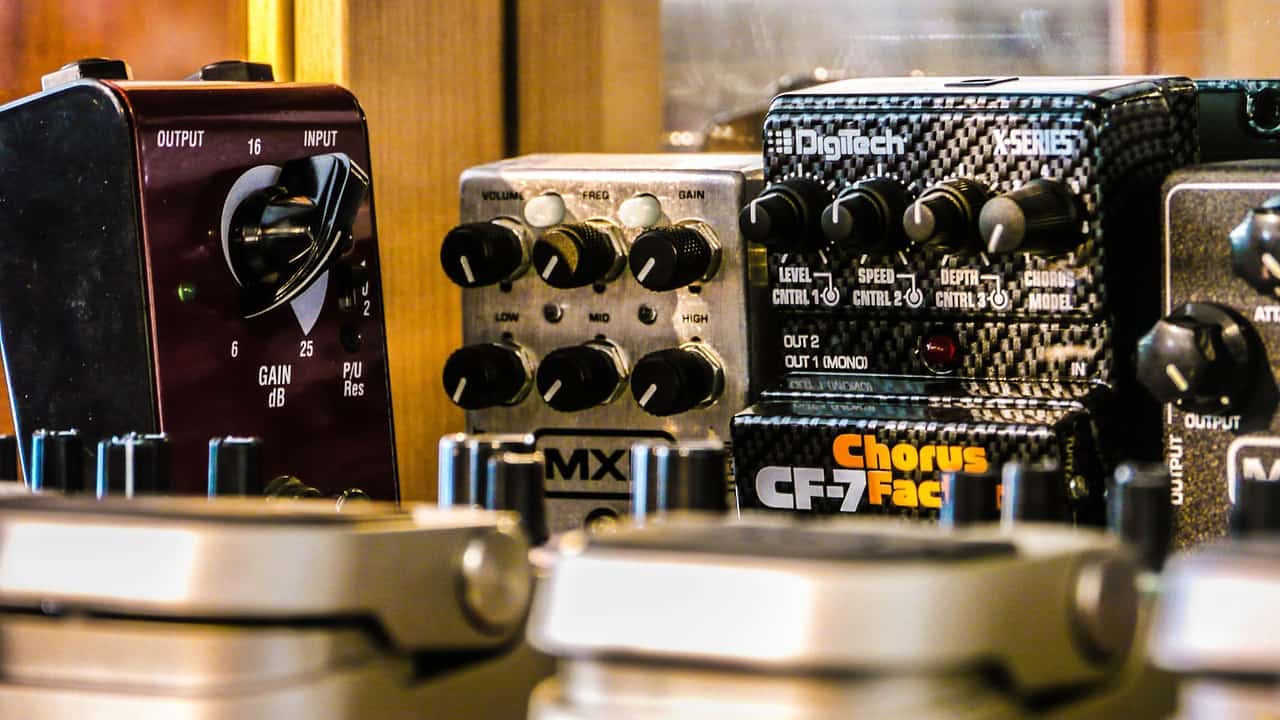 Most delays are just the same as other effects pedals in that they are a fairly simple box that sits somewhere between your guitar and amplifier or studio input. You choose the settings on the box, hit the footswitch, and then the effect is produced.
There are lots of different types of the pedal, and there are different ways in which this delay effect is produced, which we'll look at in the next sections.
What does a Delay Pedal do?
In terms of the sound produced, a delay pedal can do a lot of different things.
While you might think that adding a repeated signal would only be for either special kinds of songs, or for certain bits of a song, the delay effect is in fact often used almost all of the time in some songs and by many guitarists. This is because a relatively quiet delay a short time after the actual note is played will give the sound more depth. You might not even realize that it's a delay effect that has been applied. This is why most guitarists will have a delay pedal - they aren't just for special effects.
Of course, there's a whole host of other sounds that can be created. You can make a faint echo for an eerie feel, you can really stretch the delay out for a progressive soundscape, you can have a short tight delay to get a 'bathroom' sound, and you can have perfectly timed rapid delay that will sound like you're playing more notes than you actually are.
Analog vs Digital Delay Pedal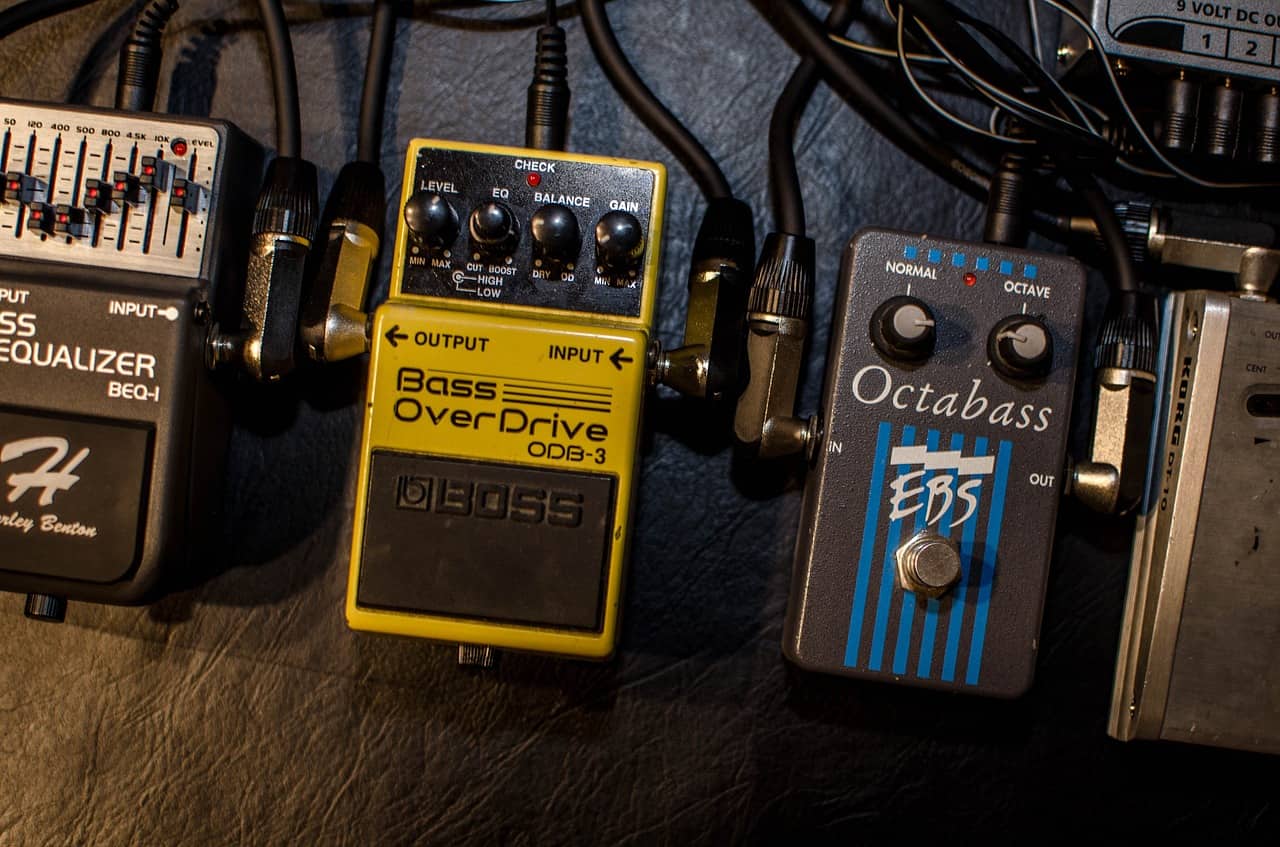 When browsing for pedals, you've probably seen that a lot of them mention straight away whether they're an analog or digital pedal. So you'd be right in thinking that this is a pretty important consideration. Let's briefly take a look at what the two different types mean, and how you can pick between them.
An analog pedal will essentially run the signal through a variety of bits of hardware to achieve the delay effect. The signal generally passes through a series of capacitors, and a chip will decide how exactly all of this is done in accordance with however you've set the dials that control things like the timing and amount of delay.
The key is that the signal is still the same signal that came out of your guitar's pickups - it's just being altered and played around with. This does impart a certain additional tone to the sound as the signal is slightly diffused as it gets repeatedly put through the effect. Lots of people would describe this as being warm.
A digital pedal, on the other hand, works quite differently. The analog electrical signal that comes through the chain to the delay is converted into a digital one. This means that the digital processing unit in the pedal can then do whatever it likes with the sound it receives.
So why is there a debate about which one to choose?
A digital pedal by its very nature is far, far more flexible than an analog one. An analog pedal will have physical limitations on things like how long it can sustain the delay and other special kinds of delay effects that it can implement.
However, because digital pedals convert from an analog to a digital signal, lots of guitarists feel that some of the natural warmth is lost from the tone, in a similar way to some people's' preferences for vinyl rather than digital music.
Ultimately, the decision is up to you, and it's best to try each type of pedal out.
How to use a Delay Pedal?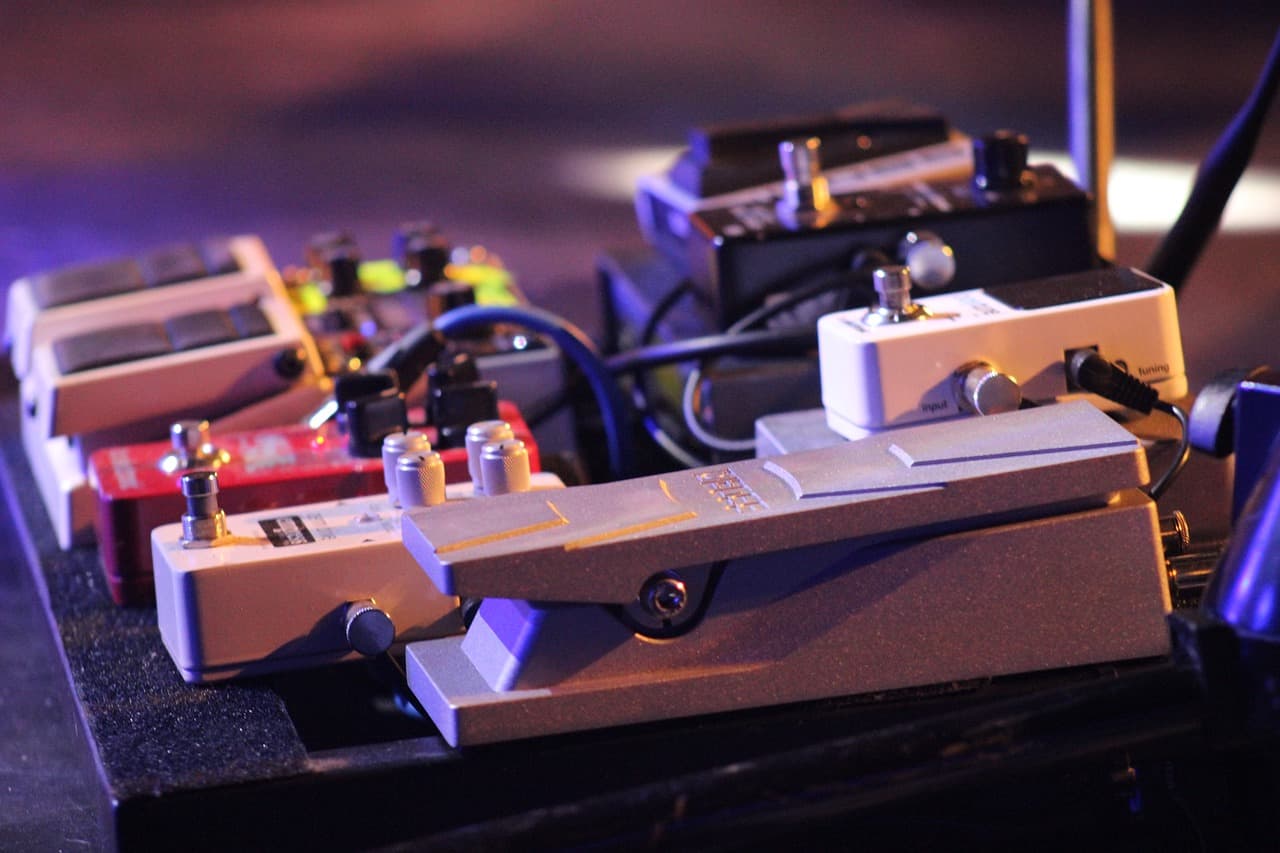 Delay pedals are pretty straightforward to use, but they do take a little bit of tweaking to get them sounding as you want. Let's go through a few tips on how to get the most out of yours here.
The first point to note is that delay pedals are usually the last, or nearly the last, pedals in the effects chain. This is because you want to (in most cases) delay the signal for the sound and tone that you're happy with. Placing further effects such as distortion on a delayed signal often sounds messy, muddy and just not what most people want.
So when you're first playing with a delay pedal, make it the last thing before your amp.
On pretty much all delay pedals you'll have dials that do three things, and it's these that you need to know about because they will allow you to create the sound you want. It's worth noting that they're often labeled differently on different pedals, but it's not usually too difficult to work out which is which.
The time dial will change the amount of time between the repetition of the signals. Digital pedals will have much larger potential intervals, but a short interval on an analog can help create a nice deep sound.
The feedback dial will alter the number of times that the signal is repeated, starting with just a single one, which will be very common for many guitarists. One some pedals the maximum might be an infinite number of repeats.
The level dial, the last of the common knobs, changes how loud each subsequent signal is. Cranked up to the max, and the repeated signal will be as loud as when you first struck the note.
And finally, there will be other switches on the pedal that might allow you to do other things such as adding a modulation effect or some reverb (click here for pedals). Once you've figured out the main points of your pedal, you can play with these, and explore a whole range of sounds.
Top Choice - Deadbeat DELAY LAY LAY Analog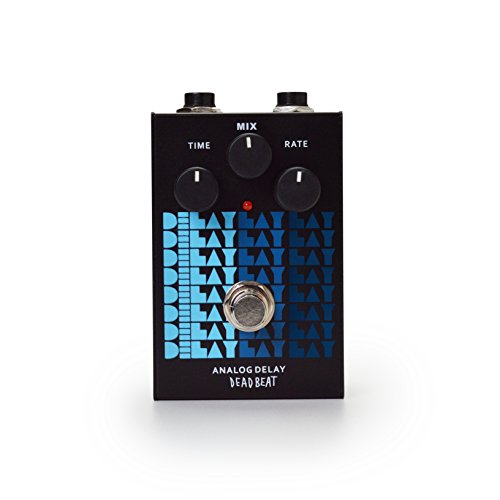 The pedal with the best name is also the one we consider to be the all-round best too. It's an analog, which will be expected to some, and controversial to others, but we think it does the best job at being pretty versatile, coming in a great package, and ultimately giving you the best tone.
At pretty much any setting, the Delay Lay Lay just exudes quality to the point that it would be perfect for recording as well as being used live. It's that good. Sure, it's not going to give you quite the versatility of a digital pedal, but you turn it on and just know that it's a proper old school, high-quality analog pedal.
And we have to admit that the Delay Lay Lay's superb packaging and presentation have helped it hit our top spot too. From the moment you open the box it looks and feels cool, which really helps to make you feel like you've made a really good decision. Well done Deadbeat. What an awesome pedal.
Premium Choice - MXR M169 Carbon Copy Analog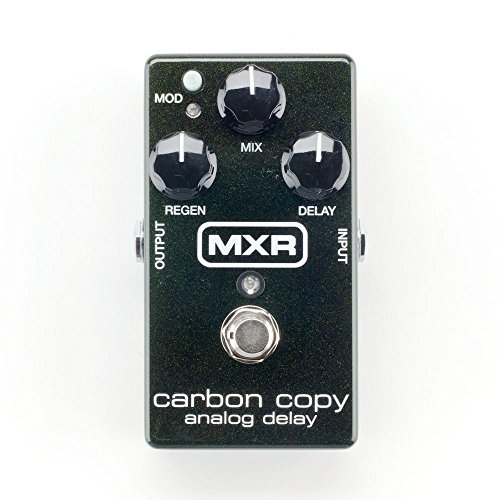 The title of premium choice was a straight fight between the MXR Carbon Copy and the Boss DD-7. It wasn't easy picking between the two of them given that they're at a very similar price point and are pretty different units, but in the end, we've gone for the analog Carbon Copy.
Why? We think it just has so much character to it. The sounds that it produced feel pretty much unbeatable, and while it might not be as versatile as the DD-7, the Carbon Copy does just feel more special. That's not to say it's limited, however - the knobs give plenty of customization for the vast majority of sounds you might want to make.
The chassis is also probably the best of all the pedals on our list. It looks really really nice with the green metallic paint, but what stands out is the fact that everything about it feels high quality. The knobs and switches are tactile and robust, and you really get the feeling that this is a pedal that you could keep for decades.
Great Value - Caline Electric - B01LEZW304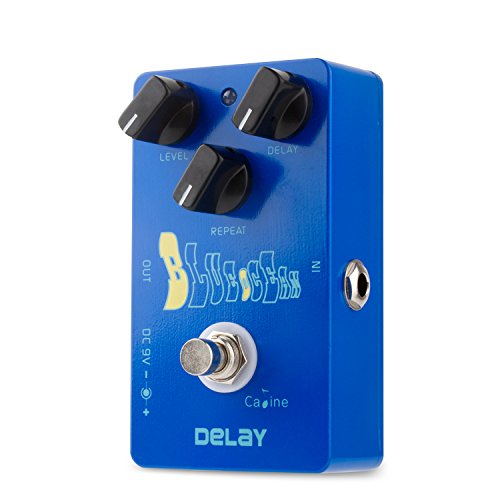 And our great value pick is a true bypass analog pedal too. But you could have half a dozen of these for the same price as the Carbon Copy. The Caline Blue Ocean is ridiculously cheap and should be the first pedal that anyone considers if they're on a tight budget or aren't really sure if a delay pedal is right for them.
The Blue Ocean sounds good - it has that nice analog sound to it that you'd look for in a pedal like this, and does an impressive job of keeping your tone pretty much the same throughout. The bypass works perfectly too, and all of the knobs do adjust in a linear fashion, making it easy to use.
Sure, the built quality isn't the highest, but realistically you're not buying something at this price to take on stage with you. For jamming at home, this thing is perfect. There is a lot of budget option out there, but none are quite as good as this one.
Conclusion
So whatever your budget, and whatever type of pedal you're looking for, we're sure to have put one on our list that will deliver for you. 11 excellent pedals that you can't really go wrong with, ranging from super premium digital (click for the study on digital effects processing) units, to old school analog metal. Check each one out, and then find then add the finishing touch to your effects chain. Delay is not only for Guitars, but is also used in Piano playing - click here for the study.
Digital Audio Effects can become confusing to understand, but we were helped along with the help of this study here.
If you liked this review by Music Critic, please leave a positive rating: