How to decide what makes for the best Analog Delay guitar pedal is a subject everyone seems to have an opinion on. This is hardly surprising with it being an overtly popular effect ever since it's appearance in the late 1960's. Most guitarists dote on their delay pedals, and they are largely considered a 'must have item' for the majority of gigging musicians. They are a very versatile choice of effect pedal, and produce incredibly different dynamics at each end of their spectrum of capabilities, which we will delve into a little later.
If you are on the hunt for one, luckily enough, you will find yourself spoiled for choice but beginner or pro, it can be baffling to tell what exactly sets each one apart and whether you need it or not. Fortunately, we have delved through the data, found out the facts and compiled a review and handy guide to help you find the best analog delay pedal that does the job for you. Read on for the greatest analog delay pedals of all time!
At a glance:

Our top 3 picks
Our team's top 3 recommendations
Best Overall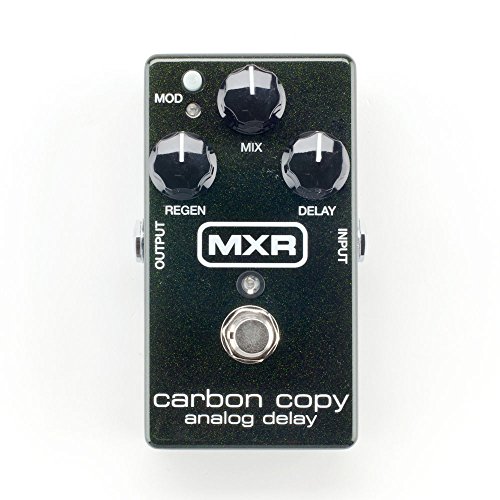 MXR M169 Carbon Copy

Compact design.
600ms of delay for play.
Range of parameters to control.
All-analog from a trusted brand.
Premium Quality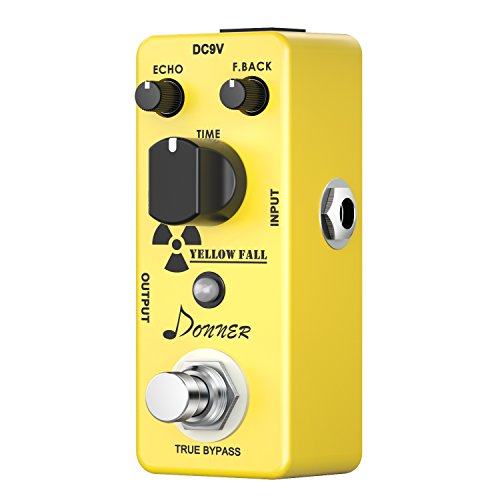 Donner Yellow Fall Vintage Pure

Compact design.
600ms of delay for play.
Range of parameters to control.
All-analog from a trusted brand.
Great value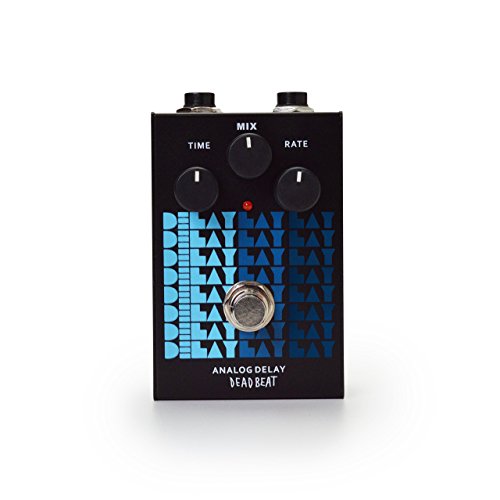 Deadbeat Sound DELAY LAY LAY

Compact design.
600ms of delay for play.
Range of parameters to control.
All-analog from a trusted brand.
View The Best Analog Delay Pedal Here
A shining example of pedal production from the respectable Dunlop brand. It's not hard to guess why this MXR M169 Carbon Copy

 analog delay pedal is a worldwide best-seller with it's authentic analog audio path featuring actual BBD technology for producing those essential dark tones.
Our favorite delay pedal, the MXR M169 Carbon Copy

, makes for an honest delay tone with crisp slaps, ace acoustics and organic warmth. Regen function easily controls repetitions hand in hand with mix (wet/dry blend and delay. Despite is 3 dial design the MXR Carbon Copy has deceptive versatility, ideal for; country, blues, surf, rockabilly, rock and roll, and even 'Floydian' progressive rock tones.
Access the tones via the top-mounted modulation switch for great, colorful flavoring. Everything from small-hall to blatant rebounds. Benefiting form years of refinement they are capable of providing long delay times that ring and retain tone unlike their original tape to tape predecessors which typically seemed to break up. Of course we can't skim over the MXR Carbon Copy pedals' stunning good looks either a dark green, glittered appearance on a solid- metallic pedal built by professionals who are known for their unrivaled robust units.
Pros:
+ Compact design.
+ 600ms of delay for play.
+ Range of parameters to control.
+ All-analog from a trusted brand.
Retro Sound -Analog delays are known for having a rich, warm tone though they generally provide less control than other delay types. In addition to physical delay pedals, you can also invest in digital analog delay plugins and effects. These delays are great for subtle, vintage, and retro delay effects. Delays are great for individual instruments and vocal tracks as well.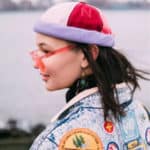 2. Donner Yellow Fall Vintage Pure
This is in all honesty, a digital delay budget option masquerading as a pure analog circuitry delay pedal but doing a very convincing job of it for a low price. Advertising genuine analog tones is fittingly descriptive when you hear it in action it doesn't disappoint but it is not entirely accurate. Our insider info reveals inside this sturdy durable full metal shell is another PT2399 based digital emulation. So armed with the facts here are it's selling points. Straightforward to use with three dials to adjust and combine to find your desired tone.
Time is pretty self explanatory and as with most PT2399's it ranges from 25-600ms. The feedback control determines the repeats, whilst the echo control is for blending the overall mix. There are an armada of YouTube reviews on this electric guitar effects pedal, likewise the Ammoon Nano Echo and Rowin Vintage all which are clones, a little of their innards differ but they are practically the same. This is the digital delay pedal for you, if you are looking to emulate the greats and get make those rock and roll tones your own without investing too much cash these copycat reproductions contain cutting edge circuitry which offer up delay-play opportunity for an arguable bargain.
Pros:
+ True Bypass, low noise mechanical switch.
+ Under 30 bucks a pop.
+ Had some great reviews and performs pretty well.
Why We Liked It - This digital delay pedal has one of the most simplest interfaces of the delay guitar pedals available on the market, like the Donner Yellow Fall Vintage provide access to emulating effects that those shopping on a shoestring might otherwise not have access to.
3. Deadbeat Sound DELAY LAY LAY
This is a yet another fantastic delay pedal from a fledgling California based manufacturer. Dead beat sound are new on the market having ventured into guitar pedals under a year ago. They refer to their pedals as 'broke-tique' rather than boutique guitar pedals.
As it is such early days we haven't vetted out how genuine their analog circuits are. Despite being so fresh on the block they are providing a range of worthy electric guitar pedals available on the market, which review as surpassing expectations and demo well in live reviews. Everyone knows first impressions are everything when you introduce yourself, This is something the company clearly kept in mind when introducing their guitar effects pedal line.
People have been raving over its stylish aesthetics and bespoke foam-padded, magnetic box packaging. It's subtle and understated, versatile and pretty clean. The analog sounds are lush and the oscillation is a ball.
Pros:
+ True Bypass.
+ Packs a punch without muddying the sound.
+ Compact design.
+ Great starter pedal.
Why We Liked It - It's a welcome and refreshing addition to the guitar effects pedal market, and part of a limited run so well worth a mention once they are gone they are gone!
Rhythmic Element - Using your delay as more of a rhythmic element can instantly elevate any sound and give your track a unique vibe. Try running your drums through delay pedals and experiment with different rhythmic combinations. You can also pass a sound through multiple delay pedals for a trippy, atmospheric effect.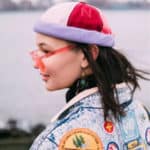 4. Seymour Duncan Vapor Trail
The Seymour Duncan Vapor Trail

 is an all analog delay pedal that dishes out delicious delays by the bucket load, which should come as no surprise as it features infamous bucket brigade delay circuitry with its unique quality. The nature of the BBD circuits which we will go into later in our guide means the guitar effects pedal provides warm nuances with it's distortion noise. It's delay ranges from slightly lower than some at 15ms allowing for even more impressive elastic slap-backs in sound. Along with traditional delay controls they have crammed in an awesome wet channel loop to let you add effects such as flange and distortion to your wet signal.
The Seymour Duncan Vapor Trail

 can also be utilized to feed 2 separate amps or to add a separate foot control for volume level management Described by some as a 'delay on steroids' it really offers some dream musical delay options. Dial in your precises requirements with the self explanatory knobs and you are off. A little pricier than some of the guitar pedals reviewed but that is to be expected from true analog circuitry which offers incomparable delay sound.
Pros:
+ True Bypass for pristine sound.
+ Veritable vintage vibes.
+ Wet channel loop.
Why We Liked It - The Seymour Duncan Vapor Trail

 is the epitome of atmospheric pedals. This delay and looper will give your guitar riffs that Gilmour edge. It also offers fantastic functionality.
5. Way Huge WHE701 Aqua-Puss MKII
The Aqua-Puss MKII is a resurrection of the original Way Huge Aqua-Puss which was so sought after and hard to come by that the demand sparked a comeback craze. It's triumphant return was made possible by Jim Dunlop, an undeniably popular provider of guitar pedals you can rely on. Housed in a durable shell that bears the familiar light blue color and lettering as it's progenitor as well as its 3 simple controls. Setting the blend, delay and feedback controls to different positions gives users the ability to calibrate a range of delay effects.
Delectable double-stops, warm vintage distortion repeats and killer rhythmic tonality. Instantly twist from 20 ms to 300ms of delay time which is noticeably less than some but it oozes thick dimensional soundscapes. Intense settings trigger self oscillation for chaotic echos in it's self oscillating 'psycho freak out 'mode. It's always great to see a re-emergence of top class vintage analog pedals fine-tuned and readily available to the masses, making that next level of playing attainable for all.
Pros:
+ Creates epic 3-dimensional sound mild to wild.
+ Tough as boots.
+ All-analog.
Why We Liked It - It delivers impeccable vintage analog delays in a brand-spanking-new, reissue of an exemplary analogue delay pedal. Until Dunlop set about recreation these guitar pedals were in such demand their prices were sky high!
6. Behringer Vintage Delay VD400
Fantastic elastic delays and vintage inspired slap-backs from this German-engineered delay pedal. We have discussed Behringer before, this guitar effects pedal is yet another great illustration of the company's core commitment to providing products that are capable of competing head to head with leading brands. Featuring veritable BBD analog circuitry its clock up to 300 ms of time delay. Aided by its advanced noise reduction technology, it produces a host of historical tone characteristics. 3 dedicated controls that facilitate sound shaping. Tweak intensity, echo and repeat rate for a range of sounds that go from cosmic whispers, to rock 'n' roll revival delays. It offers split outputs to enable users to send dry and wet through separate channel paths.
Pros:
+ Straightforward use.
+ Genuine BB Delays.
+ Affordable option.
+ Noise free switch operation.
Why We Liked It - It is a great contender for a low-cost classic analog with a dynamic choice of delay sound shaping options, traditional slap-backs and trailing repeats.
Another instance where public demand achieved reproduction. This special edition Boss DM-2W Waza Craft pedal is a highly coveted stomp-box that revives the hallowed, but sadly discontinued BOSS DM-2 Delay. Produced with premium all analog circuitry with genuine BBD it brings exceptional BOSS tone via its touch responsive analog components. The vamped up release of the Boss DM-2W also features switchable sound delay modes. Standard mode serves up 20-300ms delays that duplicate the lush original sounds. Custom mode has a smoother analog tone double the delay time.
The Boss DM-2W Waza Craft delay pedals sound like glorious homages to their original iconic sonic forefathers but with less noise and better consistency. They are capable of working in conjunction with an expression pedal for live time control. For subtle slap-backs to moody repeats something to suit all styles. A notable feature is the split optional wet/dry outputs, astonishing contrasts.
Pros:
+ 2 output jacks for separate delay and direct sounds.
+ Easy interface.
+ All-analog.
Why We Liked It - Engineered by an esteemed company, resurrecting a respected delay guitar pedal, the Boss DM-2 offers beloved, authentic analog delays that are not easily rivaled.
8. Donner Wave Super Mini
As previously mentioned the dubious analog circuitry of Donner products has come under a lot of scrutiny. That being said they provide a highly capable and relatively decent alternative to more expensive analog options. It produces a great shift through timbres and in terms of use is super easy to dial in to what you are after. Switch between two different delay modes, Mod provides delays typically found in current music whilst Normal produces plump traditional delay tones. It boasts all analog circuitry but we are not sure how true that is.
It reviews pretty well in direct competition with some of the leading mini guitar pedals. Perfect for some rockabilly revival, it gives a great quality sound that really gives competitors a run for the money. The feedback settings enable real creativity, with their entertaining crazy oscillations. It's teeny size could be a burden or a blessing depending on your setup, but it definitely packs a punch for its miniature stature. Other super-mini pedals in the series actually mean you can carry a whole pedal boards wort of effects in just your guitar case!
Pros:
+ True Bypass for transparent tone.
+ Crisp clean and warm.
+ Super-Mini size (barely bigger than a plug).
+ Solid construction.
Why We Liked It - It is a truly miniature feat of engineering, and whilst we aren't settled on the authenticity of it's analog circuitry it provides another affordable option. The 2 different delay modes makes for easy operation it is an ideal starter analogue delay pedal.
A solid built, aluminum-housed delay pedal from CNZ audios vintage series. Inspired by the riffs of yesteryear. Elegantly matching the classic delay sounds we all recognize. It compliments other guitar pedals remarkably well. Choose between 1-10 echo repetitions adjust their speed with the dedicated time dial. The feedback allows for the level of feedback to be set which gives the player better control over the dynamics of their delays. Low feedback will be clearer more feedback gives the signal added body and a true vintage tone. Its slimmed down mini-size means it won't take up too much space on your pedal board and it has cool vintage red and yellow graphics. Smooth, rich repeats from vintage analog sounds in a sturdy and affordable little expression pedal.
Pros:
+ Lightweight, easy to travel with.
+ For beginners as well as seasoned professionals.
+ True Bypass.
Why We Liked It - Is it a great expression pedal for around the region of fifty bucks, The guys at CNZ audio are heavily involved in projects in underprivileged areas bringing the simple joys of music to the many. Currently working in Uganda it's nice to know that with an expression pedal purchase like this, you can help pay it forward as well as get your FX fix.
This is a dynamic miniature analogue delay pedal provides a mixture of traditional tape-echo vintage delays with a variety of more modern sounding ones. It has a full metal shell made a from high quality zinc alloy. Unfortunately once again the 'analog' in the title is misleading, It is essentially a re-brand of the Donner Yellow Fall above. Typically for this end of the budget scale we aren't going to see any beautiful vintage BBD functioning compact pedals. We have included it in our list because it does get the job done at a pinch.
Whilst it will never genuinely recreate organic analog sounds it is a good example of a gateway effects pedal of sorts. Also the more frequently we discuss these 'knock offs' the more general awareness there will be. Also you are not really being conned per say if you know exactly what you are getting! So what are you getting? A simple to use digital guitar effects pedal that aims to reproduce the warm clean smooth and vintage tones of it's analog partners for a low budget buyer. Featuring 3 easy to use function knobs. Echo- which we use as mix, Time which adjusts from 20-620 ms, and Feedback to control the repetitions.
Pros:
+ True Bypass.
+ Low Budget choice.
+ Compact size for pedal board.
Why We Liked It - Whilst it wont provide true dark analog tones it is a good option for those who would otherwise be left window shopping.
Effect Chain Placement - Generally speaking, delay pedals should be placed pretty far down in your effect chain. This is because you want to start reflecting your fully processed signal. However, nothing is set in stone! Feel free to experiment with effect pedal placement – This small change can make incredibly interesting soundscapes to explore.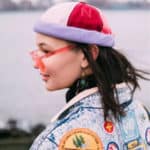 Analog Delay Pedal Buyers Guide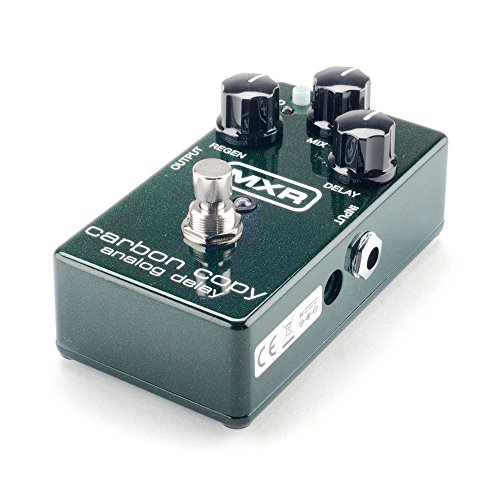 Popular throughout electronic music, a good delay pedal bestows guitarists with the skills to overlay dynamic textures to their music. At its simplest nothing more than glorified echo typical reverb pedal but with the opportunity to explore complexities that detail the sound with complimentary rhythms and the blending of previous sounds with effectively a totally new one. Capable of providing a range of sound qualities and produce dense tones and ethereal spacey sounds. From the slapback made popular in the 50's by Elvis Presley, the repeats in Van Halens Cathedral, right though to U2's delay use on arpeggios.
What is an Analog Delay Pedal and How Does it Work?
A delay pedal is a device that gives guitarists the ability to add time-based output effects to their playing. Typically in a foot operated stomp box design. Early audio engineers experimented and found that when they recorded on a loop of tape repeatedly, played it back removing the input signal, a delayed signal was made of the original. The resulting sound was intriguing and led to further experimentation. Lugging around a tape delay was cumbersome, The magnetic tape was switched to a magnetic disk which worked in a similar manner to a computer hard drive but this was still too big too carry around. The need for something smaller and cheaper and more robust, brought about the invention of the analog Bucket Brigade Device (BBD). The BBD advancement to analog circuitry changed the future of guitar playing. The BBD was essentially a circuit within a circuit. Named in reference to firefighters passing buckets of water down a line, they work very similarly.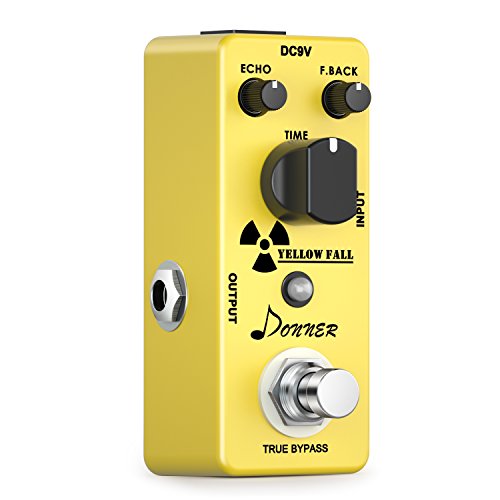 A series of capacitors carry the signal, the first capacitor fills and empties the signal to the next one in the signal chain. This constant filling and emptying slows the signal down, or delays it as it passes through the BBD.
The rate it fills and empties each capacitor is determined by the all important clock circuitry. Now as you can probably imagine with the given analogy, that water is prone to spillage in the form of noise and distortion filtering. The result is a darker signal than the original input.
The frequency difference between the clean and the delayed signal is what gives an analog delay pedal its smooth characteristics. The BBD is surrounded by delicate circuit blocks and all of this is contained within one small chip finally making it the ideal size for a foot pedal.
Tl;Dr – A BBD delays incoming signals.
The Delayed signal can be played back multiple times in rapid succession, it can also be mixed with the recording again to create a repetitive decaying echo.
How To Use Analog Delay Pedal?
Physically speaking, they are typically fairly easy to set-up with a lot of simpler models being a straight out of the box design. The wider the range of controls you are given over the ways you can manipulate the delay, the harder they become to fine-tune but who doesn't love to play with a new expression pedal? Generally they have straightforward user friendly interface, which has dials or switches or both. Typically they feature predetermined factory settings that let the user flick between the effects the are capable of. Without worrying too much about how they create them but for a little bit of know how here is an idea of show some of the effects mentioned in our reviews are employed.
One such affect is doubling which simply uses a subtle low delay time to thicken up your signal, using minimal repeats (1 or 2) which happens so quickly after the original it creates the illusion of 2 guitars in unison.
Popular Slap-back echoes which are typically heard in country and rockabilly use short time with feedback at zero for one repeat.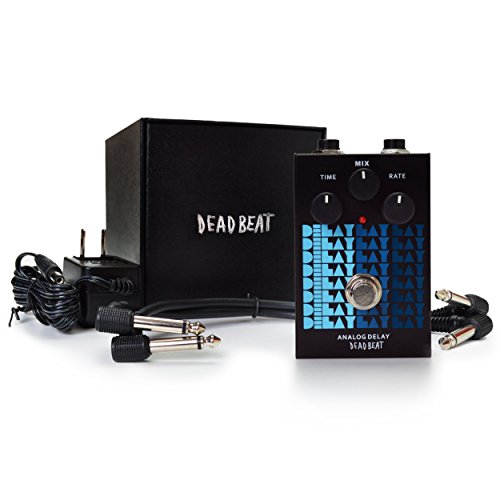 When it comes to how to use and analog delay pedal effectively within your music there really is no right or wrong answer. It really is something that comes with having a go. They can be utilized in a number of ways and have been for decades. Different types of delay fulfill different desirable outcomes. Ideal for epic, atmospheric introductions, and creating the illusion of faster than light fingering during riffs. The use of delay is often associated with rock and whilst it is true the two go hand in hand, they are not mutually exclusive. The real key is to have a fiddle until you find your feet.
Where does Analog Delay go in pedal chain?
Robert Keeley once coined a fantastic mnemonic that if you're a fan of Keeley pedals you may already be familiar with;
Which (Wah)
Chain (Compressor pedals)
Of (Overdrive pedals)
Effects (Equalizers)
Pedals (pitch)
Makes (Modulation)
Life (Level)
Easier? (Echo)
Many guitarists shake things up for a bolder sound and for some effects in a chain playing with the placement can have effects you might love that others hate. Wah before/after distortion is heavily debated topic for example. Whilst this isn't a mandatory list and there is method to the madness especially with Delay. Delay comes under Echo in Keeleys quote strictly speaking this is the optimal place for it you want the delay to affect all the previous modulations and modifications. However in the name of creativity you might find your a fan of delay before pitch shift or chorus so don't feel peer pressured into pigeonholing your pedal experimentation.
Which Delay Pedal – Analog VS Digital
Analog is considered more organic than its digital adversary but digital delay guitar pedals provide both cleaner and/or harder sounds with greater intensity and fidelity.
The sought after delay sound is generally associated with analog circuitry distortions which provide it's well known characteristic sound. Many digital delay pedals are capable of providing a pretty good representation of analog tone but for some tastes they are simply close but no cigar.
Digital delay pedals do however provide some hip mod cons that are very forward thinking and ahead of their times. Despite constantly evolving, digital technology and digital delay pedal tech just doesn't cut it for most in the same way "old-school" analog Bucket Brigade-style vintage delays do.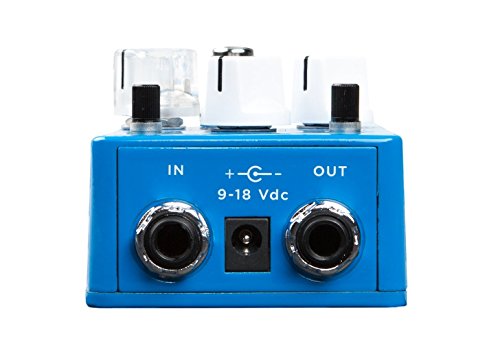 Conclusion
From it's subtler reverberations to is loopy synthesized sounds a great Analog Delay pedal gives musicians an expert tool for colorful texturing effects. Whatever the pedal you choose it will undoubtedly elevate your music. Delay is an excellent embellishment which gussies-up your guitar playing into supplemented sounds with a real 3-dimensional air about them. Whether you want a pedal for it's deceptive twin harmonies so you can get that Iron maiden vibe by yourself, or just fancy some Pink Floyd 'Echoes' echo- a delay pedal has exactly what you need.
With countless models to choose from and the industry leaders continuing to research and develop it has never been easier for consumers to recreate the well loved delay sounds of rock history, even raise the bar creating their own staggering effects following in the footsteps of those who paved the way. As always, we hope our guide and reviews can help point you in the right direction towards the best analog delay pedal for you.
Expert Tip
If you are specifically on the look-out for true analog delay pedals and don't want to get caught out with an imitation, be sure to scan the specs for mention of BBD chips as a lack thereof is a sure fire way to spot an impostor.
Did you Know
Before the development of the early magnetic tape delay devices delay effects were strictly recorded in naturally reverberating spaces to capture the actual echo of the room.
If you've enjoyed this review by Music Critic, please leave a positive rating:
[vc_separator