The Line 6 Pod HD500X is an impressively powerful floor processor for guitar effects. It has a new CPU, which is one of the most powerful ones that Line 6 has used to date. It uses amp modeling technology and emulates many of the most sought after sounds from over the years. With a load of preset locations, you can mix your favorite models with the included effects and keep them saved for convenient use later.
It has a 48-second looper with very easy to use switches and an interface that is simple to figure out. It is built to last with bent sheet metal casing and metal switches that can take a pretty good beating. This multi-effects pedal is for guitar players who want a powerful and reliable effects processor for the stage or the studio.
Specifications:
· 30 amp models
· More than 100 effects
· Powerful CPU
· 48-second looper
· 512 preset locations
· Backlit footswitches
· Bright back display
· Tough sheet metal casing
Line 6 Pod Hd500X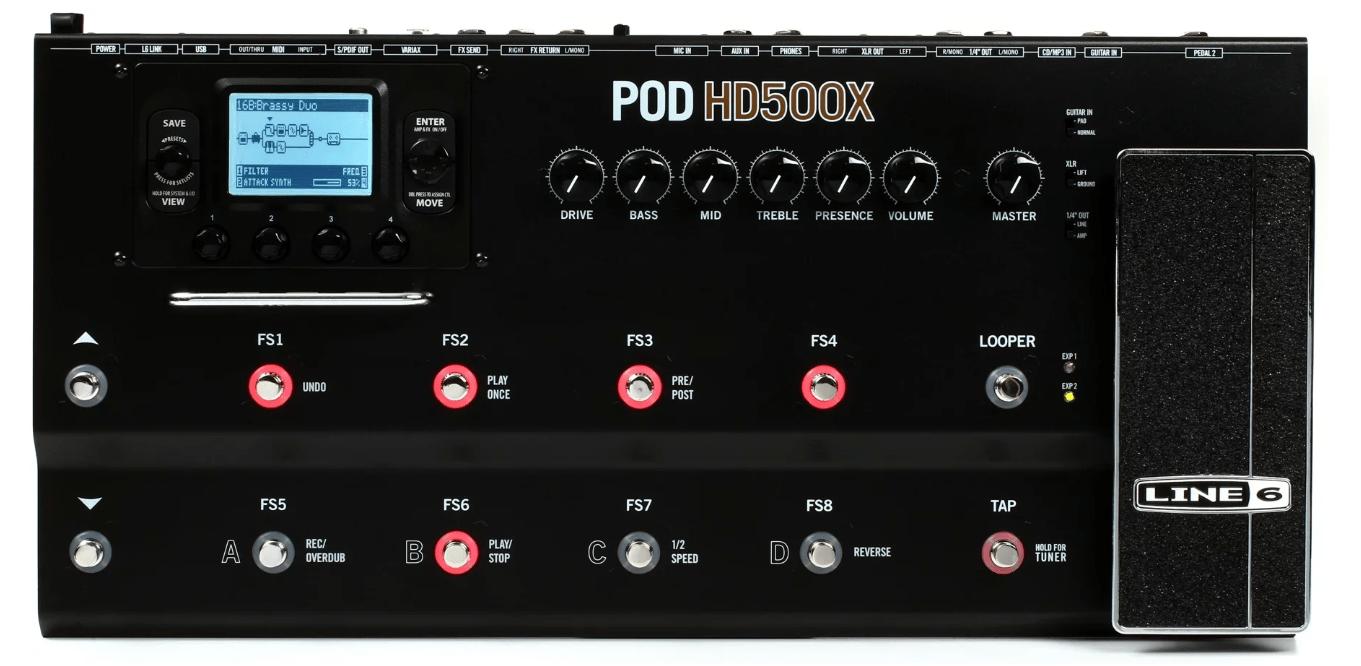 Summary
The HD500X effects processor by Line 6 features an incredibly powerful CPU that impressively delivers the goods. It is an HD modeling amp with 30 amp models that have been created to replicate some of the most popular and sought after sounds from rock history. You get a ton of variety with warm lounge sounds, big crunch, and screaming distortion to fit a wide range of musical genres.
The quality of the sounds on the amp models is pleasing and impressive. Sometimes, guitar effects pedals lack a sense of purity and fullness in the tone. However, the Line 6 HD500X has such a powerful CPU and intelligent design that the sound you'll get from the programming is as beefy, sustainable, and tight as the amps they are modeled after.
The HD500X includes over 100 guitar effects for you to choose from. Everything that you could imagine, including chorus, delay, wah, distortions, and tons more. You'll have no trouble finding the exact sound and tone you're looking for.
When you want to lay down some layered jams, the 48-second looper allows you to do just that. It is easy to use as well compared to some conventional loopers. There are separate switches for you to record, save, overdub, delete, and recreate all over again. Putting together some loops with various effects is a ton of fun and super easy with the HD500X.
Mixing your favorite amp models with effects, you can create some unique sounds. There is a ton of room to save your effects on one of the 512 preset locations. That makes it incredibly easy to recall previous settings and navigate through them on the go. You can configure and set up the presets, so you have specific effects as close as possible to each other, meaning you don't have to go searching for them when you're on stage.
The Line 6 HD500X is built for the stage as well as the studio. It has a powerful enough CPU to sound good on recordings, and it comes through in a live mix quite robustly. It has a sturdy exterior, with a sheet of the metal casing, as well as metal footswitches, which are backlit so you can see them easily on a darkened stage. It is designed to handle some abuse night after night without succumbing to the pressure.
It doesn't take up a ton of space and is smaller than most pedalboards you'll see out there. It measures 21x10" and weighs just over 10lbs. It also has a headphone jack that allows you to listen directly to the processor without an amp. That could save the people you're living with from a lot of unwanted noise.
It is affordable for the quality of the tones you get and is well worth the investment for a processor that could end up replacing your pedalboard.
Pros
+ 30 amp models
+ 100 guitar effects
+ 512 presets
+ Tough and durable
+ Highly user-friendly
Cons
- Small power input
- No power button
Why We Like It
For an all-around floor processor for electric guitar effects, the HD500X by Line 6 covers all of your bases. One of the most loved aspects of this pedal is the quality of the tone you get. It is pure and strong without some of the fizzling that happens with many multi-effects pedals.
The high quality of sound means it is suitable to be used in both the studio and on stage. The amp models sound so close to the originals that many people would have trouble believing that it is a floor processor creating the sound.
If you're looking for a floor processor that could be the last one you buy, then the HD500X may be the right way to go. It is durable, reliable, affordable, and easy to use. You may find yourself playing for hours on end with all of the possibilities this processor affords you.
If you liked the article, please leave your feedback.