With the Boss ME-80, you don't have to trade away your Boss Blues Driver for that Boss Heavy Metal you've always wanted, and you can keep them both in one of the most compact and ver-satile multi-effect units we've ever seen. With a manual mode featuring five different types of effect, full preamp, and amp modeling, a full bank of writable presets, and a built-in expression pedal, the Boss ME-80 is an effects powerhouse with a small footprint.
Plug the ME-80 into a computer, and you can download fantastic presets from the Boss Tone Studio software, or get ready to record right away without the need for a separate audio interface. The Boss ME-80 is perfect for someone looking for a high-quality, versatile guitar tool.
About the Boss Me-80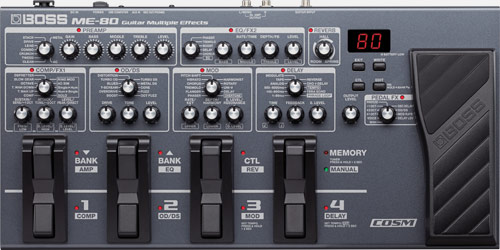 Description
The Boss ME-50 takes most of the signature sounds of Boss analog pedals and creates digital versions of them in one convenient package, so you don't have to do the pedal dance. Building a pedalboard is also an expensive and complicated endeavor that not everyone has the time and money to finish. If you're a guitar player who loves sounding great and likes an easy setup and tear down, then look no further than the Boss ME-80.
The Boss ME-80 has two distinct modes with its writeable presets and its manual mode. The writeable presets allow you to access Boss's library of patches and presets, as well as write your own on the fly with incredible ease. Using the top set of footswitches, you can scroll through your bank and organize them so you can make all the tones you choose conveniently available during your big set at the local bar or home in your living room. To write your patches, edit ex-isting ones, dial some of Boss's fantastic guitar tones and use the controls under the LCD screen to save that tone for when you need it.
The Manual mode is where things get fun for us. The preamp contains some fantastic COSM amp models with a semi-parametric EQ that will be familiar for anyone who has dialed in great tones on their amp. With preamp choices, from clean and vintage combo amp sounds to high-gain stacks that are completely dimed, there are a lot of great tones that can be achieved with this preamp alone. The four footswitches control one type of effect - Compressor, Overdrive and Distortion, Modulation, and Delay respectively, - allowing you to turn one kind of each on at a time.
This makes it easy for you to develop some fantastic and classic combinations to mimic your favorite guitar players or suit the style of playing required for your gig with just a few button presses. Most of the effects present on these boards sound quite similar to their ana-log and stand-alone digital counterparts, which are super impressive. The Delay section even includes a looper function for live performance. If you love the sound of your Boss pedals, than you will adore the sounds of this Multi-effect unit.
The last effect type is the expression pedal, which can be assigned to a parameter of one of the other effect types (COMP, OD, etc.). Or it can be used as a freeze pedal, wah pedal, or pitch shifter for some way out sounds that normally would require you to buy niche gear to make those sounds. With the Boss ME-80, all of that is available with only a few twists of the knobs.
It's last - and possibly most important feature - is how the ME-80 interfaces with your home computer. Using a common USB printer cable, you can plug it straight into your computer to edit the soundbank with the Boss Tone Studio. You can download fantastic patches made by Boss and professional guitar players from around the world. When you are finished finding the sounds you love, record directly into your computer using the ME-80 as an audio interface for recording your killer guitar playing.
Built solidly with a metal casing, this roadworthy effect unit brings the power of Boss pedals together into one convenient package. It's easy on your back when traveling to the gig, easy on the wallet when seeking the sounds you want a need, and easy to use with intuitive analog-like control surfaces.
Pros
+Great modeling technology that brings you some of the classic tones you love
+Convenient Package
+Easy to use for people who have owned boss stand-alone effects
Cons
- Not for those who are disappointed by digital representations of analog designs
- The bank system is a little confusing and is not something that most guitar players deal with using standard gear
- Black-on-Black color scheme might make it hard to see the footswitches in the dark
Why We Like It
It's hard to argue with the convenience of the Boss Me-80; its a versatile, complete package and provides everything needed for your guitar rig.
If you liked the article, please leave your feedback.