The Boss GT-1000 Multi-effects Pedal is a powerhouse for guitar players and bassists. It houses all the effects you could want (up to 116) and has a ton of built-in technology to make it strong and sturdy.
The pedal includes your classic reverb, flanger, wah, pitch shifting, and many more. The GT-1000 is simple to use, allowing you to program the stomp pads. This all-in-one guitar effects pedal may end up replacing your other guitar pedals.
Boss GT-1000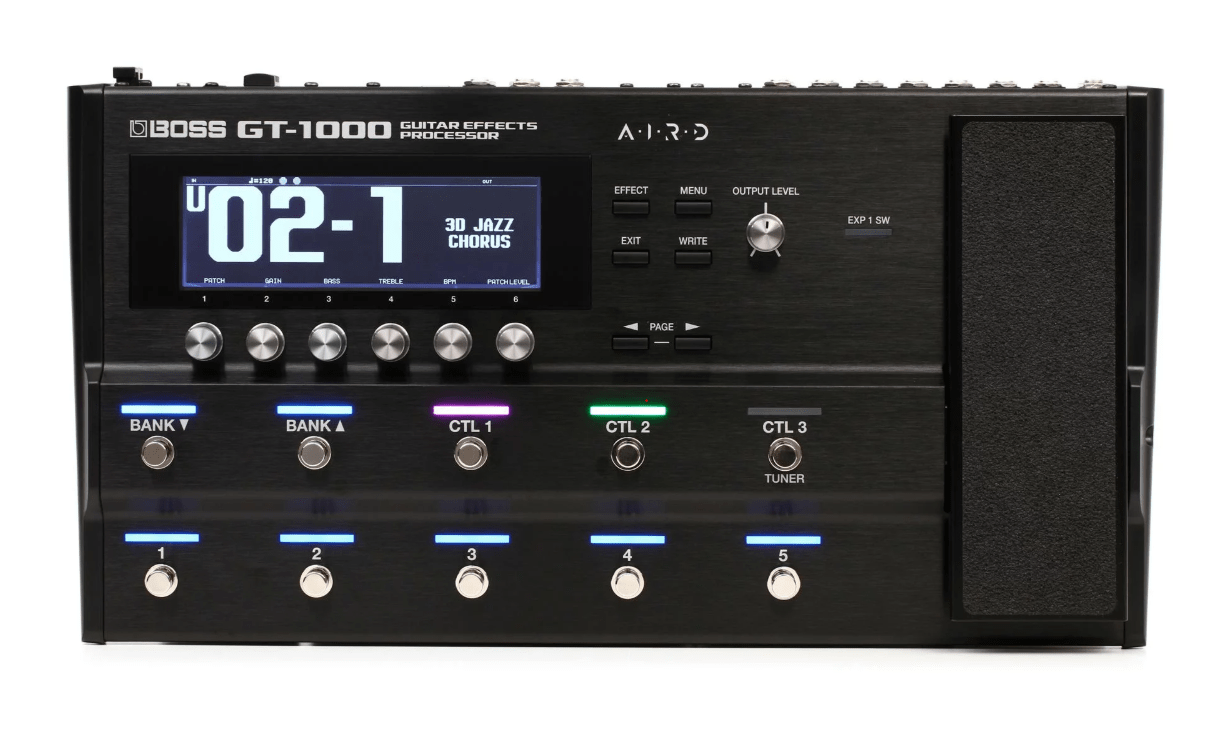 Summary
Boss has been a leader in the music industry for a long time. They are known for creating some of the most trusted and influential pedals for guitarists, bassists, vocalists, and drummers. With a plethora of available effects, power, and compatibility, the GT-1000 is easily one of Boss's most prized creations.
The Boss GT-1000 multi-effects pedal offers guitar players up to 116 different effects. That allows you to pick any effect, that works with the music you're playing, and fit it in perfectly with the mix.
You can get any result you could want with the GT-1000. There are too many effects to name here, but with reverb, distortion, wah, pitch shift, flanger, and chorus, among many others, you have the versatility you need to create a massive variety of sounds.
Everything is customizable and programmable for you to set it up the way that you want to. You can rearrange the position of specific effects, so they're easier to find the next time around. You don't have to go tapping through different modes in the middle of a song to see the effect you're looking for.
With a 32bit/96kHz processing unit, the effects emitted by the GT-100 are healthy and pure. On some multi-effects boards, you lose a little bit of the desired strength and purity of the tone, due to the lack of power that the unit can exude. Every effect on this board comes through the way you want it to and acts just like an individual effect pedal.
The effects have been modeled after some of the most iconic sounds in history. You can get a perfectly emulated sound, not unlike the professional quality you may have heard on some of your favorite albums.
Whether you're working in the studio or on the stage, the Boss GT 1000 has the purity and power you need to stand out. As some multi-effects pedals lack the ability necessary to keep up with a live band, the GT-1000 has it in spades, allowing you to play with any tone and effect you want. You can loop up to 38 seconds with the GT-1000, enabling you to create some uniquely intricate recordings and performances with the tap of a toe.
It has a ton of input and output capabilities, making it one of the most compatible multi-effects units you'll find on the market. If you're looking to plug it in using a USB cable, XLR, 1/4" jacks, headphones, or line-in and out ports, you have all of the capabilities to do so.
It's also not just for guitar - bass players will benefit from having a few bass specific effects, including bass-wah, flanger, and specific overdrive and distortion tones.
It only weighs 8lbs and measures 18x9". It's small enough to fit easily into any music room set-up and be taken to the studio with you, meaning you have all of your favorite sounds on the go.
Pros
+ 116 effects
+ Bass specific effects
+ Lightweight and portable
+ Excellent power level
+ Programmable
Cons
- Less affordable
- Slight learning curve
Why We Like It
This effects pedal has every sound you need to make all the recordings and performances you need to. It's not only one of the most affordable pedals on the market, but you certainly get what you pay for with the Boss GT-1000. It has a ton of power on the back end, helping you achieve some of the most potent and pure tones you can get.
It's compact and lightweight enough to be taken anywhere, yet it's sturdy and durable to withstand a little bit of abuse. You don't need to worry about it losing some structural integrity if it happens to take a couple of hits.
The GT-1000 is programmable, has a long looping time, and special effects specifically for bass. If you're looking for a good, all-around effects pedal that will deliver in terms of quality and performance, then the GT-1000 may be the best way to go.
Whether you're playing live on stage, or you're trying to lay down some new tracks in the studio, it has everything you need. With the Boss GT-1000 Guitar Multi-effects pedal, you really can't go wrong.
If you liked the article, please leave your feedback.