The Eventide H9 Harmonizer Multi-effects pedal is a powerful tool that guitar players can use to replace their existing pedalboards. It comes with ver 99 time-based effects presets, all of the standard effects you need, and a simple user-interface that is quick and easy to understand.
It is a compact little box with two inputs and two outputs. You can manage everything on the box using the single knob, or connect to the H9 control app and handle everything through your phone. With excellent sound quality, you can use the H9 in the studio and on stage. It is well-rounded enough to be used by beginners and professionals.
Specifications
· Employs all of Eventide's effects
· Easy-to-use interface
· Pre-loaded with nine effects
· 99 presets
· Instrument jack inputs and outputs
· Midi input
· 1.96x4.65x5.25"
· 1.53lbs
Eventide H9 Harmonizer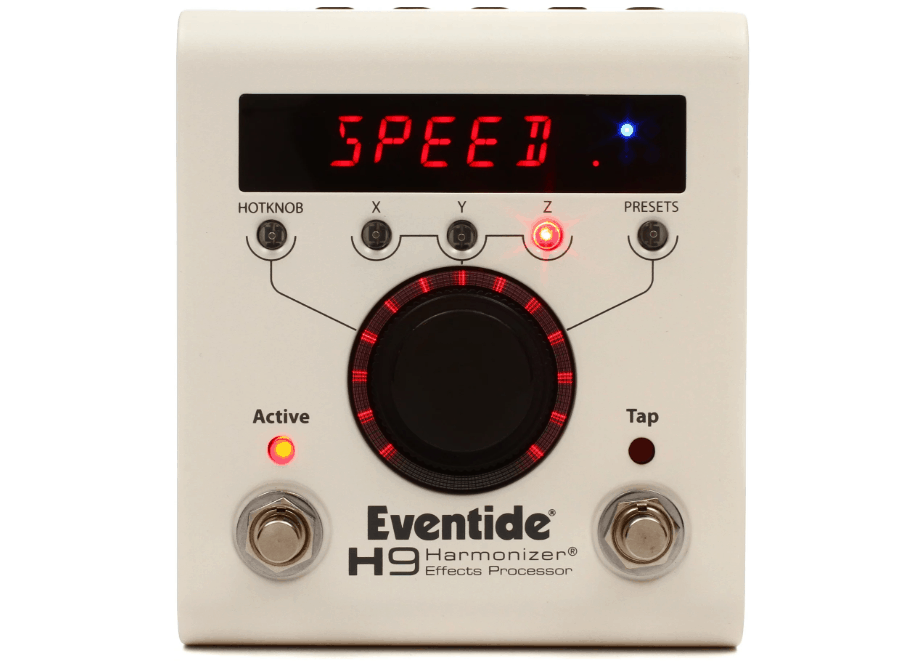 Summary
If you're tired of using a ton of pedals and carrying around a board to hold them, then the Eventide H9 multi-effects pedal may be precisely what you're looking for. It houses a level of quality and diversity that will cover all of your bases when it comes to digital effects for guitar.
It is incredibly simple and easy to use for first-time guitarists or seasoned veterans. With two knobs, one for activation and a second for the tap speed, there is very little need for you to fiddle around with mid-set. Also, a single knob allows for quick and easy navigation through your effects and presets, without going into a wide range of menus. It has a slight learning curve when you're trying to figure out how to use it quickly, but you'll catch on quite fast.
It comes pre-loaded with nine classic effects. Some of these include halls, tap-delay, tremolo, chorus, space, and many more. Also, you have access to every single one of Eventides effects if you upload them onto the drive. This allows you to have such a wide range of effects that you may never need to buy another pedal.
With 99 presets, you have plenty of space to save and arrange your interface for your favorite effects. Depending on the pace you are in your set-list, you can put things in place to find them incredibly quickly and easily without stomping on a bunch of buttons.
You get two different types of navigation with the H9. You can control everything on the box using the knobs and switches, or you can connect to the free H9 Control app and have dominion over everything right on your phone. It will show all of the parameters necessary so you can tweak things to your exact specifications.
You have plenty of input and output power to run your cables to and from. Whether or not you want to add the H9 effects pedal to your existing board is up to you. It has a reliable bypass function that lets the power through so it doesn't hinder the signal. You can also hook up a midi controller for an almost endless amount of possibilities, sounds, and pads.
It has exceptional sound quality. If you want to use it in a recording session, it will give you the purity of tone you'll want to shine through on the mix. Also, for live performances, it has the level of sustain and strength you need.
It's a pretty compact little stomp pedal that will eliminate a ton of space taken up by a wide range of pedals. If you're looking to cut down on the real-estate taken up by your effects, the Eventide H9 Harmonizer may be right for you.
Pros
+ 9 pre-loaded effects
+ Employs all of Eventides effects
+ 99 presets
+ Easy to use, simple interface
+ High-quality sound
Cons
- Slight learning curve
- Need to upload extra effects
Why We Like It
Great effects, exceptional sound quality, and a compact design. What more could you need in a multi-effects pedal? It is a sturdy little device that comes with all of the effects you could need at a price that is highly comparable to buying a slew of small pedals.
It has a high-quality sound that will allow you to use it in the studio or on stage. Also, if you want to have some amazing effects for your home practice room, it works for that as well. It is super simple to use.
Anyone can figure it out with a few minutes of playing and tweaking. Finding your preset is easy as well; you can navigate through everything on the fly without wasting too much time. It looks pretty cool too, like a little droid that enhances your guitar playing.
If you want a reasonably priced multi-effects pedal from one of the most reputable pedal makers in guitar history, then the Eventide H9 Harmonizer multi-effects pedal may be just the right fit.
If you liked the article, please leave your feedback.