Having trouble finding a delay pedal that's right for you? Looking for a more complete and comprehensive device that really pushes the boat out as to what features you have access to, what you're able to achieve, and the kind of delay sound you want? Want a professional pedal that ticks the boxes of what you're looking for? Check out the Carboncopy M169.
What makes this analog delay pedal special from the rest is the fact it prides itself on its 100% analog signal pathing, which is exactly like traditional amps, speakers, and guitar pedals used to be designed using in the days and years gone past. This means you get to enjoy the same rich, classical, and warm sound that peaked in the music industry for several decades when guitar pedals and effects were all the rage.
Jumping straight into what this pedal can do, you'll be offered up to 600ms of delay time, and all times in between, plus the additional option to add some kind of modulation over the top of your sounds using the switch located on the top of the device.
These knobs contain three extremely popular settings that control the delay time, the ability to mix dry and wet versions of the sound you're sending through to your pedal, plus a feature that is known as Regeneration. This handy feature means you can repeat the delay effect.
As we're sure you'll agree, this is a ton of features to be included in what can only be described as one of the most compact pedals available today. Fortunately, the device doesn't stop there. There are even two trim dials built into the device that allows you control both the rate and the width of your modulation effects.
When you combine all these features and capabilities together, you're able to create any kind of delay effect, ranging from short and snappy echo effects that differ by a mere millisecond, or something more delayed and atmospheric. It's completely up to you what effect you want to create, just know this is the pedal that can help you achieve whatever that is.
All the features, levels, and controls are displayed on the device using bright blue LED lights, which make it incredibly easy to see what you're doing when using the pedal, even in low-light conditions such as when you're performing. The standard 9V power operation also means you can basically plug this pedal anywhere to use it.
While that rather sums up everything this pedal has to offer, there's no denying that this pedal could be considered as one of the best, especially in this price bracket. The compact design means it will work flawlessly on any pedalboard, and it's easy to take with you wherever you go without taking up too much room.
The sound remains in the highest possible quality from start to finish, and then you'll be amazing with how crisp and rich the output is. Whether you're a hobbyist simply trying out new pedals and creating music, or you're a professional/experienced pedal looking to give your fans something special, this is a pedal that won't do you dirty.
Mxr M169 Carbon Copy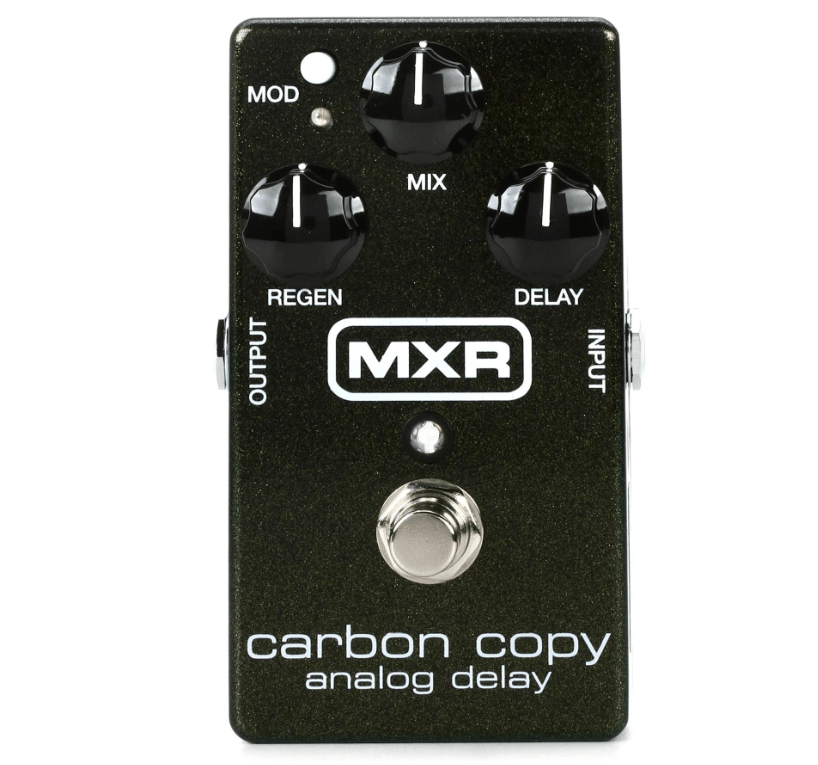 Summary
All in all, this is one amazing pedal, and you're not going to be disappointed in what it has to offer in terms of control and customizable options. There are literally thousands of positive reviews backing up what CarbonCopy has created here and how good this is as a delay pedal. If you're looking for one of the best of the best, you won't need to look further than this.
Pros
+ It allows you access to up to 600ms of delay time, which provides a huge amount of customizable options when choosing how you want your delay to sound.
+ Houses a 3-knob layout that's incredibly easy to learn and offers a range of extra effects, including the main Delay control, a Mix function, and Regeneration for repeating your delay effects.
+ It can be powered using a 9V battery as standard or by using a universal AC power adapter, meaning you'll be able to use this pedal anywhere and everywhere, even if you're on the move.
+ It comes with integrated bright blue LED lights to ensure you're able to see and accurately operates your pedal, even in dark situations.
+ An entirely analog audio path throughout the pedal which is very traditional and ensures the outputted sound is bright, warm, rich, and amazing to listen to. There's also a minimal risk of unwanted distortion or interference.
Cons
- None! This pedal is beloved by all, and when it comes to owning a high-quality delay pedal that ticks all the boxes, there's no other pedal that comes close to what this device has to offer.
Why We Like It
A standout feature of this pedal is the fact you can use it anywhere you like. Since you can power this device using a standard 9V battery, or you can use an industry-standard AC power cable, you'll never have to worry about what situation you're performing in! This pedal will work!
If you liked the article, please leave your feedback.