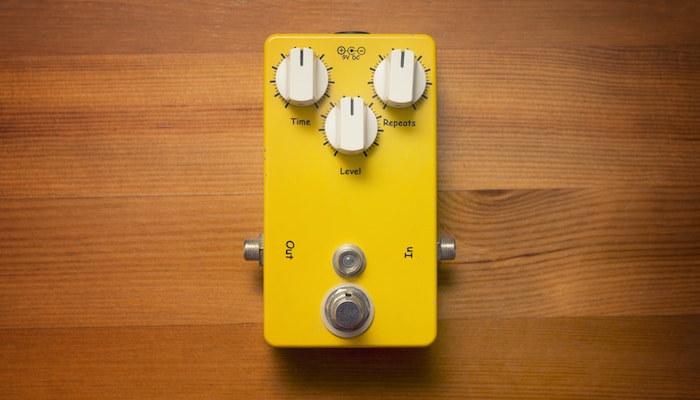 Welcome to our 10 best digital delay pedals of all time review, which we hope will shed some light on the capabilities of the digital versions of one of the most popular guitar effects of all time.
Since the introduction of their analog forefathers in the late 1960's they have been considered one of the most versatile and essential items for gigging musicians. Benefiting from technological advancement and modern ways to produce that sound previously only supplied by BBD circuitry a great digital effects pedal provides smooth thickening, elastic echoes and lingering loops.
There's a whole host of different models available on the market. We have dived headfirst into the details of some of the most popular choices out there, to see what the hype is about. We have broken down their specifications into useful information, to help you make that a important decision on which is the best digital delay pedal of all time to buy on Amazon.
At a glance: Our top 3 picks
Your shortcut to our team's top 3 recommendations
View The Best Digital Delay Pedal Below
It is probably no surprise we are starting our reviews with a top entry from BOSS, manufacturers of a multitude of critically acclaimed effects pedals of all time. They are a forward thinking company and push constant innovative development.
Their new DD-7 is their freshest delay incarnation which incorporates modeling which simulates the beloved DM-2 / DM-3. They have truly taken the best of their legacy products and packed them into one hell of a stomp-box. In addition to analog mode which pays tribute to previous model features, the Boss DD-7 digital delay pedal sports a fresh modulation delay mode which add colorful melodious chorus effects to the delay.
The Boss DD-7 offers longer delay times to play with which has expanded up to 6.4 seconds. Hold mode enables users to record up to 40 seconds of input to be layered for sound on sound loop style performance. Delays can also be reversed creating cool effects.
The Boss DD-7 digital delay pedal can also function with tap tempo via an external pedal (not included), a feature we were first introduced to on their DD-5 model but was removed on the DD-6 causing some upset, so we are glad to see it back along with the new modes.
Another advantage of the Boss DD-7 digital delay guitar effect pedal is the stereo output function which creates separate dry and wet signal paths and enables superb spatial sweeps with the stereo panning.
Pros:
+ Compatible with expression pedals.
+ Modeled analog sounds.
+ Stereo output.
Why We Liked It - It's a re-imagination of all the best rolled into one, which provides digital delivery of some of the most loved delay sounds to date from an industry leader it makes for a superior successor.
As unbiased as we try to stay we are on occasion tough on the cheaper pedals, especially when they try to pass their digital for analog because it really gets our goat. However this digital delay pedal from Donner really does the company some justice that goes towards raising their reputation.
It offers 7 modes of delay effects which we will get into in a second and 3 function controls we are familiar with which are of course Mix for control over the dry/wet level, Time to set the delay period and Feedback to surprise surprise, control the amount of feedback.
Digital mode takes a single clean signal and repeats it until it decays. Analog and Tape delay add a various amount of decay to the signal to produce that over-spilled bucket brigade feels for a dense but subtle warm distortion. The Modulation mode adds a layer of the chorus on each of the repeats and is a lovely filter. Sweep which almost emulates auto-wah vibes.
LoFi is one of the less traditional sounds this thing offers as the crazier capabilities digital circuits have over their analog partners. The LoFi is an example of one of the more extreme effects you can achieve it produces an 8-bit synthetic delay effect reminiscent of retro Nintendo sounds. Finally we have Reverse mode which as the name suggest reverses the delay for another cool effect.-
Pros:
+ True Bypass.
+ Range of extra delay effects on offer.
+ LED indicator.
Why We Liked It - This guitar effect pedal is a clone pedal that offers a great extension on traditional delay effects for an entry level budget. The housing and circuitry seems pretty well fabricated as well.
3. TC Electronic Flashback Mini
The TC Electronic Flashback Mini is a wonderful compact version of the fantastic Flashback original with a reduced footprint and reduced price on Amazon. It is a mono delay pedal with a wide range of effects. You can effortlessly sculpt your sound with the 3 streamlined functions on this smaller model.
The original model was well received and offered a diverse set of delay sounds, these hobbit-homage models all of the popular settings you just have to manually find them. As with all the best TC Electronics pedals from the innovative Danish creators, it features TonePrint compatibility giving users access to a proprietary software editor to further shape sound expression.
The variation and parameters on the software open up endless adjustment capabilities. You can select from saved setting and fine tune each to your heart's content. This is also where you get unrestricted access to some authentic analog delay sounds, ping-pongs, slap back bucket brigade decays to name a few.
The TC Electronic Flashback Mini digital delay pedal also has built-in Tap-Tempo function hold switch and play the tempo.
Pros:
+ Tiny pedal -huge sound.
+ Tap-Tempo.
+ 0-7 seconds delay.
Why We Liked It - The TonePrint software enables extra functionality and gives users access to a truly high end pedal in a slimline affordable device. We will even go as far as to say this TC Electronic Flashback Mini is the best mini digital delay pedal going.
4. JOYO D-SEED Dual Channel
Operating as a dual-channel delay offers players the ability to tune independent settings to each. It is by far one of the better guitar pedals Joyo have produced offering a host of setting to experiment with to shape your delay sound. In fact the parameter which you have control over make it on par with the functional practicality of some very high end models.
First, we are presented with four choices of delay mode they are copying a clear repetition Analog for wholesome beefy decay flavors Reverse for flipped echoes and modulation which provides more chorus features.
Use the mix dial to decide how much delay comes through and essentially play with wet and dry levels. Time will adjust the delay length and feedback on the amount of reverberation inflicted.
It has a very effective noise gate to prevent unwanted hums and of course, features the all-important True Bypass switches.
It also has a highly desirable Tap-Tempo function which allows for up to 6 seconds delay time and an external trigger input to allow for control pedals to switch between it's dual channels.
It is presentable, well built, easy to use wider than some pedals but lightweight.
Pros:
+ True Bypass.
+ Range of delay options.
+ 17 ms-1000Ms (6000 for tap-tempo).
+ External trigger input.
Why We Liked It - It offers some nifty features that typically we only see in a pedal well over the 100 dollar mark, this would be a valuable addition to your effects collection.
5. Electro Harmonix Canyon
The Electro Harmonix Canyon offers us pristine modern sounding delays and reproduces tape-delay warm warbles. It provides modulated octaves that cascade ambient shimmers and delay reverse ability. 
The Electro Harmonix Canyon digital delay pedal has a tap-tempo feature that can be controlled either on board or via external means. One aspect that makes for notable versatility is it effectively works as fully featured an effective looper pedal. Adding dynamic layering for 3-dimensional sound in performances and makes for one hell of a deluxe digital delay.
The Electro Harmonix Canyon digital delay reviews well among notable critics which is unsurprising with the companies track record with echo since their renowned Deluxe Memory Man. The Canyon beautifully emulates the much-loved flavors of the guitar effects pedal that earned Electro-Harmonix their reputable name. This downsizing hasn't reduced the sound-shaping features in addition to regular level delay and feedback it has a mode selector which allows for the choice between 9 delay settings, a sample and hold function, or a looper pedal.
Pros:
+ Looping ability.
+ True Bypass.
+ Super versatile.
Why We Liked It - The Electro Harmonix Canyon digital delay pedal delivers an exceptional range of echo enhancement features and lets you layer 3-dimensional spatial soundscapes.
6. TC Electronic Flashback 2
We already briefly mentioned the original Flashback pedal when reviewing the mini version above. The Flashback 2 from TC electronic see the triumphant return of the legendary pedal which has received a variety of upgrades, most notably its new MASH makeover. This groundbreaking technology renders the foot switch a pressure sensitive, highly responsive expression control.
The harder you press, the more intense it will be. The tape delay and analog algorithms have been re-developed from scratch making them more realistic than before. They expertly recreate the eccentric behavior typical of true analog. Another contrast to the original is the addition of Crystal delay from the Sub'N'Up and on top of these changes, you get three tone print slots for more flexibility than ever before. Beam user-created signature tones from the tone print editor straight to your guitar effects pedal and perform. Access exclusive adjustments via the software and perform with true expression.
Pros:
+ Tone-Print technology.
+ True Bypass.
+ MASH technology.
Why We Liked It
- It effectively add a built in expression pedal to the stomp that will space saving and again we love the TonePrint possibilities, being able to store three settings is pretty awesome./vc_column_text]
Another quality option here from the Pedal experts at BOSS. It is a twin delay pedal unit with a custom LCD back-lit screen. With it's array of high end features and functions this bad boy isn't the easiest guitar effects pedal to use and we wouldn't recommend it for entry level unless you are particularly savvy. It can be configured to work in a manner of ways fortunately the manual is pretty detailed and with some attention you can easily master the mighty BOSS delay tones.
This Boss digital delay pedal features a straightforward looper pedal alongside 10 different delay styles including a few unusual ones like Warp which is crazy cosmic in comparison to its classic tape delay emulation that rivals authentic analog tones.
The sound on sound is a notable feature which gives luxurious layering. The new smooth and twist modes offer subtle and radical effects. It really offers all favorable Delay tones along with experimental echo options. It has unbelievable, uncompromising sounds and can be hooked up in stereo if you want. Cranking up the reverse serves up some wacky sounds. You can store up to four of your favorite settings on board for instant recall. Now as you can imagine they are going to set you back a fair bit more than a traditional digital delay pedal but the increase in price on Amazon is nominal when you offset the increase in Delay control and production.
Pros:
+ Set delay time with the knob or via tap tempo up to 23 seconds of delay time.
+ Huge array of modes that can be adjusted.
+ Store up to 4 on board.
+ Dual stomp boxes design.
Why We Liked It - It is a beast of a product and one of the most popular pedals on the market possibly even the best dual-channel digital delay around certainly a top contender in our eyes
8. TC Electronic ND-1 Nova Delay
We can't get enough of the Nova Delay presenting players with six distinct delays to select from and light, medium of heavy modulate to boot. This delay effects Pedal hot of the Danish production line has been built to build on the legacy of the TC 2290 Dynamic Digital Delay model. Switch between Delay, Dynamic,reverse, ping-pong, pan and slap-back for a diverse set of delectable delays.
TC Electronics Nova truly offers echoes for every taste. The quality of the digital delay effects pedal itself hardly needs mentioning as with all TC electronic devices it offers uncompromising studio quality engineering. You can decide between the convenience of combining presets easily or switch to manual manipulation and store up to 9 of your own for instant recall. As well as a tap-tempo for setting delay times, TC Electronics Nova features audio tapping so you can give a few strums in time to set the tempo in your intro live for on the fly delay adjustment.
Pros:
+ 2 foot switches 6 delay modes.
+ Stereo delay.
+ Store 9 customized presets.
Why We Liked It - This crams the sought after sounds of the unprecedented TC Electronic 2290 into a top notch foot delay guitar pedal who's reviews and affiliations speak for themselves. Artists such as Phil Demmel and Mark Lettieri use TC Electronics Nova Delay on stage. Delay pedals don't get much better than this one.
Jumping back to the more affordable end of the spectrum is an entry for best digital delay from Mooer we have reviewed a number of their pedals in the past and they really do seem to do the job and for a reasonable price on Amazon. It is of a pretty solid build but slim to conserve pedal board space. It has a familiarly similar design to the Donners knocking around and we suspect they may come from the same fabricators. It features typical no frills control sets Echo level, Time, and Feedback.
It likewise has 3 Delay modes these are Analog gives us grainy gain, a Real echo which produces natural reverberation that is soft and lush, and Tape echo which provides a superb simulation of old-school reel to reel delay sounds from yesteryear. It has some very good feedback and demos pretty impressively which you can google and check out for yourself. All in all it simulates a good range of expected delay abilities for pretty much a steal. You get a good 7 seconds of delay to play with.
Pros:
+ Small foot-print.
+ True Bypass.
+ Good range of delay styles.
+ Tape echos
Why We Liked It - All the favorites are there from chic shimmers to snappy slap-backs it is one of the best budget delay pedals on the current market and get our thumbs up.
10. Tomsline AP3S by Michael Angelo Batio
Another budget delay pedal option here which offers a slightly longer maximum delay time than the Mooer but is designed in a very similar manner. Again it sports 3 delay option modes this time presented to us as Echo, Mod and Normal. It has endless sound repeats can capably provide infamous delay sounds to fairly decent degree of quality.
It has a patented bar that features on the delay guitar pedal face designed to keep your foot operation from knocking the dial during performances which is a welcomed addition worth a little mention.
It is packaged in a desiccate gift box. The nonessential Velcro stickers whilst a little gimmicky make for a nice addition if you are going to purchase this as a gift for someone though maybe aimed at teens rather than adults. We recommend it as a choice for entry-level players as it probably won't wow more seasoned acoustic or electric guitar players. That being said it does a pretty efficient job at serving up some valuable delay effects for a shoestring budget.
Pros:
+ Small footprint.
+ Great entry level product or gift.
+ True Bypass.
+ Designed by Micheal Angelo Batio a neoclassical metal electric guitar player known for his exceptional speed.
Why We Liked It - The additional thought that has gone into the design with its foot stop bar sets it apart from other budget guitar pedals.
Digital Delay Pedal Buying Guide
What does a digital delay pedal do?

A digital delay pedal uses modern cutting edge digital circuitry to reproduce time-based effects made popular and used by the likes of Elvis Presley, Van Halen, Pink Floyd, and U2. They Provide an inexpensive way to process signal digitally instead of physically slowing the signal as an analog delay did with its famous BBD technology, it samples the input signal through an analog to digital converter. Then the signals are passed through a series of DSP. They are capable of providing a range of effects from a simple echo to amazing snappy repeats.
They can help thicken a sound change the way it lingers and rings fades and decays. They make for a dynamic filter and give users the ability to layer their playing with complex textures and ethereal spacey sounds.
How to use a digital delay pedal?
They are generally fairly easy to use and work straight out of the box the simpler units typically have three controls to shape what you hear as an output. Some have stored presets that quickly allow for switching between delay sound options others require a bit more effort to manually fine tune but usually offer better control and a wider range of adjustment capabilities. In a pedal board set up you will want to place your delay at the end of the chain so it affects everything previous as with delay and reverb pedals.
What is the difference between digital delay and analog delay?
The simple answer is the circuits and how they produce the time effects.

Digital guitar pedals work usually with mathematical algorithms like a computer they contain data for how to produce a range of programmed sounds and changing the dial setting changes the algorithm.
Because of this, they present cleaner sounds with high fidelity are capable of more complex delays and are the technological advancements generally progress to allow for smaller and smaller manufacturing as well as compatibility with other modern conveniences like software and apps.
When we speak about delay sound generally we reminisce on retro pioneering effects of yesteryear.
The analog delay pedals that preceded their modern digital counterparts were far less sophisticated but their nuances ultimately gave them a truly organic edge which many of their digital offspring try hard to emulate.
One of the reasons an analog delay pedal sounds so recognizable is their subtle distortions. They functioned with Bucket Brigade Device circuits a revolutionary development that was cutting edge at its time and consisted of a chain of multiple capacitors which the signal filled in turn with a signal which created a delayed signal by the time it reaches the receiving end. As a by-product of the analog pedal, there was a slight warm distortion build up. This created the sought after characteristic that guitarists first fell in love with.
Many digital guitar pedals are capable of providing a good imitation of analog tone to mimic an analog delay pedal, but for some, they will never truly cut it.
Digital delay pedals are very forward-thinking and ahead of their times, constantly evolving technologically and enhancing playing in a much more intense manner.
Conclusion

Modern digital delay pedals are an arguably superior technology and they provide plenty of benefits that outweigh their main disadvantage which is simply that they aren't analog which really is a subjective preference. There are some incredible devices out there which give musicians an array of delay to play with.
When looking for the best digital delay pedal you are restricted by the budget of course but also need to consider what you require from your pedal.
If you really only play at home and want the freedom of otherworldly echo exploration go for something with a multitude of modes and adjustments.
If you aren't particularly technologically adept make sure they are on board controls o you don't need external software.
If you play a lot live you might find something with fewer bells and whistles better suits you as some dial heavy guitar pedals are easy to accidentally adjust with your foot and also some of them really do benefit from hours of twiddling with. Something with a simple switch between presets might be more suitable.
Whatever your budget or expectations, we hope our digital delay review has you covered and that our digital delay pedal buying guide has answered some frequently asked questions for you to make an informed decision when you buy the best digital delay pedal for you.
Expert Tip
If you still have a penchant for analog over digital there are some hybrid models that have authentic analog capacitors but convert digitally offering the same mod conveniences and the best of both worlds.
Did You Know?
Digital delay effects were originally rack mounted large systems, you can still get some amazing rack mount systems currently but they can be pricey they are better suited to recording requirements than their on - off pedal board alternatives who are perfect for on the fly performance enhancement.
If you've enjoyed this review by Music Critic, please leave a positive rating: