If you're after a decent signal solving solution and recording set-up then you're in luck, as we've dug up the 10 best DI boxes knocking about on Amazon.
The benefits of a balancing DI box make them a solid investment. In spite of this, many musicians are late to the party when it comes to sourcing their own.
We've found a range of suitable models that make for a useful buy and, as ever, we've done our utmost to explain their functionality in our buyer's guide. Hopefully this will give you a clear idea of the right DI box for your needs.
There isn't as much to consider with these as there are with electronic accessories that don't serve a very specific purpose. But we'll do our best to take you through the features and factors you should think about before you buy.
At a glance:

Our top 3 picks
Our team's top 3 recommendations
Best Overall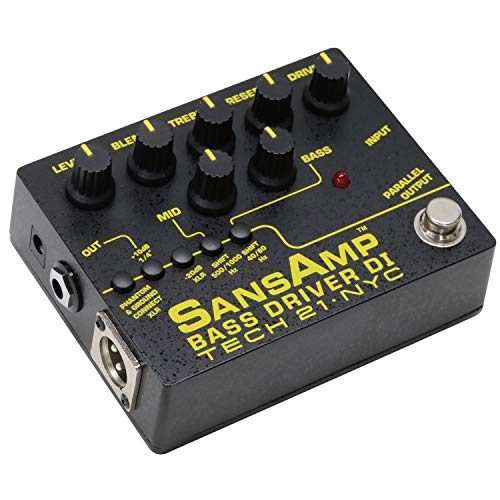 Tech 21 SansAmp Bass Driver DI

Ground-lift.
Mid-frequency switching.
Parallel outputs.
Premium Quality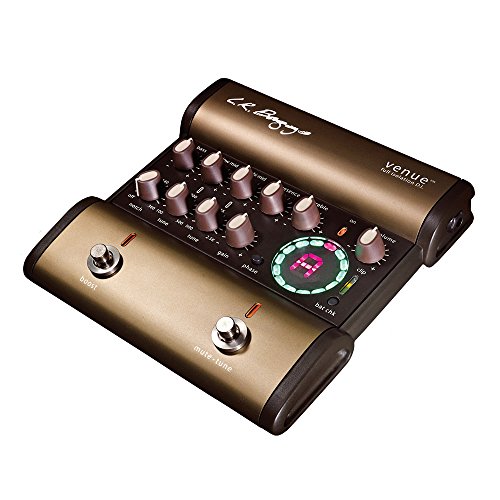 LR Baggs Venue DI Effect Pedal

Ground-lift.
Mid-frequency switching.
Parallel outputs.
Great value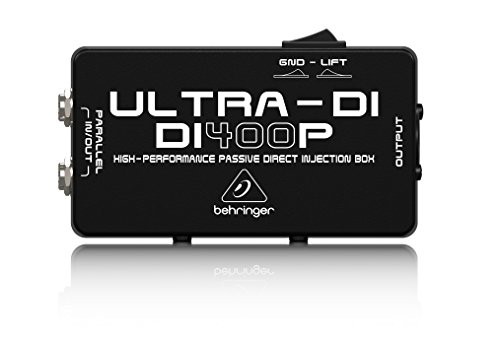 BEHRINGER ULTRA-DI DI400P DI Box

Ground-lift.
Mid-frequency switching.
Parallel outputs.
View The Best DI Boxes Below
1. Tech 21 SansAmp Bass Driver DI
Our first box up for discussion is a great bass effects pedal that offers DI out. The SansAmp from Tech 21 is more of a 2 for 1 in terms of capabilities.
This DI box for bass is durably-built and has a sensible layout which is easy for users, whether they have experience or not.
It offers 6 separate dials to control your level, blend, treble, presence, and drive. On top of this, it has a mid-range frequency control that allows you to select the Hz you want to be shifted. This is great for 5 and 6 string basses as it gives an extended low-end signal focus.
It has parallel outputs so you can run it to your amp and desk simultaneously. It also has a 10-decibel boost for your output signal and a ground-lift switch.
Pros:
+ Ground-lift.
+ Mid-frequency switching.
+ Parallel outputs.
Why We Liked It - It has great low-end attenuation, an impeccable ground-lift for clean signals, a quality signal boost and allows you to split your outputs.
Passive or active - The significant difference between passive and active DI boxes is that active DI's require a power source and passive DI's don't. But, as a musician, you should be thinking about what you are going to run through it. Passive instruments work best with active DI's; active instruments work best with passive DI's.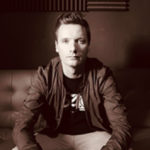 2. LR Baggs Venue DI Effect Pedal
Our second choice is a clever solution for acoustic guitarists with electronic pick-ups which is versatile enough to use for both active and passive pick-ups.
It is again an effects pedal that packs in a lot of equalization features to tailor your tone, but again, doubles as an effective DI for any venue with its fully isolated DI output connection.
It serves-up adjustable 5 band EQ with bass, treble, and presence but there are 2 separate dials for your mid-frequency control one for low-mid and the other high. Also, 2 secondary adjustment dials allow you to fine-tune the low-mid and high-mid settings in a more in-depth manner.
As well as the refined mid-frequency attenuation, it has a Garrett Null notch filter dial to eliminate feedback and a variable clean boost.
It is exceptionally well-made and features top-notch components such as high-grade semiconductors and film capacitors that grant it studio-level quality.
It works with a 9-volt battery or DC mains and has a built-in chromatic tuner with a display.
Pros:
+ Premium components.
+ 5-band EQ with fine mid-frequency adjusters.
+ Isolated DI out.
Why We Liked It - It gives a lot of bang for the buck, it is a versatile 5-band EQ pedal that is well manufactured and gives studio signal quality for stage use.
3. BEHRINGER ULTRA-DI DI400P DI Box
Now over to Behringer for another great choice, their ULTRA-DI model which is a high-performance passive option with an appealingly low price-tag.
It is well-manufactured for gigging use with a strong metal case. It is simple to use as it features a user-friendly design. It has Parallel input/output options which give a little added flexibility, broadening its application use.
It harbors a Behringer OT-2 transformer which has a flat-tuned response for better signal and impedance matching. It is equipped with an all-important ground-lift switch for eliminating loop issues to ensure there is zero hum.
It features high-quality ¼ inch and XLR connections for stronger fidelity, which allows for high-output connection to systems up to 3000 watts.
Pros:
+ Rugged enclosure.
+ Flat-tuned transformer.
+ Ground-lift switch.
+ Quality connections.
+ Cheap choice.
Why We Liked It - It is the perfect, passive go-between. It is very well made, offers a little more versatility in terms of your output connections than some passive models, and it won't break the bank.
On stage - Using active DI boxes on stage can pose a few problems. AC power usually means positioning gear close to a power source or running extra extension cables. Battery power can let you down when it matters most, and phantom power doesn't always give the best performance. Passive DI's are often a better choice.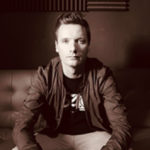 4. Whirlwind IMP 2 1-channel Direct Box
Now for something super-simple that won't break the bank the Whirlwind Imp single-channel DI box. It is a nice, no-nonsense solution, for transforming and balancing your ¼ input into an XLR output. It is a passive option and perfect for working with high-impedance pickup instruments.
It has a functional design and is solidly-built with a compact footprint. It works very reliably to lower the drive of a higher-output instrument to a lower-line balanced signal.
It features the companies proprietary whirlwind TRHL transformer that is riveted to the chassis. It is ideal for guitars and keyboards alike.
Pros:
+ Bare bones single channel DI.
+ Solid-build.
+ Ground-lifting.
Why We Liked It - It is well-manufactured, the transformer is great quality, it works simplistically to provide a reliable signal conversion, and though it offers none of the bonuses of some of the active effects pedals we have looked at, its basic functionality is all you really need from a passive model.
Next-up we have another bass orientated design, the M80 from MXR is another effective EQ pedal that provides a secure DI solution.
It presents traditional bass, middle, and treble adjustments and allows for a separate clean channel as well as a noise-gated distortion.
The distortion section offers-up adjustments over your blend, trigger, and gain, as well as volume. While the clean channel dial adds a little color to your tone. The channel switching is foot-operated, the clean is very true to input and it gives the perfect boost for lower-line signals.
It capably matches the impedance for you and again has versatile multi-functionality for sending to an amp, XLR out or lowering to ¼ inch. It features a direct output and a parallel output and has a phantom power switch for your XLR DI. The connections and the box itself are of great quality despite the low price.
Pros:
+ Clean and Distortion channel.
+ Triple-band EQ and phantom power.
+ Great value for money.
Why We Liked It - It is a great 2 in one option that gives users a savvy solution for their stage and studio set-up needs, it is very competitively priced and suits a wider range of users.
6. Fishman Platinum Pro DI Preamp
The Platinum Pro DI is an active preamp pedal that boasts all-analog circuitry. Its A-class transformers are very capable and it offers some great EQ functions for your acoustic instrument.
It is well-engineered and has a high-headroom, offering up a 17-volt boost. It takes your standard ¼-inch to a balanced XLR signal with optimal impedance and allows for pre and post signal equalization. It has an effect send, effect return, and amp out connections.
It may not be the best option for newbies as it is a little more cluttered than some pedals on the market but it presents a smorgasbord of adjustments so that is to be expected.
It is equipped with 5-band EQ with controls for bass, middle, treble, brilliance, and a low-cut dial for shaping your tone. The middle features a frequency sweep control and there are a phase control and notch filter in and out switch as well.
It also has a built-in compressor and provides 2 separate modes one for guitar and the other for bass. There is an input trim and the foot-operated boost switch can be adjusted from 1-12 decibels.
As if that wasn't enough it also provides a fully-chromatic, built-in tuner. It is battery powered or you can use a Fishman power adapter if you source one separately.
Pros:
+ Bass and guitar modes.
+ 5-band EQ with mid-range sweep.
+ Great engineering.
Why We Liked It - It is a mean machine, chock full of features to create a range of tones and provide the perfect signal for any set-up.
7. Radial J48 MK2 Active Direct Box
Now for a couple of Radial DI boxes, the first of which is their active circuitry option. The J48 MK2 is an affordable, freshly upgraded box from the Canadian manufacturers. It features a solid-build quality ideal for taking on the road and traveling with.
It runs with 48V phantom power and provides a significant transformation from your passive pickups with low-level instrument signals.
It provides an impeccable clean signal, the chassis has ground-lifting, to eliminate any looping hum. It has a left input and a right thru that can be sent to an amp separately. They can also be used with merged paths if you activate the merge switch.
There is a minus 15-decibel switch to tailor the drive and a phantom-power check with an indicator.
It has a higher rail voltage than some low-priced options and provides a balance 600-ohm XLR output, it also offers a flat-tuned minus 6-decibel low-cut.
Pros:
+ Solid chassis.
+ Ground lift.
+ Thru path.
Why We Liked It - It is an impressive active DI box with a significant boost and great sound clarity. It has an uncluttered design and is built like a brick house.
8. Radial Pro DI Passive Direct Box
Now for a nose at their passive mono model for use with your higher-impedance instruments. The Radial Pro Passive DI box once again features a strong, road-worthy design making it a sensible and reliable gigging choice.
It is made with the companies' straight-forward, functional I-Beam design concept at its core which helps it perform optimally and keeps it compact as well as durable.
The electrical components within are great-quality and beautifully engineered. It features one of Radials custom transformers at the heart which signal matches and attenuates your signals to a perfectly balanced 600-ohm XLR output.
It offers a left input and a right thru-put and so can once again be split to an amp or monitored, which is always a bonus. It has a Pin-1 lift to prevent humming from grounding generated noise loops and even offers up a 15-decibel PAD switch which is quite a lot for a passive DI box.
Pros:
+ Great Passive option.
+ Premium components.
+ Well-engineered.
Why We Liked It - It has a fair few features for a passive DI option, it matches and balances signals beautifully and provides the perfect solution for a meatier beast of a guitar. It has idyllic clarity and performs well over cable runs of more than 300 meters.
9. Rupert Neve Designs Active DI Box
The Rupert Neve Designs active DI box is another simple alternative for balancing your signals.
It is again ruggedly-built to take on your travels and has a minimalist design making it very user-friendly. It has a Hi-Z unbalanced input connection with a parallel ¼-inch thru port that connects to your amplifier.
The input is for a 2.2M ohm instrument and the input level can be switched between speakers or instrument levels with a maximum of 21 decibels for the instrument or 41.5 dB for speaker.
It runs from 48V phantom power and has an LED indicator so you know you are good to go.
It adds great clarity, enhances the input it can be run to effects emulators and straight into an AI for your DAW giving impeccable signals with no loss and no hum.
Pros:
+ Minimalist design.
+ Thru channel.
+ Good clarity.
Why We Liked It - It is another no-frills active option with a design focused on its primary DI function, suitable for any passive pickup.
10. Fishman Aura Spectrum D.I
We are finishing things with one final Fishman model which is a next-level piece of kit. It functions as a crystal DI solution but offers so much more, thanks to the companies' new award-winning imaging technology developments.
Like the Platinum model we looked at, it is intended for use with acoustic instruments that have been supplied with a pick-up. This DI box is capable of taking a weak under-saddle or sound-hole pickup signal and giving it studio-quality mic mixed levels.
It is a very sophisticated box that comes loaded with 128 images for use with an extensive range of acoustic instruments. It also has a USB connection that allows you to hook it up to a computer or laptop to access further downloadable imaging from their Aura imaging gallery software (included free) which is still updating and expanding.
There are 8 select categories with 16 image-tailored signal wave-forms for each category. The categories include dreadnought, orchestra, concert, jumbo, nylon, 12-string, bluegrass, and 16 user-assignable options as well.
You have a top-mounted volume and blend dial along with a low mid and high each which can be adjusted separately there is also a compressor control and an anti-feedback switch that has 3-notches. It has a phase switch and an input trim the input it has a ¼ inch effects loop connection and a ¼ inch out for monitoring as well as its balanced hum-free DI XLR. It can be powered via a 9-volt DC Fishman power cable.
Pros:
+ 128 acoustic image renderings.
+ 3-band Eq with blend and compression.
+ 3 notch anti-feedback and phase switch.
Why We Liked It - The on-board award-winning aura spectrum imaging tech that this box provides gives users access to a diverse range of world-class recording techniques. It is an altogether different creature but it does come with a heftier price.
Stereo DI - For instruments with stereo outputs like stage pianos, synths, and electronic drums, a stereo DI might be the best choice. It's easier to process both channels through a single device. In a situation where you'd want a mono output rather than stereo, many stereo DI boxes have a merge function that turns your stereo channels into a mono output.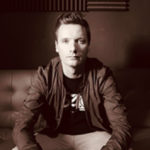 DI Box Buyers Guide
What Is A DI Box?
The majority of electric products are earthed or grounded for safety. When you connect two or more cabled products you, unfortunately, get what is called an earth or ground loop, this is a low-level hum which in most electronics is unimportant and not all that noticeable.
If that signal is going to be amplified and fed to a large PA, then you very quickly have a bigger (louder) problem.
The humble DI box is the simple solution, though some argue the terms DI is an acronym for Direct Injection. It is a type of transformer, in electronic terms that is primarily designed to take an unbalanced low-signal and convert it to a compatible mic line-level.
Many guitars (and keyboards) have lower signal levels. Most pickups only have a relatively high impedance (though there are some high-impedance pick-up exceptions) which limits their drive capability.
If you play on a larger stage with longer cable runs then the drive needs to be considerably higher. Most sound engineers will insist on using a ground-lifting DI box to boost and balance the signal impedance to a more desirable and compatible one.
They operate fairly simplistically taking a quarter-inch jack from your instrument into their input and outputting to the desk.
What's the Difference Between a Passive and Active DI Box?
The biggest difference between the two is their circuitry, one will have its own power supply the other will rely on an outside power source. This means they effectively work in different manners but still achieve the same outcome.
An active DI box will require a battery to run, generally, this will be a 9-volt battery but that can be problematic for live use and so it is better if they can run from phantom power supplied by a FOH mixing desk where possible.
An active DI box is for use with a passive guitar. In essence, they are a miniature pre-amplifier that attenuates your instruments' low-level input signal into a much higher input impedance, giving it more drive before it runs to any other equipment.
The additional gain can, however, mean a noisier signal as there is a risk of ground isolation. This is usually countered with a dedicated ground lift switch.
A passive DI box is for an already active guitar that has its own 9-volt battery, so be sure to know your instrument. They are very effective with high-output instruments but don't fair well with older models.
They are nothing more than a bridge that passively extends your magnetic field. They provide a separate (isolated) input and output signal which is what eliminates the ground-loop hum, for a zero noise signal with better true-to-input fidelity.
Active DI boxes were the first types invented as they gave the passive instruments of the era a much-needed signal boost. Once the circuitry of guitars evolved to be active itself the passive Di box was created.
Active DI boxes can offer a few more bells and whistles than their passive counterparts, as they are getting a direct power supply, they can afford a few more features which we will delve into later.
What Should you Consider When Choosing a DI Box?
Other than the type of instrument pickups you have and whether you require an active or a passive model you will want to think about the build-quality, the input and output options and other useful features that we will address below.
What Features are Typically Found in a Di Box?
Most DI boxes are fairly simple when it comes to functionality. Therefore they are typically a one in and one out deal that may offer a ground-lift switch.
Others can be far more complex, some offering mono-summing switches which gives them flexibility making their use a bit more versatile.
Some will have a manual attenuation switch giving users more control. You can even get boxes with multiple inputs which are good if you like to switch guitars at a gig.
There is also a range of different effects pedals that have a DI function as you will have seen from our product choices. They are a great alternative which could be a money and space-saving option if you are on the lookout for a new effects pedal anyway.
The capabilities of an active box can go above and beyond basic function, right up to the award-winning imagery-based performance of the Fishman Aura spectrum model we finished with.
Conclusion
A DI Box is a much-needed accessory for any gigging musician who wants to be taken seriously. If you intend to play for private events such as weddings and corporate soirees, then you want everything to be perfect.
Once you know what you are looking for there are hundreds of options to choose from. Many basic models are pretty similar in all honesty. As long as you settle for something well-engineered from durable materials you should find your self sorted.
We hope our shortlist will have shown you what is available and that our buyers' guide has helped to give you some insight so that you can commit to a sensible purchase.
Expert Tip
We have other DI box reviews which you might want to peruse to get a better idea of what is about some of our products have been previously featured but there are a few exemptions if you want more choice.
Did you Know
Some modern amplifiers feature a built-in DI box to output directly to the mixer with if that is the case you won't require one for your setup.
If you've enjoyed this review by Music Critic, please leave a positive rating:
[vc_separator