We are sifting through the top-choices here today which reflect some of the best bass preamp pedals for you.
If you're looking to be able to switch up your sound mid-set or even mid-song, then a foot-operated option is the smoothest way to go. They provide other awesome benefits as well, which we will endeavor to discuss along the way in our search for the best bass preamp.
There are a ton on the market and many offer a lot in one box. We've chosen a few which we consider the best.
At a glance:

Our top 3 picks
Our team's top 3 recommendations
Best Overall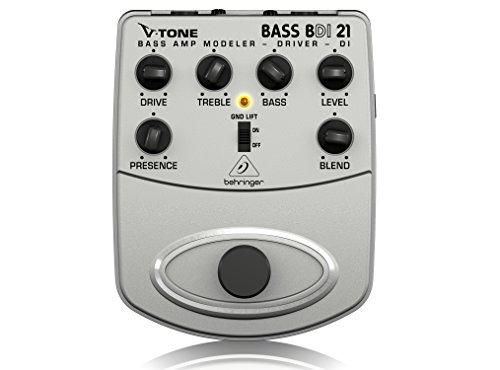 Behringer V-Tone Bass Driver DI

Great analog emulation.
Good scope.
Low-price.
Premium Quality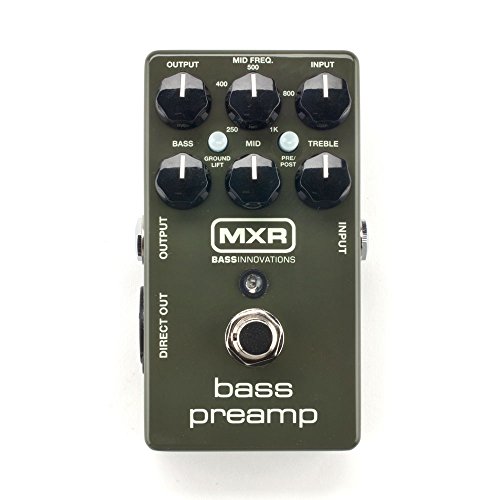 MXR M81 Bass Preamp

Great analog emulation.
Good scope.
Low-price.
Great value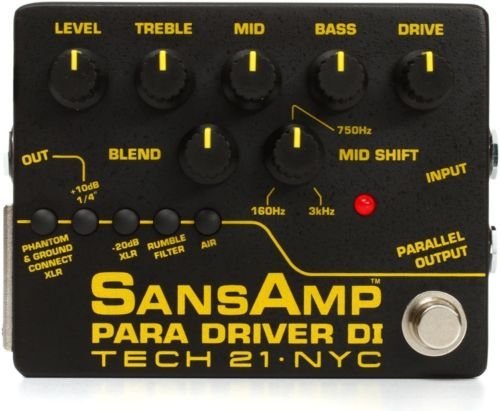 Tech 21 SansAmp Bass Driver DI V2

Great analog emulation.
Good scope.
Low-price.
View The Best Bass Preamp Pedals Below
1. Behringer V-Tone Bass Driver DI
This first option provides a hell of a lot in one package. The Behringer V-Tone Bass Driver DI has been previously featured by us in our DI boxes article in the past.
It's a well made DI box for clearer direct signals, which packs in a ton of preamp modeling effects as well.
Users can dial in their vintage analog-inspired tones to create brightened funky-plunks or meaty bass distortions and crunches, as well as giving them a polished clean sound, thanks to its proprietary V-Tone emulation circuitry.
It's very well-engineered and pretty durable for an inexpensive plastic-housed option. It has a simple layout that is easy to use and features primary drive, bass, treble, and level mini-dials which are utilized alongside additional presence and blend controls.
It has a switchable (bypass) ground-lift control to keep impeccable signal sends.
Pros:
+ Great analog emulation.
+ Good scope.
+ Low-price.
Why We Liked It - It's very low-priced, considering the range and versatility it offers, and although the construction materials used are on the cheaper side, it's well manufactured and hardy enough to impress.
Next up we have one of two MXR models that we've chosen to include. The M81 is a very well-constructed pedal, which will give your bass a significant boost and bring in to life with a range of colorful character changing tones.
The MXR M81 features traditional equalization controls alongside a mid-frequency sweep for finer detailing. It has an independent input level dial as well as an output level dial, allowing you to build up what you send. This helps optimize any bass guitar before it reaches an amplifier.
It's easy to use and the dials have good resistance and adequate spacing, so you won't knock one as you adjust the next.
It also benefits from a ground-lift switch to stop any electrical hum and keep a crystal clear line.
Pros:
+ Clean DI.
+ Superb range of scope.
+ Separate mid-frequency sweep dial.
+ Not 'always on'.
Why We Liked It - It is another all-in-one option with a durable build and a variety of tone enhancements on offer.
3. Tech 21 SansAmp Bass Driver DI V2
The first incarnation was well-received enough, but the Tech 21 SansAmp Bass Driver V2 model gives the Bass Driver an awesome boost. It's tailored to suit those who play 5 to 6 string basses.
The Tech 21 offers a range of EQ settings to dial in on, but, notably, it offers an extended low-end control, giving users switches to help focus their frequencies. You can choose to highlight 80Hz or even 40 Hz which, along with the independent drive and presence controls, gives users low-end impact like no other.
There's a good amount of mid-range freedom for coloring your preamp stage tonality. It has parallel outputs and can be used directly, bypassing your amp's own preamp circuitry.
It's very well made and laid out a little larger than some pedals on the market but much easier to navigate and control.
Pros:
+ 3-band EQ with drive, presence, and blend.
+ Punchy high-impact bass.
+ Switchable frequency boost.
+ Parallel outs.
Why We Liked It - This is an impressive piece of kit, which provides a significant boost to bolster your bass with.
Next, we have the M80 the preceding pedal to the M81 we have already reviewed. Now, however, it could potentially be viewed as a down-grade by those fortunate enough to have the 81.
That said, it does retail at around a third less and provides some awesome features, making it the best option for some of us with less cash.
It's a well-made, hardy wide pedal that offers a separate clean and distortion channel. It has a ground-lift/phantom switch and features traditional bass, mid and treble equalization.
Additional controls for the distortion channel include blend and trigger, alongside gain, to give anything from a dirty analog grumble to an over-driven edgy eruption.
The color switch gives instant access to some killer preset sound. The trigger helps with clarity and it has parallel outputs for versatility.
Pros:
+ Hardy design.
+ Wide range of tones.
+ Parallel outputs.
Why We Liked It - This is a go-to preamp for many. It's well manufactured. Dunlop know their stuff.
5. Aguilar Tone Hammer Bass
The Aguilar tone hammer direct box is our final selection to consider. This product, again, serves-up significant sound, tailoring in a durable package.
It's constructed beautifully and has a sensible control configuration. There is a cluster of 6 dials on-board, which supply your bass, treble EQ, and 2 mid-frequency/mid-level controls to help you finalize the mid-region a little more. It also has gain and master levels.
There is also a ground lift that has an LED indicator to show when it's engaged. The engage and AGS switches are split left and right so you won't stomp on both accidentally.
The AGS switch initiates the Active Gain Shaping circuitry, allowing users to play with the drive and EQ for some killer-driven tones. It, again, has an LED indicator, making it highly visual to use.
Pros:
+ Well-designed.
+ Beautiful boosted clean.
+ Active Gain Shaping circuitry.
Why We Liked It - This product gives a fantastic pre and post-boost, and provides a great clean as well as overdrive. It's well-built and we love the handy slide-out battery drawer.
Bass Preamp Pedal Buyers Guide
What is a Bass Preamp Pedal?
Bass preamp pedals are foot-operated switch-enabled pedals, with the primary function of providing a signal boost.
If you add gain at a later stage to an insufficient line-level input, you'll end up with far less clarity than a previously boosted one. So, a preamp will enhance what your instrument has before you toy with it any further.
On top of its signal raising capabilities, many will incorporate the 3-band EQ you will typically find on your preamp head, or amplifier itself if it's a bass combo amp.
There are many who say that this renders the onboard pedal EQ obsolete, as most amplifiers will come with tone settings and other effects, but there are always those who prefer it before the original signal is sent.
Having millions of effects can be disastrous, as each stage deteriorates the original instrument signal, but for some genres, this can open up an interesting noisy array of sound characteristics.
For the majority of cleaner or precision players, this is completely undesirable, which is where the argument begins.
One good reason to have a preamp separate from your amplifier is for recording purposes. Most studio setups will have a rack-mounted preamp selection, which may consist of an entire array of preamp devices that the sound-engineer will tailor for you.
A preamp pedal is similar but allows for foot-operation which, when independently recording, gives you the opportunity to switch from clean to dirty in a hands-free manner.
If you rely on your amp, you'll have to record with a mic from your amp, or it will need it's own direct out, which some don't provide as cleanly as a dedicated DI box does with its ground-lifting.
In live-situations, it's preferable to have bass directly out-putted through the system. Some bass amps are too hot for the mixer, and this is the main reason that the DI box became vital. For many professional venues, the techies will insist you have one.
Preamp pedals consider all of these needs and pack them into one efficient box.
What to Look For in a Bass Preamp Pedal?
They were created to give a passive instrument a necessary boost, but if you have active circuitry in your bass then you'll need one which can effectively cope with this, or you will generate some undesirable noise.
It's sensible to find one with a ground-lift switch that offers separate clean and distortion channels and, ideally, you want a parallel output for optimal functionality.
As it's going to be trodden-on, durability is a key factor. The switches themselves should be very hardy, as they will receive the most wear and tear.
As for the EQ and tone shaping on-board, it's down to the genres you play. First and foremost, you're just looking for a sufficient signal boost and the signal matching of the DI capabilities.
If you play heavily you may want a pedal that offers a refined set of drive and blend options to give you more to get creative with.
Conclusion
There will never be a definitive answer to settle the EQ on a preamp pedal argument; it either suits you or it doesn't.
We hope you're swayed by what you've seen today! If not, there is a range on the market and they each have their merits.
Having a decent preamp pedal can make a big difference. Having a DI box is pretty crucial to the quality of your playing, ensuring that the signal output matches the rest of the equipment.
So why not get a 2-for-1 and have the option of playing around with your preamp sound anyway? We have highlighted a few fine examples and hope our short but informative guide will have clarified some of your FAQs.
Expert Tip
You ought to opt for a parallel output preamp pedal which allows you to bypass your amps integrated preamp section to help control interference.
Did you Know
Most people consider the EQ on their amplifier a preamp, but in actuality, a preamp boils down to the literal definition of its terminology. It's a device that raises the initial level of the instrument's electrical signal until it's at a line-level worthy volume.
If you've enjoyed this review by Music Critic, please leave a positive rating:
[vc_separator