If you want sonic flexibility at your feet, the Helix LT is undoubtedly worth a look. We've taken a good look at a range of multi-effects pedals in the past. For many guitarists, most of them don't hold a candle to the Helix from line 6, but it's pricey.
The Helix LT is a downsized version the company has cut a few non-essential corners with, thus dragging the price-tag down into more reasonable realms, drawing in a wider consumer base. That said, it's still a lot of cash to part with for the majority of us, but it does provide some fantastic features.
You might think that after slashing the original Helix price that the functions are going to be less impressive. We would argue that, in some ways, it's a more flexible piece of kit. It's unarguably easier to use, as the inputs and outputs have been reduced. It's compact and neater.
This doesn't detract from the model and allows Line 6 to keep the original character without much sacrifice.
The casing for the Lt is made with hardy bent steel. This gives it a lighter weight. It was previously made with an extruded aluminum chassis, but we would rate the two about the same in terms of durability.
The layout is neatly organized. The spacing seems generous between stomp triggers, and the whole thing is as compact as possible. Each of the 12 switches (arranged in two parallel rows of six) previously had a mini-screen with data, but this is something that has now been gutted to cut costs.
Now information is displayed via the main screen itself. Again, this doesn't affect the functionality, as they were more of a little luxury bonus. Granted, the mini displays were sweet and easy to keep track of, but at the end of the day, you get what you pay for.
In spite of the complex routing capabilities, the workflow is efficient. The main screen has intuitive, user-friendly menus that are speedy to navigate. You can set-up your rig in next to no time and then, of course, control everything with your feet while you perform.
The high-end capacitive touch-trigger stomps can be used with the standard preset configurations, or be reprogrammed to your desires.
The dual DSP-powered HX modeling engine gives you access to more than 200 different modeled amps and cab emulations with varying techniques of a mic, as well as effects. You can control the filtering and intensity of the effects with the expression pedal on the right-hand side.
It provides an FX loop that you can use in a mono or stereo fashion. You get 60 seconds for the mono looper and 30 seconds in stereo.
There are a total of 104 built-in effects that include EQ varients modulations and delays, as well as a range of reverb types and distortion. There's a great Wah, and you can also use pitch effects and an array of other filters.
It has a quarter-inch input for your guitar, as well as two quarter-inch returns. They've streamlined the main outputs down to 2 x XLR, two quarter-inch, and two sends, and there is also an XLR digital out L6 link and an RJ45 (Variax). You have a MIDI in out and thru on the rear panel too and a USB that allows you to connect to the Helix editing software. There's also a headphone jack for monitoring and silent use.
Line 6 Helix LT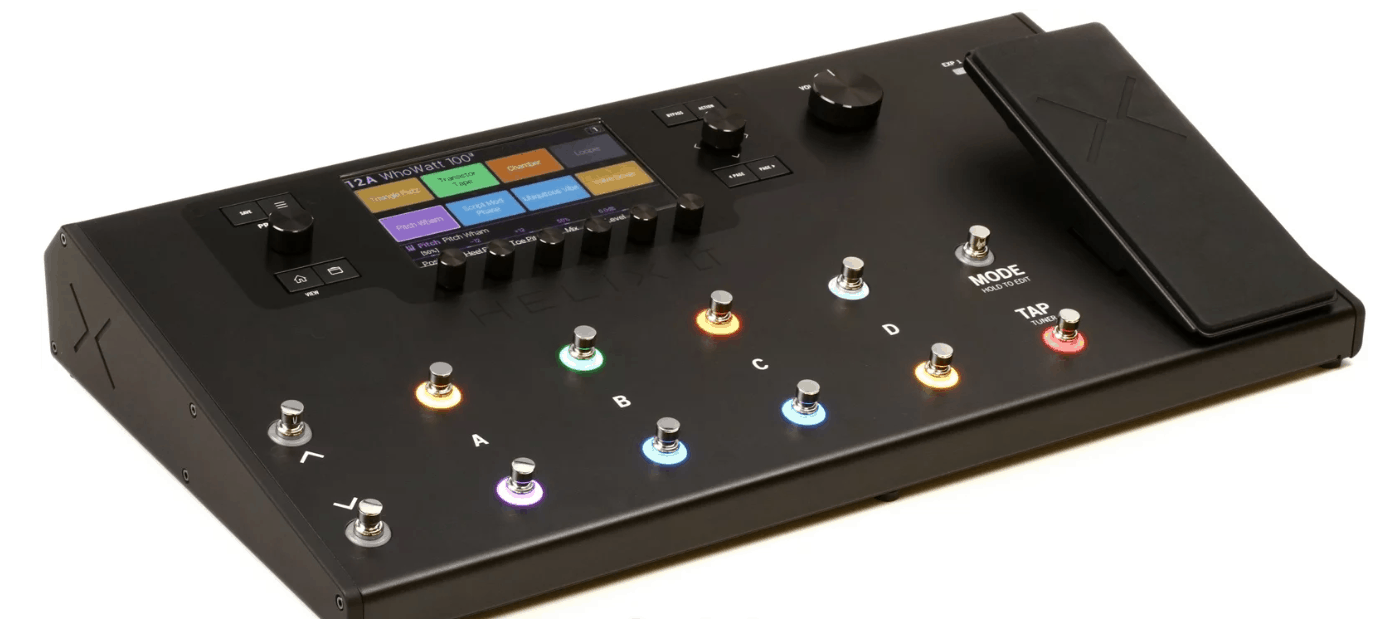 Summary
Although a few features have been removed, and there are fewer inputs and outputs, the Helix LT retains the original Helix processing capabilities.
The chassis has been lightened but doesn't affect the playability or durability of the rig. You still have 12 rugged, professional-quality stomps and a great expression pedal. Importantly, you have full access to the HX modeling engine, with 200+amp, cab, and effects onboard.
Pros
+ Solid multi-effects processor.
+ 12 editable stomps and an expression pedal.
+ 200+amp, cab, and effects.
+ Reasonable mix of I/O.
+ Intuitive interfacing.
+ FX Looper.
+ MIDI In/Out/Thru.
Cons
- Some people may prefer the extra send on the top-of-the-line Helix for extra external stomp pedals.
Why We Like It
It's essentially the Helix in a smaller package. You don't lose a lot. It maintains all the same tonal editing opportunities as the real deal, which is what makes it so sought after.
It offers a vast range of effects and lets you do away with your DIY style daisy-chained rigs. It operates efficiently, and we would daresay it's a little easier to use in this 'less-fancy' format.
If you liked the article, please leave your feedback.