Our Boss DS-1 Review
The Boss DS-1 Distortion Pedal is the best selling distortion pedal n the world. It is a staple on many guitar players' pedalboards and can be heard on some of the most iconic rock records of all time. Players such as Steve Vai, Kurt Cobain, Joe Satriani, and many more have relied on the Boss DS-1 do give them the tone that they needed.
It is a designed, durable distortion pedal that is cased in metal with a rubber stamp pad. Three knob controls give you the range of tone and level that will help you shape your sound to what you need. It is one of the best all-around distortion pedals you will find.
Specifications
• Simple design
• Sturdy metal casing
• Level, tone, and distortion knobs
• AC power connection
• 9-volt battery capable
• Pedalboard compatible
• Versatile tone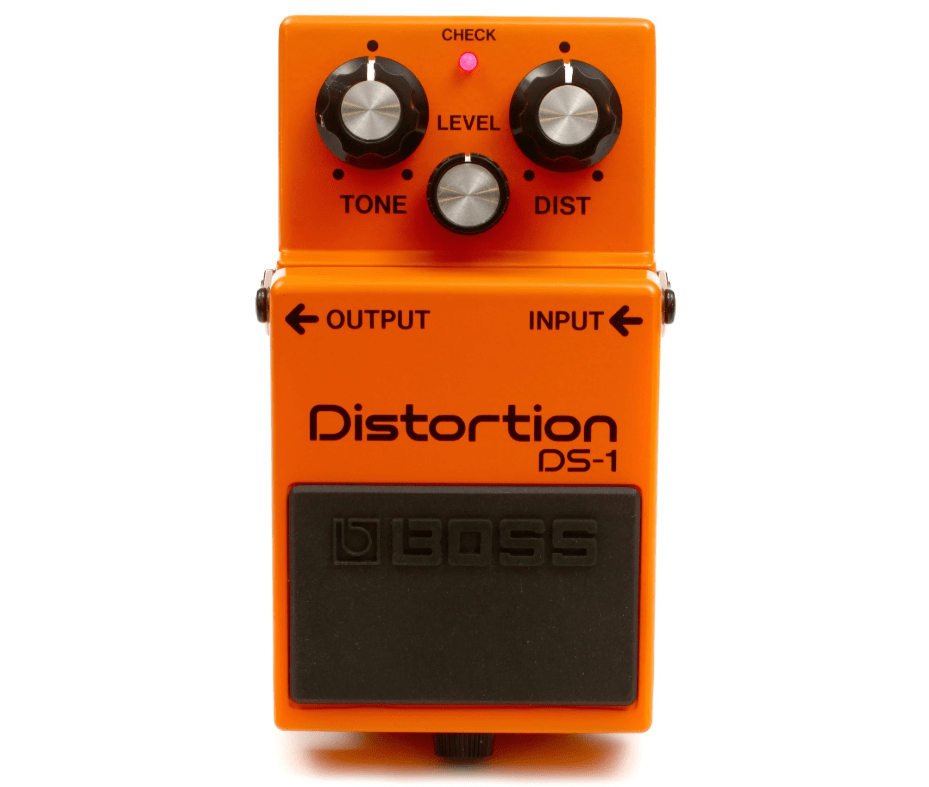 Summary
The Boss DS-1 distortion pedal is a go-to for many guitar players throughout the generations. If a guitar player doesn't own one, there is an extremely high probability that they have come across one at a friend's house, or seen one sitting upon the pedalboard of some of their favorite guitar players. It is a workhorse with durability and simplicity in mind. It works well with pretty much any ensemble, adding a touch of grit and fuzz to the mix.
It has a straightforward design. There is no learning curve with the DS-1. Only three knobs for your level, tone, and distortion give you the versatility you're looking for. Simply put, it allows you to choose the pedal's volume, the "openness" of the tone, and how much dirt you have on the go.
The tone has a little bit of range to it as well. You can take it from a smooth, cutting sound that would stand out among a mix, to a rough and dirty sludge-metal style. It can give you the kick you need, whether it's for a high-octane solo or a crunchy back end.
The tone takes on a little bit of a fuzz resemblance when turned up past 50% on the distortion knob. It was the distortion tone used in the song "Smells Like Teen Spirit" by Nirvana.
The Boss DS-1 is a ruggedly tough pedal that can handle a lot of kicks. It has a metal casing with a non-slip rubber pad that can handle a ton of over-excited stomps. It is designed to be able to handle years of abuse on and off stage. Boss knows how much wear and tear pedals take on for guitarists. They have made sure that the DS-1 can handle the abuse.
It is also extremely affordable. It may be one of the most affordable guitar pedals you'll come across. That may be a contributing factor as to why so many guitar players have relied on this pedal for their dirt. With so many specialized pedals running into the multiple hundreds of dollars, it is a sigh of relief to know that you don't have to empty your pocket to get a reliable, snarling guitar tone.
It takes a 9-volt battery but also has an input for an AC adapter for a pedalboard. The Boss DS-1 has a line in and a line out, with low impedance on a pedalboard chain to keep your signal healthy. It only weighs 15oz and measures approximately 3x5".
Pros
+ Versatile tone
+ Durable and robust construction
+ Simple design
+ Affordable
+ Good for lead and rhythm tones
Cons
- Not a super high range of tonal versatility
- You won't have a super original tone
Why We Like It
With the Boss DS-1, you get one of the most recognizable tones in music history. Knowing that you can closely emulate the same sounds that you've heard from bands like Nirvana, Foo Fighters, and Steve Vai gives you the acumen you need to start ripping away at the fretboard for hours.
It has a crunchy, dirty tone that can reach high-end cutting frequencies while also blending into the background if necessary. It doesn't take long to figure out how to work this pedal to your advantage. It only comes with a few knobs for you to work with and allows you to find your tone quickly.
It is tough enough to handle whatever is thrown its way on a pedalboard. It is steadily sturdy and durable, so you can stomp away song after song without worrying about causing this pedal any unwanted damage.
Affordability is a huge plus with this pedal as well. It doesn't cost as much as some competing pedals and still provides the level of versatility and grit you want from a distortion pedal.
This may be one of the best distortion pedal purchases you will make. It has become a staple for many fantastic guitar players over the years and never disappoints. It works great for a starter distortion pedal or adds an extra bit of meat to an existing pedalboard.
If you liked the article, please leave your feedback.