The Strymon BigSky Multidimensional Reverb Pedal is widely advertised as the last reverb pedal you will ever need to buy. It houses a vast assortment of reverb settings and features that allow you to explore many possibilities. With just the turn of a knob, you have access to twelve different reverb types.
Using the extensive editing capabilities, you can twist and turn these revers into your own unique creations. With the ability to save up to 300 presets on the pedal, you can quickly and easily access previously used sounds. It is a high-powered reverb pedal packed with some of the latest innovations in reverb technology.
Strymon BigSky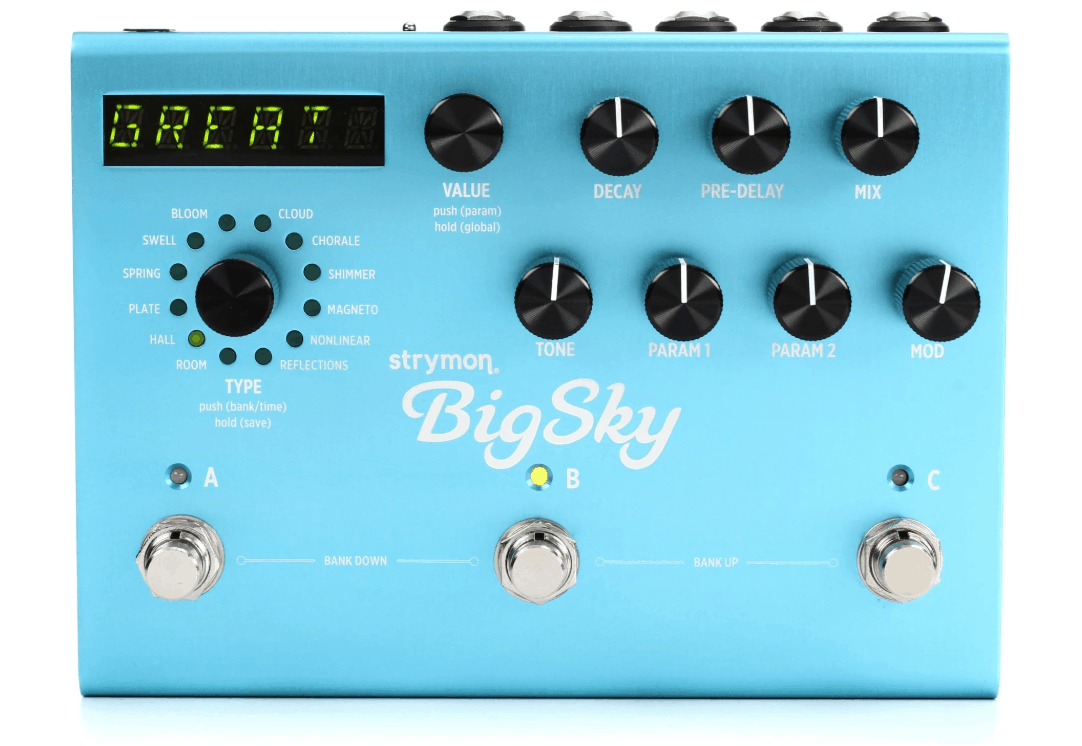 Summary
Many people love the StrymonBigSky Multidimensional reverb pedal. It's a little more pricey than your average pedal, but that's for a good reason. It can do more than any other reverb pedal that you've likely owned before.
A deep focus was put on the amount you can do with this reverb pedal. Along with 12 different types of reverbs, you can also edit them extensively to tweak them to your specific liking. All of the reverb setting you could imagine including hall, room, swell, ethereal shimmers, and warm springs. You will likely find any of the reverbs you have heard before within the programming of the BigSky Reverb Pedal.
To ensure that you get truly exceptional sound quality, a SHARC-DSP engine has been inputted to help give the pedal an added boost. With so many editing options for the reverbs, you can work to find the perfect tone that you are looking for. Luckily, you can store up to 300 presets of reverb settings within the pedal. They are all easily accessible with a couple of touches of the buttons.
It comes with a ton of inputs and outputs for you to plug in midi controllers, hook it up to your rig, or plugin multiple devices at once. It's useable for more than just guitar, as well. Drummers, singers, audio engineers, and musicians of all kinds have benefitted from the capability of the BigSky Pedal.
It also has a unique feature that many other pedals don't have. If you're a musician who plays live and needs to keep the sound going while you make a quick switch, it's got you covered. Using a sustain pad set, you can ring out a final note and hold the pad down to keep the note playing. Then you're free to switch keys, guitars, or make any necessary adjustments without allowing the room to go dead.
Strymon is a company that's dedicated to advancing the world of musical effects. They create high-quality, reliable pedals that musicians of all walks can enjoy. The quality you get with the Strymon BigSky Reverb Pedal is a cut above the competition. It has deep capabilities, vast possibilities, and compatibility with multiple devices to let your reverb run wild indeed.
Pros
+ 12 standard reverb sets
+ 300 savable presets
+ Stereo in/out
+ Versatile uses
+ Innovative and intuitive features
Cons
- A little pricey
- Slight learning curve
Why We Like It
This is a truly powerful reverb pedal. Along with having the standard settings you'll want, you can also edit them so profoundly that you can create a sound like none before. Whether you're playing for fun at home or working in the studio, it has all of the reverb settings you need. The 300 presets makes it incredibly easy to remark on one of your favorite edits as well.
If you're a studio musician, this may be the last reverb pedal you ever need to buy. It's packed with high-powered innovation and creativity that many other reverb pedals, or effects pedals, for that matter, are able to match up to. You can create any moody tone you want using the editing capabilities.
It's a little on the pricey side, but you get what you pay for. The quality of the sound is superior, and the construction and durability are not to be disregarded. It's compatible in a way that many guitar pedals are not. If you wanted to use it for vocals, drums, keyboards, or anything that you need a little reverb for, it would work perfectly. It has all the settings you could want and doesn't pull any punches.
It's aesthetically brilliant and will look great on any pedalboard. If you've been on the fence about picking up a BigSky Reverb pedal, now may be the time to hop off and take the plunge. Many who have decided to spend a little extra cash on this pedal have not regretted it. You can start to experience the difference of masterful reverb effects with this pedal. With The Strymon BigSky Multidimensional Reverb Pedal, the proof is in the pudding.
If you liked the article, please leave your feedback.