The task of purchasing an instrument for your child can be tough. You're never sure if you're getting the right one, or if the instrument comes with the right features. To help make everything less taxing, we're going to review the 8 best kids' guitars in 2023.
As these guitars are for kids, we're going to look at shorter scale models. There are two types of guitars for children out there; those that are genuinely smaller instruments, and those which ought to be considered toys.
A child's interest can change as quickly as the wind. No-one want to part with a large amont of money for something that might not even be played after a few months.
For this reason, we've endeavored to include a few cheap choices within the mix, as well as some impressive upgrades for children who are more more committed to their instruments.
At a glance:

Our top 3 picks
Our team's top 3 recommendations
Best Overall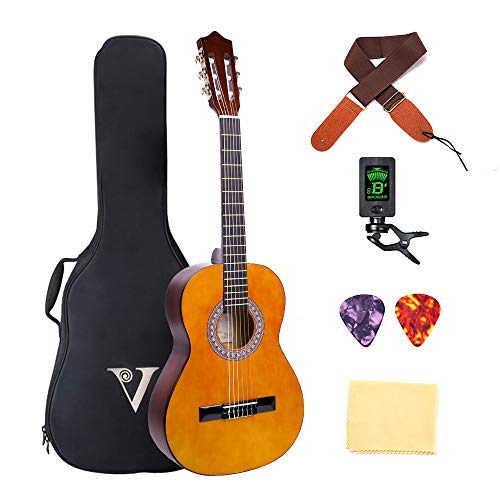 Classical Guitar 3/4 Size 36 inch Kids Guitar

Well-made.
Solid-top.
Starter kit.
Premium Quality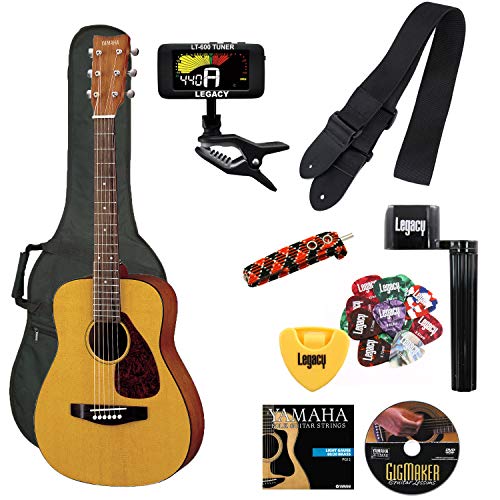 Yamaha JR1 FG Junior 3/4 Size Acoustic Guitar

Well-made.
Solid-top.
Starter kit.
Great value
Yamaha CGS102A Half-Size Classical Guitar

Well-made.
Solid-top.
Starter kit.
View The Best Kids Guitar Below
1. Classical Guitar 3/4 Size 36 inch Kids Guitar
This first selection is a starter kit, which really makes sense for a beginner as it comes with all the necessary accouterments. This particular package includes a waterproof guitar bag, a leather ended acoustic guitar strap, a guitar tuner, and two guitar picks.
It is as the name suggests a 36 inch (3/4 sized) classical guitar fitted with 6 nylon strings which are easier on fresh fingers.
It is nicely made and has a solid basswood top which is strong and has good natural resonance adding to the acoustics of the instruments. The back and side are also formed from basswood and the neck is made from maple as is the headstock and fretboard.
It features a familiar dreadnought shaping giving it curves in all the right places for added comfort when sat playing.
Pros:
+ Well-made.
+ Solid-top.
+ Starter kit.
Why We Liked It - It is a cheap and cheerful starter option which comes in just under the $100 mark and is also supplied with some very useful accessories that add great value to the product.
Determing Interest - Make sure your kid is truly interested in the guitar before ordering him or her the instrument. Kids have pretty short attention spans, so it's key to make sure they love guitar, otherwise it will never get played. A great instrument that requires less commitment for kids is the ukulele. This is an excellent prerequisite for guitar if you're unsure whether or not your kid is ready to commit.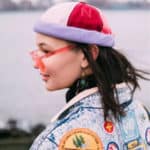 2. Yamaha JR1 FG Junior 3/4 Size Acoustic Guitar
Next up we have a junior model from the team at Yamaha which is slightly higher priced than our opening model but you are paying for the expertise behind its design.
It is once again a typical dreadnought shaped piece with a solid spruce top to provide an excellent ring for sustained notes. The back and sides are made of Meranti and the Nato neck sports a smooth Indian rosewood fingerboard which makes sliding about a breeze.
It is beautifully made and plays really well, despite the cheaper woods than found on a premium Yamaha guitar. It has strong internal bracing and a pretty pick-guard.
It is again a ¾ sized option with a smaller body depth and nut width for smaller players. It is sold with a Legacy bundle that includes everything you could possibly want; a good quality gig-bag, a clip-on tuner, capo, guitar strap, peg winder, a heap of Legacy picks, Yamaha folk guitar strings, and even an instructional DVD to get them going.
Pros:
+ ¾ size body.
+ Strong bracing.
+ Solid-top.
+ Valuable beginners package.
Why We Liked It - It is durably made, the spruce has good resonance, the nato is a strong and inexpensive hardwood neck choice and the accessories beef up its value for money. The inclusion of a DVD will help learners tremendously.
3. Yamaha CGS102A Half-Size Classical Guitar
Next up another Yamaha option this time a classical guitar rather than an acoustic. It is actually a half-sized classical guitar which is built using the same wood choices as the model above. It features a Meranti back and sides, spruce top, and rosewood covered finger-board.
It is from the companies well-received CG series line of starter guitars and is once again very well-constructed with a very affordable price-tag.
It is a stand-alone bare bone junior classical guitar option which is ideal for those who aren't too fussed about accessories or need a quick replacement guitar that is a little more durable than many on the market.
It doesn't have any fancy inlays or other aesthetic details but it is a solid choice in terms of sound and quality.
It has rich tones and a very comfortable to hold neck ideal for younger players.
Pros:
+ Bare bones option.
+ Comfy neck.
+ Great range of tones.
Why We Liked It - It is another great classical option priced competitively against our opening product and whilst it doesn't come with a bundle of goodies it is exceptionally well put-together and the spruce makes for a better sounding board than the basswood in our opinion.
Online Resources - If you can't afford guitar lessons or aren't sure about signing your child up right away, experiment with online tutorials. There is plenty of free content out there that will help your kid iron out the basics. You can also print out free sheet music and even lesson plans online.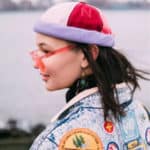 4. LAGRIMA Acoustic Guitar Beginners
This next one is an official steel strung guitar, steel being the modern go to for acoustic guitars thanks to its brighter tones and better natural amplification. Whilst steel isn't usually an easy choice for a beginner to start their guitar journey, this could make for an awesome transitional model for those who have practiced on a nylon version and are ready to up their game.
It is well-manufactured and again sports dreadnought curves for a comfortable hold. They come in a range of colors we are particularly swung by the blue/black model. It is a 38" acoustic with lowered action for easy play, they do make smaller-scale versions but this would be a good size for teens.
It is constructed from lime wood which helps keep the production costs minimal, resulting in a real bargain product. The neck is very straight and has a comfortable width, the tuning machines are metal with ABS keys, the metallic gears help to keep the tuning precise and hold the tension more effectively.
It comes with a lightweight gig-bag, strap, picks, and old-school pitch pipe for helping to tune it.
Pros:
+ Real steel strung acoustic.
+ Wooden construction.
+ Range of accessories.
Why We Liked It - It is a nicely thought out budget package, a steel strung option might not be the best for young users but it has much better tonality and superb sustain and it provides unbeatable value for money.
5. Hohner HAG250P 1/2 Sized Classical Guitar
Another half-sized classical guitar to consider is this little treat from Hohner. It is aimed at very young learners and it does have very easy action. The neck and nut width is perfect making it idyllic for toddlers as the advertising suggests.
That said, it is a fab junior model, it is well-made and has great intonation which is something that can often go awry in a kids scale model.
It is built by hand with an Agathis top, back, and sides. It comes with very light gauge nylon strings to give little fingers an easier time learning and has a complimentary songbook.
Pros:
+ Half sized classical guitar.
+ Great intonation.
+ Affordably priced.
Why We Liked It - It is a great miniature guitar for young budding learners that is precise with its frets and intonation so they really can learn to play. It is exceptionally well-made and harbors good internal bracing to help deal with the bumps it will likely be exposed to.
6. Kid Beginner Guitar Classical Guitar
Another half-sized classical option which won't set you back a lot of cash is this CN Blue beginner model which has a similar style to the Hohner and comes with a bonus carry case.
It measures 30" rendering it perfect for younger players, it has the same dreadnought body shape and features pretty inlay details. It is well constructed from basswood which has good natural acoustics and the body depth is once again reduced compared to a typical short scale model.
The top is solid making it an excellent sounding board, the neck it slim and made from maple which is suitably straight and hardy enough to cope under the string tension. Though the rest of the guitar is scaled in size the head-stock features full-size tuning machines with metal gears ensuring it keeps intonation and tension to the best of its ability.
It features 18 frets and the fingerboard is made with a top quality technical wood which is ideal for slides and quick motion.
Pros:
+ Well-made.
+ Solid basswood top.
+ Great tuning hardware.
Why We Liked It - It's well-crafted and the company have made some great design decisions to ensure that it is a functioning instrument rather than just a toy. It provides some pretty rich tones and will kindle any kids desire to continue honing their skills.
7. Smartxchoices Acoustic Guitar for Starter
This next guitar we suspect is manufactured on the same lines as the Lagrima model we have highlighted as it differs very little to the model and sells with the same starter bundle of accessories including the manual pitch-pipe tuner, which we are sure kids are going to enjoy.
It is however listed for ever so slightly less than than the Lagrima guitar so if money is tight it could be an ideal purchase to help shave off a few bucks.
To jog your memories it is 38" steel-strung acoustic, described only as being all wood in construction but as mentioned, we have a sneaking suspicion it is limewood like its double.
The neck is maple and has a comfortable dimension in hand, the fretboard is uncovered and it features 19 frets to play with.
Pros:
+ 38" ideal for older kids.
+ 19 frets.
+ Good budget steel-string guitar.
Why We Liked It - It is great to look at and appears very well made and pretty cheap for a steel string option, it has a larger size and just manages to undercut its competitors.
8. Pink Wood Guitar with Case and Accessories
Our ultimate entry up for consideration is, of course, a pink option for all the parents of the girly-girls out there that have to have a guitar that matches their digs.
Though there are a plethora of pink options out there and the Lagrima model is actually also available in dark pink, this pale baby doll version really fits the bill as it comes with a matching pink carry case to store it in and take it to grandmas.
It is well made and crafted from unspecified woods, the top is solid and it has good internal bracing. It features nylon strings the lower 3 are metal wound, it is a little trickier to tune with its smaller pegs but sounds great.
It measures 30 inches and again has a slimmer body depth ideal for smaller statures. They also make a 38" version if you are looking for an older child who still prefers everything pink.
Pros:
+ Pink glossy finish.
+ All wood construction.
+ Good tone, vibrant trebles
Why We Liked It - It is the perfect gift for a budding musical princess, The bag is very cute and it is also well sewn with good quality zips and a tailored fit, so it's not just a gimmick.
Kids Guitars Buyers Guide
When you are shopping for a great children's guitar it is worth sticking to a major brand because you can trust it will be a worthy instrument. Some junior instruments out there are in fact imitation toys for imaginative play and will only serve as such, a play kitchen cannot cook, a play vacuum does not clean and so neither will a toy guitar play properly.
Granted they will serve up some sound but they typically aren't constructed accurately for tuning, some won't even feature the 6 necessary strings and the fret spacing is generally just for aesthetics.
If your child truly wants to learn to play they will need the genuine article just in a much smaller form.
How much should I spend on a kids guitar?
It is a tough one to weigh up as many kids go through phases and you don't want to invest a lot in a hobby that will never develop.
Fortunately, as today's reviews will have demonstrated there are a tonne of options out there with sensible price-tags but beware that some cheap kids guitars are poorly constructed and sound terrible.
Leading brands often have bigger profit margins on their popular models and are able to sink a little more into developing more accessibly priced.
Companies such as Yamaha pride themselves on their student and junior models and are actually responsible for sparking the interests in many of today's adult musicians who will have probably started on a Yamaha instrument as they are the worlds largest supplier of educational instruments.
There are some very capable children's models which are literally smaller functioning models of the real McCoy which provide a suitably sized solution for kids to really learn on.
Obviously the more you can cough up the better the product will be but it might be an idea to start with something cheaper and upgrade once your child shows some dedication and determination.
If you buy cheap children's guitar you shouldn't expect too much and there are many things consider before you buy.
Size
It goes without saying you will probably need a scale length guitar, but there are many different scale versions out there for ages 6 and under we would suggest sticking to a half-size model around the 30" mark with at least 16 frets to explore.
If your child is older a ¾ sized model might be a better idea as the frets on a half-sized model can be particularly fiddly once you venture further up the neck.
If you are shopping for a classical guitar for a young teenager you might want to look at a 7/8 size with slightly smaller scale length as a full-size classical guitar for a beginner with smaller hands can be quite arduous to learn on.
What is the difference between an acoustic and a classical guitar?
Classical guitars always have nylon strings and acoustics are usually strung with steel strings, although this is not always the case for junior models as steel strings are tough of tiny fingers.
The lower (bass) stings feature metallic winding but are still classified as nylon strings.
To support the different kinds of tension their strings have their internal support structures are also very different. Steel creates a much more taught tension so an acoustic guitar needs stronger bracing.
Classical guitars don't have fret markers, they usually have a wider neck and the strings are further apart. Their tuning pegs are normally perpendicular whereas an acoustic will have machinery mounted parallel to their fretboard.
They are each very different to play, each is worn and held differently a classical guitar is played with your bare fingers or fingernails and an acoustic can be played with a pick (plectrum) as well.
What to Look For When Buying a Kids Guitar?
No matter the budget you have in mind or the size and type of guitar you are searching for the woods used should be good quality tonewoods.
Some children's guitars have synthetic bodies and whilst a number of materials are more robust and better at withstanding damage the sound can be sacrificed.
Most of those we reviewed here today state that they have solid tops but at the lower price region, this may actually be laminate, which doesn't reverberate as well as a true solid top but they can withstand the elements better and cope with a bit more rough-handling which is highly likely with a younger owner.
The necks must always be constructed from a hardwood rather than a softwood as they will be under a lot of pressure once the strings are tightened, if the wood has any bends or faults then it will buckle under the pressure and inevitably break.
One of the most important parts is the tuning hardware of the guitar. To have a playable guitar they need to have good incremental positions they need to grip the strings tightly and be durably made. Ideally, you want metal gears and not just pegs.
If you are buying for a complete beginner it might be worth saving the time and effort by opting for a bundle buys but make sure the additional items add sufficient value to the product if the asking price is high.
Conclusion
Buying a guitar for your child is a truly special gift, it could be the start of a lifelong hobby or even a career, everyone has to start somewhere.
You shouldn't feel bad if your budget limits what you can realistically afford a child with true interest and real potential will strive for a better model and saving up for a step-up is a good life lesson.
If you know how to spot a good kids guitar then finding a suitable model shouldn't be too difficult.
Avoid non-branded items and look for quality manufacturing and durable hardwood necks with top-notch tuning hardware.
We suggest a string replacement to really get the best sound out of it as they are typically strung with the cheapest stock option.
Expert Tip
We have previously reviewed the 10 best nylon guitar strings if you fancy taking a quick look at your options.
Did you Know
Some adults play scale guitars, Taylor Swift famously plays a smaller model the Baby Taylor actually retails for 3 times the asking price of some of those we have reviewed here today but it might make for an awesome upgrade and incentive if your child decides to stick at it.
If you've enjoyed this review by Music Critic, please leave a positive rating:
Full Body Guitars - You don't necessarily have to pick out a guitar made specifically for kids. Many kids adjust to full body guitars without issue, and are then able to grow with their instrument. In addition, you can also find miniature sized guitars for adults that don't sacrifice build or sound quality.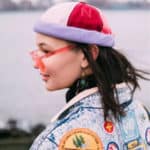 [vc_separator