Having the best acoustic-electric guitar offers you the ability to perform amplified and unplugged. It's an instrument that can be used for a huge range of musical genres, and it's an important piece of equipment that any serious guitarist needs to have in their arsenal.
Often, a budding guitarist will learn on either an electric or a standard acoustic guitar, meaning that an acoustic-electric can be an unknown quantity. There are crucial features that you need to be aware of with an instrument of this type, and in this article, you'll discover exactly what they are.
On a budget? Check out the top acoustic-electric guitars under $1000 here. Perhaps you're a beginner? If so - check out the top electro-acoustic guitars under 300 bucks! Want something more luxurious? Try an acoustic electric for under 700 bucks.
All of the instruments on our top ten list deliver a huge amount of quality. We've also covered the whole of the market, so you'll find budget acoustic electrics, high-end models, and everything in between. Whatever your needs, there's sure to be a product on our list that ticks all your boxes.
Let's move onto the article so that you can find your future, beloved ax.
At a glance:

Our top 3 picks
Our team's top 3 recommendations
Best Overall
Washburn EA15ITB

High-Grade Materials
Good Projection
Low Price
Unique Looks
Warm Tone
Premium Quality
Gretsch G9520E

High-Grade Materials
Good Projection
Low Price
Unique Looks
Warm Tone
Great value
Baby Taylor BTe-Koa Dreadnought Acoustic-Electric Guitar

High-Grade Materials
Good Projection
Low Price
Unique Looks
Warm Tone
What are the Top Acoustic-Electric Guitars you can Buy in 2023?
Fans of MTV's Unplugged specials will likely recognize this acoustic-electric guitar from Washburn. It's an affordable model from the Festival Series, which was the go-to choice for many who performed on MTV's famous acoustic shows in the 90s.
This product features a mini jumbo cutaway design that provides you with good projection when used unplugged. It's been made from high-grade materials, with it having a basswood top, back, and neck. It also has a Sitka spruce scalloped bracing.
This guitar offers an impressive tone, especially when the reasonable price is taken into account. When played without amplification, it offers richness and warmth, and when amped up, it also sounds clear, crisp, and free from distortion.
In terms of looks, this product delivers too. It features a lovely 'Iced Tea Burst' color scheme, which gives it a different look to a standard, natural acoustic.
Pros:
+ High-Grade Materials
+ Good Projection
+ Low Price
+ Unique Looks
+ Warm Tone
Why We Liked It - It's an affordable product that offers a good sound whether unplugged or amplified. We also are big fans of its gorgeous looks.
Finger Strength -If you're just transitioning from a classical or nylon guitar, it may take a while for you to build up finger strength for the thicker gauge of strings associated with acoustic electric guitars. Don't get discouraged! Over time, your fingertips will naturally acclimate. Additionally, don't forget to stretch before and after practicing sessions to protect yourself from fatigue.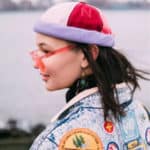 Next up is a lovely product from Gretsch. This six-string, acoustic-electric guitar is a popular model with Gretsch fans, and it's easy to see why.
It's important to mention first that this guitar is surprisingly low-priced. It's rare to find an instrument of this quality in the same price range.
But why is it such a good product?
First, it has been constructed from exceptional materials. It's got a basswood top, body, and back, as well as a nato neck and walnut fingerboard. These materials translate into a wonderful tone. There's a richness and depth to the tone that is easy to fall in love with.
Next, it is a beautiful instrument in terms of looks. It has a classic Gretsch look to it, which is both crisp and understated, while at the same time being unarguably cool.
Another trademark of Gretsch is outstanding craftsmanship. There's no denying that it lives up to its reputation in this regard too.
Pros:
+ Awesome Looks
+ Rich Tone
+ Exceptional Value
+ Top Quality Materials
+ Solid Craftsmanship
Why We Liked It - It's a gorgeous guitar to look at, listen to, and play, while it also offers excellent value for money.
3. Baby Taylor BTe-Koa Dreadnought Acoustic-Electric Guitar
Seasoned guitarists will likely be aware of the Baby Taylor series of guitars. These small-bodied guitars are ideal for taking on the road, as well as being more user-friendly for children or adults with smaller hands. This is an acoustic-electric Baby Taylor that delivers all the top features that you'd expect from this series.
When you get a guitar from Taylor, then you're guaranteed exceptional tone and sound. That's exactly what this product offers too. The warm, rich tone is primarily down to the materials that the guitar is composed of. It's got a mahogany top, a Koa body and back, as well as a Sapele wood neck.
The Baby Taylor is a small-scale guitar, which means that it has 19 frets and a scale length of 22.75".
It has an integrated preamp, as well as a useful in-built tuner. These components function effectively, with the product sounding just as good when it's plugged in as it is unplugged.
Pros:
+ Small Scale
+ Koa Body and Back
+ Premium Electronics
+ Includes Gig Bag
+ Reliable Brand
Why We Liked It - It's the perfect acoustic-electric for smaller guitarists or for anyone wanting an easy-to-carry, portable product that sounds amazing.
For Beginners - If you're still figuring out the basics, it may be worth starting with a nylon guitar instead. These guitars are easier on your fingers and oftentimes more lightweight than heftier acoustic electric guitars. Don't forget that you can always buy an electric pickup to amplify the sound from any guitar. Once you've nailed down the basics, it may be time to upgrade to an acoustic electric option.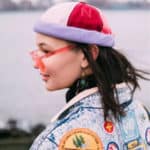 4. Takamine GN93CE-NAT Nex
If you're making the crossover from electric to acoustic, then Takamine might be a brand you've not come across before. It is, however, a reliable manufacturer that produces quality instruments with impeccable build quality. The GN93CE-NAT is a mid-range, electric acoustic that features some lovely touches, such as the rosewood fretboard.
This model features Takamine's NEX cutaway guitar body. It also has a slimline, mahogany neck with a 12"-radius, rosewood fretboard. The result is an acoustic that plays smoothly and is very comfortable, even when playing the high frets. We think that it's ideal for virtuosos. Takamine has also integrated its own preamp system into this instrument, which includes a three-band EQ, gain controls, a mid-contour switch, a notch filter, and an EQ bypass.
Of course, it's never a good idea to focus on looks when it comes to an instrument, as there are far more important features to consider first. That being said, this is a gorgeous guitar. The rosewood fretboard is just stunning and perfectly combines with the mahogany neck.
Pros:
+ Easy to play
+ Versatile electronics
+ Beautiful
Why We Liked It - It's a beautiful instrument that is a dream to play. It's loaded with lots of useful features, including the NEX body and neck, which aids playability. The sound is perfectly suitable for live performances. We were also impressed by the highly afforable price tag.
5. Taylor 214ce Deluxe Grand Auditorium
No list is complete without a Taylor on it. Our choice today is the 214CE Deluxe Grand Auditorium with a cutaway neck. It offers a huge amount of power when it isn't amplified, as well as offering clarity when plugged into an amp.
It's a little smaller than the typical dreadnought size that we've covered several times on our list. That's no bad thing. It makes the instrument easier to maneuver, as well as allowing it to be easier to transport. It features 'Expression' electronics, which provide you with a lot of customization options when it comes to the tone.
Let's move onto that tone and what it sounds like. Above all else, the advantage of this instrument is how bright it is. You don't get the same boom or warmth of a dreadnought. Instead, it is crisp and well-defined.
This is a Taylor guitar, which means you get flawless build quality. It's a workhorse, designed to be robust enough to withstand life on the road. It isn't cheap, but it's worth paying extra for in the long run, as this is a guitar that's built to last.
Pros:
+ Robust design
+ Bright tone with plenty of presence
+ Great quality ebony fretboard
Why We Liked It - We very much like the body and neck of this guitar, which offers great playability. If you're looking for something a little more manageable than a full-sized dreadnought, then this would be a great choice. In terms of value-for-money, then it ticks the right boxes. It's simply a reliable, versatile guitar that will last you a long time.
6. Gibson Hummingbird PRO
Next up is another legendary guitar. The Gibson Hummingbird Pro has been around in some form since 1962. Only the J-200 has been made by Gibson for a longer period. Just like that instrument, this one has been used by iconic guitarists over the years, and it has also featured on some of the most important recordings over the last sixty years.
The Hummingbird Pro is a distinctive, square shoulder, dreadnought acoustic-electric. The lack of cutaway can create some playability disadvantages, but that is counteracted by the huge amount of tonal options that this instrument offers. Whatever sound you want to get out of the Hummingbird, you can. The excellent L.R. Baggs Element pickup does a great job of translating that tone into an electrical signal.
The Hummingbird has always been a great-looking instrument, and the most modern incarnation doesn't disappoint in this regard too. There are a variety of different finishes you can choose for the body, but it's the beautiful pickguard with a hummingbird design that steals the show. This is all backed up by unparalleled build quality and top-end hardware.
Pros:
+ Legendary
+ Beautiful looks
+ Unbeatable full-range tone
Why We Liked It - As with Gibson's other premium products, this is not a cheap electric acoustic, but you do get exactly what you pay for. One of the very best and most legendary acoustics with an electric edge. It's going to be the guitar of choice for real enthusiasts and of course touring professionals who will settle for nothing less than the best. If you are on a budget, try one of these cheaper electric guitars.
If you don't want to break the bank, but you're a stickler for quality, then Yamaha is always a safe choice. With this in mind, we've put Yamaha's FGX820 on our list, which is a solid top, cutaway dreadnought that offers a wide array of features that make it a crowd-pleaser.
For an affordable price, you get a solid spruce top, mahogany back and sides, and a rosewood fingerboard with a matching bridge, which makes it ideal for fingerpicking. The bracing on the inside of the body is scalloped for improved tonal performance, and which we found to work very nicely indeed. There's also a System 66 preamp system with 3-band EQ and a built-in tuner. You get quality across the board, making it a superb, value-for-money pick.
This model is available in a huge range of colors, so there's almost certainly a version that will suit your taste. For those who prefer the natural look, then there's even a lovely model for you too. Whatever one you choose, you are assured of a gorgeous guitar that includes superb build quality and finishing.
Pros:
+ Great Yamaha build quality
+ Scalloped braces give a good tonal range
+ Excellent value
Why We Liked It - If you're looking for an electric acoustic guitar that's great all round, and doesn't have a large price tag, then this Yamaha has to to be considered. It has all the features you'd expect from a solid, mid-range choice, with the addition of quality hardware, and nice touches like the scalloped x-braces. For those interested in Yamaha's FG series, you can always check out some of the other models, such as the Yamaha FGX700SC.
It's time for another Epiphone. This one is the PR5-E, which is one of Epiphone's most affordable choices, and it's certainly an interesting option. The PR5-E has been around for more than two decades now, and it's still just as popular as when it first hit the market, which is a testament to how good it is.
The first thing that you'll notice is that the PR5-E is a florentine style guitar. This means that it has a unique cutaway that will certainly catch some admiring glances. It also gives you easy access to the upper frets without any cost of resonance. We're big fans of the tone that it delivers, especially when considering how affordable this slimline guitar is. It is an incredible-sounding instrument.
All of the hardware is gold on this model, which adds to its looks. Instead of the components being licensed, they are instead designed and made by Epiphone, and we found these components to be of good quality. You certainly don't need to worry about it losing tune. The eSonic preamp and NanoFlex pickup system are both excellent and help the guitar to come alive.
Pros:
+ Slimline body will suit many guitarists
+ Florentine cutaway for playability and tone
+ Great price tag
Why We Liked It - Not everyone will want a slimline guitar, but if it's what you're looking for, then the PR5-E would be a solid choice, in our opinion. It's got everything you might need from an affordable option, including quality hardware and understated, yet eye-pleasing looks.
9. Paul Reed Smith A15AL SE Angelus
It's always great to see a signature guitar make its way into reviews like this one, and we've decided that the excellent A15AL SE Angelus is the one to include. This is Alex Lifeson's signature model. He is part of the legendary Canadian prog-rock band Rush, so you just know it's going to be good.
There are more expensive versions of the Alex Lifeson signature model available, but the SE that we've chosen has the best balance of price and specifications, in our opinion. This is a firmly mid-range guitar, and it offers a lot of value for money. It's a slightly thinner body style, but with PRS's traditional acoustic hybrid shape. It comes with all the high-quality hardware and electronics that you'd expect from PRS.
Of course, as with most signature guitars, it's the looks that steal the show. Like all style icons, it is beautiful without being gaudy or showy. It also includes the iconic, diving bird inlays that PRS is famous for. It doesn't just look good too. The sound is gorgeous, with a crispness that lends itself to technical fingerpicking, which makes sense considering Lifeson's name is attached to it.
If we had one criticism, it is that the slimmer body means that the guitar isn't that loud when it's not plugged into an amp. If you're buying it to be amplified, however, then that shouldn't be an issue.
Pros:
+ Beautifully crafted
+ Endorsed by Alex Lifeson of Rush
+ Very attractive price
Why We Liked It - Guitarists often have a love hate relationship with signature models, but we think that the SE Angelus is a stunning guitar, regardless of its association with Alex Lifeson. It's got a reasonable price tag, offers some great design and hardware features, and it comes with the seal of approval from one of rock's most accomplished guitarists.
10. Fender Tim Armstrong Hellcat
We finish with another signature model, but this one, unlike the Lifeson signature, is certainly not for the faint-hearted when it comes to its vivid color scheme. If, however, you look at the blue finish and are intrigued, then you certainly won't be disappointed when you hear how it sounds.
The guitar is Fender's Hellcat model that has been redesigned in conjunction with Tim Armstrong from punk rockers, Rancid. As you can guess from the name, it's an in-your-face guitar, featuring a dar, solid mahogany top, and a tortoiseshell pickguard, complete with skulls on the 12th fret and spooky cats on the 3rd, 5th, 7th, and 9th. For hard rockers, punks, and metalheads, this product will not look out of place strapped over your shoulders.
Despite its aggressive looks, this guitar features a balanced tone that sounds just as good unplugged as amplified. The tonal range makes it suitable for many more genres than its looks might suggest. A key advantage of this product is its neck, which allows for easy playability. You're also promised a quick, smooth action straight out of the box.
Perhaps the most surprising aspect of this versatile, intriguing instrument is its price. Often, signature models are sold at a premium, meaning that you pay far more than you should do, simply because of the autograph on the headstock. That's not the case with this product. It's an absolute bargain and one that we can wholeheartedly recommend.
Pros:
+ Aggressive looks
+ Big sound
+ Very attractive price
Why We Liked It - Given the price, the hardware, and the attention to detail from Fender, this would undoubtedly be a contender for one of the best all-round choices on our list. There aren't many other options that come from a premium manufacturer and give you all this for such a reasonable price. The looks, however, will divide opinion. If you're a fan of how it looks, then you've found your next guitar.
Battery Testing - Before heading out to a performance, don't forget to test the battery! Also, be sure to keep a couple of batteries for your guitar on hand to avoid being caught without power. This simple tip can save you a lot of embarrassment in the long run and will help you come off as a more professional musician.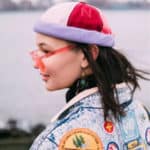 Acoustic-Electric Guitar Buyers Guide
What are Acoustic-Electric Guitars?
Let's begin with that important question. Quite simply, it is an acoustic guitar with slight modifications so that it can be plugged into a power amp. As a result, there is a huge volume boost that makes it ideal for use for live performances alone or with a band. It also means that, as the signal becomes electric, it can be altered with effects pedals and other equipment. Sometimes, because of this, electric acoustics are used when recording in a studio, though a microphone is often used too.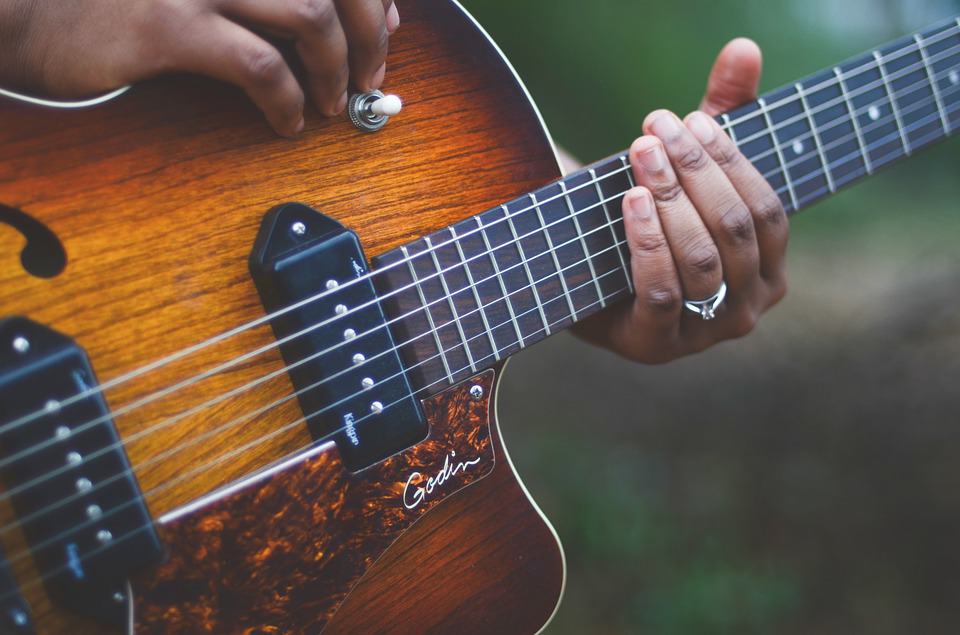 It's important to not get confused between acoustic-electric guitars and semi-acoustic electric guitars.
The latter is an electric guitar that has hollows cut into the body for a different sounding tone. Besides this feature, it is much the same as a normal electric guitar (click here for the top 10 under $1000). You may wish to invest in a capo for your acoustic-electric guitar.
How do Acoustic-Electric Guitars Work?
The question "How do electric acoustic guitars work?" is one that's asked a lot. Fortunately, it's very simple to answer, as it is very similar to a standard acoustic guitar. There are two main additional components to an electric acoustic that you won't find on a normal acoustic guitar, which are the pickup and the preamp.
The acoustic pickup system - which is usually a 'piezoelectric' or 'piezo' - will sit just under the saddle. It picks up the vibrations from the guitar strings as they are played. Unlike an electric guitar amp, this works with non-metal, acoustic guitar strings, because magnets are not used.
The electrical output from a piezo pickup is very weak, which is why acoustic electrics will always include a preamp. This component boosts the signal into a much stronger electrical one that can go straight into the amp or through effects units.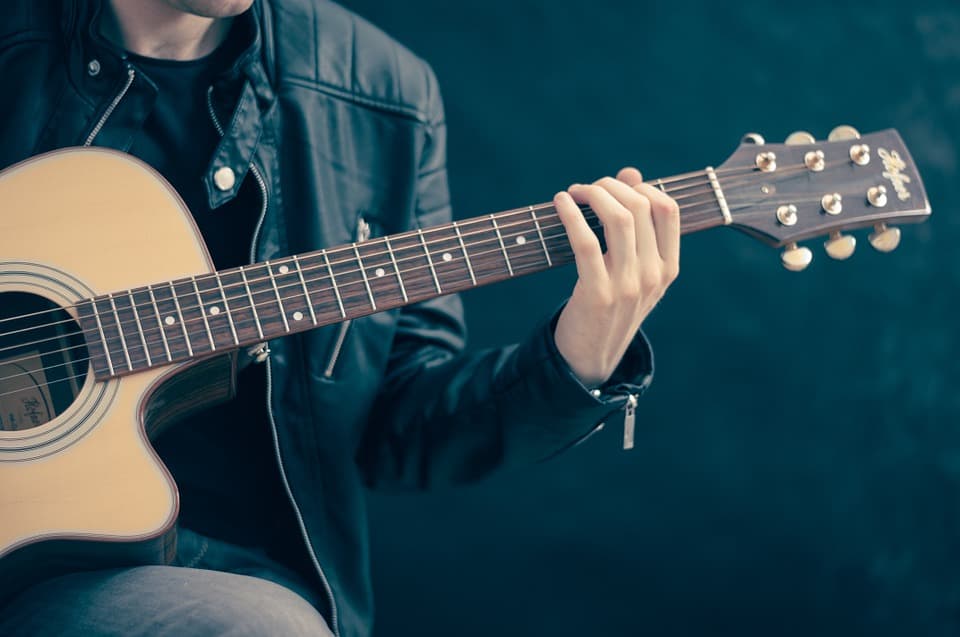 It's as simple as that. In practice, you'll play an electric acoustic just the same as you would a normal acoustic. When you want to amplify it with its piezo pickups, you plug it in and switch on the preamp.
There are also usually EQ controls you can change too.
It's also worth noting here that the preamp requires power to work, which generally comes from a small battery, though mains-powered adapters are sometimes available.
It is also possible to convert a normal acoustic into an electro-acoustic. It only requires a bit of hard work and the right components. There are also clip-on pickups that you can use very easily with any acoustic guitar. They attach to the soundhole and turn the sound picked up into an electric current. The quality is much poorer than you get from a guitar that features the components integrated into it and has also been designed to be amplified, as well as played unplugged.
For more information on how guitars work read this study.
Do Electric-Acoustic Guitars need an Amp?
The short answer is 'no'. You don't need an amplifier to make an electric acoustic guitar work. You can use one quite easily without. Of course, it will be at a lower volume, and you'll have no control over effects.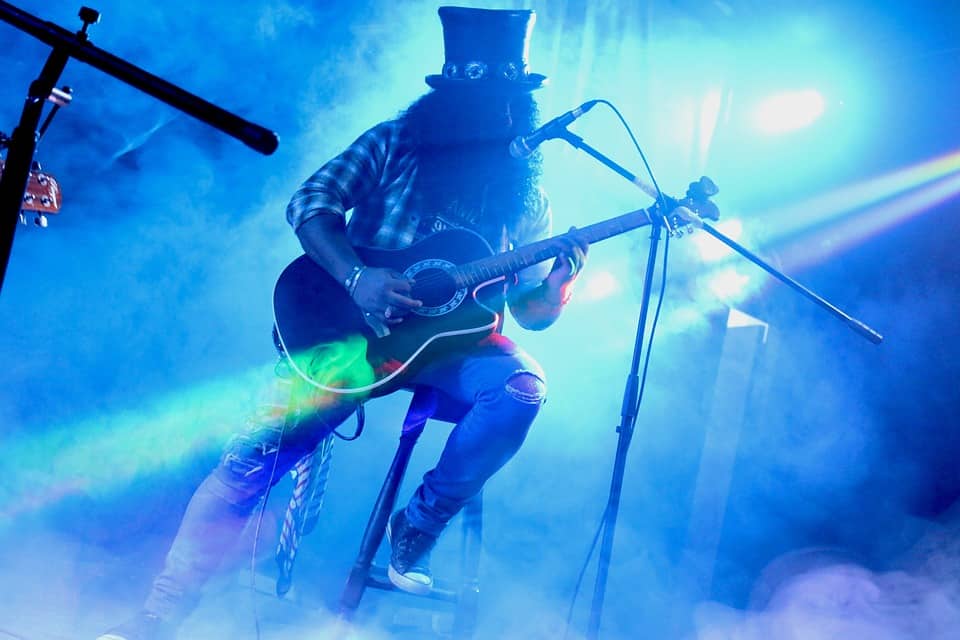 It's also worth noting that lots of electro-acoustics have slimmer bodies or other modifications that might reduce the tonal quality or volume control when not plugged in.
You should bear this in mind if you think you might often be playing it unplugged.
Naturally, you'll see that a lot of the top acoustic-electric guitars are almost identical to their acoustic counterparts, and work just the same when not plugged in and switched on.
We've covered lots of the important points that you need to think about when buying an electric acoustic already in our reviews, as well as answered many of the frequently asked questions, but we're going to go through some of them in more detail here, to make sure that you're in the optimal position to make a wise purchase.
Body Style & Materials
The body style and the materials the guitar is made from are the two features that will have the biggest effect on the way an acoustic guitar sounds. Whereas a pickup in an electric guitar will contribute to the shape of the tone, in an electro-acoustic, this shouldn't be the case.
Let's start with the body style. This is quite simply the shape of the guitar's body, and there are potentially a lot of them to consider. As a general rule, the larger the body, the more resonant it will be, giving it a deeper, richer tone. This is clear for things like the hummingbird, with the big, square shoulders, and the dreadnought style body, which is the largest body type you'll encounter. The drawback of larger bodies, of course, is that they're more cumbersome and less ergonomic.
As a result, many people will opt for a slimline body, which means the body isn't as deep, even if it's a full-sized dreadnought shape. Alternatively, there are smaller designs - like the grand auditorium cutaway - to choose from. With premium guitars, you're unlikely to be able to tell the difference between small changes in size.
Now, the size of the body isn't the only thing to consider. The cutaway is equally as important. A cutaway makes it easier for you to access the higher frets because you can place your hand directly below them. The downside is that a cutaway will reduce resonance because there's less body beside the neck. It's a tradeoff that many guitarists are willing to make so that they can be able to play higher frets more easily.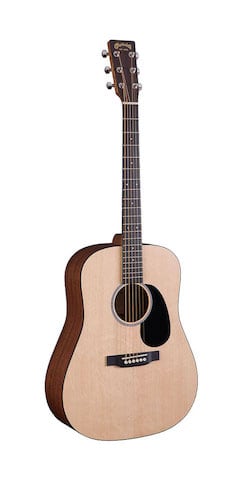 Materials are the next important thing to look at. The key thing to remember is that for good tone, solid wood is generally preferred, though laminated wood - where thin layers of wood are layered on top of one another - is cheaper.
With premium guitars, all the wood is likely to be solid. However, most people accept that it's mainly the top - or the front, to use the non-technical term - of the guitar's body that needs to be solid. This will help to achieve a nice quality tone.
Fortunately, most electric acoustics of a decent standard feature a solid top. It's easy to identify if a guitar has one or not because it's a big selling feature and will be mentioned in any product description.
The type of wood is also seen to be very important by a lot of guitarists. You'll see from our reviews that most solid tops are made from spruce, but mahogany is also coveted as a quality material.
Electrics
This isn't something you have to think about with a standard acoustic guitar. The electrics in an electro-acoustic are important, though not as critical as with an electric guitar. You'll want to make sure that you're getting a good quality pickup and preamp. Preamps often come with EQ adjustment to alter the tone slightly, and some will even include certain effects that you can use. Built-in tuners are a common addition too which means you don't need a separate tuning box.
Fishman is a brand that you'll often see manufacturing the electrics on more budget to mid-range products. Lots of the bigger guitar brands will also use components that are manufacturered in-house. Higher-end guitars are more likely to have specialist or boutique equipment which is, of course, considered to be better. Gibson using LR Baggs pickups systems is one such example. You can also opt for aftermarket pickups.
Neck
The neck can be very important for playability. There are different nut widths, depths, and body shapes to choose from. It's entirely a matter of personal preference as to which you should select.
Guitarists who are used to fast-necked, electric guitars may want to search for necks that have a shallow profile. Then again, a lot of people prefer the chunkier, more substantial neck that lots of acoustics offer. If you have smaller hands, a smaller neck will also naturally make playing slightly easier.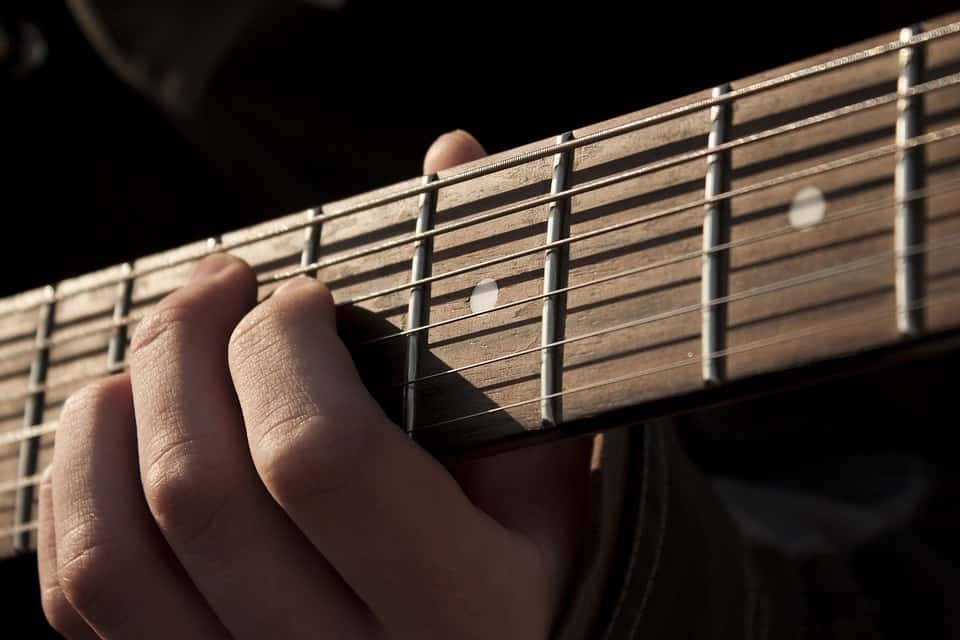 Fit and finish on the neck is also very important because it will affect the sound. Poorly finished frets might end up buzzing or otherwise add unwanted sounds to the guitar. Similarly, if the action - the gap between fretboard and strings - is too low, buzzing might occur. If the action is too high, then the guitar will be harder to play smoothly and quickly.
Read reviews to find out how well your potential purchase has been received by other customers, and bear in mind that this can be changed by a good technician.
Design
Many musical instruments are works of art, so it's little doubt that design is very important to a lot of people. Make sure that you like the way a guitar looks before purchasing it because you might be playing it for years. This is one of the reasons the more natural wood-colored guitars are always popular. They don't go out of style nor do they look out of place when on stage with musicians of a wide range of genres.
Guitar Brands
The brand is only important to a certain extent. Generally, top brands will have a reputation for being better at certain things than others, but given that most brands now offer products in a huge price range, it's better to consider individual models.
It's worth doing a little extra research in some areas though because there are interesting brand relationships that mean some budget guitar brands offer products that have been designed by premium ones. Epiphone and Squier, for instance, are more affordable sub-brands of Gibson and Fender respectively. It means that you often get a very high-quality product that's been made in Taiwan rather than in the USA, which is the main reason for the lower price. Dove Pro is a good example of this.
Top Choice - Martin DRS2 Dreadnought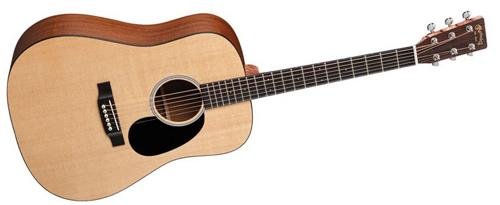 We've decided to give our top choice award to the Martin DRS2 dreadnought acoustic. Why? It offers the best balance of quality, sound, and price. Anyone reading this article should consider it as an option. The only reason you might not like it is if you're opposed to a dreadnought body. Otherwise, it's a fine choice to spend your money on.
Every element of this guitar has been designed and manufactured with thought and care. No corners have been cut. All the hardware and electronics are good, and, of course, the tone is fantastic too, which is the most important feature, in our opinion. It sounds great at all volume levels, and it works just as well as an acoustic as it does when plugged in, which makes it very versatile.
The design - while nothing particularly special - is clean and beautiful, which will appeal to most guitarists. The dreadnought acoustic body being a safe bet for most acoustic fans. Ultimately, just about anyone could pick up this guitar and get what they need out of it, which is why it's our top pick. We would recommend it to anyone, and when you talk about the price, it becomes even more attractive, because this is a high-end guitar for mid-range money.
Premium Choice - Gibson J-200 Standard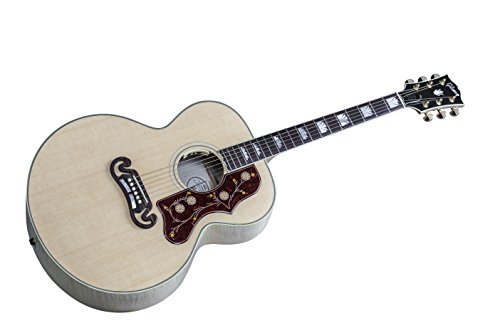 It's a legendary acoustic made by Gibson that's now a future legend of an acoustic-electric. It just had to be our premium choice. If you've got the money, then there isn't much else you can buy that will rival the J-200.
This is no shrinking violet in any respect, whether tonally or visually. It's a big-bodied guitar with a beautiful, impactful design that screams quality. You might pay a lot for it but you get a lot for the money too. It's especially suitable for guitarists who perform live on stage.
In short, absolutely everything about this guitar is flawless. You can inspect the entire thing in tiny detail, and it'll leave you amazed at how well it's been made. And then, when the sound hits you, you hear it too. It's perfect for chugging, powerful rhythm behind the rest of the band, but is equally adept at more sparkling highs and brighter choruses. What a guitar!
Great Value - Epiphone DOVE PRO

The DOVE Pro was a contender for our Top Pick, but in the end, we've decided to adorn it with the Great Value crown. You can spend twice the price and still not get a guitar that offers the quality that this one offers. It truly is that good.
You know you're getting a great guitar from the outset because it's based on Gibson's legendary Dove model, which has been used for decades by distinguished guitarists in numerous genres, including the likes of Elvis himself. It looks the part too, with the dove design on the fretboard and pickguard, and numerous other eye-catching touches.
And then there's its greatest feature, the tone. It sounds like it's coming from a much more expensive guitar. Indeed, only musicians with trained ears are likely to be able to tell the difference in sound between a Gibson Dove and an Epiphone Dove Pro. If you don't want to spend too much, then you must not overlook this guitar. If you're an Epiphone fan but think this one isn't for you, then you may wish to look into the Epiphone Hummingbird Pro, Epiphone Ej200sce, or the Epiphone Pr4e.
Conclusion
We've had a lot of fun looking at all of these great electric acoustics, and we hope that you've now found your next ax amongst our top picks.
There's a lot to read through and consider, but we've tried to make sure that there's something for everyone. Every product on our list has received our stamp of approval, so we don't think you'll be disappointed, regardless of what one you pick.
Check out our buyer's guide if you're new to electric acoustic guitars and aren't 100% sure of what you're comparing between electric and acoustics.
Now that we've finished, you should be in the perfect position to make an informed purchase.
If you've enjoyed this review by Music Critic, please leave a positive rating:
[vc_separator