In this article, we'll be looking at the best acoustic guitar pickups. This handy little piece of equipment is perfect for anyone who doesn't want to invest in a top-of-the-range acoustic-electric guitar but still wants to be able to amplify their beloved ax.
There are two options for amplifying an acoustic, either you use a mic or you use a pickup. For many, a uni-directional microphone is too restrictive for performing on stage, which means that an acoustic guitar pickup system is the only option for a live gig. A pickup also offers much better sound quality than a mic, in our opinion, and it can also be run through an effects board, which isn't possible with a mic.
When it comes to choosing the right pickup for amplifying your acoustic guitar, there are quite a few options. Some are simple and some are complex. Some effortlessly clip on and off. Some are much more permanent, requiring your beloved instrument to be modified. You can also find pickups that fit into a wide range of budgets. We're going to cover all these key areas in this article so that by the end of it, you'll be in the perfect position to invest in a good product.
Let's move onto our reviews. Once you've read about our top ten picks, then take some time over our buyer's guide, as this will answer all your important questions.
At a glance:

Our top 3 picks
Our team's top 3 recommendations
Best Overall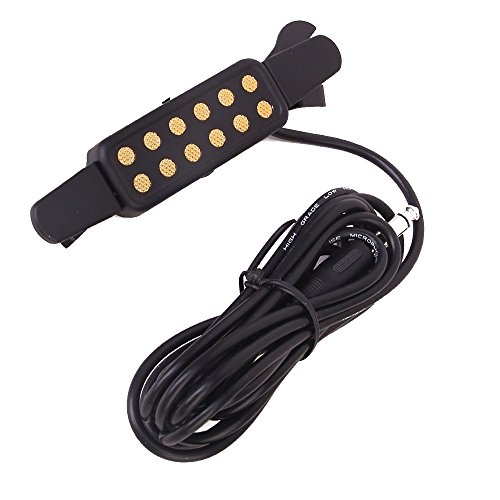 Luvay Transducer

The 3m cable allows for a good range of movement.
Heavy durable build.
Good presence.
Premium Quality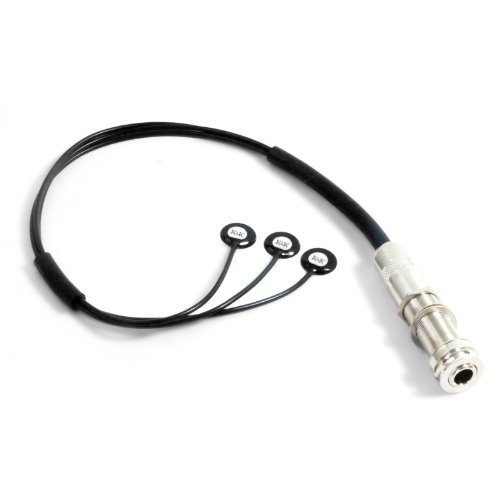 K&K Pure Mini

The 3m cable allows for a good range of movement.
Heavy durable build.
Good presence.
Great value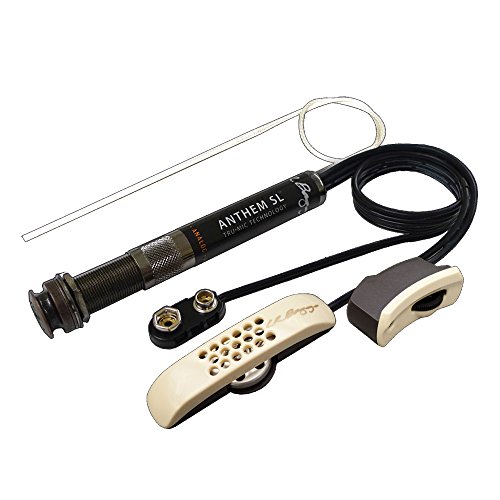 L.R. Baggs ANTHEM-SL

The 3m cable allows for a good range of movement.
Heavy durable build.
Good presence.
View The Best Acoustic Guitar Pickup Here
The Luvay Transducer pickup is a great example of an inexpensive, modification-free way to transform your acoustic into a powerful acoustic-electric guitar. For just twelve bucks, it's also one of the most inexpensive ways of amplifying your acoustic. It provides solid sound quality that is more than good enough for the low price.
One minor drawback is that some users have experienced feedback issues. Although this isn't a common problem, it has occurred, and it means that this one should be avoided for important gigs.
If you're looking for something to amplify your guitar strings at home or for rehearsals with your band, then this is a superb product. It features an easy-to-use, clip-on design that allows you to attach it to the rim of your soundhole. It's designed to be used with steel strings, because of the magnets that are integrated into the pickup. The tone it delivers is warm and rich.
Some guitarists who have used this pickup long-term have drilled a hole in the back of their guitars so that the cable can be run through it. We wouldn't recommend doing this without consulting a musical instrument expert. Generally, the cable won't get in the way, though, so we don't think this is necessary.
Pros:
+ The 3m cable allows for a good range of movement.
+ Heavy durable build.
+ Good presence.
Why We Liked It - The Luvay Transducer pickup is a good no-frills option that can be effortlessly installed in seconds. Overall, it delivers unbeatable value for money, in our opinion.
Removing the quack - If you are using an under-saddle pickup, you'll tend to notice some quacky frequencies that you'll want to cut. You should find them somewhere between 1-3kHz. Try boosting the midrange, sweep the frequency control through the 1-3kHz range and stop where it sounds the worst. Now that you've found it give it a pretty aggressive cut.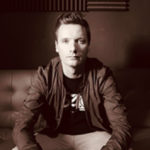 This product offers a full-bodied, rich sound thanks to the three transducers that it's composed of. Each transducer is designed to pick up the vibrations of two strings. This translates into a defined, clear sound that impressed our team. They are placed further away than the surface transducers typically found in an under-saddle pickup. This gives a softer representation of the natural tone, as some pickup systems can sound tinny or percussive. Using the soundboard reverberations as well as sharing the strings between transducers, allows for a better balanced overall sound quality.
It's easy to install. It is mounted inside the guitar, underneath the bridge plate. This pickup comes with a useful plastic tool that ensures a simple installation. You also get an instruction booklet, so that you know exactly how to fit it inside your guitar.
Overall, we were most impressed by the warm, powerful sound that this pickup offers.
Pros:
+ Passive pickup.
+ No battery or on-board electronics.
+ Easy installation.
+ Can be used with steel or nylon strings.
Why We Liked It - The K&K Pure Mini soundboard transducer is a brilliant, bare bones, lightweight system. It provides superb sound quality with minimal feedback. Installation doesn't require any drastic modification to the instrument, and if it is installed by a professional, then it shouldn't affect the resale value in the future. Another big plus is that this pickup can be used with steel or nylon strings.
L.R. Baggs has been a world leader for decades when it comes to producing cutting-edge pickups. This product features award-winning technology, such as the Tru Mic system, which translates into exceptional sound quality. It requires end-pin modification, and it will also need to be glued to the bridge plate, but the result is well worth it. There's also a control for the pickup that can be mounted onto your guitar's soundhole, which gives you even more scope for tone shaping, as well as altering the volume. This product is battery-powered, but it offers a huge amount of life from a single charge.
This system simply mounts on the underside of your bridge plate. There is a microphone attached to the pickup. This means that it reproduces both the internal and external sounds of your guitar. The result is a more nuanced and natural sound that does justice to your guitar playing. We think that the quality is more than good enough for a gig or even recording in the studio. This is a fantastic product by one of the best manufacturers around. Superb!
Pros:
+ Transducer mic blend.
+ Active pickup.
+ Easy to adjust.
Why We Liked It - It's a high-grade pickup that features cutting-edge technology and a long-life battery. The sound it offers has to be heard to be believed. It's the best choice for anyone wanting natural, unadulterated sound.
Use compression - Acoustic pickups are great, but as soon as you amplify your guitar, it loses some of that natural acoustic sound. It takes on a bit of a clacky characteristic, for lack of a better term. Using compression can keep that in check and maintain a more authentic acoustic sound. Don't go crazy with it; you want to keep it in check, not to smash your tone.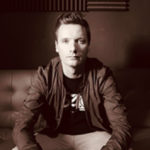 This is an excellent, mini guitar pickup that can be used with steel or nylon strings. It is made from steel, which helps to prevent unwanted feedback. This material also makes it a sturdy little piece of kit.
To attach this pickup to your guitar, you simply use the adhesive stickers that come with it. You can put it anywhere near the soundhole. This means that it won't cause any damage at all to your beloved instrument.
It's a piezo pickup, which means that it uses your soundboard's vibrations to create a signal that is then amplified. A handy remote control comes with this product so that you can easily adjust the volume.
When it comes to value-for-money, then this product is one of the best. The sound quality can be compared with much more expensive condenser microphones. Overall, it's a great budget choice.
Pros:
+ Suitable for a variety of acoustic instruments.
+ High fidelity.
+ No battery required.
Why We Liked It - It's a versatile pickup that can be used for acoustic guitars, as well as ukuleles, cellos, violins, and other stringed instruments. We found it to be highly effective, and when the price is taken into account, it offers great value too.
Next up, we have another award-winning pickup from L.R. Baggs. It features a blended microphone and pickup system that is highly effective. That means that it contains a high-definition condenser microphone, as well as the piezo pickup. These two components combine to create a balanced, full-bodied sound that is good enough for a professional, live performance. This product also features noise-canceling technology so that you don't have a boxy, unpleasant sound, which can often happen when an internal microphone is used for amplification.
There's also no need to worry about unwanted feedback. It's not an issue with this pickup. It's easy to adjust the various components to create a tone that suits you thanks to the included controls.
The reason why this pickup and mic combination offers such wonderful sound is the two components working together. As you might know, a microphone is perfect for high frequencies, but it struggles with lower frequencies, which is where the piezo comes in. Overall, this pickup does justice to your guitar, and we can highly recommend it.
Pros:
+ Mix, phase, and volume controls that sit unobtrusively inside the soundhole.
+ Mic and piezo combo.
+ Active electronics.
Why We Liked It - Like The SL version reviewed above, this product offers superior sound quality. There's no chance of feedback, which also makes it a good choice for live gigs. We were impressed by its overall quality.
6. Fishman Rare Earth Humbucking
This magnetic, soundhole pickup from Fishman is a new and improved version of a previously popular model. This one has been designed to deliver a smoother treble response, and it certainly achieves it.
Simplicity is key to its design. You just need to put it in your guitar and plug it in, then you're all ready to go. It offers a warm, humbucker sound that's very powerful indeed. But that doesn't come at the cost of clarity. We also found it to be very balanced across the whole sound spectrum, meaning that the lows are as impressive as the trebles.
The pickup features rare-earth, neodymium magnets, which any expert will tell you are the best around. The product is solidly constructed, with low-current circuitry, which all translates into an accurate and pure signal. For an authentic, natural tone, then you can't go wrong with this product.
Pros:
+ Fits soundholes as small as 3 5/8" (92 mm) diameter.
+ Active 1 x 3V lithium / 2 x 1.5V Silver oxide.
+ Pre-wired output jack can also be end-pin mounted to keep it conveniently placed and hidden.
+ Natural tone
Why We Liked It - This Fishman active, acoustic guitar pickup is accurate, great-sounding, and fits smaller soundholes. The ability to attach it to smaller soundholes also makes it versatile, as it can be used for other stringed instruments, like a mandolin. For an acoustic guitar, however, this product certainly does the trick.
This is a great soundhole option from Belcat, which is a relatively new brand that has only been around since 1988. With its innovative design team, Belcat devotes itself to building its brand and providing high-quality products for a low price. It doesn't just manufacture excellent pickups. You can also get superb pedals and amplifiers from Belcat too.
For a budget-priced product, this acoustic pickup does exactly what you want it to do. It doesn't provide enough quality or volume to fill a stadium. But if you just want to amplify your acoustic for rehearsals or practicing at home, then it's a solid choice. It could also be used for busking. This product can fit easily inside a standard soundhole. Overall, it's a safe, budget choice.
Pros:
+ Perfect for amateurs.
+ Easy to install.
+ End-pin mount jack.
+ Shock absorbing foam on the brackets.
Why We Liked It - It is a quality, no fuss, soundhole mounted pickup that delivers a great sound. It is surprisingly effective for a cheap option.
8. Seymour Duncan Woody HC
The Seymour Duncan Woody HC is a passive magnetic transducer, soundhole pickup, featuring hum-canceling, stack technology. It is modeled on humbucker pickups. It produces rich, noiseless acoustic sound without background interference.
This acoustic guitar pickup system is well-balanced and instantly gives your acoustic an edge. The bass is clear but understated. It is not the loudest of options on our list, but it certainly sounds great. It provides a fatter more compressed sound than a single-coil design.
You can choose this pickup in a variety of stained wood casings. Each one has two layers of wood, which ensures added protection against feedback. It comes with a 14ft, low capacitance cable. You can fit this product into any standard soundhole. Seymour Duncan is a company that every guitarist knows and can trust. This pickup matches its usual high level of quality.
Pros:
+ Comes with a great guitar tuner in this bundle
+ Wood housing for low feedback.
+ Easy installation.
+ Humbucker.
Why We Liked It - It is one of the best acoustic soundhole pickups on the market. We love the beefy, powerful sound that it delivers thanks to its humbucking design. The wooden casing is another excellent feature that eliminates any chance of feedback. It's a premium product that's well worth spending extra on, in our opinion.
The iSolo Wireless from CloudVocal is next on our list. It is a wireless microphone system that is a conventional design for an acoustic guitar pickup. It is primarily aimed at people who want to record their guitar. When it comes to recording an acoustic instrument you almost always want to use a microphone for high fidelity audio and interference prevention. The iSolo is a good product for this, as it features a cardioid condenser mic. It has a flexible, goose-neck so that it can be placed in the optimal position for picking up sound.
You can use it to record directly to your laptop or phone. It has a USB interface receiver that sends your signal straight to your computer.
For live performances, you will need to purchase the receiver to place in your amp. Whilst it is not a traditional pickup, it is the obvious choice if you only require electrifying your acoustic guitar for recording purposes.
Pros:
+ Three gain settings.
+ Easy to use and no additional drivers needed.
+ Mac/PC/iPhone/iPad lightning connector.
Why We Liked It - It is an ideal option if you are looking to record your acoustic guitar. This device is impressive and couldn't be simpler to use. It's not our top recommendation if you're looking for something primarily for live gigs, but it is a good option for home recording.
10. Fishman Matrix Infinity
Last on our list is this superb product from Fishman. It is an exemplary, end-pin-mounted pickup. This product is the result of a thoughtful design, with the manufacturers using a lot of fine-tuning to achieve such great results. It features a sealed enclosure that makes it one of the best under saddle mics on the market. It's easy to tell that Fishman's twenty-five years of experience have paid off with this product. There are few pickups that can compare with its cutting-edge technology.
Once this pickup has been installed, you can customize your sound thanks to the volume and tone controls. They are easy to use, and they can be mounted on your guitar's soundhole. You can use the tone control knobs to boost highs, mids, and lows.
The sound quality is exceptional, in our opinion. That's down to the high-grade, cardioid condenser mic that picks up the subtlest details that you play. There's also a voice switching feature that allows you to adjust the settings to suit your specific guitar's style and size.
As this is an under-saddle pickup that has a soft touch, end-pin-mounted, pre-amp, then our team recommends that you get a professional to install it. You don't want to run the risk of your pride and joy being damaged by a poor quality modification job.
Pros:
+ Dynamic string response.
+ Available in two saddle slot widths.
+ Features the world's best under-saddle pickup.
+ The volume and tone controls are rotary.
Why We Liked It - It's an exceptional product that delivers awesome sound quality. It can also be easily controlled thanks to the volume and tone knobs. Overall, it's a superb product that advanced and professional guitarists will adore.
Pickup for beginners - If you are worried about damaging your shiny new acoustic guitar, then it's best to avoid drilling any holes, etc. In this case, a soundhole pickup is the best option. Loosen the strings enough to be able to move them aside for the pickup, but do not remove the bridge pins. Place the pickup in the sound hole, move it forward towards the neck, and slowly tighten the screws until you feel slight resistance.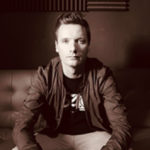 Acoustic Pickup Buyer's Guide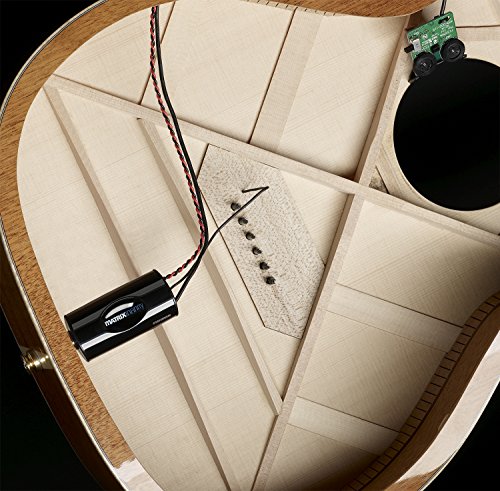 The first important issue to address before you purchase a pickup is whether or not you're willing to modify your guitar to install it. You also need to consider if you are competent enough to do the job or need someone to do it for you. Although, most guitar stores will have a professional who can do it for you for a reasonable price.
Some pickups require little to no modification. But this type of pickup might not give you the sound quality you want. Then, you can go for a more advanced pickup, but that might require extensive modification. If your guitar has sentimental value or you don't want to low its resale value, then you want to avoid any major modification. A clip-on pickup will therefore be your best option.
What to Look for When Buying an Acoustic Guitar Pickup
There are quite a few features that you need to keep an eye out for when choosing a pickup. We're going to go through each of them right now.
But, before we do, you need to decide for what reason you want the pickup.
Is it for live performances?
Do you need it for recording?
Is the pickup just for practicing at home?
Once you know what you'll need the pickup for, then move onto the next section.
Acoustic Guitar Pickup Types
There are a range of pickups on the market that all work in different ways. Let's look at the most common types.
Piezo pickups (pronounced "pee-YAY-zoh") will almost always require modification because they are placed under your guitar's bridge. They are a type of microphone that works by converting the physical vibration of your guitars' strings into a signal using a compressed crystal.
They are generally inexpensive and sound bright. Another drawback - besides the dreaded drilling - is that they do not sound as natural as other pickups. However, they will not provide you with any feedback issues. They are also awesome at cutting through the mix, making them ideal for live performance. Piezo pickups feature a much older form of technology than magnetic pickups.
Under-saddle pickups are a variation of piezo pickups. The difference is that they are placed under the saddle rather than the bridge of your guitar. This means that your soundboard can resonate more freely, providing you with a more balanced sound.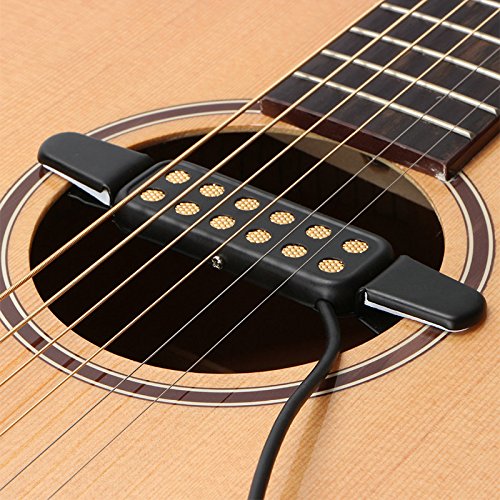 There is another type of transducer-based pickup that is called a contact pickup. They might remind you of a doctor's stethoscope. Though visually different from piezo pickups, they work in a very similar way. Both of them function in direct contact with the guitar. They both measure the pressure of the string vibrations. Then the signal is pre-amplified before it is sent as an output in the same manner as a piezo. The main difference is that they are attached to the soundboard rather than below the bridge.
This is what gives them a more natural tone than a piezo. They are, however, prone to feedback at very high volumes. Some will require modification to mount them.
Soundhole pick-ups are similar to a common electric guitar magnetic pickup. They generate a signal from the disturbance within the magnetic field. That means that they require steel strings to function. Some models allow for height adjustments to the pickups, which is also similar to those on electric guitars. Despite being very accurate, they can be perceived as sterile sounding. Then again, many offer tone adjustment so that you can equalize your tone to one that sounds more authentic. They are slightly more vulnerable to feedback than a piezo device.
In-guitar microphones are another option, although they aren't technically pickups. There are 'blended model' devices these days that combine a traditional pickup with a mic (which works with coil stacks) then blend the two signals. Some allow for control over how much of each signal is prevalent in the mix. This combats feedback issues. A great blended in-guitar mic will probably set you back a fair bit but it is well worth paying for if you plan to perform in front of large audiences.
How much does it cost to put a pickup in an Acoustic Guitar?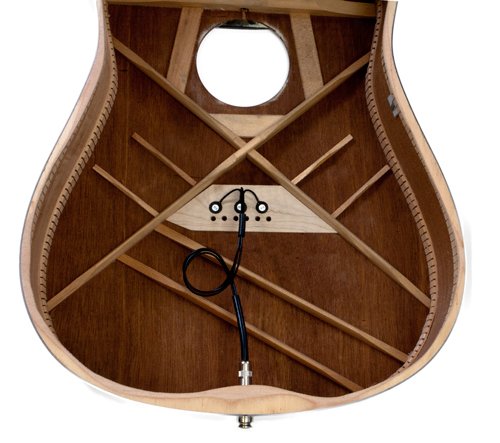 The overall price comes down to two main things. Firstly, your budget will determine whether you're looking at high-end or low-end models. Secondly, the type of pickup you choose will also be important.
It's always recommended to ask a professional to modify your guitar when attaching pickups to it. This is particularly true if you're attaching piezo, under saddle, or contact pickups. Of course, this will be an added expense on top of the pickups, but it's unavoidable. If you try to do this yourself, then you run the risk of destroying your guitar.
If you're just looking for a pickup to use at home, then there's no need to invest in an expensive piece of kit that will require a professional installation. For example, you can buy a clip-on model for less than fifteen bucks, which you can install yourself.
How to install a Guitar Pickup for Acoustic?
Again, this will entirely depend on the type of pickup you buy. Opting for a clip-in is the easiest route. Pickups that require taking apart your guitar, drilling, or gluing are best left to professionals.
Despite the warnings, it is a relatively simple process. If you are going to attempt to install it yourself, then we recommend practicing on a cheap acoustic. You can usually pick up a bargain at a thrift shop. You don't need to worry too much about the quality if it is essentially going to be used for practice. The main modification each typically require is to widen the endpin to a larger size with a drill bit. The hole should be large enough for running the wires through.
Most pickups that are placed internally will need to be attached to a smooth surface that has been sanded. Again, this is an easy enough job. Some need gluing while others are self-adhesive. You may need a mirror to get a good look at what is going on inside the guitar. Under-saddle pickups will require saddle and bridge removal. We highly recommend that you employ a professional to do this.
Best Sounding Acoustic Guitar Pickup?
All of the pickups on our list sound fantastic. Choosing a single product that sounds better than all the rest is difficult. Instead of picking just one, let's have a look at some of our favorites and why we like them so much.
For a simple sound enhancement, then you'll likely be best with the Fishman Matrix Infinity. This will give you a big power boost, but it might make your guitar sound slightly synthetic.
Guitarists who want the most natural and authentic tone for their guitar while a pickup is installed should choose the L.R. Baggs SL. This is a fantastic product that we can highly recommend.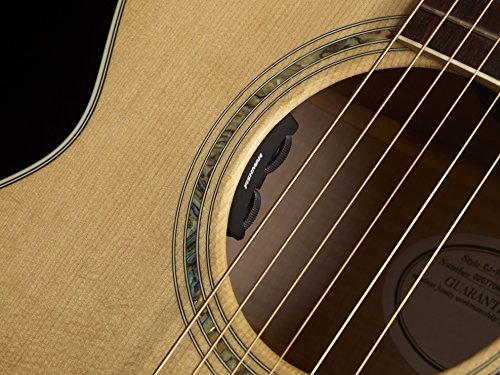 If you're still unsure, we advise checking out a few YouTube video reviews, as they will allow you to listen to the pickups in action. Remember, the sound has been condensed so that it can be played via YouTube. That means that it won't be completely true to life, but it still should give you some idea of what the pickups sound like.
We also recommend going for a trusted brand. If you choose one of the products from our list, though, then we don't think you'll be disappointed.
Best Acoustic Guitar Soundhole Pickup?
If you are opting for magnetic soundhole pickup, you might want to look for one that's a humbucker, which is the same as electric guitars use. These pickups are not susceptible to picking up background hum, which is a big plus. The Fishman Rare Earth Humbucking pickup would be a good purchase if you are looking for the best soundhole pickup. It's designed in a way that ensures you never get any unwanted background hum. We think it's good enough for live performances too.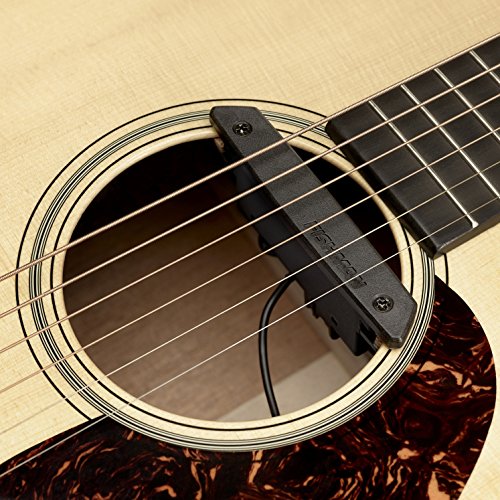 Best Under-Saddle Pickup for Acoustic Guitar?
Our top choice would be the Fishman Matrix Infinity under-saddle piezo pickup. This is an award-winning pickup that also has a microphone built into it. It provides you with unbeatable quality, as well as well-balanced sound.
Conclusion
It's a great idea to buy a pickup for your acoustic guitar. And there are some fantastic products out there these days too, there's no reason not to experiment with this piece of equipment. You can go for anything from a blended system, like L.R. Bragg produces, to a clip-on condenser microphone.
Whatever product you choose, always make sure that they're designed to eliminate feedback. You don't want your live gig ruined by horrible feedback.
We also recommend that any pickup that requires modification should be installed by a professional. It might seem as simple as drilling a few holes or gluing a few things here and there. It's still a big risk when you mess around with your instrument. You don't want to harm it. So, pay a bit extra, and get a professional to install the pickup in your acoustic. It won't take them very long, and it's well worth it in the long run.
Of course, an expensive installation isn't required for some of the pickups on our list. If you buy a budget model, such as one that clips onto the soundhole, then you can do this yourself without any issues. These pickups will also only set you back ten or twenty bucks, so are an affordable option for amplifying your guitar.
We hope that you've found this article informative. And good luck choosing your new pickups. We're sure that it will transform your guitar for the better!
Expert Tip
If you have your heart set on installing modifications yourself, we hope you heed our advice about practicing with a throw-away acoustic. You don't want to destroy your beloved instrument. Make sure that you watch lots of online tutorials before you fetch your drill too! People experienced with DIY should still learn what to do before running the risk of destroying your instrument.
Did You Know?
The Latin origin of the word piezo shares its roots with 'piezein'. This means to press or squeeze something. This is a particularly fitting image for the description of how the electronics in a piezo work. The electric charge that accumulates in certain solids as they respond to stress applied to them is known as a piezoelectric charge.
If you've enjoyed this review by Music Critic, please leave a positive rating:
[vc_separator