If you fancy taking your guitar on an all-inclusive trip but can't justify the sky-high prices of industry-level flight cases, then you're in luck. Today, we're rifling through all the best guitar cases available on Amazon to determine the seven best.
If you're professionally touring in the big league, then the chances are you'll have a dedicated manager who'll likely arrange your instrument's travel, but us smaller fry need to settle for the hardiest guitar case we can find. This way, we can keep our prized possessions protected during transit.
Given that there are several guitar body shapes and head-stocks out there, we have selected a good variety of solutions to fit your collective needs.
At a glance:

Our top 3 picks
Our team's top 3 recommendations
Best Overall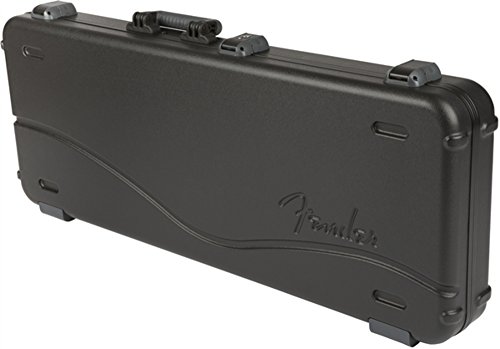 Fender Deluxe Molder Stratocaster

ATA molded shell.
Plush interior.
TSA approved locking latch.
Ergo-grip handle.
Premium Quality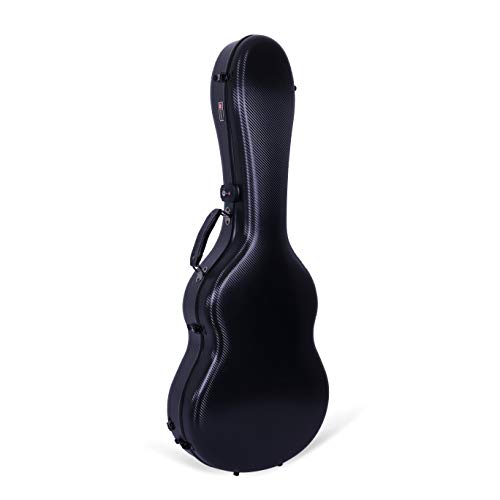 Crossrock Anti-Scratch Flight Case

ATA molded shell.
Plush interior.
TSA approved locking latch.
Ergo-grip handle.
Great value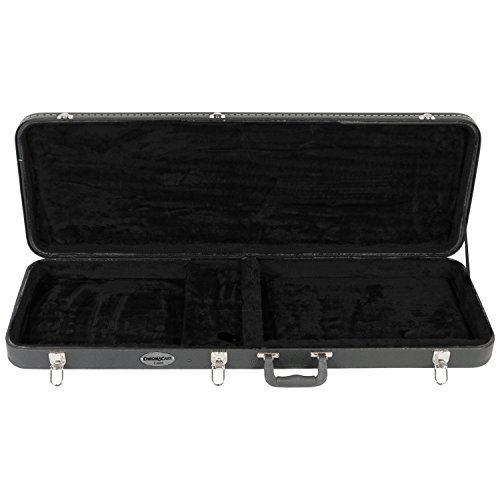 ChromaCast CC-EHC Electric Guitar Hard Case

ATA molded shell.
Plush interior.
TSA approved locking latch.
Ergo-grip handle.
View The Best Guitar Flight-Cases Below
1. Fender Deluxe Molder Stratocaster
We've chosen a strong candidate to start our reviews with. From the Fender family, this is a hardy hard case. This has the seal of approval from the Transportation Security Administration for its commendable secure locking center latch.
It's very well fabricated with an outer-shell that meets military-grade specifications. The ATA molded case is 44.5 x 18.5 x 6 inches in dimension. It has rounded corners and sports the Fender logo proudly.
These cases are supported by injection-molded polyethylene feet, which help keep them well balanced while standing to ensure your guitar won't fall.
With its iconic body contours, it's built to suitably house a traditional Strat or Telecaster. It has a high-grade plush interior that includes a neck cradle to keep your guitar nestled safely.
It also sports an ergonomically focused hand-grip, which has been precision molded for comfort.
Pros:
+ ATA molded shell.
+ Plush interior.
+ TSA approved locking latch.
+ Ergo-grip handle.
Why We Liked It - These cases give you a perfect idea of what to look for to keep your fender free from in-flight injuries.
2. Crossrock Anti-Scratch Flight Case
Next, we have a contender which could take care of your classical guitar next time you fly: this curvy poly carbon case from Crossrock.
The full-size catering has idyllic dimensions for a traditional guitar, but be sure to check the depth, as it can vary more than the length on a full scale.
The anti-scratch model is perfectly suited for any rough-handling it may experience on a long journey, but the company also makes premium cases and carbon fiber glass options as well.
This case is stocked with a lush velvet interior and custom padding to keep your instrumented cushioned in-flight and also benefits from TSA approved locking latches.
It features a convenient design that allows you to attach a set of very capable deluxe straps to it for backpack-style wearing, keeping your hands-free in the airport lounge.
Pros:
+ Hardy exterior.
+ Quality interior.
+ Practical design.
Why We Liked It - This guitar case is a robust classical guitar option which has a comfortable carry-around design, making it the best choice for the long-haul traveler. If this doesn't suit your fancy, the company also makes premium cases and carbon fiber glass choices.
3. ChromaCast CC-EHC Electric Guitar Hard Case
The ChromaCast is another durable electric guitar hard case that is a little more universal in its design, though the company does also make specific shaped and other sides of cases as well.
This one isn't exactly a flight-case, nor is it lockable, unlike pro models. But, it's very robust and will hold a range of instruments nicely in place. It would suffice as a hand-luggage option, or a gig bag if you're willing to pay a little extra with some airlines.
The wooden safety shell has secure chrome cast latches and protective bumpers. It features a comfortable molded handle and is lightweight but sturdy.
The inside is fitted with plush padding for extra protection. These cases total 41 inches in length; the inside space is split into two parts, with a 14-inch wide upper bout, and a 13.25 inch wide lower bout. The height is 3 inches, and the case includes a generous storage compartment.
Pros:
+ Sturdy hard case.
+ Strong chrome latches.
+ Bumpers.
+ Storage space.
Why We Liked It - The ChromaCast guitar cases are a good universal option, to get which will do in a pinch. However, we wouldn't suggest sticking it in the hold unless you spend a little more on their pro-level models, as they're lockable.
4. SKB 1SKB-300 Baby Mini Acoustic Guitar Hard Case
If like many musicians out there, you have a smaller scale instrument specifically for traveling, then you're going to need a case that can accommodate a small model.
These SKB mini acoustic hard cases are perfect for chauffeuring a Baby Taylor around. The interior length is 34.5 inches with an upper bout of 9.5 inches and a lower of 12.5 inches.
It's, once again, not a lockable case, but it does have reinforced latches. Its smaller nature means that it should be fine as a carry-on item. It's lightweight, but you may want to check the weight restrictions with individual airlines before you fly.
It has a strong design with a metal valance and a hardy handle. It also has molded bumpers to help protect the case from scratches.
The inside provides great support for your wooden instrument, with rigid EPS foam and full-length neck support.
Pros:
+ Robust mini-case.
+ Reinforced latches.
+ Full-length neck support.
Why We Liked It - These cases are built exceptionally well. They fit the BT1 and 2 to a T. However, we would say be sure to check the dimensions of other scale guitars for the right fit.
5. Carrion C-1501 Black Hardshell Dreadnaught Acoustic Guitar Case
Fifth on our list is a great hard case option from Carrion. This dreadnought-shaped case fits most traditional acoustic guitars.
This case a good depth to it, so you may have to check or adjust your instrument to get a snug fit.
It's very well-manufactured. It features a durable handle as well as high-quality hinges. The chrome-plated brass hardware and latches are good quality, and they all lock. The shell is formed from a multi-ply wood core, and it's covered in black Tolex.
Inside, these guitar cases feature plush-lined, high-density padding which helps to shock absorb, and keep your instrument safe. It also incorporates a small interior accessory pocket into its design.
Pros:
+ Durable.
+ Lockable latches.
+ Densely padded interior.
Why We Liked It - Carrion make some of the best affordable guitar cases on the current market, wiping the floor with similarly priced options. They make classical guitar cases, as well as catering for the banjo, ukulele and mandolin.
6. Gator Cases Molded Flight Case
Gator has made a name for themselves as a brand and an excellent go-to guitar-case company.
The model we're highlighting is a rectangular ATA molded case with rounded corners and suitable interior cushioning. These cases are perfect for a full-size Strat or Telecaster.
The outer shell is made from polyethylene and the interior is made from EPS foam. It also features an extended neck cradle. The inner dimensions are a lower bout width of 12.75 inches, a middle bout width of 12.75 inches and an upper bout width of 12.75 inches, which allows for two storage spaces. The overall length is 39.5 inches, and the body height is 3.25 inches.
It has a hardy black powder valance and an ergonomic carry handle. It benefits from a TSA approved locking latch with a hand-held release trigger that withstands impacts.
Pros:
+ Exceptional quality manufacturing.
+ Trigger lock.
+ Ergonomic handle.
+ Heavy-duty shell.
Why We Liked It - These cases tick all the boxes. They're a prime example of what to look for in a guitar case for flying with.
7. Yaheetech ABS Electric Guitar Case
Yaheetech is another recognizable brand doing their bit for guitar travel.
This is a rugged ABS hardshell housing, designed for Stratocaster and Telecaster models in transit. It has a sleek, scratch-resistant finish and is fairly lightweight, but undeniably strong. It features a reinforced aluminum valence, which creates an airtight seal.
The foam-filled interior has an elastic-like cushion with a good spring-back; it's lined with a black plush.
This case is molded to provide the necessary neck support and keep delicate parts protected. It features two storage spaces and is fitted with feet for balance. Most importantly it's equipped with lockable latches.
Pros:
+ Shockproof.
+ Elastic molded foam.
+ Lockable.
Why We Liked It - This is another fine specimen which has all the prerequisites for a perfect case for your electric guitar.
Guitar Flight Cases Buyer's Guide
Decent flight cases should be lightweight but very durable. This means they should be made from hardy materials; this could be a modern, fabricated shell such as ABS, plastic which is impact-resistant, scratch-resistant, and waterproof.
These cases are often chosen for their high-resilience and lower production costs. They're hardier than other options, which means they can be lightweight, but far sturdier. The material is important. What do you want to opt for? A carbon fiber one, maybe? Do you want more of a guitar case or a gig bag?
Consider whether you want it to have backpack straps. Although these are the best cases for air travel, and you'll be sat down most of the time, you have to consider what happens when you get off the plane. If you have to carry your guitar around, this may become tiresome after a while. Backpack straps ensure that the guitar will remain strapped securely to your back when you're off the plane. Just make sure your backpack straps are tucked away when in the holder.
Another type you can go for when it comes to electric or acoustic cases are hardwoods, but this can get pricey if you're paying for luggage weight, so wood options are actually a type of high-pressure multi-ply.
Lastly and most importantly, you should get a case with strong hinges, latches, and handles, because if not, your guitar could fall straight out mid-transit. Ideally, the latches should be lockable to keep your guitar safe from tampering.
Conclusion
Getting a guitar flight-case is a journey essential if you intend to air travel. Finding a suitable mold to fit the body is crucial.
No matter your budget, you should be looking at the strongest options available to you within your price range.
Those we've looked at today make for realistically-priced solutions and, although each is suited for different needs, we think our article along with its compact buyer's guide should have your needs covered.
Expert Tip
If you can't find any cases you trust with your bespoke custom buddy, then why not consider buying a travel guitar to cut out the risk of endangering your instrument? We have a heap of Travel Guitar Reviews you can read.
Did you Know
Gator has quickly risen to popularity for their reinforced ABS cases, but they also make premium G-Tour cases as well as professional-quality flight-cases.
If you've enjoyed this review by Music Critic, please leave a positive rating:
[vc_separator