The Martin D-18 is a six-string acoustic guitar. It has a dreadnought body, 20 frets, and a natural color finish. The top is made from Sitka spruce, while the back and sides are constructed from solid mahogany.
Martin D-18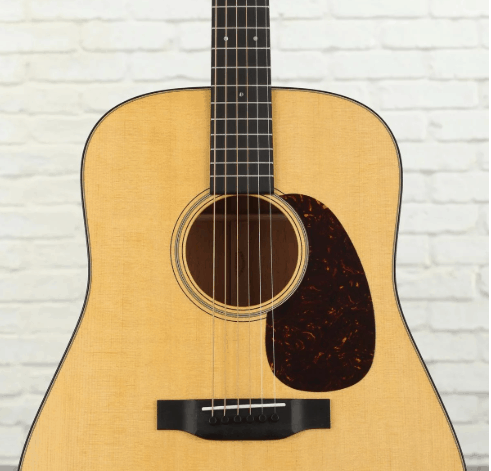 Summary
The Martin acoustic guitar brand has been in business for over 185 years. To be as popular as it is after all these years, it must be doing something right. And that something that Martin does right, is to build outstanding instruments that sound fantastic. To create great-sounding instruments, Martin has constantly innovated.
In fact, the famous dreadnought shape that we see on so many acoustic guitars is the creation of the Martin company. Scalloped bracing is also a Martin invention. The Martin D-18 features both of these elements. It has a dreadnought body, as well as scalloped bracing.
You only need to look at the Martin D-18 to know that you're faced with a high-quality instrument. The top is constructed from a high-grade Sitka spruce which is the material of choice for all good acoustic guitars. When it comes to the back and sides, you have solid mahogany.
The combination of the Sitka spruce top and the mahogany sides and back leads to a huge amount of resonance and projection, as well as a warm, versatile tone. But this acoustic guitar hasn't just been designed with tone in mind. The modified low oval neck has a high-performance taper which means that you can play it with great ease. The satin finish that the one-piece neck has also contributed to the easy playability offered by the Martin D-18.
One problem that acoustic guitarists often find when playing low-quality or poorly designed acoustic guitars is that they often get an uneven tone, as well as a tendency for a 'booming' sound, which can completely ruin a song. Fortunately, you get none of that with the Martin D-18.
In fact, this guitar is one of the most used by session musicians for the very reason that it provides such an even tone. It sits perfectly when accompanying other musicians, as it won't crowd out the bass guitar or overwhelm the vocals, nor will it get lost underneath more powerful instruments.
If you're going to invest in an acoustic guitar like the Martin D-18, then you want to be sure that it is going to survive a long time. Perhaps you might even consider passing it on to a grandchild in your later years.
That's possible with the Martin D-18. It is a durable, long-lasting guitar that will never warp or twist. It will continue to provide you with outstanding tone, as long as you care for it properly. Fortunately, it comes with a hard-shell case so that you have absolutely no excuses but to keep it protected, whether at home or on the road.
Pros
+ It is a pleasure to play. A high-performance taper neck, with an ebony fingerboard that has been given a Plek fret dressing, which makes playability even easier.
+ The dreadnought body has a Sitka spruce top and genuine mahogany back and sides. These elements all contribute to a very rich, full-bodied tone that is truly sumptuous to listen to. The large body also allows for more volume, projection, and resonance.
+ It is a guitar for life. When you buy a Martin D-18, then you are buying a guitar that you will play for as long as you want. It has been handmade, meaning that it has been constructed without any flaws.
+ Resonance is also improved due to the scalloped bracing system, which was a Martin invention.
Cons
- There is little to fault the Martin D-18, except when it comes to the price. It is expensive. There's no getting around that fact. But it is also an acoustic guitar that will last you a lifetime. It is one of the finest acoustic guitars available, which is used by session musicians around the world. It is well worth the money if you have it.
Why We Liked It
The Martin D-18 is quite simply one of the finest acoustic guitars on the market. The Sitka spruce top, genuine mahogany sides and back, combined with the scalloped bracing, all contribute to an exceptional-sounding guitar which offers a warm, rich tone that.
Not only does it sound great, but the High-Performance tapered neck - which has an ebony fretboard that's been treated with Plek dressing – is extremely easy to play. There is a reason why session musicians around the world love playing the Martin D-18.
They expect consistency, reliability, and great sound. The Martin D-18 offers all these things, as well as a lot more. It is a sensational guitar that you can play for the rest of your life.
If you liked the article, please leave your feedback.