Given that we are going to be focusing on five-string basses it seemed only fitting that we narrow our selections down to the top 5 and despite the wealth readily available we eventually managed to settle on the five best 5-string bass guitars to give you some inspiration.
We have also decided 500 bucks is a reasonable budget to play with, so snobs beware there's going to be no mention of Schecter Stiletto, Schecter Omen, or Specter and no boutique beasts about, but we have hunted for a handful of different five-string basses which make the grade, with good reason.
As ever we have also done our best to gather some info to answer your top FAQs in this 5-string themed buying guide.
At a glance:

Our top 3 picks
Our team's top 3 recommendations
Best Overall

Squier By Fender Vintage Modified Jazz Bass V 5-String Electric Bass Guitar

Well-made.
Great clean bass tone with tone controls.
Great playability.
Single coil pickups Our top pick.
Premium Quality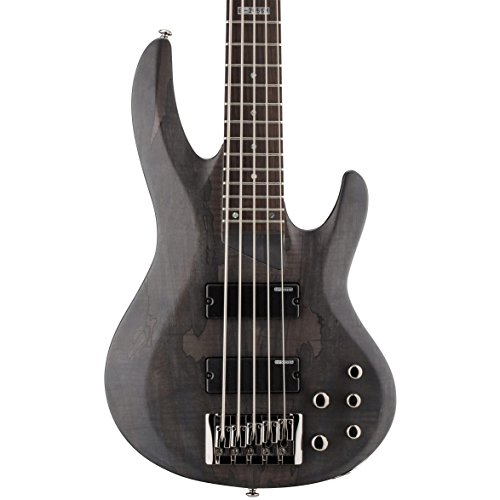 ESP LTD B-205SM Spalted Maple Bass Guitar

Well-made.
Great clean bass tone with tone controls.
Great playability.
Single coil pickups Our top pick.
Great value

Ibanez 5 String Bass Guitar

Well-made.
Great clean bass tone with tone controls.
Great playability.
Single coil pickups Our top pick.
View The Best 5-String Bass Guitars
1. Squier By Fender Vintage Modified Jazz Bass V 5-String Electric Bass Guitar
Some of you may be surprised that we are starting with a Squier as our top pick, but the build quality level has risen considerably from the musical instruments that surfaced in the nineties.
This modified vintage jazz bass 5-string model is doing its part to lift the reputation of Fenders' subsidiary company.
This Squier vintage modified 5-string electric bass guitar is exceptionally well manufactured the fret intonation is very accurate and the material used is excellent quality. It is a solidly built wooden beaut with retro aesthetics, including the over-sized block-like inlays. It is a three-piece body which can be seen because of the natural finish.
The modified jazz 5-string bass guitar has a spacious maple fretboard that is wide and low you may need to adjust the truss to get the action you prefer, and it may not be comfortable for smaller hands.
The Squier by Fender Vintage Modified Jazz electric bass guitar is equipped with two fender single-coil pickups which deliver a tremendous clean bass tone ideal for jazz. This Fender Standard Jazz electric bass guitar has a three-ply pickguard, and a five saddle, fixed-bridge all hardware is heavy-duty, making it a durable option.
Pros:
+ Well-made.
+ Great clean bass tone with tone controls.
+ Great playability.
+ Single coil pickups + Our top pick.
Why We Liked It - This Squier by Fender 5-string electric bass guitar makes you want to take back everything negative you ever said about a Squier; it is considerably well-made, the bass tone is beautiful as is the play-ability once tweaked to preference.
This Fender vintage modified Jazz electric bass guitar keeps excellent intonation, and they also make a fretless version if you are interested. Fender bass guitars are usually a good win, and we recommend this Squier by Fender vintage modified Jazz bass model wholeheartedly.
2. ESP LTD B-205SM Spalted Maple Bass Guitar
This next model from ESP LTD is a subtle head-turner. This premium electric bass guitar is lightly stained with the unique grain of its solid spalted maple topped body shining through, ensuring that no two five string basses will ever be exact it is an eye-catching option.
This maple top electric bass guitar features a streamlined neck to help make it a little easier to play at the neck end; this renders it a good transition, quality instrument from a 4-5 string without a hell of a stretch.
This ESP LTD B-205SM spalted maple 5-string electric bass sports enclosed soap-bar style bass pickups the bridge is a passive ESP LTD SB-5 and the neck an active SB-5N that work with its ABQ-3 (3-band) equalization.
This high build quality instrument plays like a dream the rosewood fingerboard is easy to glide over, and the frets have an excellent mounting depth allowing for slapping action. It has good neck intonation, and the tuning hardware is a robust black nickel that keeps the tension perfectly.
Pros:
+ Interesting wood grain.
+ HS pickup style.
+ Easy to play. + Rosewood fretboard
+ Maple top
Why We Liked It - The ESP LTD B-205SM spalted maple top 5-string electric bass is an excellent quality humbucking option with fat bass sounds it is on the heavier side, but we like the balance between the body and neck.
3. Ibanez 5 String Bass Guitar
Next up, we have a five-string version from the Ibanez GIO series, which is a short scale model with an incredibly lightweight to it.
This 5-string electric bass has excellent play-ability aided by its slim neck comfy frets and dotted inlays, making it an ideal introductory electric guitar for bass players. It has a robust solid mahogany body with a sturdy maple neck that supports the high-quality rosewood fingerboard.
This 5-string electric bass is fully decked out with the companies' B15 bridge and proprietary Dynamic H neck and bridge and Phat EQ equalization on-board to sculpt your bass tone.
Pros:
+ Lightweight.
+ Dynamic pick-ups.
+ Glorious tones with equalization tone controls.
+ Rosewood fretboard. + Short scale five string bass
+ Solid mahogany body
Why We Liked It - The Ibanez five string electric bass one of the most comfortable five-strings on the market, the sound is iconic Ibanez all over and is priced appealingly low in the general entry model price ranges. If you are looking for a lightweight bass with an extra string, this option pretty much ticks all the boxes!
4. Sterling by Music Man StingRay Ray5 Bass Guitar
The Sterling by Music Man borrows its iconic vintage aesthetics from the Ernie Ball StingRay.
The Music Man Ray-35-NT is a beautifully presented solid body five-string made from basswood. It features a rock-solid bolt-on maple neck with a jatoba fretboard.
This basswood body guitar has a high-quality finish to meet the dual inspection process requirements, and the headstock and hardware are great.
The keys are laid out in a 3.2 configuration, making them less prone to detuning one another when you tweak your pitch or down-tune. This configuration also allows each string to lie flat, giving them the best tension support and keeping the intonation perfect and adding some longevity to your strings to boot.
This 5-string electric bass is fitted with a double-coil Humbucker style pickup with ceramic pole pieces and active electronics and 2-band equalization in addition to Hi and Low Cut/Boost controls.
Pros:
+ Great vintage aesthetics.
+ Ceramic Humbucker with active electronics.
+ 3.2 tuning hardware. + Basswood body
Why We Liked It - It is another vintage-inspired electric bass guitar with great design features that makes it excellent value for money.
Stealing final position in our review spots is this 300 series TRBX from Yamaha with its superb M3 bass pickups and comfy cutaways.
The M3's utilize over-sized ceramic pole-pieces for better clarity, and more rich depth throughout and work harmoniously in conjunction with the active Performance EQ circuitry to give users far more control over users typical 2-band equalization providing a more tonal range.
The Yamaha TRBX305 5-string electric bass is a well-manufactured full-size option with a flatter neck radius it is made from solid mahogany and has a rosewood fingerboard.
Pros:
+ High build quality.
+ Great bass pickups.
+ Optimized equalization.
+ Rosewood fretboard.
+ Mahogany body.
Why We Liked It - The Yamaha TRBX305 is very well balanced, the bass pickups perform well, and the 300 series is a significant step up from the entry-level Yamaha bass guitars. Also in this range are the Yamaha TRBX505 and the Yamaha TRBX605 5-string flamed maple bass guitar options.
 5-String Bass Buying Guide
When it comes to what to look for in a five-string bass guitar, except for the fifth string, you are going to need to consider the factors as with any bass guitar purchase, but for your convenience, we have broken it down to summarize a little in our buying guide.
What to Look for in a five-string Bass guitar?
It is important to remember that a bass guitar can be far more cumbersome than some electric guitars and acoustic guitars. This is especially true when shopping for an option with a fifth string, as five-string guitars generally sport more wood.
Five-string bass guitars must have substantial body/neck balance, or the neck can tip - which you don't want.
For that reason, if you are choosing your new electric guitar in a shop ensure you try it with a strap to make sure it isn't going to neck-dive on you.
The wood used for its composition can make a big difference in lower-priced regions you are probably going to see a lot of ash, and basswood mahogany is an excellent tonewood with good resonant properties for string instrument manufacturing. If you can find an option with a basswood body, we recommend you seriously consider it.
Budget is going to correlate directly to what you should be looking for, and we would say if you are on a restrictive one, then you can't go wrong with most leading bass guitar brands' entry-level models. This is especially true if you are looking for a bass guitar for beginners.
A guitar can always be tweaked and upgraded to personalize the sound if you ensure you have a good core. So focus on the woods used to make sure that the neck is hardwood and as straight as can be found.
The bass pickups affect the capabilities dramatically a single-coil pickup (sometimes referred to as J-bass) tend to have a hum, though many modern single coils are now noise-free.
Double bass coils offer phase reduction reducing the hum and fatten the sound but are not necessarily better depending on the sound you want to achieve and the genres you play.
Sometimes a double bass coil will not be a Humbucker per se but rather two single stacked coils which can be split.
Pick a body shape with comfortable cutaways and somewhere to rest your arm or wrist so you can develop your playing techniques.
Look for reputable electric bass guitar brands for better circuitry and ensure the pots are durable build quality and preferably not plastic.
The neck radius should be higher for a flatter neck and lower for a rounder one which sometimes catches buyers out.
The frets should not be sunken too deeply nor set too high. If they aren't quite right, you won't be able to slap them or slide quickly. They should also have accurate placement for correct intonation, which can get worse as the spacing reduces in cheap models.
Most importantly you want to be able to adjust the guitar well, so look for an adjustable truss and maybe even bridge.
Conclusion
Getting your hands on a good bass guitar with an extra string at a reasonable price has never been simpler with so many five-string basses available. The market is filled with a wide variety of manufacturers. These are manufacturers who try and cater to everybody from the beginner to the seasoned expert. Find bass guitars for beginners, as well as professionals with our buyer's guide!
You might be surprised at what your money can get, and we are positive we have provided a few great alternatives which make for suitable selections when it comes to a 5-string.
With a little know-how from today's 5-string buying guide, you should have all you need to find yourself a five-stringed friend.
Expert Tip
While there aren't many decent hollow-bodied five-string on the market, Ibanez launched an awesome semi-hollow for their 30th anniversary.
Did You Know
The luxurious solid maple top Ritter Royal Flora Aurum built by Jens Ritter sold at auction for $250,000 with its 10,000-year-old mammoth ivory nut and black diamond set in platinum inlays.
If you've enjoyed this review by Music Critic, please leave a positive rating:

[vc_separator