No one wants to shell out a fortune on their first bass, especially if it may just end up gathering dust today we are taking a peek at the 10 best cheap bass guitars to find some inexpensive investments.
More than 60% of hobbies started to turn out to be just a fad, if you are a parent supporting the dreams from tween to teen can soon rack-up, but you wouldn't want to stifle them when you might have the next budding Wooten or Pastorius in your household.
This can be a major reason for buying a cheap bass guitar and there are many to choose from but some better equipped than others. We have gathered 10 low-cost choices which won't disappoint, whether you are a novice or not.
Related: Best Bass Guitar Under $500.
At a glance:

Our top 3 picks
Our team's top 3 recommendations
Best Overall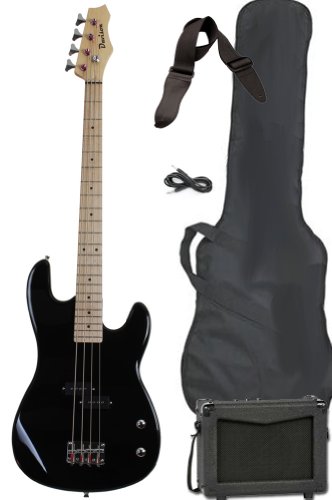 Davison Guitars Electric Bass Guitar

Nice bundle option with an amp.
Solid bodied.
P-style pick-up
User-friendly controls
Premium Quality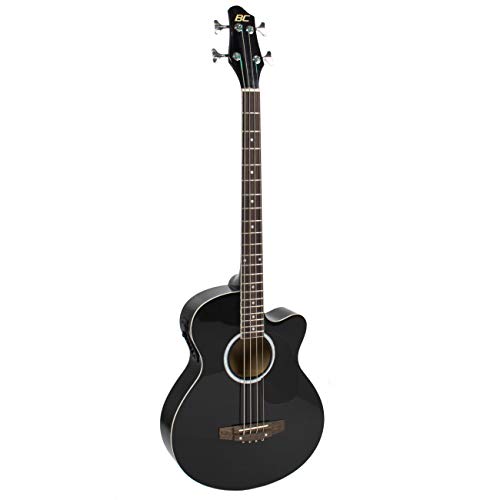 Best Choice Products 22-Fret Full Size Acoustic Bass

Nice bundle option with an amp.
Solid bodied.
P-style pick-up
User-friendly controls
Great value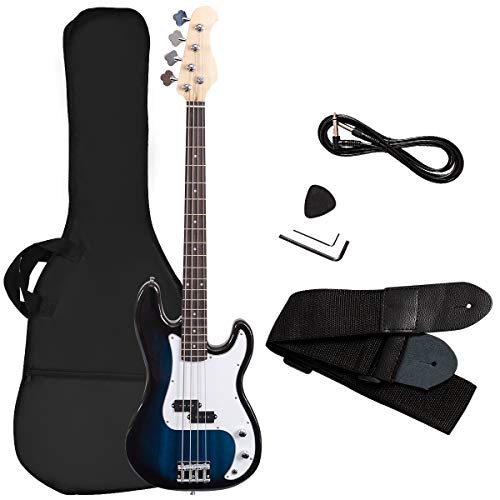 Goplus Electric Bass Guitar Full

Nice bundle option with an amp.
Solid bodied.
P-style pick-up
User-friendly controls
View The Best Cheap Bass Guitar Below
1. Davison Guitars Electric Bass Guitar
First up we have a modern bare essentials starter-pack option from Davison Guitars which includes a bundle of just about everything you are going to need to embark on becoming a bassist.
It is a teacher-approved, best-selling student model which retails with a reasonable price, especially given that it includes a guitar amplifier.
It is a full size 45" scale electric bass guitar with a solid body design which is pretty lightweight. It features an old Strat-like body shape and has a comfortably smoothed and angled forearm rest, the wood has good natural resonance. It comes in classic black, dark blue, wood-grain, or a beautiful sunburst design, all with a high gloss finish.
It is fitted with dual split coil (P-style) pick-ups and has 2 control knobs which make it easier to tweak for a beginner.
The sound is fairly average for a connoisseur but it has a maple neck with a truss along with an adjustable set bridge so is pretty easy to play once you have given it a play with.
Perfect full-scale bass guitar to start playing on. Also available in value packs that include amp, case, and accessories. The tuners are die-cast and keep good intonation and it comes with a range of accessories notably including a cheap travel gig bag and a basic practice amp.
Pros:
+ Nice bundle option with an amp.
+ Solid bodied.
+ P-style pick-up
+ User-friendly controls
Learning Schedule - Before purchasing your bass guitar, make sure you set specific learning goals or create a practice schedule. Make a schedule that's realistic yet consistent so that you can slowly but surely grow in your skillset. The key is regular, focused practice.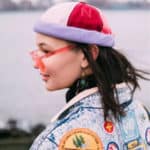 2. Best Choice Products 22-Fret Full Size Acoustic Bass
Next in our sights is an acoustic/electric bass which makes for a much more versatile option. A hollow bodied acoustic bass can be a good transition instrument for a classic or acoustic guitarist. They also allow you to practice without an amp when you are power restricted.
It is well-manufactured and features an auditorium body shape (dreadnought with a cutaway) and has a good natural acoustic timbre. It sounds beautiful plugged in.
It has an integrated 4-band pre-amp (EQ-7545Rif you're interested) which allows users to not only adjust their tradition treble, middle, and bass equalization setting but includes presence as well giving good control of sculpting your tailor-made sound.
It has a solid top with an abalone rosette and whilst there are a few minor aesthetic inaccuracies from model to model which might drive a few more particular people crazy (such as fret dots not lining up perfectly) we think it's pretty unbelievable for its low price typically a semi-acoustic model will retail for a lot more.
It has an adjustable truss rod the bridge could be better but with a decent set of strings, this thing plays pretty well.
Pros:
+ Solid-topped hollow body.
+ 4-band pre-amp.
+ Good resonance.
+ Adjustable truss rod.
Why We Liked It - It offers an impressive entry-level semi-acoustic option it has good depth to it and sounds great plugged in. We think the switches are on the less-durable side and the fretboard needs oiling, but those things aside it is a serviceable instrument with an unbelievable price-tag.
3. Goplus Electric Bass Guitar Full
Another full-size electric option worth a look at is this delicious dark blue (or pearly white) Strat-inspired model from Goplus.
It is another solid-bodied contender and again feature dual single-coil piezoelectric pick-ups which are sunk in a good position. The on-board dials seem durable and have a little resistance when you turn them and don't feel as cheap as they actually are.
It has large stable tuning keys which are mounted along one side of the head-stock they keep good intonation holding the strings firmly in place. It has a tremolo bridge and an adjustable truss, the rosewood fretboard is quite smooth and it has good action making it easier for a beginners hand.
It is well-fabricated and comes with a few essential items such as a gig-bag, strap, cord, and pick.
Pros:
+ Solid-bodied.
+ Good intonation.
+ Adjustable truss rod.
+ Bare essentials bundle.
Why We Liked It - It is a cheap and cheerful option the single coil pick-ups are fairly decent and you can get some nice tones out of it, though it seems naturally quite bright and retro sounding.
Practice To Your Favorite Tunes - If you're just starting out and feel overwhelmed by the amount of things to learn, one strategy is to practice the bass riffs of some of your favorite songs. This will naturally get you excited about practicing which is key to your success. By working on different songs in a variety of styles and genres, you'll begin to build up your technical skills while having fun.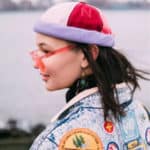 4. Ibanez 4 String Bass Guitar
Next we have selected a cheap bass choice from a better-known brand a short scale entry-level option from Ibanez.
It has slightly smaller fret spacing and is 28.6" in length, it is pretty comfortable to play an idyllic for smaller statures or hands. The maple neck is very slim and allows for faster slides and quicker walking.
It has a familiar Ibanez over-exaggerated Strat body type with a comfy angled arm-rest the contours are streamlined. It is carved from solid poplar, it is compact and lightweight.
It is equipped with the companies Dynamix P pickup which help it to serve up some versatile tones. It has 3-band EQ and heavier duty knobs which adjust incrementally. The bridge allows for good adjustment though it plays pretty well, straight out of the box.
It comes in a range of 9 diverse color choices we particularly like the conservative walnut finish and the eye-catching, outlandish metallic purple.
Pros:
+ Good pick-up.
+ Great tonality.
+ Great value.
+ Range of designs to express individuality.
Why We Liked It - Though its an imported model it is well-made and provides that signature Ibanez sound and style.
5. Squier by Fender Bronco Bass
We have a Fender Squier subsidiary model securing our fifth spot. The Bronco bass models are renown for their jumbo frets, they are accurately intoned and despite not being the easiest to play for smaller hands make a great cheap back-up bass for a seasoned player
It weighs next to nothing, sporting a solid Agathis body with a lovely finish, it has a classic Stratocaster bass design and a strong C shape maple neck. It is full-size at 30" and has suitable room for adjustment though it comes fully-set-up we suggest a quick fiddle until it plays more comfortably.
It harbors a custom Fender P-style single pickup and tone and volume controls. It has a clean bright fender twang and the low E has a powerful depth to it.
Pros:
+ Solid body.
+ Incredibly lightweight.
+ Fender sound.
Why We Liked It - It plays very well for a low-price bass the jumbo frets are good for stretching your fingers and training, though we wouldn't say this was a beginners bass.
6. Ibanez Talman TMB100 MGR 2015
Next we have another Ibanez up for consideration The Talman model features another classic Ibanez look and has a vintage-inspired pickguard.
It is a solid bodied (poplar) full-size electric bass guitar and comes equipped with Dynamix P and J combination-pickups for a good degree of flexibility over your desired tones.
It has a rosewood fingerboard with whited dot inlays to help you navigate your way about the neck it has an adjustable truss rod and bridge and is easy to play.
The Jack connection is front mounted below the pickups. The Tuning keys have divided either side of the head-stock and are accurately cast.
It comes in a range of trendy and retro color combos and is expertly manufactured.
Pros:
+ Well-made.
+ J & P pickup combo.
+ Solid but lightweight poplar body.
Why We Liked It - We love the softened contours, it plays beautifully and has a retro vibe.
7. Yoshioe Electric Bass Guitar Full Size
Next up we have a very cheap electric bass option which has the same generic Strat-like appearance as the majority of low-priced models on the market seems relatively well manufactured and has a bunch of positive reviews.
It features a typical P-style pick-up and dual dial controls to shape your sound with. It has a solid basswood body with good acoustic and has a great natural tone and impressive sustain.
It is very low-profile and easy to play, though the neck seems a little heavier in comparison to its lighter body. It has an adjustable bridge and truss rod, it comes with keys and a cord to plug-in with and sells in a range of interesting styles to choose from.
Pros:
+ Good solid body wood tones.
+ Adjustable truss
+ Cheap choice of bass.
Why We Liked It - It provides another basic bass guitar option, there Is a surprising room for playing with the tonality despite the simpler pickup style and the price-tag is very appealing.
8. Crescent Electric Bass Guitar Starter
This next budget brand bass guitar poses another suitable starter model to consider. It is surprisingly well-made for a cheaper bass model and has a lightweight solid basswood body with the familiar Stratocaster appearance.
It is full-size and a little larger than average at 43" it harbors split single-coil P-B pickups and the built-in pre-amp gives users control over volume and tone which whilst it can be less finely played with still present s a good range of tonal quality options.
It sells as a bundle buys adding a little extra value to your purchase and ideal as a gift or beginners pack some of the accessories include; a gig bag, strap, picks, spare strings, and an all-important free tuner.
It has a smooth rosewood fingerboard which is in good condition it has a fixed bridge, an adjustable truss rod, and the tuning keys seem strong and hold the tension well.
Pros:
+ Lightweight but solid-bodied.
+ Holds good tension.
+ Jam-packed bundle buy.
Why We Liked It -It is a solid choice for a cheap bass guitar it sells with a variety of essential extras and plays reasonably well.
9. Ibanez 5 String Bass Guitar
Our last review is going to be somewhat short and sweet as it is essentially just a 5 string version of product number 4, we felt it was unfair to only include 4 string options many bassists rely on that low B to jam along to their favorite tracks.
It is an Ibanez with a slim neck to aid with the speed it is again shortened scale (28.62) and pretty idyllic for learners or those with smaller hands and statures.
It features the same, familiar Dynamic P pick-ups with neck and bridge placement and user-friendly control knobs for a good selection of tone adjustments.
Pros:
+ Cheap 5-string option.
+ Dynamic pick-ups.
+ Good tone adjustability.
+ Classic Ibanez aesthetics.
+ Very lightweight.
Why We Liked It - It's short scale and slim neck render it a good introductory 5-string model, it is very light on the shoulder and the action is forgiving on unaccustomed fingers.
Longevity -Like you would with any guitar, make sure you keep your bass out of extreme temperatures. It's best to keep your guitar in a case when not in use and in a temperature-controlled environment. Otherwise, exposure to direct heat over time can warp the wood of the guitar permanently distorting the sound.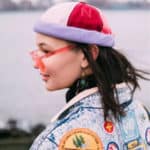 Cheap Bass Guitar Buyers Guide
Why Choose a Cheap Bass Guitar?
There are a number of reasons for choosing a cheap bass guitar and whilst many seasoned bassists will argue that you get what you pay for, it is also fair to the majority began with what they could afford and worked their way up. Some would even give their right arm to have their original starter guitar back and some still have theirs.
As mentioned in our introduction the number one reason is to buy a gift bass guitar for a student or beginner. The whims of a youngster can often change like the wind and it is far more savvy to opt for a cheap bass guitar and see if they are going to stick it out in the first place before committing to something better.
Quickly following the novices, the second major reason for choosing a cheap bass guitar is as a replacement when funds are low, giving you something to play in the meantime whilst you save to replace a prized possession.
It makes sense to have a back-up anyway, for live stage use you typically want a second guitar strung up and ready to plug and play if you break a string or have an electronic malfunction on the night.
It would be lovely if both your bass guitars were high-end boutique beauties but this isn't a realistic goal for the average bassist, who might just have to settle for something cheap and cheerful.
The other main argument is as a travel option. The majority of bassists out there will have more than one model because the models which they like to show off are quite often the same ones that they wouldn't want in harm's way.
Hauling a high-end instrument around warrants protective cases and strategic planning and unless you are playing at the top of your game you might want to consider a cheap knock-about bass.
Having a cheap bass to drag around is more reassuring and allows you to relax a little if it happens to be subjected to a few hard knocks.
It can also be the deciding factor as to whether you care to share, or antisocially stow-away your instrument from strangers at a local jam night. A cheap bass can also give you the freedom to always have access to a bass in the trunk for spontaneous use, which helps with acting on creativity the moment inspiration strikes. Buying a cheap bass is essentially buying yourself a little peace of mind.
What to Look for in a Cheap Bass Guitar?
We could argue until the cows come home about old manufacturing versus modern mass fabrication models but at the end of the day, they do present a bargain to be had.
Some brands make sufficient profits on their higher end and boutique models that they are able to manufacture some astounding budget instruments. Some cheap versions of iconic models are just close but no cigar, however, it is wise to remember the age-old saying that says a poor workman blames his tools because a pro can make the worst bass guitar in the world sound pretty damn decent.
The initial body and neck quality is the number one thing to keep in mind, especially if you are an experienced player looking for a cheap fix. Practically every part of a bass guitar (or regular guitar) can be replaced or modified over time.
Having bridge and truss rod adjustment is vital to have some control over the action of your instrument.
Many of the cheaper models on the market will benefit from an initial string upgrade and some of you will probably end up going a lot further revamping the pick-ups until you have a boutique baby to carry around.
These upgrades are relatively simple if you replace the same style pick-ups with a better version and keep the placement the same they require no actual modification to the body itself which can be damaging. You don't have to know too much about circuitry to kick a cheap bass guitar up a notch.
Unless you want to faff around too much we suggest looking for a set with strong tuning machines which hold good tension and have accurate incremental gears.
The neck must be straight, and the frets should be well placed with an intonation that stays true all the way up.
Where the neck joins the body needs to be the most durable, whilst many cheaper bass guitar bodies are crafted from 'basswood' you can get yourself some tone-wood options for a nice low cash investment.
You want a bass with a good balance which doesn't neck-dive on you it should feel easy on the shoulder and not cause too much discomfort.
Conclusion
There are more than a few good reasons to consider a cheap bass, whether its to back up, replace or kick-start your musical journey.
Many high-end bass guitars are simply priced too far out of reach and there is a huge disparity between an entry-level model and something truly special.
If you are after a low-priced solution then you will hopefully have seen from today's reviews that there are some cheap bass guitar models on the market which are well worth a nose.
Expert Tip
If you are buying your first cheap bass guitar the focus should be kept on ease of play, because it really does take time for your fingers to callous and develop the necessary strength, more so than with playing an electric guitar the number one reason for giving up at the first hurdle is tougher action on the instrument so opt for something easy.
Did you Know
We recently reviewed a round-up of what we feel are the 10 Best Beginner Bass Guitars in 2023 with an informative in-depth buyers guide to help you.
If you've enjoyed this review by Music Critic, please leave a positive rating:
[vc_separator