In an ideal world, we would all love a set of headphones that serve-up premium audio with a luxury level of comfort, But when money is tight, and your hands are tied, sometimes a budget price model is all you can afford. So today, we have chosen the 10 best cheap headphones in 2023.
The over-saturated headphone market, with its highly-competitive nature and constant product development, can actually be the best for bargain hunting, if you know where to look.
The lower-price models don't differ too heavily in terms of their driver arrays and capabilities, but there are a few which outshine the rest. We have rounded up a selection of different headphone styles, suitable for different purposes at a great price with great sound. As usual, we have provided an informative buyer's guide to help you discern what to look out for when buying a budget price pair.
Related Review; Budget Noise Cancelling Headphones.
At a glance:

Our top 3 picks
Our team's top 3 recommendations
Best Overall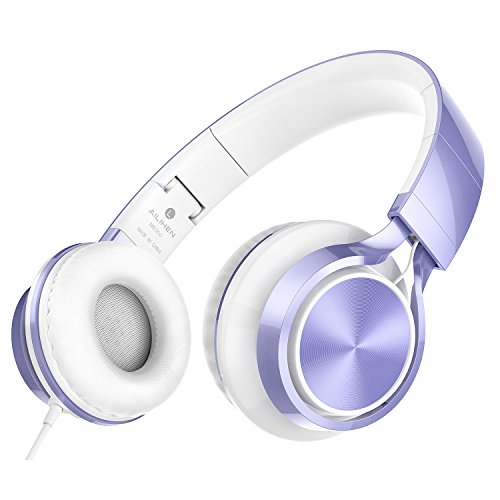 AILIHEN MS300 Wired Headphones

Aesthetically appealing.
Braided cable.
Completely collapsible.
Good stereo sound and bass.
Premium Quality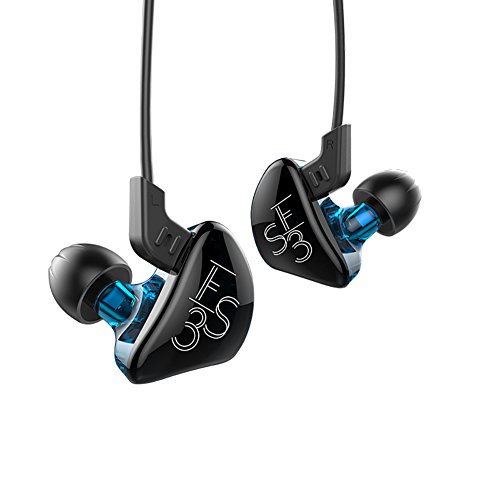 Panasonic ErgoFit In-Ear Earbud Headphones

Aesthetically appealing.
Braided cable.
Completely collapsible.
Good stereo sound and bass.
Great value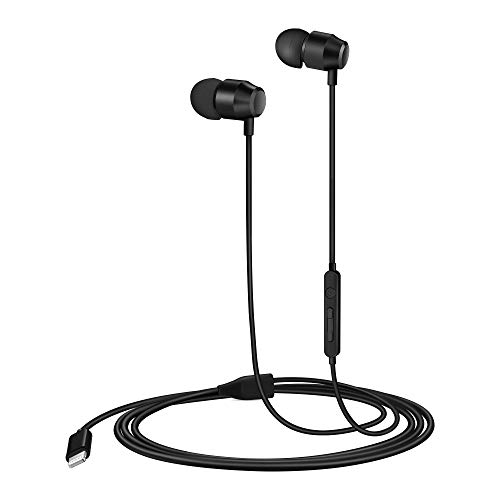 PALOVUE Earflow in-Ear Lightning Headphone

Aesthetically appealing.
Braided cable.
Completely collapsible.
Good stereo sound and bass.
View The Best Cheap Headphones Below
1. AILIHEN MS300 Wired Headphones
We're opening our reviews with an aesthetically pleasing pair of headphones from AILIHEN. These are beautifully colored in a variety of unique shades, and we like the violet set the best.
For a set of cheap headphones, they are well-manufactured. They provide a sturdy lightweight headband that is fully adjustable, thanks to its stretchable joints. It can actually collapse completely, as well. The folding arms appear very well-designed and strong enough to last. They reduce the overall size by around 60%, which makes these the best over the ear headphones for travel.
The on-ear cups are sufficiently cushioned to keep them comfortable while listening, and they are formed with breathable fabrics. These cheap headphones are closed-back, which isolates the listener from their environment for a personal audio experience.
The external materials chosen are scratch-resistant. They feature a braided nylon cable, which helps prevent tangling. It's equipped with a traditional 3.5mm jack for versatile applications.
The drivers are pretty decent for a low-priced option. They employ neodymium and work sufficiently well, providing balanced stereo audio with strong, punchy bass performance and good sound dynamics.
Pros:
+ Aesthetically appealing.
+ Braided cable.
+ Completely collapsible.
+ Good stereo sound and bass.
Why We Liked It - They are a trendy set of over ear headphones, best for the avid travelers. They have a good range of adjustment, which allows for smaller heads. This makes them ideal for kids and teens, as well as adults, at a great price. Looking for wireless headphones with Bluetooth capabilities? Check out these cheap bluetooth headphones under $50.
2. Panasonic ErgoFit In-Ear Earbud Headphones
Our second selection is an old favorite; the ErgoFit in-ear model from Panasonic, which serves up superb audio at an affordable price.
They are a wired set which has a generous length of cable (3.6 ft). They are well-designed and executed with ergonomics at the center of their concept for a comfortable fit. They come with three different slim-line tips to choose from, each made from the company's ultra-soft foam, which shrinks and expands to conform to the individual's ear for a premium level of comfort. This is great for such a low price.
The tiny 9mm speaker array is driven by neodymium magnets. Despite their tiny size, they outperform the majority of typical 9mm ear-bud options out there with their good sound quality. As these earbuds are wired, you don't need to worry about battery life, a poor connection, or poor sound quality.
They are well-engineered, and the components utilized are of great build quality. They deliver high definition sound, dynamically balanced audio quality, and great bass with bright highs and rich overall depth.
Pros:
+ Premium foam tips.
+ Great drivers.
+ Well-defined dynamic stereo sound and bass.
Why We Liked It - These are some of the best cheap headphones. They are well-manufactured and blow the competition out of the water in terms of their audio quality. The tips are very comfortable, and they retail at an affordable price point, making them one of the best pairs for price.
Related: Headphones Under $50.
3. PALOVUE Earflow in-Ear Lightning Headphone
Third in our sights is the Ear-flow model from Palovue. It's another in-ear, ear-bud choice, this time with an MFI-certified lightning connection in place of 3.5mm TRS to make them compatible with iPhones etc.
They are a well-made, wired set that incorporates magnetically attracted buds, allowing them to be worn about the neck when not in use. Not only is this convenient for travel, but it actually helps prevent the wires from tangling during transit, as well as acting as a safety feature. Should they slip from your ears for any reason, they will catch one-another, securing themselves. This is one of the best features if you're worried about losing them.
They have a lightweight aluminum chassis that harbors very capable dynamic drivers. They measure a little more in diameter than typical sets, at 9.3mm. The size increase may seem pretty nominal, but in actuality gives them an edge over a traditional 9mm set. They have a good cross-spectrum response and produce audio with good depth and balance. This makes them one of the best headphones for sound quality.
They are equipped with a good microphone and in-line controls for easy operation.
Pros:
+ Metallic chassis.
+ Dynamic drivers for great sound.
+ Magnetic catchment design.
Why We Liked It - They are a good, affordable magnetic necklace option, which is a great concept for those who listen during commutes. The sound is great.
4. Betron ELR50 Earphones Earbuds Headphones
Another great ear-bud alternative with great manufacturing quality and an appealing price point is the ELR50 model from the engineers at Betron.
These are another durable metal-work option; they are sufficiently lightweight to maintain their position in the ears. They have been fashioned with sculpted air vents, which optimizes their bass performance and also assists the treble response with much-needed cooling. This makes for excellent sound.
They come with 3 tips to choose from, each providing a secure but comfortable fit, thanks to their clever designs.
Their drivers measure just 9mm, which is an average in-ear size. They employ neodymium magnets to create their fields and have a very accurate sound response for a low-priced pair. The stereo audio delivered is powerful with good dynamics and fair balance, making for good sound quality and bass.
Pros:
+ Durable build.
+ Sculpted air vents.
+ Good response.
+ High sensitivity.
+ Good sound and bass performance.
Why We Liked It - They have been very well-engineered for a budget set. The inclusion of a venting system really enhances the low-end performance and helps prevent wave cancellation, reducing the risk of distortion. They can be turned up a fair amount and the bass is punchy without buzzing in your ears. That makes them one of the best cheap sets out there.
5. Ailihen I35 Stereo Lightweight Foldable Headphones
Next up, we have a second offering from the folks at Ailihen. They produce some of the best quality audio electronic products with rock-bottom retail prices.
We've chosen this set because we're often asked about the best cheap, kid-friendly, over-head options, as large ear cups can be far too cumbersome for smaller listeners.
Electronically speaking, they are a smaller version of the set we began today's article with. They have all the same noteworthy capabilities, with the exception of the collapsible design. Essentially, they are a rigid sturdier version that can fold but not collapse. This allows it to withstand a little more wear and tear than the first.
They are softly cushioned with premium earmuffs, and the headband is padded, too. They are incredibly lightweight, and they feature a braided nylon safety cord like the first set. The flexibility of the material means that it can actually survive a bit of chewing, should your child have a naughty nibble while you aren't watching.
The sound is well-balanced and has low decibel levels to prevent little ears from being subjected to unsafe sound pressure levels. As they are aimed at a younger demographic, they also come in eight eye-catching color combinations, making them the best cheap headphones for children.
Pros:
+ Foldable for storage.
+ Softer 'earmuff' style cup-cushions.
+ Lower SPL.
+ Range of colors.
Why We Liked It - These cheap headphones seem pretty durably made, and the braided nylon cord also adds longevity as well as safety to the product. All these features make them the best cheap headphones for kids.
6. Symphonized NRG 3.0 Wood Earbuds
Next up we have a natural ear-bud option. They present a beautifully crafted and somewhat unique solution. They are entirely handmade, which makes it all the more surprising that they retail with such an inexpensive price-tag.
They are carved from wood and come in a range of wood tones with different stains. Aside from their good looks, the wood actually helps with their audio reproduction. It naturally dampens the unwanted reverberation, which can cause audio wave cancellation. This makes all frequency response far clearer and prevents muddy mixes.
This is a very beneficial characteristic that passively prevents distortion and allows them to house better drivers for the best sound quality.
They are open backed, which, again, is atypical for an in-ear option. This gives the audio a less synthesized sound and gives trebles the space to ring. It also provides ample air intake for the speakers to pump and produce waves from while keeping the electronics cool at the same time. Another advantage is the wearer can be more aware of their surroundings, which are safer for a built-up area.
They come with three custom-made, ergonomic ear-tips to select the best fit for you and serve-up superior audio.
Pros:
+ Hand-crafted.
+ Wooden composition.
+ Open-back design.
+ HD audio.
Why We Liked It - They are beautifully engineered, acoustically inert and provide amazing audio. These are the best cheap earbuds if you're looking for something unusual.
7. ROVKING Wired Metal Earbuds in Ear Headphones
We're going from a wonderful wooden set to a merit-worthy metallic one. These wired in-ear headphones from Rovking are another familiar face.
They are a cheap and cheerful wired in-ear option with a decent quality integrated microphone. They are suitably lightweight and durably made, with a sturdy aluminum housing with a sandblasted finish.
The earbud tips are comfortable and made with a skin-friendly silicone. A range of tips are provided, once again, to find your idyllic fit.
They are noise isolating and immersive. They feature a standard 3.5m jack connection, suitable for a range of devices, though you will need a lightning adapter for smartphones, etc.
They are neodymium driven and provide full-range stereo audio with a fair response, good dynamics, and a nice equilibrium between the higher and lower sound frequencies registered. The bass response has a good presence, making for excellent sound quality.
Pros:
+ Lightweight but durable aluminum design.
+ Comfortable tips.
+ Low budget option.
+ Good sound and bass response.
Why We Liked It - Their build quality is great; they are well made with durable materials. They come in a range of color choices and are suitably comfortable. They serve up good audio and great bass for their low price-tag.
8. Artix Foldable Headphones with Microphone
Next, we have a low-price wired, fold-away set of over-ear headphones with an integrated mic. They are well-manufactured, and the material choices keep them lightweight and inexpensive.
The folding parts seem durable enough. They are decked out with soft pillows around the rim of the ear-cup, which provide the necessary comfort and help reduce sound pressure levels and over-heating during use.
The microphone has good sound quality and is operated via their easy to use in-line controls. They have a strong single-sided cord with a 3.5mm jack connection lead, which is compatible with the majority of devices.
The drivers work effortlessly to provide good quality stereo audio with a fair response. They deliver a well-balanced sound with a punchy bass.
Pros:
+ Compact folding design.
+ Sufficiently cushioned ear-cups.
+ Single sided cord.
+ Balanced sound and punchy bass.
Why We Liked It - These are a well-manufactured bare-bones solution which can fold away for storage. They serve up good quality audio and are great for any any price range.
9. Panasonic Headphones On-Ear Lightweight
We're back to the pros, with Panasonic this time. They offer a dirt-cheap on-ear option that delivers their signature audio via a larger driver array than their in-ear ErgoFit model we've highlighted in today's article. Their quality gives the Audio Technica ATH M20X a run for its money.
They are a well-made, cheap-choice, which still outperform many similarly capable sets and provide an essential item. They're ideal for computer use, as well as personal listening. Their on-ear nature means they are able to produce better audio than an earbud set, but they're not quite as cumbersome as large-aperture over-ear headphones.
They are very lightweight and are made from flexible ABS plastic, which keeps them relatively comfortable for short periods of use. They have a good range of adjustment and soft foam ear-pads.
Their open-air design is the most impressive feature. They have an integrated XBS port, which enhances the bass response and allows their 30mm neodymium driven speakers to deliver powerful, rich stereo sound quality.
They have a generous 4.5 ft cord, giving you a little more freedom when seated at a computer desk. It doesn't quite offer you the freedom as true wireless headphones or wireless earbuds would, but it's more than enough.
Pros:
+ Cheap as chips.
+ Flexible, adjustable, ABS headband.
+ Open-air design with a bass reflex port for better low-end reproduction.
Why We Liked It - As the best cheap price choices go, these are incredibly well-put together. They're perfect for any price range.
You'll probably recognize this brand. Sony is known for crafting great technology, so it makes sense that they'd make some of the best cheap headphones, too. The Sony ZX Series headphones go over the ears for an intense and sublime sound.
The 30mm driver units and frequency response of 12 – 22,000 Hz for these headphones provide excellent, balanced audio, which means you're getting the best sound quality every time.
Although they're not advertised as noise-cancelling headphones, over-ear design means they already have some form of noise cancellation that you don't get with in-ear headphones.
These over-ear headphones feature a compact design. They fold and swivel, which makes them great for traveling. Once you've finished listening to them, just fold them over and tuck them away in your bag. This design means they won't take up much space at all. Not only that, but Sony has ensured that the cables are tangle-resistant. This is great if you're always untangling your cables, which is undoubtedly frustrating when you just want to get to your music. They're also lightweight, which is yet another reason why they're a great pair for commuting. The only thing that could make them better is if they were wireless headphones.
Pros:
+ Tangle-free chord.
+ Great frequency response.
+ Compact and portable.
Why We Liked It - These are a great pair of simple headphones that do the job perfectly for a great price. With a popular brand name backing them, you can trust the quality of this pair. The compact design makes these the best headphones for commuters - so get a pair if that's you!
Cheap Headphones Buyers Guide
One of the biggest pitfalls of shopping in the lower regions is spotting the better quality items from the cheap rubbish. Sometimes you have to do a little more research to know what to look for.
We do a lot of budgets allocated reviews here with a candid approach, to help guide you through the jargon and understand the specs. Unfortunately, many companies use misleading language when trying to shift something sub-par, and this can be confusing. But, worry not! There are some affordable models that outperform the rest, and, with a keen eye, you can find the best of the bunch.
It's important to keep in mind that, while there are good deals to be had, you won't be getting anything premium quality without a substantial investment. Expectations need to be kept realistic.
That said, so long as your tastes aren't too particular, you'll be surprised at just what your dollars can get you these days, thanks to the constant evolution within the audio-electronics industry and a healthy dose of competition.
The headphone market, in particular, is pretty overstocked, rendering it a real buyer's market with many worthy bargains to be had. This is great news for your price-range.
The more advanced technology of higher-end products tends to trickle down to the lower-price products eventually, giving the customers a better deal. This is especially true for well-established reputable brands that have more resources at their fingertips.
What to Look for when Buying Cheap Headphones?
With low-price pair, quality is still essential. You don't want to find yourself replacing a poorly made set on a regular basis, or you won't have saved yourself any money in the long run.
The materials chosen are often cheaper and lower quality to begin with, which is often unavoidable because slashing production costs in the early fabrication stages is a sure-fire way to provide a low-cost product for the customer. For better quality, you need often need to spend a little more, but the manufacturing can assist in the durability of the product.
If the product is well designed and put together, then the materials used will fare far better. With earbud models, in particular, metals can be hardier than plastics.
On over-ear models, you should look for a sturdy headband design but with enough flexibility of cushioning to keep it comfortable. If it's a fold-away set, then the moving parts need to be well-designed or they will actually become a weak-point. The product will then eventually succumb to wear and tear and, unfortunately, break on you.
We have reviewed a range of styled sets in today's article to provide a variety of cheap headphone options. What you choose is down to your intended use at the end of the day. We have written many buyers guides that help explain the benefits of each headphone style.
The manufacturing quality and components as stated are paramount to the longevity of the product. A second vital factor is, of course, the audio quality itself. After all, headphones are for listening.
The audio reproduced relies heavily on the internal components of the quality and manufacturing. This, once again, determines the capabilities.
To generalize, a larger driver will perform far better than a smaller one, so a cheap over-ear headphone will therefore technically sound better than a cheap in-ear model by comparison.
In the low-price region, most arrays will utilize neodymium, and they all function in the same manner. But just how well is down to their circuitry and how they process their input signals.
This is largely down to their engineering. It may sound strange, but matching sized diaphragms manufactured with the same components can play the same audio with a very different output.
When a headphone receives an electronic signal, its magnetic field is disturbed. They discern the signal in accordance with their frequency response and how accurately they are trained to interpret it.
Headphones can struggle with low-end frequencies, as reproducing bass accurately requires a bit more of a surface area to reverberate. If you value your bass response, you should look for a set in your price range that has been optimized to handle lower frequencies better.
Comfort is important, no matter the style of headphones you select. While the material choices might be a little more limited, you should try to opt for the best your cash can get.
Over-ear models or studio headphones must be sufficiently cushioned to provide a comfortable fit, ideally with something breathable so that your ears don't over-heat during prolonged use. The band on studio headphones should be adjustable, and ideally, the earcups should be swivel-mounted.
These models also tend to have some sort of noise cancellation, just because of the way they're made. As they fit over the ears, they should sport some passive noise cancellation. However, if you want proper noise cancellation, make sure your headphones state they are noise cancelling. You might have to pay more if you want active noise cancellation, and just want it to be you, your sound and your bass.
In-ear models need to have an ergonomic earbud tip made from something skin-friendly and suitably flexible or soft so that they aren't damaging in any way to your ear canals. It's always good to buy a model that comes with a selection of tips to choose the best fit for the individual.
Be aware that if you would like a set of wireless headphones, you can expect to pay a little bit more. True wireless earbuds are much the same, even if they're smaller. When shopping for a pair of cheap wireless headphones, you'll have to consider a range of things.
First, the Bluetooth connection. Don't go for a poor connection with true wireless headphones or true wireless earbuds, even if this ups the cost - you'll just end up with wireless earbuds you're not happy with.
Secondly, you'll have to think about battery life. Don't go for poor battery life with cheap wireless earbuds or headphones, either. The battery life should be at least five hours, especially if you plan to take your true wireless earbuds on your commute. If you're lucky, the true wireless earbuds will come with a carrying case; these carrying or charging cases often contain additional battery life, so you don't have to worry about your true wireless headphones running out of battery life.
And, of course, consider sound quality with your true wireless earbuds or true wireless headphones. They will never match up to the quality of a non-wireless pair, but true wireless options should still have good bass and sound. Don't compromise when it comes to this. If you're really set on buying a true wireless option, perhaps consider a more expensive set.
Conclusion
Finding a set of affordable headphones shouldn't be too difficult because there are a plethora of low-priced products to tempt you, from wired options to true wireless options, and from in-ear headphones to over.
Sometimes you have to settle for less when it comes to the quality, but with our buyer's guide in hand, you should be able to spot a decent set whatever your needs.
So long as you have your priorities in check, finding a bargain should be relatively simple.
As ever, we believe our reviews represent some of the better deals out there. We trust this week's guide will help you get your hands on a cheap pair of headphones that won't disappoint.
Expert Tip
If you have premium tastes and less cash to splash, we recommend you go for an over-ear set with large-aperture drivers which can capably deliver better audio. If their larger size bothers you, try to find a robust folding set. They store away and are far more portable to take out and about with you, making them one of the best options.
Did you Know
We have written a range of low-priced headphone articles for you to peruse. Why not take a look at our other articles? Or for something a bit more specific you might be interested in our Best Headphones Under $30 article instead.
If you've enjoyed this review by Music Critic, please leave a positive rating:
[vc_separator