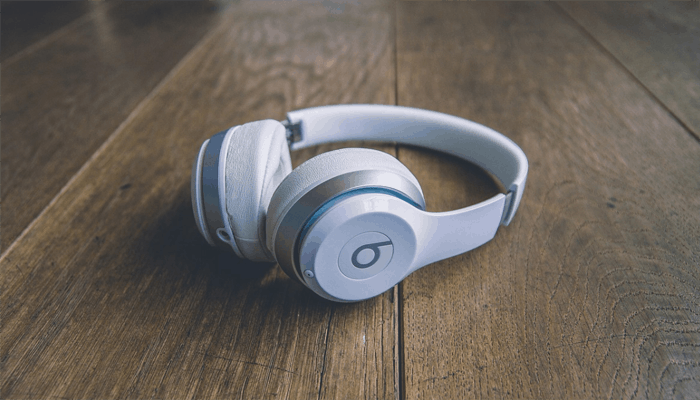 You probably already know who Beats is. They are at the top of the food chain in the headphone market. Everyone that is anyone is wearing a pair of Beats headphones and you want to as well. Beats headphones are some of the best sounding and stylish headphones on the market. Athletes, businesspeople, frequent travelers, and celebrities can all be seen wearing those famous, stylish headphones with the "b" on the side.
Beats has always been a reputable name as they were originally designed and created by the famous Dr. Dre. The supreme sound and busting bass took over the market in a hurry when the commercials with the producer of a slew of massive hip hop acts wearing the original Beats first came out. Now, Beats is owned by Apple, another mammoth in the tech industry. Their expertise in development has given the Beats brand even more of an edge and pushed them into the upper echelon.
Beats has three different types of headphones, and only 8 products in total. They have in-ear, over-ear, and on-ear. We will get more into the exact details a little later on. We have broken down the ins and outs of what makes all 8 of the Beats headphones unique for specific purposes. Read on to find out which ones may be the best Beats headphones for you.
At a glance: Our top 3 picks
Your shortcut to our team's top 3 recommendations
View The Best Beats Headphones Below
The Beats EP on-ear headphones are designed for the everyday listener who is looking for one of the more budget-friendly options for Beats headphones. They are not Bluetooth connected and need to be wired up in order to have the sound coming to your direction. As with most Beats headphones, they are most compatible with Apple products.
So if you have an iPhone, iPad, iPod, and an all-around iLife, you will be able to hook up a little better to these headphones. They have the sound that you want in a Beats headset without all of the expensive bells and whistles. They are specifically designed to be extra portable. They are equipped with a lightweight, stainless steel headband which is adjustable to your preferred size.
A remote-talk unit on the connection cable allows you to chat on the phone. It also gives you the controls in order to stop, play, skip, repeat, or control the volume right on the cable. This is the Beats pair that will give you the style and quality, without emptying out your bank account.
Pros:
+ Budget friendly
+ Lightweight
+ High-quality sound
+ Portable
+ Remote talkbox
Why We Liked It - This is Beats in simplicity. You can experience the Beats you want to experience at a lower price. They are not built up with all the extra pieces that cost all the money, but still, look and sound great.
Beats Solo3's are a pair of reliable on-ear headphones that offer the Beats quality of sound and wireless connectivity. They came out at the same time as the iPhone 7 and have been equipped with the W1 connection. The Apple airpods have the same connection and the benefit of having this particular aspect is that the headphones have a longer Bluetooth range, stronger connectivity, and quicker charge.
Although the headphones are meant to have a battery life that will have you listening for up to 40-hours, the headphones charge up quickly. You can also connect the cable to listen if the battery runs out. If you plug the headphones into the charger for just 5 minutes, you will have enough of a charge to last for up to 3 hours of listening.
That's the kind of power that Apple has. Along with the battery life and strong connectivity, the look is just what you want from a pair of Beats. The sound is also as remarkable as you expect. The bass is heavy and the rest is well-balanced and clear. Everything you could want from a pair of wireless Beats headphones.
Pros:
+ W1 connection
+ Bluetooth
+ Comfortable
+ Great sound
Why We Liked It - These beats are powerful and impressive. The connection has reached a level of peak convenience as well. You can listen for a long time without needing to plug them in and charge them back up. Having that stronger connection means fewer dropped calls and clearer music when you are in the thick of it.
This is a bang for your buck style of Beats headphones. They are powered up with all the features you could want and need. They are wireless, have a powerful and pleasing sound, and are super comfortable. The ear cups fit right over your ears and engulf the entirety of your ears inside the Beat factory.
The battery is meant to last for up to 22 hours. Again, they are easy to charge up or listen in the wired position if your headphones happen to die out in terms of the battery life. They are outfitted with ANC, or, active noise-cancellation. This is the most effective form of noise-cancellation available. It will block out as much outside noise as possible and harness it within the cavern of sound.
That will allow you to listen to music unhindered and unencumbered. Your sound will never be quite as good as it is with active noise-cancellation. They are also made of lightweight and comfortable material to keep you plugged in for hours and hours. Just like the Solo3's, the Studio3's have the W1 chip connector. That allows you to connect to other Apple devices with absolute ease. The connection is strong and long-lasting. No wonder these are one of the most iconic pairs of headphones on the market.
Pros:
+ Over-ear design
+ Active noise-cancellation
+ Lightweight
+ Amazing sound
+ Wireless
Why We Liked It - This is the creme de la creme of Beats. They pulled out all the stops with the Studio 3 headphones. Wireless connectivity, beautiful sound, stylish look, and lightweight design all packed into one ear blasting audio archangel.
So far, we have talked about the headphones that Beats rolls out that are best for everyday listening. Music, movies, and podcasts all come through great on any pair of Beats headphones. The Powerbeats are designed with sport in mind. They have an in-ear pod that fits directly into your ear canal and clips on to the outside of your ear to keep them right in place.
These headphones are portable, wireless, and waterproof. The battery is designed to last for up to 12-hours of music listening or talking. the "fast fuel" charge can give you an extra hour of listening with just 5 minutes of charging. That'll be great for the times you are about to go on a run and the Beats just dropped. A quick charge and you're all ready to go in an instant. They are sweat and water resistant.
I wouldn't go surfing with these headphones on, but as far as keeping them up and running during a workout or a rainy walk to the store, you can rely on them. 4 different tip options are available to allow you to switch them to fit your ears properly. This will help with the fit but also with the comfort and possible noise-cancellation you can get with a snug pair of earphones. They also have that oh so wonderful W1 connection that all the best Apple headphones are equipped with.
Pros:
+ Sport designed
+ Water resistant
+ Wireless
+ Lightweight
+ W1 Chip connection
Why We Liked It - This is a great workout buddy. They are not the best if you're looking for an everyday, powerful Beats listening, but the quality is still high in terms of what it offers in a small package.
They boast a finely tuned acoustic package that keeps the sound coming out the way you want it to. It has bass, balance, and intrigue. Everything is made of comfortable and lightweight material to give you the most customizable fit possible. The wired technology may not be the most convenient in terms of mobility, but honestly, you hardly even notice that the cable is there. You don't have to worry about the battery cutting out half way through a listening session.
They are durable and portable. They fold up nicely and fit into the carry bag so you can take them wherever you need to. On the cable, you have the remote talk component which allows you to chat and control the music with the touch of a button. No need to touch your phone to operate the controls. As far as a pair of headphones that will let you listen for a little better of a budget, the Solo2 headphones will do the trick.
Pros:
+ Simple design
+ Durable
+ Portable
+ Great Sound
+ On-ear
Why We Liked It - Sometimes simplicity is better. Do you just want to listen to your favorite music without draining your bank account? The Beats Solo2 headphones will get the job done for you.
The BeatsX earphones may be the smallest and most compact pair of Beats headphones that you will find. They will be another great pair of earphones for working out and on the go listening. As with any great pair of Beats, their connection is made using the W1 chip to help you instantly hook up with any Apple device.
The unique thing about the BeatsX headphones is that they have a cable which hangs on the back of your neck when you are listening. When you want to stop listening, you can have the headphones dangling around your neck so you won't lose them, or so you can easily pop them back into your eardrums whenever you are ready. The cable also contains the remote talk component and the volume/button controls.
The battery will last for up to 8 hours on a single charge. That should be long enough to work up a couple of sweats. They have a lot of great characteristics, but the best is probably the sound. As you would expect from Beats, the sound is super bassy and clear. You can hear everything perfectly and pleasingly.
Pros:
+ Bluetooth connection
+ Portable
+ Lightweight
+ Sports designed
+ Remote-talk component
Why We Liked It - They are great to take on the go with you. No bulky headphones sitting on top of your head. They are super portable, small, lightweight, and comfortable. Great for any workout, or listening when you're in motion.
urBeats are super stylish and easy to use. They have the style and sound that you strive for when you buy a pair of Beats. These headphones are cabled, in-ear headphones that are much more conventional than some of the other headphones on our list. You can get them in a variety of colors to fit your style needs.
They come with the necessary remote talk component to allow you to easily navigate calls and music. The sound you get will be really strong and balanced as well. If you're working out they will be a good pair. Although you don't have the absolute convenience of wirelessly connected headphones, they are still very portable and lightweight.
Pros:
+ SImple design
+ Well-balanced sound
+ Stylish look
+ Customizable
+ Wired
Why We Liked It - Many of us are just simply used to the old way of listening to music. These headphones don't ask for anything and you can expect the level of quality that Beats is known for providing.
Comparable to the Powerbeats 3 headphones, these ones are mostly only different because they are wired. Wireless headphones give you the ultimate level of portability, but wired headphones aren't too bad either. At least, you don't need to worry about the battery dying on you mid-workout.
When a pair of headphones are wired, you just plug in and go. The connection is always strong and reliable. The Powerbeats wired headphones have a comfortable and lightweight design, remote-talk component, and great sound. They pack it all into the in-ear headphones.
If you want to work up a sweat, you can rely on the IPX4 sweatproof and water-resistant rating. Then you won't lose the headphones to moisture when you're really going for it. When you have the properly sized tips, you get slight noise-cancellation to keep the bad sounds out, and the good sounds in.
Pros:
+ Wired
+ IPX4 water resistant
+ Portable
+ Lightweight
+ Comfortable
Why We Liked It -The cross between urBeats and the Powerbeats 3 wireless headphones. They have the sound components you want and need and pack a really impressive sound punch into a small area.
Beats Headphones Buyers Guide
What to look for when buying Beats Headphones
With some brands of headphones, you may need to be a little worried about the quality of the products. That is not the case when it comes to the Beats product line. Everything they make has a certain level of quality to it. That doesn't mean that all Beats headphones are created the same though.
Some are meant for different things than another. Some are more suited for daily use in terms of around the house listening and watching. Others are better suited for sportswear and working out.
Here are some of the things you may want to consider when buying your Beats headphones.
Fit
Three different fits are available with Beats. You have over-ear, on-ear, and in-ear. Here is the difference.
Over-ear headphones fully fit over the top of the ear and encapsulate your ear inside. This can be great for improving the sound quality on the inside of the headphones. There will be much less outside noise coming in when the headphones are wrapped totally over your ear. This allows you to have a more immersive experience when you are listening.
Over-ear headphones tend to have more powerful sound components which can translate into overall better audio. If you're watching a movie, playing a game or listening to music that has been engineered to provide an engaging experience, over-ear headphones could be the best way to go.
On-ear headphones are sort of a mini version of their over-ear brethren. They sit on top of the delicate ear bones using medium sized earcups. The sound with on-ear headphones is still really good as there is enough room to fit the necessary audio components into the cans.
You get a little more sound bleed with them as they don't perfectly seal off the outside noise. They are great for at the house listening to trains, plains, and automobiles. On-ear headphones tend to be pretty portable, lightweight and comfortable.
In-ear headphones are fairly self-explanatory in terms of how they fit. They sit directly in the ear canal and often don't have very much showing on the outside. They are mostly designed for sport or people who are listening when they need the maximum level of convenience and portability. The sound can still be really loud and bassy with in-ear headphones. It is hard to find the level of quality you get with on-ear or over-ear headphones though. Not the best style for in the house listening. They won't be specifically bad, it's just that over and on-ear headphones are that much better.
Connectivity
The latest Beats headphone versions are all equipped with the strongest connection known to man. The W1 chip contains instant and easy connectivity to any Apple device. They are generally not compatible with other platforms, but with Apple, they work seamlessly. The connection with the W1 chip is extremely strong and will not be adding to the list of complaints due to dropped calls.
Headphones that are wireless obviously give you a little more maneuverability than wired headphones. They should have a long enough battery life to support the lifestyle that you live. If you're using your headphones all day, listening to music, taking calls, and saving the world, A longer battery life can make all the difference. Having to finish off a long commute or work day without your favorite music or podcast can be a bit of a letdown.
Wired headphones don't leave you worrying about battery life at all. You can just plug in an listen with perfect connection. They do lag behind a little bit when it comes to the portability, but the wired options are still not a bad way to go when you are getting the incredible sound that Beats has to offer.
Durability
Durability can mean a few different things. You want your headphones to be able to last for a long time. They are generally not a cheap investment, so you want to make sure they'll stand up. If you need a pair of headphones that are resistant to sweat or water, the in-ear sports designed products will be best suited for this purpose.
Over-ear and on-ear headphones are not generally designed to withstand a ton of moisture. They are best suited for listening in enclosed environments. Don't strap on a pair of Beats Solo3's and go deep sea diving.
You want to make sure that you are going to get long lasting life out of the headphones, but also have the comfort. It may seem obvious, but the smaller the headphones, usually the lighter they are. Luckily, Beats headphones are all made with high-quality, lightweight, and durable components, so durability shouldn't be an issue as long as you get the right style of headphones for your purpose.
Comfort
Some people don't like the way in-ear headphones feel. It can be a little unnatural to stick something that closes to your eardrums and blast music. For others, it may not be a bit deal. Over-ear headphones are best for less movement because of how bulky they tend to be.
They are less comfortable when working out but are absolutely fine when sitting in a stationary position. Again, the comfort you get will come from the type of headphones and activities you will be doing. All in all, Beats headphones are really comfortable compared to other brands.
Conclusion
Ready to take your listening experience to the next level? Now you should have all the information you need to make a confident choice with your headphones.
If you've enjoyed this review by Music Critic, please leave a positive rating: