This week, we've gathered a few worthy candidates that have made the grade in our eyes for the 5 great headphones for sleeping in 2023.
Whether you're planning a long haul flight or simply having a tough time nodding off at home, trying a set of headphones for sleeping can be a useful solution. Despite the demand, there aren't too many models on the market to choose from that won't set you back a fair few dollars. But we've have managed to rustle a few more accessible options for your convenience.
Don't forget to check out our informative buyers guide, where we'll aim to answer your top FAQs on the subject. Whether you're one of those side sleepers, or you fall asleep on your back, we've got something for you. Read on to find the best headphones for sleeping!
At a glance:

Our top 3 picks
Our team's top 3 recommendations
Best Overall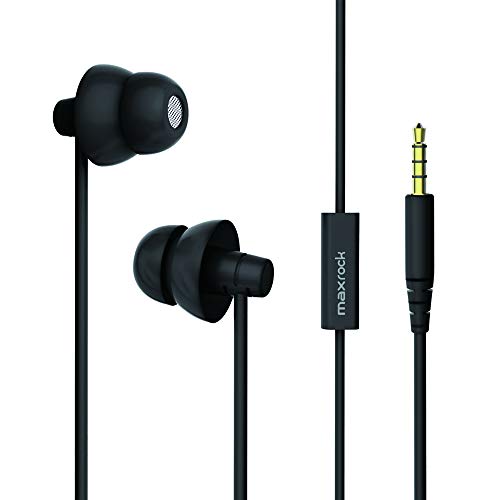 MAXROCK Sleep Earplugs

Safe double layer tip with a skirt.
Low protrusion.
Affordable option.
Traditional in-ear headphones design.
Premium Quality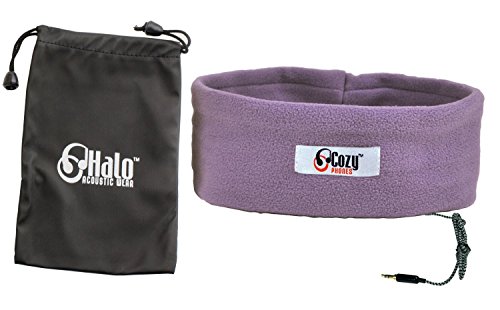 WINONLY Sleep Headphones

Safe double layer tip with a skirt.
Low protrusion.
Affordable option.
Traditional in-ear headphones design.
Great value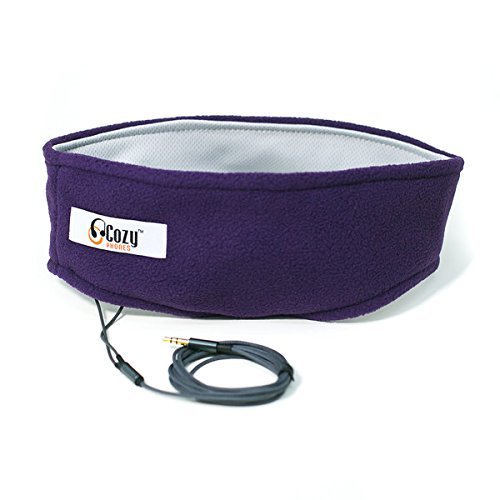 CozyPhones Sleep Headphones Contour Series

Safe double layer tip with a skirt.
Low protrusion.
Affordable option.
Traditional in-ear headphones design.
View The Best Headphones For Sleeping Below
1. MAXROCK Sleep Earplugs
Maxrock a low-profile in-ear headphones model. These sleep headphones feature an ergonomically comfortably shaped earbuds; it's designed not to protrude from the ear canal itself. This means wearers can lie down and put pressure on the earbuds without causing discomfort or harm. Yes, this is perfect for you side sleepers!
The earbud tips double layered and formed from high-quality ultra-soft silicone. This means they sit safely within the ear canal. These sleep headphones have a safe lip to ensure they cannot move further inside the ear canal. You can literally rest assured.
These headphones feature passive noise-canceling technology, which means they can block out the surrounding environmental sounds like an earplug. These noise canceling headphones don't need to be actively playing a sound to reduce what you'd normally hear around you.
The sound quality is fairly well balanced. The bass has a good presence but isn't overbearing, which is pretty surprising from a tiny 5mm driver - powerful stuff.
These sleeping headphones feature a built-in microphone, which is handy for hands-free calls. It means you can get a little shut-eye in the day time without worrying about missing an important call.
They are affordably priced at a little over the 10 dollar mark. They come with a small zip-up carry case to keep them in, making them an ideal travel option for taking with you on longer journeys.
Pros:
+ Safe double layer tip with a skirt.
+ Low protrusion.
+ Affordable option.
+ Traditional in-ear headphones design.
Why We Liked It - These in-ear headphones are extremely lightweight and flexible. The noise cancelling technology means they drown out your surroundings. Even if you're not listening to music, they are very effective when paired with a white noise app on your mobile or tablet.
2. WINONLY Sleep Headphones
The best sleeping headphones will help you get a good night's rest however you like to sleep. These headphones come with a sleep mask and a headband, giving you the best conditions to sleep in. They have a built-in microphone, so if you're worried about oversleeping and missing an important call, don't be!
They have a battery life of ten hours, after just 2 hours charging. This is enough battery life to get you through a whole night of sleep. The quality chip ensures excellent sound quality whether you're listening to music, white noise, or an audiobook.
The headband and mask itself are breathable, lightweight a soft, so you can get a good night's sleep.
Pros:
+ Fabric headband option.
+ Extremely comfortable.
+ Clever circuitry.
+ Reasonably priced.
Why We Liked It - These are great headphones for sleeping with. We like the sleep headband and mask; they're neat features to keep your ears safe and sound while you sleep.
3. CozyPhones Sleep Headphones Contour Series
While the initial concepts and features of the this model don't differ too heavily from other models by CozyPhones, the two on this list help highlight the variety online available to you as for many of our musically inclined readers may find a set of headphones for sleeping in might be a relatively far-fetched idea.
The Contour series is one of the company's newly inspired ranges; they feature a cool mesh lining, which makes them far more breathable and skin-friendly. They are better suited to those in a warmer climate and will help prevent sweating in your sleep.
These sleeping headphones are newly upgraded; they feature thinner profile speaker inserts than previous iterations to provide an extra level of comfort. The headband is now contoured to stay in place on the head. It doesn't slide about as users toss or turn in their sleep - that's great news for the side sleepers out there.
The cord has also been redesigned for better longevity.
These sleep headphones benefit from noise cancelling technology to keep levels safe. They are reasonably priced and marginally higher than their starter models. The speakers are removable, so the band is washable.
Pros:
+ Contoured shape.
+ Upgraded model.
+ Durable braided cord.
+ Washable.
+ Noise cancellation technology.
Why We Liked It - Its contouring keeps the audio in the right place all night long. We love the noise cancellation technology. You don't have to worry about turning your sound levels up too high to get rid of background noise.
4. CozyPhones Sleep Headphones Lycra Cool
Next we have the Lycra Cool model for warmer climates. This model has been designed to be more multi-purpose; it can be used for outdoor activities as a non-slip sports headphone option.
It features a sports lining to allow for some all-important ventilation. These sleep headphones are ultra-lightweight and adjustable for a good fit. The outer layer still provides some warmth, which will take the edge off of the chill of the wind on the tips of your ears.
These headphones have all of the same design aspects we've highlighted in the other pair, such as the noise limitation processing tech and the highly durable braided cord.
The sound quality is clear and well balanced, providing good dynamics and nuances in the mix. You're sure to lose yourself in the sound just before you nod off.
Pros:
+ Sport and sleep use night and day option.
+ Comfortable stretch Lycra.
+ Cool and breathable sports lining.
+ Travel bag.
Why We Liked It - While it doesn't feature any massive changes in comparison to the rest of the CozyPhones' range, we were impressed with the manufacturing quality and overall sound quality. All in all, it seems like a versatile product - these headphones are definitely worth a quick mention.
5. TOPOINT Bluetooth Headband Sleep
We are handing our fifth and final spot to another Bluetooth model. Why not forgo the wires for additional comfort as well as convenience?
This comfortable headband model has a textile composition (cotton and polyester mix) like the CozyPhones headphones, although it's a lot wider.
It's also modeled as a sports headband option. The headphones actually started life as a solution for athletic pursuits before it gained popularity as a superb sleeping option.
It's because of its original intended use that it bears so many of the necessary characteristics for a good sleeping choice. It's breathable, so it won't make you overheat, and comfortable because of the fabric's stretchy, flexible properties.
These wireless headphones are up-to-date and pairs effortlessly. The rechargeable battery capably provides up to eight hours of battery life for every 2.5 hours on charge. This is ideal for you to fall asleep with.
All controls are found on the headband itself, which is easily accessible.
The electronics are kept within a fabric liner, separated from the stitching. They can be removed while the headband is washed.
Pros:
+ Comfortable and breathable fabric.
+ Versatile use.
+ Current Bluetooth.
+ 8 hours streaming use.
+ Washable.
Why We Liked It - These sleeping headphones provide great audio and won't break the bank.
 Headphones For Sleeping Buyers Guide
What To Look For When Buying Headphones For Sleeping?
You need to look for a set of headphones which has been specifically designed with sleep in mind. This is especially important in the case of earbud designs like the first set we highlighted. If they're not sufficiently safe to lie on, you could be at risk of damaging your ears.
For headband options, you want to check the amount of stretch that will be the best for your head measurements, so that they adjust well. Some sleep headphones use Velcro to adapt the size accordingly; others just stretch. If you have a particularly large head, you may find one size does not fit all quite so comfortably. It's probably not a great idea to sleep with something that puts pressure on your cranium for several hours.
The smaller the depth of the components of the speaker, the better. They should be designed with flattened pads. They need a little room to move and create sound waves in the first place, but some of the low profile speaker pads are pretty impressive.
What Are The Benefits Of Sleeping With Headphones In?
There are a few benefits that sleep headphones provide, such as noise cancelling abilities. Noise stimulates your brain and can prevent you from falling asleep quickly, whether that is due to living in a very busy built-up area or just your partner's beast-like snoring beside you. A noise cancelling pair will stop all this.
They can also be used to play soothing white noise, relaxing rain-forest ambiance, or the sounds of the sea. Play whatever helps you to count sheep.
They can also be used for slightly more awake activities, such as guided meditation, hypnosis, yoga, and ASMR activities.
They are also, of course, a useful item for someone who finds they are overwhelmed by auditory stimuli. They provide a comfortable solution that will stay put if an individual enjoys the solace headphones and sound can provide them.
Are Headphones For Sleeping Comfortable?
The benefits of headphones for sleep speak for themselves. Whatever your reason for getting a set, you'll find that there are a few good items out there in the lower regions to suit your needs.
The best headphone for sleeping will have the utmost comfort. You should also consider how well they stay put and whether they are wired or wireless headphones. Are they over-ear headphones or in-ear headphones? Do they come with an eye mask? Do they reduce or isolate background noise? You should consider all these questions to ensure you get the best night's sleep possible.
They shouldn't be uncomfortable to lie on with all of your weight. You'll want sleeping headphones that stay in place if move or turn in your sleep, even if it's only a little. If you're worried about cords getting tangled, then opt for a wireless model like product number 5.
We hope today's reviews and guides have been helpful for those of you considering buying a pair.
Expert Tip
The CozyPhones children range come in a whole variety of bright, colorful animal-inspired designs.
Did you Know
The CozyPhones brand and products emerged out of necessity after the creator had trouble sleeping.
If you've enjoyed this review by Music Critic, please leave a positive rating:
[vc_separator