When it comes to studio use and more creative exploits, there are a few extra capabilities and refinements required in a set of headphones, whilst you're obviously going to need a set of studio monitoring speakers you are also going to need to consider investing in one of our 10 best headphones for music production in 2023.
There are a number of headphones masquerading on the market as ideal for studio application. For the average aspiring producer, there are some which undoubtedly provide impressive audio, but for those in the know, they aren't exactly true to input, which makes editing problematic.
We are going to go into exactly why in our detailed buyers guide section but first, let's take a look at a few capable models in a range of price regions and see just what they can do.
At a glance:

Our top 3 picks
Our team's top 3 recommendations
Best Overall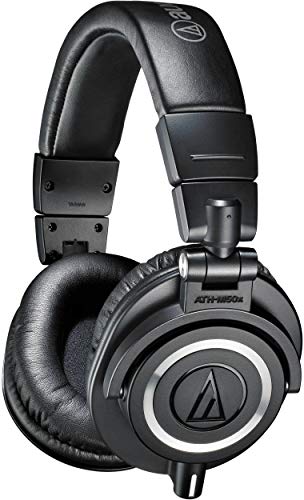 Audio-Technica ATH-M50x

Large transducers.
Extended frequency response.
Well engineered.
Choice of cords.
Premium Quality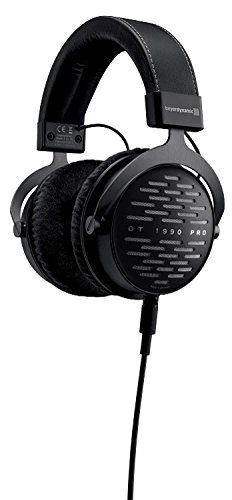 Beyerdynamic DT 1990 Pro Open Studio Headphones

Large transducers.
Extended frequency response.
Well engineered.
Choice of cords.
Great value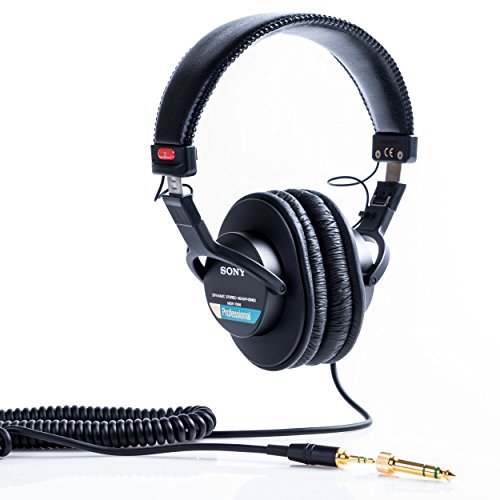 Sony MDR7506 Professional

Large transducers.
Extended frequency response.
Well engineered.
Choice of cords.
View The Best Headphones for Music Production Below
1. Audio-Technica ATH-M50x
We are starting off our reviews with the penultimate model of the impressive M series by the professionals at Audio-Technica the M50x.
They are a critically acclaimed, fully immersive, closed-back set of circumaural headphones that are engineered to provide a professional listening experience.
They harbor well-designed 45mm drivers with oversized copper-clad voice coils that optimize and enhance their performance.
They have an extensive frequency response that delivers well-balanced audio. They have a larger than the average surface area which enables them to efficiently cope with bass frequencies. They have a good transient response and ideal for studio in-ear monitoring.
The ear-cups can rotate 90 degrees keeping them comfy and allowing users to monitor with a single ear as and when needed. They are comfortably decked-out with professional-grade padding for longer listening periods.
They serve-up great sound with well-balanced, authentically accurate dynamics the high frequencies are very bright giving well-defined details and drawing attention to subtleties.
They utilize a detachable cord and come with a straight and a coiled option provided for versatile use.
Pros:
+ Large transducers.
+ Extended frequency response.
+ Well engineered.
+ Choice of cords.
Why We Liked It - They provide premium audio with excellent accuracy and smooth transient response and are durably constructed with comfy cushioning for longer mixing sessions.
Comfort is Key - Even if you end up paying a bit more for a more advanced set of studio headphones. If you're producing or mixing for hours on end, the last thing you want to think about is ear pain or fatigue. Invest a bit more in your headphones upfront so you can focus fully on your art.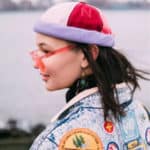 2. Beyerdynamic DT 1990 Pro Open Studio Headphones
Next, we are looking at an open-backed option which give a more realistic representation of your finished audio composition. The DT 1990 Pro set from Beyerdynamics feature high-flux neodymium drivers and deliver pristine accurate signal audio quality fit for studio reference use.
They are well-crafted and have been engineered from cutting edge components. They have an authentic broad-range frequency response which performs instantaneously. The cutting edge Tesla drivers work extremely well at high output creating high-resolution audio with great fidelity.
Their open-back circumaural design helps prevent fatigue as well as adding dimension to the sound reproduction. The headband is durable and the cups come with a choice of pads each serving up a different experience but each well-cushioned with different acoustic fabrics and covered in precision-woven textiles or velour one more analytical than the other.
They have a single-sided extra-strength coiled cord which helps to prevent tangling. They have an impedance of 250 ohms.
Pros:
+ Open-backed design.
+ Quality build.
+ High-accuracy for audio analysis.
+ Wide frequency response.
+ Impeccable drivers.
Why We Liked It - They provide audio reproduction which is very true to input and crucial for editing and mastering, they are exceedingly well constructed and the open-back design delivers spatial audio listening.
3. Sony MDR7506 Professional
Another impressive reference set of headphones to consider is this set from Sony which is a little lower priced than some other premium sets we are including in today's round-up.
They harbor hard-working combination drivers that utilize large 40mm PET diaphragms and neodymium magnets. They reproduce audio with very crisp definition ideal for detecting subtler nuances.
They are a closed-back ear-cup option which passively filters the surroundings and gives good isolation for when there's something to identify in the mix that you can't hone in on via your speakers.
The cups are beautifully cushioned and mounted to swivel from strong supportive headband that is comfortably padded to match. They can compactly fold-away for transit and come with a storage case.
They feature a coiled studio cord and both the connector and Unimatch plug-in adapter are gold plated providing truer signal fidelity.
Pros:
+ Large diaphragm.
+ Reference quality audio.
+ Coiled wire.
+ Accessibly priced.
Why We Liked It - They serve-up high definition audio in an affordable package, they have been durably manufactured and are pretty comfy allowing for long periods of use.
Professional Look - If you plan on bringing in clients, you'll want to make sure you have an aesthetically pleasing set of studio headphones for them to use. First impressions are important, and the professional look of your equipment is no exception to the rule. Also, make sure you have a long enough headphone cord to connect your client to your recording system.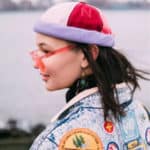 4. Sennheiser HD 599 Open Back Headphone
Now for a superb set from Sennheiser 500 series, the HD599 is a remastered open-back model with exposed dynamic drivers.
It produces some of the best audio in its class with the companies proprietary high-performance transducers. They measure 38mm which is a little smaller than some but they are oval shaped so still provide the same surface area as a circular set at a larger diameter. The oval nature directs the audio in a more professional manner.
They are robustly built from premium quality components inside and out, providing great comfort with their Ergonomic Acoustic Refinement design (E.A.R). Their cups are equipped with generous velour cushions and the headband is covered very well-stitched.
They have an extended low-frequency response and deliver high-fidelity sound they have an impedance of 50 ohms.
They come with 2 separate detachable TRS cables in 3.5mm and ¼ inch sizes which eliminates problems attributed to adapters.
Pros:
+ E.A.R design.
+ Open-backed.
+ Premium drivers.
Why We Liked It - They are exceptionally constructed from high-quality parts the audio is great and the open backs allow for spatial audio, ideal for production.
5. Audio-Technica ATH-A990Z Art Monitor
Now for another Audio-Technica option which is incredibly impressive. The ATH-A990Z is a closed-back monitoring set which are ideal for fault finding and critically analyzing details in your tracks.
The drivers feature extra-large diaphragms which deliver high-resolution audio, they have OFC bobbin wound voice coils and lightweight aluminum housings to keep their reproduction pristine. They react with the superior transient response and reproduce a widened spectrum range.
They benefit from a double air damping system to assist with low-end reproduction which keeps their bass handling distortion free and powerfully dynamic in the mix.
They are very well-manufactured and have a good range of adjustment. They feature a 3D wing support with a flexible headband and professional yokes, they allow for great circulation and the cups are suitably cushioned from premium materials.
The cord is a good length and cloth-wrapped to help prevent tangling.
Pros:
+ Top-notch construction.
+ Extra large drivers.
+ Tangle-free durable cord.
Why We Liked It - They are impeccably made and deliver brilliant high-res sound. They are incredibly comfortable and make for a durable workhorse.
Next up a more budget-friendly option which retails for a very low price and whilst it might not be up to scratch for side by side comparison with our premium picks today it certainly wipes the floor with models within its price bracket.
The Hpx2000 model is marketed as a DJ model because it provides high-resolution audio. This is because it is equipped with a cobalt capsule design that gives it improved efficiency. The transducers are able to deal with higher input/output and they deliver sound with great definition considering they are a low-end pair.
They have a comfort-focused design concept which incorporates good quality materials. The cups are capable of rotation which add to the adjustability of the set. They have a very flexible heavy-duty headband which helps them to withstand the repetitive use in a busy studio environment.
The cord is made from copper wire which helps eliminate oxidization it has a single sided entry point again to counter wear and tear on a daily basis.
Pros:
+ High-res, High-def.
+ Heavy-duty headband.
+ Cobalt capsule design.
+ Very low-price.
Why We Liked It - You can't beat a bit of German engineering especially when it comes to audio-electronics, they are very well designed matching specs of much more expensive headphone sets.
7. Neumann Studio Headphones NDH 20 Closed-Back Monitoring
This next set are a closed back circumaural set but sometimes you need the isolation in the engineering process.
They bring the sound quality of Neumann's acclaimed studio monitoring speakers into the headphone realm as they benefit from the same custom mastered linear sound balance which helps keep audio neutral for editing.
They have been expertly crafted from top-quality components the drivers are newly updated and driven by neodymium which has a high flux density they measure 38mm like the Sennheiser set. They have an impedance of 150 ohms so a dedicated pre-amp or headphone amp is suggested.
They have an ergonomic low pressure reinforced steel headband which keeps the model ruggedly constructed. It supports two lusciously padded ear-cups which are freely mounted and capable of folding away for storage.
They comes with a choice of one straight and one coiled cord as well as a ¼" adapter giving them versatile functionality.
Pros:
+ Hardy construction.
+ Linear sound.
+ High-resolution drivers.
+ Impressive isolation.
+ Coiled cord option.
Why We Liked It - They are again extremely well engineered, the drivers perform impeccably with great transient response. They do a beautiful job of highlighting nuances no matter how subtle.
8. Shure SRH1440 Professional Open Back Headphones
Our next selection is a superior set from sure which are another awesome open-back option.
They are donned with 40 mm neodymium drivers that work very efficiently, delivering audio with rich dynamics and bass control.
Their open-back nature gives the sound a wide stereo image increasing the depth and creating a natural soundscape that is easier to analyze.
They are a lower impedance option in comparison to many premium models it has been optimized to make it more applicable.
They are well-built and feature a strong steel-framed headband padded to a premium level that adjusts fully. The ear cups are ergonomically angles and oval in shape for better audio delivery and comfort during long listening periods.
They have a copper cable which has a reinforced Kevlar outer coating to increase its durability and help prevent tangling.
Pros:
+ Robust construction.
+ High-resolution audio.
+ Open-back for analysis.
Why We Liked It - They are very well put together they serve-up high-quality audio in a comfortable premium package, the cord is decidedly strong.
9. Fostex RP Diaphragm Stereo Headphones (T60RP)
This next closed back set offer something a little bit different in the form of unique mahogany housing which gives a good natural acoustic dampening of unwanted resonances.
This ensures that what you hear has better clarity and is free of interference and better compliments their proprietary Regular Phase (RP) technology-assisted diaphragms.
The diaphragm is formed from a light polyimide film which is highly responsive to stimulus
They have a comfortable genuine leather headband which is widened for better distribution and lower clamp force. The cups are also leather padded and naturally adjust to the circumference of your head for comfort.
They are well-manufactured and comes with a choice of a standard or optical fiber detachable cable to choose between for high-resolution and fidelity.
Pros:
+ Unique construction.
+ Sensitive diaphragms.
+ Great transient response.
+ Best-seller.
/vc_column_text]
Why We Liked It
- The folks at Fostex have been developing their audio engineering skills for decades this set utilizes a technology which hasn't budged since its early development in the 1970's they provide very detailed listening.
10. PreSonus HD7 Professional Monitoring Headphones
We are ending today's reviews with one last low-priced option which provide good value for money and are more on par with models priced almost twice as high.
They are a semi-open backed option which gives a realistic reproduction. They appear pretty durable for a budget model, they are lightweight but employ some very durable construction materials.
They have a flexible widened headband with professional yokes. It sports 2 comfortably cushioned earcup cushions which again naturally adjust to the wearer.
They harbor high-resolution neodymium drivers within their patented precision-tuned acoustic chambers.
They benefit from an extended low-frequency response and they are equipped with a detachable single-sided cable providing a much needed strengthened entry point.
Pros:
+ Semi-open backed.
+ High-resolution drivers.
+ Comfy self-adjusting model.
+ Affordable price-tag.
Why We Liked It - They are a good entry level model which serve-up detailed high resolution audio and whilst they aren't blowing our higher priced sets away they are a good contender for best cheap music production headphones.
On the Move - If you're always on the go, look for headphones that fold down or condense in size. While this may not seem like a big factor, it can really help keep your headphones of choice safe while running from one place to the next. It may be worth considering purchasing a pair for on the go use and another for use at the studio.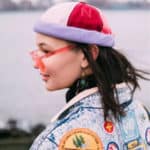 Headphone for Music Production Buyers Guide
Are Headphones For Music Production Different to Regular Headphones?
Indeed they are regular headphones tend to enhance the audio quality in their own model-specific manner which is great for enjoying your favorite playlists. They typically boost the bass and treble frequencies but in a studio set authenticity is required.
Studio quality headphones will, therefore, offer what is known as a flat or linear frequency response with far better balance and accuracy. A studio set will typically have a more extensive frequency response monitoring and be able to work at a higher resolution for better fidelity and to be compatible with the resolutions used in DAW's.
They will also be better equipped at handling a larger work-load and have a higher impedance as well as being low latency.
They are often more comfort and durability focused as well because working in a studio setting can demand more of a headphone set and longer hours from its wearer.
Usually, they are genuinely more comfortable but this is of course budget defendant as comfier materials tend to be more costly, though it helps to have a strong ergonomic design concept first and foremost.
Generally speaking, regular headphones are closed back in nature and aimed at personal private listening and studio sets will often be open-back to provide a spatial reference and be more conducive to critical listening.
Open-backed versus Closed?
This is arguably one of the most debated topics in the studio headphone industry, now as briefly suggested above you should really be mixing with speakers for a better representation but headphones are a useful production tool and a lot of work is done privately listening.
A closed-back design provides better isolation, so if you are looking for a set that a singer or musician can wear and live monitor whilst they record then closed back is the only way to go.
They provide a barrier between the outside world and the ears and have less sound leakage (top models with zero) if you are recording a vocal track you don't want echos of the playback recorded in the background.
If you are editing or listening in a more analytical manner then you are going to need an open-backed set because they add an extra parameter to what you are listening to, creating a sound-image if you like known as spatial sound which is essential if you are critiquing and tweaking your work post-recording.
Now the argument is subjective as well as bound by practicality some people can't stand the airier weaker if you like the sound that an open-backed set creates but it is undeniable that they provide a more natural reproduction that better matches your studio monitor output and accuracy is paramount for editing.
Cord Types
Though there are some exemplary wireless models emerging at the high-end of the professional market for music production realistically you need a direct input-output option to avoid issues such as latency/lag.
The biggest problem with cords is they tend to tangle because of the length required within a working a studio environment and a range of applications.
Their entry point also becomes a target area when it comes to long-term wear and tear because it takes the brunt of rough-handling which can result in them breaking.
Usually, it is better to consider a single-sided entry cord over a Y-leads, which arguably are less prone to tangling but double the entry points and therefore double the weak points increasing the potential for damage.
A detachable plug-in, pull-out cord system, of course, can eliminate the weak spot entirely, providing a stronger point of connection but it will of course still be affected by tangling if improperly handled.
The ways in which you can help reduce entanglement are to opt for a straight cord that has proofing or protection to aid in prevention. This is usually by employing an outer covering, sometimes woven textiles or synthetic plastics.
Some companies reinforce the cord by double-twisting or braiding instead. For studio use, many of us choose to go for a coiled cord because it generally tangles far less and it stretches to allow a good range of motion but immediately retracts and retains its original coiled and shortened length.
What to look for in a set of headphones for music production?
Hopefully, our opening section will have given you a pretty good idea of what to look for as it highlighted some very notable differences between regular headphones and headphones better suited to studio use. Technically speaking it really does depend on a hell of a lot on your set up and the level at which you are working.
Other factors which will weigh in are the intended use, as many producers actually have several sets of headphones for critical listening and switch between them regularly in the arduous editing, mixing, and engineering process but to summarize and help you prioritize here is a good rule of thumb.
High-resolution with a flattened/natural/linear response is paramount for analytical listening. Durability and comfort are just as vital as the audio reproduction so buy the best your budget can stretch to.
Ensure they provide an adequate level of comfort for those who have to spend hours editing in their DAWs. This includes full adjustability, breathable, plush cushioning and a padded low clamp pressure headband with good flexibility, swivel ear-cups, and low sound pressure levels.
If you are shopping on a smaller allocation, we have included sets here priced under twenty bucks but it is important to remember that low-end models cannot compete with the high-end.
Conclusion
Hopefully, our reviews will have highlighted some pretty impressive models available online which will make for a great addition to any home studio set-up.
We tried to include a good variety because there are many uses for headphones within the audio production process.
Trickle-down technology is bringing some impressive premium models down the chain to a more accessible price region so you really can get excellent value for money if you know what you are looking for.
Armed with the recommendations of our buyers guide section you should find the ideal model to suit your production requirements.
Expert Tip
You might want to head on over to our 10 Best Headphones for Mixing in 2023 article for a few more suggestions especially if you are shopping on a lower-budget as we have included a few bargain models which hold their own.
Did you Know
Some of the worlds best studio reference headphones being professionally used within the industry retail in the region of $30-40,000 like the V-Moda Crossfade M-100 priced at $40,000.
If you've enjoyed this review by Music Critic, please leave a positive rating:
[vc_separator