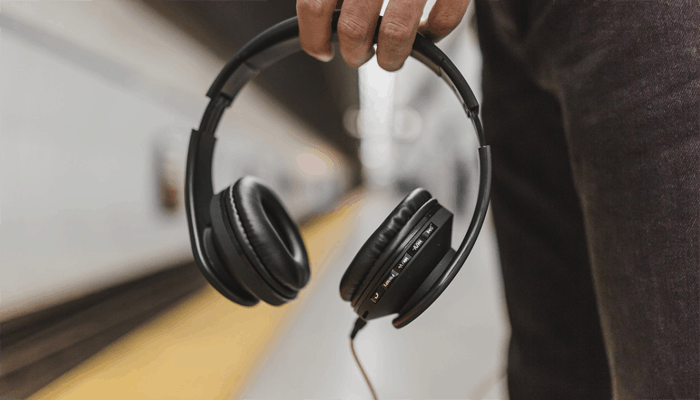 Given the nature of the modern world and the hustle and bustle that comes with it, noise cancellation in a set of headphones is quickly becoming more of a necessity for many of us. In today's article, we are going to look at the ten best noise canceling headphones under $100 in 2019 to find out what's available.
While the majority of over-ear models do an excellent job at passively drowning out the passers-by, they can't compete with a louder environment. Models which have active noise cancellation capabilities fair much better as they are continually working to reduce the outside decibel levels for you.
This makes them an idyllic solution for those on the go, though it is fair to say some outperform others reducing the environments volumes to a better extent. Some sets can even compete with the roar of a jet engine. We have selected ten affordable sets which do an excellent job for comparison and provided an in-depth buyers guide to help give you the down-low on the wonders of ANC.
Related; Wireless Headphones Under 100 Review.
At a glance: Our top 3 picks
Your shortcut to our team's top 3 recommendations
View The Best Noise Canceling Headphones Under $100 Below
1. COWIN E7 Active Noise Canceling Headphones
First up we have a very familiar face, COWIN's range of headphones make for an excellent low-cost option for those shopping on a lower budget. These budget noise-canceling headphones employ some relatively good technology, and though many of the models are equipped with older Bluetooth versions, they are still perfectly functional and provide a well-made, durable choice which is relatively cheap for headphones.
The E7 model manages to pack a lot in for its low price-tag, and we have included three separate E7 iterations today. This first set is an older upgrade which harbors 40mm diaphragms driven by neodymium (an industry go-to magnet) they serve up well-balanced stereo audio with excellent dynamic performance.
They are kitted out with one of the industries best low-priced noise canceling chips and an external sound detection mic which allow the electronics to cancel out interfering sound effect while you are on the move, this provides a better listening experience.
They are constructed from sturdy materials, and the cups can swivel 90 degrees and are suitably cushioned with a memory protein to keep them comfy. The headband adjusts and allows for them to fold away for storage purposes.
The built-in microphone is high quality and assisted by the ANC technology provides a very clear line-in/out for communications. They capably run for up to 30 hours at a time.
Pros:
+ Folding model.
+ Comfy cups.
+ High-quality microphone.
+ Effective noise canceling.
Why We Liked It - These budget noise-canceling headphones provide solid ANC which effectively combats day-to-day noise, though they don't adjust quickly enough for sudden high impact sounds such as car horns.
2. Active Noise Canceling Headphones Hiearcool L2
The Hiearcool L2 model is a fairly matched comparison for the E7 model from COWIN; they are reasonably priced an just as well manufactured. They too feature 40mm drivers who utilize neodymium magnets in their construction. They are well engineered and have a full response. The audio produced is generally well balanced, the bass has good depth, and the treble end is apparent.
The onboard ANC is top-notch it successfully filters background ambiance and isolates your electronic audio input to drown out unwanted exterior noise. They can function in a wired or wireless fashion, and the ANC can be used in either mode.
Their closed-back nature means that they passively noise cancel as well the ear cups form an excellent seal naturally dampening the ambiance. They feature memory protein covered ear cup padding to keep them comfortable, and the headband is robust with sufficient adjustability thanks to their solid sliders.
They work for 16 hours non-stop wirelessly (12 hours with active noise canceling activated).
Pros:
+ Good active noise cancellation.
+ Well made and comfortable.
+ Broad range audio.
+ Wired/wireless option.
Why We Liked It - They reduce decibels when the cancellation is activated drowning out all day-to-day hubbub for an immersive listening experience.
3. Avantree Active Noise Canceling Bluetooth 4.1 Headphones
Over to Avantree for another competitive product which does an excellent job at reducing external sound while you listen to your playlists. They have a hidden cup mic which effectively looks for outside waves and cancels them, reducing levels by 18 decibels.
These Bluetooth headphones feature precision engineered drivers who are well fabricated from functional quality components. They are once again 40 mm in diameter, a sufficient size for excellent audio performance. They serve up smooth dynamic stereo audio and significantly reduce consistent low-frequency interference.
They are kitted with an advanced Bluetooth CSR chip to provide a stable stream and can work for 10 hours with cancellation turned on, or 18 hours of unaided, general wireless use. They are equipped with FST low latency response which provides zero lag when used with one of their additional products such as their AudiKast, Leaf, or Private Bluetooth transmitters.
These cheap noise-canceling headphones have a very lightweight design despite their rugged construction. They have swivel mounted cups which help give a custom fit. The ear cups are cushioned with super-soft ear-pads, and the headband is adjustable and foldable making them a compact portable option.
Pros:
+ Fold-up set.
+ Strong construction.
+ Good ANC capabilities.
Why We Liked It - While they aren't the strongest decibel reducing set on the market they provide a perfect day to day solution.
4. TaoTronics Active Noise Canceling Bluetooth Headphones
Next up we have another innovative fold-away over-ear set of bluetooth headphones under $100 which both passively and actively noise cancel for an immersive personal audio solution.
They are a well-manufactured, with a sturdy but lightweight headband that features durable folding mechanics. It is flexible and adjustable, and the ear-cups are generously padded and lined with a skin-friendly fabric. They are swivel mounted for additional flexibility keeping them comfortable to wear for long periods.
Their drivers provide an excellent full frequency response they measure 40mm and employ rare earth magnets to move the air and create accurate sound-wave reproduction. They have turned to the companies own waveguide processing codec which enhances their audio performance.
They capably deliver clear audio with rich mid-ranges and crystal highs. The bass has great presence, and they actively noise cancel in real-time deadening the outside world to keep your listening experience optimal.
They provide an ample battery life, functioning for up to 30 hours of use and come with a storage case designed for transit.
Pros:
+ Durable folding design.
+ Great audio mix with dynamic texture.
+ Ample 30-hour battery life.
Why We Liked It - The folding mechanism is robust feature some innovative engineering decisions which give them the edge over their closest competitors.
5. COWIN E7 Pro [2018 Upgraded] Active Noise Canceling Headphone
Here we have one of the newest reincarnations of the E7 model we opened today's article with the E7 Pro model has been revamped to provide a more original Bluetooth version and are bestowed with one of the most current active noise cancellation chips which make their processing all the more effective.
They are very well designed and executed; some of the materials used have been rethought after the success of their flagship model. They are now lighter weight for portability, comfort, and ease but also have stronger properties.
They have hardworking, dynamic combination drivers who have a great response, processing signal loads effortlessly. They deliver audio with great balance, depth, and clarity. The bass has excellent presence free of distortion, and the trebles are crisp.
The onboard active noise cancellation is professional level and efficaciously reduces external noise. They are once again a closed-back circumaural set, so audio is very enveloping, and this helps passively mute the outside world as well.
The integrated microphone has seen a complete overhaul, and now the communication clarity is superior to many similarly priced sets.
The battery is high quality and high capacity and can provide 30 hours with active cancellation when fully charged.
Pros:
+ Pro level ANC.
+ Upgraded microphone.
+ Comfortable design fit.
+ A generous battery life.
Why We Liked It - They have been well-upgraded, the electronics are far more advanced the mic transmission is pristine, and they provide an excellent affordable alternative to a premium model.
6. Paww WaveSound 3 Bluetooth 5.0 Over-Ear
Another newly upgraded pair of headphones with excellent ANC properties is the WaveSound 3 from Paww's highly popular series.
They work wirelessly and now boast Bluetooth 5.0 connectivity working in conjunction with AptX tech, to keep their latency nominal. This means they can perform far better when streaming and aren't subject to any signal loss or lag.
They have 40 mm dynamic drivers who utilize premium quality beryllium magnets to stimulate their large apertures. They have good sensitivity and a broadened, accurate frequency response which allows them to deliver audio with gratuitous dynamic detail.
Their processing is custom tuned to the companies proprietary patterns which optimizing and enhancing the audio reproduction capabilities.
They actively cancel noise to keep signals clear and reduce outside interference by around 50%. They are well-made and have comfy protein padded earcups which are swivel mounted for a better fit.
Pros:
+ Beryllium driven array.
+ Bluetooth version5.0.
+ Low latency.
Why We Liked It - They provide a premium listening experience; driver engineering is tremendous and incorporates some components we typically see in higher-priced regions. The active noise cancellation is very capable.
Got more budget? Try some noise canceling headphones under 200 bucks.
7. Mpow H5 Active Noise Canceling Headphones
We have examined the H5 model from Mpow before for the remarkable features it manages to include for less than fifty bucks.
It is another recently upgraded model which has been made far more durable than before. The headband has been tested and certified by a 10,000+ bending machine. It is lightweight but robustly constructed and still managed to be sufficiently comfortable.
The cups feature super-soft, memory-protein cushions, and are swivel mounted to help withstand wear and tear and naturally adjust to bigger/smaller head circumferences.
They have an up to date active noise cancellation chip which helps to maintain more visible communication lines and filters background ambiance for a better listening experience.
The Bluetooth is still a little older (4.1) but current enough to provide a stable transmission.
The rechargeable lithium-ion battery is impressive, offering up to 30 hours of listening if your ANC is not in constant use.
Pros:
+ Good ANC capabilities.
+ Highly durable headband.
+ Good battery life which doesn't drain slowly when ANC is in use.
Why We Liked It - They provide good value for money, and their price is almost unbeatable in terms of what they bring to the table the older Bluetooth is still widely compatible so not much of a sacrifice if you are short of cash.
8. Mixcder E7 Active Noise Canceling Bluetooth Headphones
This next set of headphones feature the same cutting edge noise cancellation chip as the E7 model by COWIN. They capably analyze and differentiate between the internal and external sound and work hard to produce inverse waves which significantly reduce the infringing ambiance around you.
They are well-constructed from sturdy materials which are suitably lightweight and flexible to keep them comfortable. They have comfortable around-ear cushioning and a softly padded headband.
The drivers once again measure 40 mm and muster-up powerful bass-driven audio with well-defined vocals and dynamic accuracy.
They function wired or wirelessly providing 24 hours of active cancellation in wired mode. They have an adequate microphone for the handsfree operation which maintains clear signals thanks to the ANC onboard.
Pros:
+ Sturdy but Lightweight.
+ Powerful audio.
+ Ample battery capacity while running ANC.
Why We Liked It - They are another solid contender in the budget region which serve up well-balanced audio with excellent dynamics in an immersive manner by employing an up to date noise cancellation chip.
9. COWIN Noise Canceling Bluetooth Headphones with Microphone
We will keep this next review short and sweet as it is another E7 incarnation which really differs very little, apart from its Bluetooth capabilities.
It has the same build quality and materials of choice as its predecessor which, while not quite up to scratch when compared directly with the pro-model will suffice and is durable enough for day to day use.
Sometimes when shopping on a budget, you have to sacrifice something to get your hands on something you can afford.
Given that BT version 4.0 is not yet wholly obsolete then this set present a good deal which sits somewhere smack-bang in the middle of the other two sets we have chosen to include today.
They provide the same generous 30 hours of power as the original model and most importantly they have impressive upgraded active noise cancellation technology which can defeat the outside decibel levels very efficiently by up to 28dBs.
Pros:
+ Durable and inexpensive.
+ Great audio.
+ Effective ANC.
Why We Liked It - They are a step up from the original product and a good stepping stone for those who can't afford the Pro model.
10. Wireless Active Noise Canceling Headphones Over Ear
Our final choice to consider is this fantastic wireless set of noise canceling, circumaural headphones from Srhythm.
They once again feature a robust folding design to help them store more compactly, making them a feasible traveling option.
They are lightweight and have a fully-adjustable, comfortably-padded headband, and ear-cups to match. They boast high-quality 40mm drivers which provide hi-fi audio with deep, powerful bass.
They do a fantastic job of canceling out externally received sound-waves because they are equipped with noise rejection processing and capably distinguish the problematic noise with their cup-mic.
They capably provide 16 hours of wireless active noise cancellation and come with an optional auxiliary cable for unlimited wired use.
Pros:
+ Wired/wireless use.
+ Strong folding design.
+ Noise rejection.
+ Powerful bass.
Why We Liked It - They are another affordable product which outperforms the majority of the lower-priced regions.
Noise Canceling Headphones Under $100 Buyers Guide
Let's be honest; the majority of us favor headphones over the factory stock integrated speakers in our mobile devices for their unique listening appeal. They are idyllic for taking out and about to listen while you're on the go, but you are of course then at the mercy of your surroundings.
In built-up areas, it is tough for a set of headphones to combat the external noise, with many of us resorting to turning our headphone volume up to unsafe decibel levels and risking permanent, irreversible hearing damage.
Even in the comfort of our own home background sounds can interfere with our listening pleasure whether it's noisy neighbors, squabbling siblings, or close-by road-works.
If you are a music fan, these sounds can block the audio coming through your headphones especially if they are at high decibels. A good set of noise-canceling headphones actively reduces the decibel levels outside of your headphones for you while you listen.
How Does Noise-Cancellation Work?
There are two ways in which a set of headphones can noise cancel known as passive and active, though most over-ear wireless headphones are capable of utilizing both methods in unison.
Passive cancellation is mostly down to the headphone design, a set of closed-back (circumaural or around-ear) headphones do this best. Their design encloses the ear and forms a sealed listening environment which naturally helps to block out some of the noise from your surroundings.
While passive cancellation provides a private and immersive listening experience; they do little against high decibel levels in comparison to a pair of headphones which have active noise canceling abilities.
Active noise cancellation also relies on a structural barrier to block high-frequency sounds but they also actively counter low frequencies.
How they function is a little more complicated and works by manipulating a natural phenomenon known as destructive interference which we have previously discussed, to its advantage.
The headphones have to be able to differentiate between music and noise to accurately cancel, music is identified by having predictable recognizable patterns and sound is usually far more chaotic.
They primarily employ an extra microphone to listen out for and mimic the sounds they can hear externally, and then they reproduce them in much the same way as they reproduce the audio being played to your ears.
Only instead of making an entirely exact copy, they play them 180 degrees out of sync or phase to use the musical term with the real outside audio. This is how the sound-waves become canceled out.
The same problem can occur naturally in a speaker creating unclear audio and bass distortions, but in ANC it is employed on purpose.
What To Look For When Buying Noise Canceling Headphones Under $100?
What to look for within this price region is somewhat limited the active noise cancellation capabilities aren't going to blow you away like a high-end set might.
As with any electronic audio product, you need to consider the style you prefer, but when it comes to noise cancellation, we do suggest you stick with a circumaural (closed back) set as they are superior for the task.
The most important criteria are really how well it has been put together, and the quality of the parts used within its construction. When you shop on a shoe-string, you need to opt for the best durability available for your allocated budget or you will waste money in the years to come by replacing it.
The quality of the internal components should come first, though comfort is essential especially if you are planning to wear them on a long haul flight you should be more prepared to sacrifice aesthetics or luxury padding than the drivers or circuitry, so long as they are robustly made.
Conclusion
If you're stuck for cash and could do with drowning out a little of the day to day noise around you all of the sets we have looked at making a decent investment.
With our fast-paced modern lives in an over-developed world, there is no doubt that some form of noise cancellation capabilities can only be a good thing. They allow for a much more private and enjoyable experience; they help to keep communication lines free with microphone-equipped headsets.
We hope today's selections make for good inspiration and demonstrate what is available without too big a commitment-cash wise.
There is a multitude of merit-worthy noise canceling sets to choose from, and we're confident that with today's in-depth buyers guide in the back of your mind, you will find the perfect set for you and your needs.
Expert Tip
If you want to know more about how noise cancellation works, head over to our other noise canceling articles for a nose through our buyers' guide which goes to greater lengths to explain how dynamic headphones and sound-waves work as well as exploring destructive interference in a little more detail.
Did you Know
Jet-engine noise registers at 150 dB upon take-off from outdoors and around 75 to 80 dB from safely inside the cabin of an airplane, to cancel it out ultimately you will need a very massively reducing set.
If you've enjoyed this review by Music Critic, please leave a positive rating: