Mixing should really be done via your monitors but there are circumstances which simply don't allow for it, so today we are going to discuss a range of options for home-studio use, which each makes for good contenders for the 10 best headphones for mixing in 2023.
The headphone market as we have stated on many occasions is over-saturated with competing products and the quality and capabilities, in general, have developed steadily over the last few decades to the point where we see some great models available to the average consumer.
Realistically for studio mixing, you ought to be looking for an open-backed set, as they reproduce audio closer in comparison to a studio monitor.
Sometimes needs rule over musts and so today we are looking at a fair few closed-back options which do a good job.
At a glance:

Our top 3 picks
Our team's top 3 recommendations
Best Overall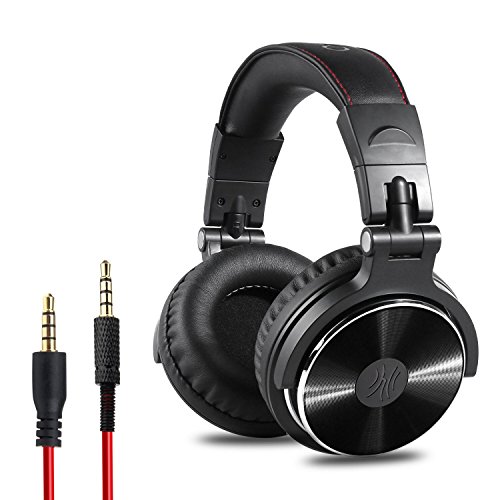 OneOdio Telescopic

Comfy stretch-headband.
Powerful drivers.
Share-port technology.
Generous cable length.
Collapsible.
Premium Quality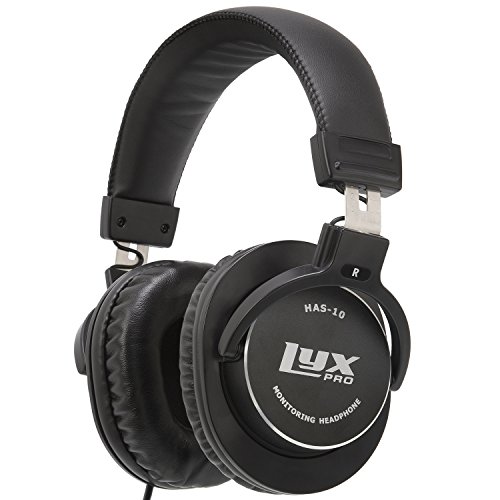 LyxPro HAS-10

Comfy stretch-headband.
Powerful drivers.
Share-port technology.
Generous cable length.
Collapsible.
Great value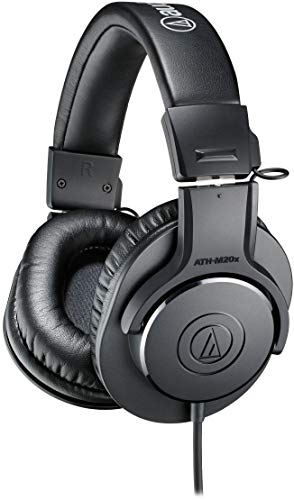 Audio-Technica ATH M20X

Comfy stretch-headband.
Powerful drivers.
Share-port technology.
Generous cable length.
Collapsible.
View The Best Headphones For Mixing Below
We are kick-starting with a reasonable studio monitoring model that retails accessibly well below the $100 mark.
They serve up clear sound with their 50mm speaker units driven by neodymium magnets which are tuned to a wide response. This allows them to give crisp vocal definition and powerfully distinguish dynamics in a mix, reproducing them with a high degree of fidelity to the electrical input.
They feature high-quality padding on the earcup which helps provide sufficient isolation from external interference and give the wearer much-needed comfort for long sessions.
The headband is stretchy and can be adjusted to the user and the cups are swivel-mounted which allows for single-ear monitoring.
It has a generous 9.8-foot DJ cord and comes with a standard-sized 6.3mm plug and a 3.5mm plug adapter giving it a wide range of applications.
They are ideally suited to DJ mixing rather than studio mixing they have low latency and allow for link-up with their share-port technology. They also completely collapse for easier storage and transit from gig to gig.
Pros:
+ Comfy stretch-headband.
+ Powerful drivers.
+ Share-port technology.
+ Generous cable length.
+ Collapsible.
Why We Liked It - It is a good bare-bones essentials option and despite having a cheaper construction the company hasn't scrimped on the professional headband which helps reduce fatigue. The sound quality is not sacrificed. The Share-port tech is ideal for live mixing use if you need to get another headset involved.
Now for a look at what the LyxPro HAS-10 has to offer. It is a lower budget option which is reasonably well-engineered and does a pretty good job at providing a professional level of sound quality that blows other bargain sets out of the competition.
They have strong neodymium ferrite magnet which helps to drive the speaker unit. They are very responsive and create a good soundscape with a rich definition.
They feature a closed-back design that keeps the audio directed to the ear-drums and makes it easier to focus on.
The headband is leather which provides a good comfort level and the drivers are stashed within comfortably cushioned cups. The headband adjusts and has strong stainless-steel telescope arms to hold the cups. They can rotate 180 degrees which is perfect for single-side monitoring.
They have an ample single-sided entry cord which is reinforced and features a screw-on jack (TRS) connector for better durability.
Pros:
+ Rotating cups.
+ Powerful bass drivers.
+ Reinforced cord entry points.
Why We Liked It - It is pretty durably designed for a budget version, the audio is fairly authentic to input.
3. Audio-Technica ATH M20X
Now we are going to have a quick nose at 2 different models from the Audio-Technica monitoring series.
We have selected to of their lower-level models for their lower-retail prices but if you are interested in the higher end we actually wrote a 5 Best Audio-Technica headphones article earlier in the year which highlights more of the series.
First up the entry-level model the ATH M20X which serves-up the Audio-Technica's signature sound in a budget format. The drivers have a lower output than their more expensive sets but still, benefit from their expert engineering and wipe the floor with the majority of similarly priced models.
They have an accurate frequency response and their 40mm drivers feature the companies proprietary oversized voice-coils reproducing rich audio and effortlessly matching the input of a dynamic workload. They also benefit from a tailored crossover which enhances the audio further.
They are another single-sided entry point pair which is better for a work-horse headphone set. They have cushioned with premium impact-resistant padding and the headband is flexible and adjusts well for a comfy fit.
Pros:
+ Durable manufacturing.
+ Quality drivers.
+ Comfortable to wear.
Why We Liked It - They provide a more premium level of comfort and audio quality but won't break the bank. Whilst they are not strictly a mixing set like other models in the series their audio is very well tuned to stay true to input.
The next step up in the series is the M30x model which have a minimal price increase for a convenient collapsible design that renders them far more portable.
They too have 40mm drivers but they are granted a slightly higher capacity and a far lower impedance than their progenitor. They deliver full-range audio with a generous dynamic response that is ideal for tracking and mixing. Their closed-back design ensures immersive personal listening.
They have swiveling cups and a flexible headband and are once again a single-sided straight wire option. Like the m20x set, they are also cushioned with high-grade comfort padding.
Pros:
+ Higher powered.
+ Lower impedance.
+ Strong folding concept.
Why We Liked It - They are well-engineered and manufactured to a good level of quality control as Audio-Technica are sticklers for keeping their brand reputable
Another good low-budget audio solution for your mixing needs is this pair from Tascam. They are competitively undercutting the majority on the market and manage to provide fairly decent audio definition.
They are an over-ear, closed-back set which seems pretty well-constructed. The ear-cups are comfortably cushioned with plush padding and each can rotate sufficiently.
The headband is well stitched and also features the same padding to help reduce cranial strain. They have a 9.8ft cord which is attached via a single-sided entry point and comes with a snap-on adapter to make it suitable for a number of monitoring tasks.
The dynamically balanced audio drivers measure 50mm and handle bass effectively well, though they have a good cross-spectrum response delivering full-range stereo audio with good detail.
Pros:
+ Long cord for flexibility.
+ Large drivers.
+ Unbelievable price-tag.
Why We Liked It - They are very surprisingly capable for a cheap as chips set, the audio is well-defined and the bass doesn't distort. They are well-designed and pretty comfortable despite the cheaper material utilized.
This next set are an inexpensive pair which serve up a more premium level of quality despite being an entry level.
They benefit from German audio engineering which gives them an efficient driver design. It incorporates cobalt capsules that enhance the resolution making them idyllic for critical listening.
They deliver high definition audio thanks to their acute ultra-wide frequency recognition and transient response resulting in exceptional sound reproduction.
They are brilliantly manufactured with a durable design focused on keeping all parts sufficiently supported and reinforced.
The headband is heavy-duty but comfortably padded as are the cups. They are mounted on strengthened swivel arms and the cord is single-sided and is thoughtfully made utilizing tangle-resistant oxygen-free copper wires which connect to a 3.5mm TRS with a 6.3 adapter for easy application switching.
Pros:
+ Exceptional engineering.
+ Great audio definition.
+ Ultra-wide response.
+ Unbeatable value for money.
Why We Liked It - They are a heavy-duty option which are well-constructed and engineered, the audio has good fidelity to the input and they deliver high resolution audio, the price is pretty unbelievable comparatively speaking.
We have looked at the QuietComfort 35 set of headphones by Bose on a number of occasions and It's fair to say that they are not a best-selling, award-winning set without good reason.
They are another high quality fully immersive set which is equipped with great drivers to deliver rich audio full of dynamics.
They are ideal for busy environments where deprivation from the outside world is required because they rely on a triple-level noise-canceling process that simultaneously passively and actively combats external sounds.
They are beautifully manufactured to provide a very high level of comfort and have low cranial pressure.
They are one of the few wireless options we have chosen to explore because their streaming is supported by a codec which renders it completely lag-free.
Pros:
+ Lag free.
+ Award-winning.
+ High-end components.
Why We Liked It - We love their high-grade luxury cushioning and the audio reproduction is superbly high-def.
This studio model from AKG are semi-open-backed which could be a nice medium ground if you simply don't have the right environment for a full open-backed pair.
They are very well designed, manufactured to a high-quality and in all honestly better suited to mixing use. They feature a naturally self-adjusting gimbal-like headband which is reinforced and decidedly comfortable.
They are an upgraded model which have a wider dynamic response to lower impedance and higher sensitivity than the previous Monitor model. They have extra-large transducers which deliver powerful audio with dramatic dynamics and spatial soundscape.
They are very robust in nature and have a detachable cord, making them more resistant to wear and tear, protecting them from mishandling and ultimately giving them a longer shelf life.
Pros:
+ Extra-large transducers.
+ Professional studio design.
+ Robust model.
+ Detachable cord.
Why We Liked It - They are far better suited to mixing, the audio is more natural and allows for accurate editing.
This next set is priced considerably row for a semi-open backed set. They like the set above have a professional self-adjusting gimbal-style headband which seems very durably made and has a lot of flexibility to keep it comfortable during long periods of use.
They feature large 50mm drivers which provide great sound quality with fine detail
The over-ear cups help to passively filter the surroundings and the semi-open-back again helps add depth and dimension to the audio allowing the listener to really assess what they are hearing.
They have an extended low-frequency response for better bass handling and clarity, their cord is sufficient in length and comes with a 3.5 to 6.3 gold-plated adapter for better signal fidelity.
Pros:
+ Professional design.
+ Large drivers.
+ Semi-open backs.
+ Good value for money.
Why We Liked It - They are pretty much unbeatable in nature at this price level. They provide some attributes we typically see from more premium models.
We are leaving you with one last closed-back option which is apt for studio use and provides brilliant passive reduction so could be ideal for live-mixing if you DJ.
It features 40mm drivers which utilize neodymium magnets and a high-quality copper clad voice coil. With its top-notch components and electronic engineering, it capably provides powerful sound with generous, crisp details throughout.
The voice-coil gives it better properties for dealing with larger workloads. It has a wide frequency response and rapid transient response.
These Sony headphones are well built and have good adjustability. The cups are oval in shape for better isolation from external influences and they are very nicely cushioned as is the padded headband which also has a widened mid-drift for better comfort.
The cord is made from oxygen-free copper and measures10-foot in length and comes with a ¼" adapter for its 3.5mm plug. They can fold for a smaller footprint in a tighter studio work-spaces which also makes them more easily portable.
Pros:
+ Great engineering.
+ CCVC.
+ Comfy robust design.
Why We Liked It - It has very capable drivers which can handle the higher capacity strain of a full DAW workload.
Headphones For Mixing Buyers Guide
For mixing purposes the definition, comfort and durability become the center of your concerns and we have done our best to select a few notable sets covering a cross-section of budget ranges but to give you a better idea of exactly what to look for we have gone into a lot of depth in this articles buyer guide.
What type of headphones do I need for mixing?
Typically producers will mix via a set of studio monitor speakers, however, for critical listening, a set of headphones can give the listener the ability to hone in on a specific musical trait. They draw better attention to the nuances within the expression of instruments.
In a recording environment, you need to be looking at studio monitoring headphone sets as they are more accurately tuned to respond, sometimes you will see the term reference in the place of monitoring.
This is because technically speaking you should listen with speakers as they give a better spacial dimension to the audio but a reference set gives you a good idea of how the track will sound to those listening via headphones it is therefore also a crucial way to give your work contemplation.
Because a closed-back set of ear-cups keeps the audio with and directs it to the listener they can be a vital tool for trying to determine the root causes of problems such as hisses, hums, crackles, and pops.
For a more natural audio experience, it is preferable to have an open-backed set they typically have a more extensive response and give the listener a good middle ground between critical immersive listening and the spatial awareness that studio monitoring speakers boast.
What are the Benefits of Mixing with Headphones?
Obviously, there are benefits to having a set of headphones in as much as they provide a private solution ideal if you are in a busier environment or need to keep the volume down.
Mixing a mastering can often be a lengthy process and the neighbors might not be pleased about hearing the same part of a tune on repeat at unsociable hours.
In this sort of home-studio, set-up situation headphone mixing can sometimes be the only way to go making them an essential item.
They are also easier to lug about if you do any local recording as they are lighter-weighted more compact and easily portable.
For this reason, when it comes to DJ use headphones are critical for live mixing and monitoring purposes.
Can I Use a Regular Set of Headphones for Mixing?
Generally speaking, you need to look for a dedicated set for a better result. Studio manufactured headphone sets typically feature a high-frequency roll-off which helps to reduce the volume level of higher frequencies which are naturally louder and non-idyllic close to your ears from a headphone speaker driver.
Most headphones have a frequency response of around 20hz -20khz but they have what we call a curved frequency response which is lovely for listening pleasure but not strict enough to genuinely replicate the input signals.
If you mix listening to a curved response set then master the track it will sound notably different afterward via a set of speakers.
Studio-ready models will typically have a flattened response which, very simply put, means what goes in comes out. They stay far truer to input and this gives them the high-fidelity required to really work with them.
They don't enhance the audio though they may sometimes have a bass boost to allow you to focus in and out of the lower frequencies whilst you are engineering. They try to remain neutral and impartial with a more natural-sounding and honest cross-spectrum reproduction which is far better for audio analysis.
What To Look For in a Set Of Headphones For Mixing?
In addition to the flattened response mentioned above and the extended frequency response glossed over, you should be looking for a good transient response which in essence relates to how quickly the driver components react to an electrical stimulus.
A higher resolution set is better suited to studio use but for DJ use is not quite as important.
Comfort is a vital factor to consider as mixing typically takes a long time. Open-back models can be comfier as they allow for better circulation and have a lower clamp force too.
Technically speaking mixing ought to be done on an open-backed set anyway as they provide a better representation of the audio within a space, this makes critiquing and editing the audio easier as you get a more natural reproduction in comparison to that of a closed-back pair.
They generate an idea or perception of width and depth giving the audio a dimension-like quality known as a sound stage or soundscape.
Open-backed headphones have grilles like a traditional speaker, this exposes their grilles allowing sound to escape and giving ears breathing space which is also better for long periods at the mixing desk.
At the end of the day, comfort is subjective and can rest on the quality of the materials your budget can provide. A premium set may afford you a little more luxury but at the very least even with a budget model, you should be looking for adequate cushions. A strong yet flexible headband which is neither too loose nor too tight, which can adjust a sufficient deal.
We have highlighted some good low-priced options today but there are advantages to coughing up a little extra some premium models have parts which can be replaced and if they are going to be a serious workhorse set it's worth a thought.
Conclusion
If your circumstances insist that you require a closed-back mixing solution then we have you covered, today's headphones make for great options and we have aimed to find a good range at varying price levels.
There are a number on the market advertising idyllic mixing capabilities but not too many living up to it especially in the lower regions which can make choosing a set pretty tough.
We have packed this week's buyers guide full of useful information which we hope will give you all you need to source a set, although as music experts we stress that a set of monitors is always preferable for mixing.
Expert Tip
It is important to remember that headphone mixing can often lack the depth a set of monitoring speakers can provide if you have no other options we suggest looking at an open-backed set instead of the closed-backs we have highlighted here today.
Did you Know
You should give Our 10 Best Beyerdynamic Headphones article is well-worth a good nose, as it contains some awesome studio reference, their engineering is truly exceptional and the critical listening sets are something else we strongly recommend the DT 990 Pro model.
If you've enjoyed this review by Music Critic, please leave a positive rating:
[vc_separator