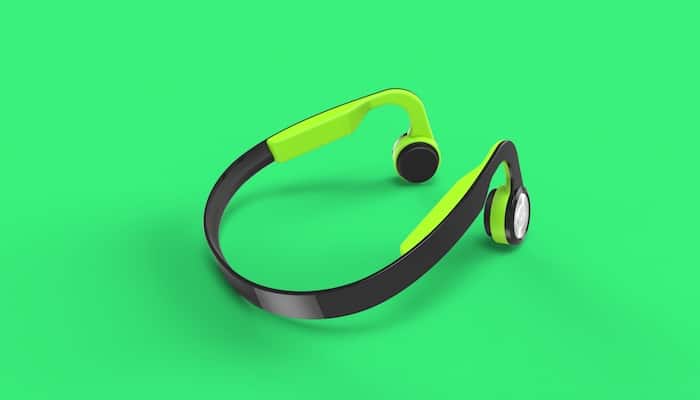 Bone conduction headphones allow you to listen to music through the bones in your skull instead of through your eardrums. This is a fantastic technology for people with hearing loss who are able to listen to music for the first time in a long time. For anyone who is looking to preserve their hearing, it is also a wonderful innovation.
This is not new technology as it is the same way Beethoven found his way through his masterpieces. It can be a little strange for people the first time they listen through bone conduction headphones.
Being able to hear the crunch of gravel beneath your feet while listening to your favorite new album is an odd sensation. Bone conduction headphones allow you to be privy to your surroundings while listening. Anyone who works out in public, works in a busy office, or has kids running around they need to be aware of, will love bone conduction headphones.
If you're reading this, you're probably curious about what the best options are for the best bone conduction headphones. What are some of the key features involved in what makes them the best bone conduction headphones? Let's take a look at our ten best picks of 2020.
At a glance: Our top 3 picks
Your shortcut to our team's top 3 recommendations
View The Best Bone Conduction Headphones Below
1. 1. Aftershoks AS650SG-BR
These headphones are perfect for anyone who is looking for a little extra nighttime safety. They have a reflective strip on the back to alert drivers behind you.They can be seen up to 500+ ft away at night and blend nicely during the day. They are 20% lighter than their counterparts Treks Titanium, and you can wear them long term conveniently with 6-hour battery life.
They are compatible with IOS and Android devices and have wire-free connectivity with Bluetooth v4.2. With non-bone conduction headphones, they can be annoying and uncomfortable in your ear while running. These ones stay right in place and offer a world of difference in terms of workout comfort. The sound is also great for a pair of headphones that allow outside noise to creep in.
Pros:
+ Comfortable
+ Reflective band
+ 6-hour battery life
+ 20% lighter
Why We Liked It - Aftershoks offers exceptional comfort and peace of mind while you're running. The inconvenience of having headphones fall out or disturb the ear canal are eliminated. You know people behind you are alerted to your presence if running at night, You can keep them on all day and not feel like you need to take a break.
Coming in at a slightly lower price point than the number one pair on our list, the Aftershoks AS650MB's are comparable to their relatives. They offer the same Bluetooth v4.2 connectivity, 6-hour battery life, and they are 20% lighter than most other bone-conduction headphones. Compared to other headphones of this style they sound great and will allow you to listen to outside noise and music at the same time.
They are exceptionally comfortable for long term use. If you're a runner you'll love hearing the pound of the pavement beneath your feet. They also have one-touch button control on the headphones so you don't need to reach for your phone to navigate calls and music. The voice and music clarity are pleasing as well.
Pros:
+ Bluetooth 4.2
+ 6-hour battery life
+ Comfortable
+ Lower price point
Why We Liked It - We like these bone conduction headphones because of their simplicity and versatility. They are best suited for workouts because of their "stay in place" design, but if you prefer to listen at home then they are suitable for this as well. You'll be as happy with these headphones as we are.
Most people using bone-conduction headphones are going to want supreme comfort, high-quality sound and a bit of style mixed in. Bonein gives you all of that and more with the BN-702's. They are also equipped with technology that stops sound leakage from your headphones outward. That means you can turn them up a little louder and not worry about people around you being disturbed by the music.
An 11-hour battery life is really sweet and convenient. They have the necessary one-touch button control, and a sweat/waterproof nanocoating to protect your headphones while facing the elements. If you're looking for a reliable, comfortable set of headphones that are great for navigating the outside world, these will do the trick.
Pros:
+ 11-hour battery life
+ Fantastic comfort
+ High-quality sound
+ Wireless connectivity
Why We Liked It - They have perfect connectivity, great sound quality, and blissful comfort. Perfect for anyone who wants to keep awareness of the surroundings while taking care of business. Your signal won't cut out for up to 30ft offering a little extra convenience.
4. Lonefine Bone Conduction Headphones
Open-ear headphones are wonderful if you want to have comfortable headphones that protect your ear-drums and allow you to hear outside noise. Lonefine does not disappoint and offers the technology you are hoping for. Wireless Bluetooth connectivity to IOS and Android devices make Lonefine really easy to use and convenient.
The wireless Bluetooth 5.0 is ahead of most of the competition in terms of reliability and sound quality. With a 2-hour charge, you'll be able to enjoy 6-hours of continuous play time without interruption. You'll also be able to be 10m/33ft away from your device before the signal cuts out.
Pros:
+ Exceptional comfort
+ 30ft range
+ 6-hour battery life
+ Great bone-conduction sound
Why We Liked It - Music quality is pretty good with them and they have a really cool, stylish look. Your friends will be complimenting you on the look of these headphones. They stay right in place while working out, running, biking or any other high impact activity.
Another great set of bone-conduction headphones, the Aiko Model-C will rival the competition in sound-quality, comfort, and style. A 15.3mm vibration generator with a high-accuracy 8 +/- 10% impedance gives you a dynamic range of sound and resonant bass. They stream over 30ft range with Bluetooth v4.2 and weigh only 1.6 oz.
They have a nice, unique pastel color scheme which is designed to fit in with any color you wear. You have sweat/weatherproof technology for peace of mind while breaking a sweat. You'll also get 5-hours of nonstop listening time and 10 days of standby without a charge. It takes only 2 hours to charge up the wireless headphones so you can be up and running in no time.
Pros:
+ Great look
+ Bluetooth v4.2
+ Good price point
+ Sweatproof
Why We Liked It - These headphones simply look great. They fit in nicely with anything you want to wear. They sound great and protect from ear damage. The sound is good compared to other bone-conduction headphones. It's always nice to be able to hear what's going on around you while you're working out.
Keep your ears open to ambient sound with the Obuzoo bone-conductors. You'll be able to hear music and calls clearly while out and about. They sit comfortably around your head and are very lightweight for maximum convenience and wearability. They stay right in place during a run and don't penetrate the ear canal for maximum comfort.
They lack a little bit in the bass column but if you are mostly listening to e-books and podcasts, they will still deliver the sound you want. They stack up nicely to other bone-conduction headphones and will be the perfect accomplice while on the move.
Pros:
+ 5-hour battery life
+ Seamlessly comfortable
+ Nice sound
+ Subtle look
Why We Liked It - A nice and simple design gives these headphones a great look and a little bit of style. It's great that they stay right in place while on a run. The most annoying thing about headphones is the fact that they are uncomfortable and they fall out during a run. They stay where you want them to and blast your music to the beat of your own desire.
7. Aftershoks AS600PK-BR Treks Titanium
Open-ear headphones keep your eardrums free from damage while listening to music. They keep you aware of what's going on around you at all times. These particular headphones have a reflective strip on the back to alert drivers and other road-dwellers to your presence while out at night.
6-hour battery life keeps you going on multiple workouts without a charge. Bluetooth 4.1 offers great connectivity and sound quality. Exceptional comfort makes them great for long-term wear. Sweat-proof nanocoating will preserve the quality of your headphones for a longer period of time. Choose from 3 different color schemes to fit your particular style.
Pros:
+ 6-hour battery life
+ Bright/colorful design
+ Good sound quality
+ Reflective safety band
+ Bluetooth 4.1
Why We Liked It - They offer some peace of mind when going out at night. It's nice to know that people around you can see you from up to 500 feet away. As with all bone conductors, they'll stay right in place. They are lightweight and have good sound.
Protect your eardrums and stay aware of your surroundings with exceptional bone-conduction technology. They have an anti-sound-leakage feature that keeps the music you're listening to in your bones and not out in the world. Bluetooth 5.0 offers fantastic connectivity. A highly sensitive microphone will allow people you are talking with to hear you clearly.
No more dropped calls. You will get Hifi stereo sound quality and an impressive range. An IPS5 weatherproof rating allows you to run, hike, bike, or do yoga without worrying about ruining your headphones with sweat or potential weather. A 2-hour charge will allow you to listen or talk for up to 6-hours uninterrupted.
Pros:
+ Bluetooth 5.0
+ High sensitive microphone
+ Bone-conduction technology
+ IPS5 Sweatproof rating
Why We Liked It - The IPS5 sweatproof rating offers peace of mind while working out. While trying to reach your zen its nice to know that you won't ruin these headphones with sweat running down your cheeks. Bluetooth 5.0 is pretty new technology and really gives you the seamless connectivity you want. The sound is great with Hifi stereo amplification.
Wonderfully ergonomic innovation with an over-ear design gives the Trcode Z9's exceptional comfort. The headset has a titanium-nickel memory strip around the neckband that can be bent up to 15,000 times without losing any structural integrity. Great for driving, running, hiking or any other activity as they give your ears the freedom to hear what's going on around you as well as the music you are listening to.
Your headphones will stay right in place and won't fall off while in high-intensity mode. With their sweatproof rating, you can go all out and these babies will stand up to whatever you throw at them. The Bluetooth is strong and the signal will stay in tact up to 30ft.
Pros:
+ Nickel-memory band
+ Stay in place nicely
+ Good sound
+ Sweatproof
Why We Liked It - The best thing about these headphones is that they will last a long time. They're very durable and lightweight at the same time. The sound is acceptable and offers clear ambient noise. They look nice and subtle and will fit into whatever your style may be.
You'll be set free from any wireless tethers with a fantastic Bluetooth v5.0 connectivity. This gives you seamless signal for up to 33ft and high quality sound without interruptions. With only 2 hours of charging time you'll get 10 days fo standby and 5 hours of continuous listening time. An IPS5 sweatproof rating will give you the peace of mind you want while running.
You don't need to worry about ruining them by sweating too much or getting water on them. They are equipped with ABS and titanium alloy which gives them fantastic durability. They'll stay where you want them to and won't go falling off when you need them in place the most. These headphones are another great pair to be aware of your surroundings while doing your thing.
Pros:
+ Bluetooth 5.0
+ 33ft range
+ Comfortable design
+ IPS5 sweatproof
+ High-quality sound
Why We Liked It - They have decent sound quality and very good battery life. It last longer than what you expect to and adds that element of convenience. The last thing you want is to be halfway through a workout and have the headphones die on you. They are also comfortable and have great connectivity for calls and music listening.
Bone Conduction Headphones Buyers Guide
Sifting through all of the different products and their features can be a daunting and time-consuming task. It can be difficult to know what you should be paying attention to when buying something for the first time. If you have no experience with a specific product, it is important to have a key set of characteristics you are looking for. That way you will be able to narrow down your search quicker and with fewer buyers remorse.
Many factors are going to come into play when picking out the best bone conduction headphones for you. You want to have the confidence that what you are going to purchase will have quality sound, comfort, durability, style, and top of the market features.
We have decided to put together a guide for you to follow that will help you make a decision on what are the best bone conduction headphones for your purposes.
Sound Quality
You buy headphones for one reason. To listen to your favorite music, podcasts, or e-books. Whatever you are listening to, you want to have a sound that will meet your desires. With bone-conduction headphones, you are already aware that ambient noises are going to be present. The sound will not match that of over-ear headphones that cancel out the noise and bring amazing bass.
Bone conduction headphones are designed to keep the sound out of your eardrums and drive directly to your inner ear through your skull and jaw bones. The sound at first can be a little bit different as you won't be used to listening to music in this way. However, it works the same way that talking or coughing does. If you re able to find a set of headphones that fit well looks stylish and sounds good. You'll have a winner.
Comfort
Comfort is one of the main stand-out points of bone conduction headphones. They are designed to sit outside of the ears, comfortably on your head. With many in-ear headphones, you suffer discomfort from having the small plastic bud in your ear. With bone-conduction headphones that is not an issue in most cases. Some variations come with more comfortable designs than others.
You want your headphones to stay where you want them while you are taking part in any activity. If you have a pair of headphones that offer exceptional sound, a good battery life, and seamless connectivity, but you can only wear them for 30 minutes before taking them off, you won't want to pick them up as much. Pay attention to what others are saying about the product and how it has worked for them. If numerous people talk about how comfortable the headphones are, likely they will be for you as well.
Durability
Durability is important in terms of how much you will be able to "beat up" your headphones and how much abuse they can take. Most of the time, people are buying bone conduction headphones for outdoor activities. With high-intensity comes high impact. Accidents can happen anytime and you want to make sure that your music players will not go down easy. Picking headphones with added strength and stability will save you headaches in the future by not breaking down when something happens. Get ones with a good sweatproof rating so that they won't be ruined by moisture.
Style
Imagine you're running along the beach or on the path and everyone is giving you the eyes because of how good you look. That's what the right style of headphones will do for you. You're trying to be a better more fit version of yourself. You may as well look good in the process. There are a variety of styles available out there for you to choose from.
You can get subtle and slick headphones that don't stand out much, and you can also get brightly colored neon style ones that may fit your vibrant workout attire. The style of your headphones will compliment your personal style and brand. Don't be afraid to look your best while you're working up a sweat.
Warranty
If for some reason, something goes wrong and your headphones show up in a different condition than you were hoping, you'll want to have the protection of a good warranty to take care of any issues that may arise. Sometimes manufacturer defects cause issues with sound quality or durability in products.
If you have a solid warranty available, you won't have to worry about easily having the issue resolved. Keep in mind that using chargers and accessories may void the warranty of your product. There are different rules for each product so have that in the back of your mind while picking out your headphones.
Battery Life
Think of how you are going to be using your headphones. Longer battery life can add convenience. If you don't need to be charging up your headphones all the time, you will save yourself some unnecessary headaches. Most headphones these days come with at least a 5-hour battery life which is pretty good for workout headphones. If however, you are trying to listen to e-books or binge watch your favorite show, you may want something with a little longer lifetime.
Conclusion
Bone-conduction headphones are a fantastic innovation. For allowing people with hearing damage to listen to music again it is a real bright light in the lives of some. For others who are aware that regular ears buds can cause ear-drums damage, it is also a healthy alternative. There are some amazing options out there for all of us to enjoy. It's up to you to find the pair of bone conduction headphones that fit your style and desire. We hope our top ten list guides you along the path to enjoyable listening.
Expert Tip:
Be sure to check the compatibility of the new headphones with the device you are using. If they are compatible, there will be no problem setting everything up and being off to the races. If they are not compatible, you won't have that ease. Avoid disappointment by pre-checking to make sure everything will work together.
Did you know?
The three smallest bones in the body are the malleus, incus, and stapes. These three bones work together to transmit sound vibrations to the brain. Breaking one of these bones can cause a common type of hearing loss called conductive hearing loss.
If you've enjoyed this review by Music Critic, please leave a positive rating: