In this article, we're going to be reviewing the 10 best over-ear headphones in 2023. We've picked our favorites because they deliver in a range of key areas. Regardless of your budget or needs, you'll be able to find a product on our list that will appeal to you.
The key features that it's crucial to look out for are comfort, sound quality, and durability. If the headset is wireless, then it's also important to consider the battery life. Some headphones are also loaded with technology such as a microphone, active or passive noise cancelation, and LED lights. It's essential that the technology is effective, of course, and you can be certain that all the products in our top ten deliver in this regard.
After our reviews, you'll find a useful buying guide that will answer all the questions you might want to ask before you invest your money. By the end of the article, you'll be ready to spend your dollars wisely.
If you're looking for bass-heavy headphones or superb studio reference sets, then you'll be pleased to know that this article has got your covered. Let's get started with the reviews!
At a glance:

Our top 3 picks
Our team's top 3 recommendations
Best Overall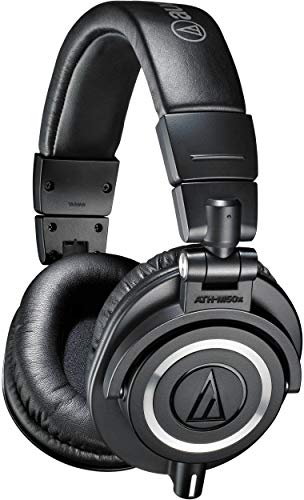 Audio-Technica ATH-M50x Professional Studio

Large-aperture drivers that deliver great sound
Wide frequency response
Portable
Premium Quality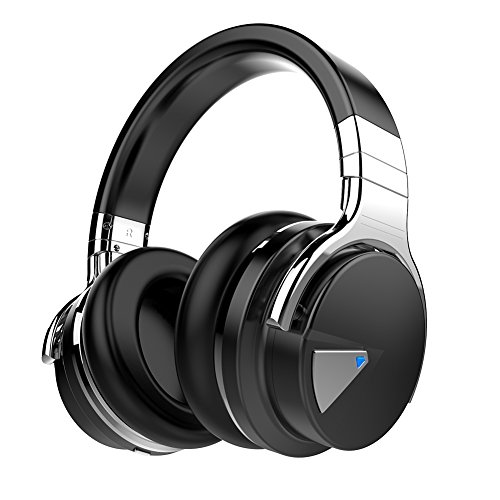 COWIN E7 Active Noise Canceling Headphones

Large-aperture drivers that deliver great sound
Wide frequency response
Portable
Great value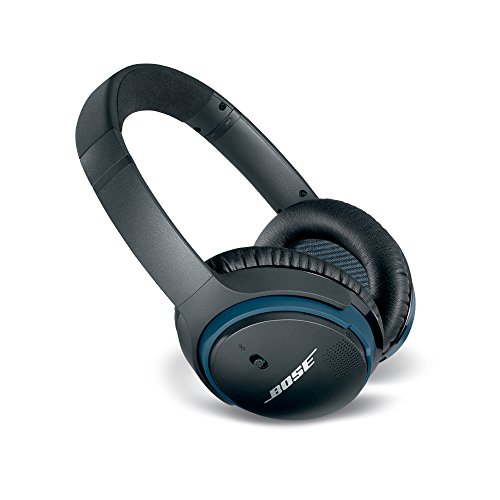 Bose SoundLink around-ear wireless headphones

Large-aperture drivers that deliver great sound
Wide frequency response
Portable
View The Best Over Ear Headphones Below
1. Audio-Technica ATH-M50x Professional Studio
Top of our list is a reasonably priced, premium product that's extremely popular both with critics and consumers. Audio-Technica is a company that's known for its quality, and this headset doesn't disappoint.
It features large-aperture, 45mm drivers that deliver a broad frequency response. The natural sound quality is ideal for home studio monitoring. To ensure that it offers enhanced bass reproduction, the cones have a larger surface area, which is more advanced than regular 40mm driver headphones.
On top of the premium drivers, this product features rare earth magnets, and also premium voice coils, which are clad with high-grade copper. The quality of all these components is flawless.
These headphones also deliver ample comfort. You can wear them for prolonged periods without any fatigue. The combination of exceptional audio quality and premium comfort makes them ideal for audiophiles. To ensure the comfort that they offer, they feature circumaural ear cups that rotate 90-degrees. Both the ear cups and the headband are cushioned with foam.
You have two options when it comes to the cord. There is a straight one and a coiled one, which both plug effortlessly into your device. They're also collapsible and come with a storage case, which makes them highly portable.
Pros:
+ Large-aperture drivers that deliver great sound
+ Wide frequency response
+ Portable
Why We Liked It - It's quite simply a premium product that comes with an affordable price tag. Our favorite feature has to be the accuract sound quality and wide frequency response, which both make them a good option for studio monitoring. Audiophiles will not just be impressed by the quality of sound, but will also love how comfortable they are to wear, we think.
2. COWIN E7 Active Noise Canceling Headphones
Next up, we have another set of large-aperture headphones that are available for an affordable price. Made by Cowin, these over-ear, Bluetooth headphones feature some of the best noise cancellation technology that you'll find in the budget price range. Cowin has produced a more advanced model than this one, but we prefer the older version, as it's available for a mere fifty bucks, and is just as good as the newer model.
Featuring 45mm drivers - just like the Audio Technica product that topped our list - these headphones deliver exceptional bass performance. Indeed, the sound isn't studio-level quality but you don't expect that for the price. They are, however, ideal for everyday use. They include Bluetooth technology so that you can wear them wirelessly, and they also have an in-built microphone for voice calls. Perhaps the most impressive feature of this product is the active noise-canceling technology, which is highly effective and is something that you'd be more likely to find on more expensive products.
They offer well-balanced sound with a wide frequency response. There is a depth to the sound that adds to the listening experience. They also deliver on the low end, with the bass being very powerful and also free from distortion. We found the high frequency to be crisp and well defined too. For budget headphones, the sound is truly hard to fault.
In terms of comfort, this product also delivers. The ear cups swivel so that you'll be able to move your head freely without needing to adjust their position. They're also cushioned with memory protein, meaning that there's no fatigue when wearing them for long periods.
You get a whopping 30 hours of playtime from a single charge, although if the ANC technology is turned on, then this will reduce the battery life. They come in a range of colors, allowing you to choose a set that suits your style. If you prefer an understated black, then you can get the headset for a third of the price of the brightly colored alternatives.
Pros:
+ Noise-canceling technology
+ Affordable price
+ 30 hours battery life
+ Great sound quality
Why We Liked It - It's rare to find budget headphones with effective ANC technology. That's exactly what this product is, and it's why we love it so much. The sound quality is also very good, making this product perfect for audiophiles on a budget. A great product, in our opinion, that will satisfy lots of music fans.
3. Bose SoundLink around-ear wireless headphones
Anyone with a basic knowledge of audio equipment will be aware of how highly regarded Bose is. It is the company when it comes to premium products that deliver exceptional sound quality. These Bose SoundLink, wireless headphones certainly don't disappoint. The audio reproduction is one of the best around. If you're willing to spend a little extra, then you'll be assured quality with this product.
They feature the latest Bluetooth technology, which ensures a stable, secure connection to your device, and it also means that pairing them with your smartphone is a breeze too. You can sync them with two devices simultaneously, as well as receive a good connection with a range of 30ft. The battery life is equally as impressive, with them delivering 15 hours of playtime from a single charge.
Of course, as you'd expect from Bose, the drivers are of the highest grade. These headphones also include noise-cancellation technology, TriPort tech, and Active Equalization, which means that the bass, mids, and treble levels are adjusted in real-time so that you get the most balanced, natural sound quality.
The whole unit is incredibly lightweight. You'd hardly notice it when you're wearing it. The ear cups are also made from impact-resistant materials so that you don't need to worry about breakage. Also, the comfort that they offer is as premium as you'd expect from Bose. They're a pleasure to wear.
Pros:
+ Up-to-date Bluetooth technology
+ Great audio quality
+ Very comfortable
Why We Liked It - We like them because they're made by Bose, and that means that they deliver exceptional quality in every single ares. You get sensational sound, premium comfort, and a durable build. Yes, they're a little pricy, but we think that they're well worth spending extra for, especially when you consider the advanced technology, like active noise cancelation technology and Active Equalization.
4. Sony MDR7506 Professional Large
This product is made by Sony, another company that has a superb reputation amongst audio experts like ourselves. It's a set of reference headphones that delivers a professional listening experience, which is ideal for use in a studio. The reason they deliver such good sound quality is down to the 40mm drivers that have neodymium magnets.
The diaphragms are formed from PET and are very responsive, providing detailed, high-fidelity audio.
The build quality is very high level. One example of this excellent construction is the ear cups, which swivel freely and deliver profound comfort. They are also generously padded to ensure that long mixing and mastering sessions are a pleasure.
The flexibility of the cups means they can fold-away compactly. They even come with a storage bag you can keep them in. They feature a coiled cord that's less prone to wear and tear, and it allows for a good range of motion.
The connectors utilize gold to keep the signals free from interference, which further enhances the audio quality. They also come with a Unimatch plug, meaning that they can be used for ¼" and 1/8" ports. It's a very versatile product.
Pros:
+ Affordable
+ Comfortable for long periods
+ Coiled wire
+ Ideal for critical audio analysis
Why We Liked It - They provide great audio response and are very well designed. The price is remarkably reasonable considering the quality, and they are well-suited to anyone with a home studio setup. Overall, they're exceptional headphones that are manufacturered by a company that can be relied on for long-lasting performance.
5. AKG K240STUDIO Semi-Open Over-Ear
AKG products are known for their high-sensitivity. They also offer a wide range of dynamic frequency response. Ths K240 model is one of AKG's lower-end products which still benefits from the high-grade components that's associated with the brand.
They are semi-open back headphones, which include AKG's innovative, Varimotion diaphragms. This means that they offer a larger surface area, including transducers that are three times larger than many other similarly sized products.
They deliver excellent quality sound with the fluid dynamics that you'd expect from AKG. This is a company responsible for the legendary AKG K140 and K240 headphones which have become one of the most widely used professional studio headphones worldwide since they were first put on the market in the 1970s.
They feature a very comfortable, self-adjusting headband with a sturdy but flexible steel framework. The headband molds to the user's head-shape for an optimum fit, and the steel ensures that they deliver long-term durability.
The ear cups are mounted using a gimbal-like suspension, which gives them good flexibility and better comfort.
They are built with a detachable cable for better longevity. This product also comes with a mini XLR, which will be handy for anyone who has a home studio.
Pros:
+ Exceptional sound quality across the board, including lovely bass
+ Robust design
+ XXL transducers and Varimotion diaphragms
Why We Liked It -  It's an advanced product that benefits from the decades of experience AKG has. The components inside these headphones are very high quality, with our team being particularly impressed by the Varimotion diaphragms. Considering how reasonable the price is, this product offers superb value for money, we think.
6. Mpow 059 Bluetooth Headphones Over Ear
Next, we have a product that will suit any bargain hunters out there. It comes with a very low price tag. But don't let that fool you. These Mpow headphones feature cutting-edge technology that makes them a good option for anyone who doesn't want to compromise on quality despite a low outlay.
These budget-friendly headphones are very well-designed with great attention to detail, and they include some excellent features that we were highly impressed by.
They have closed-back ear cups, which help to eliminate any sound leakage, allowing you to focus on the sound that they deliver. They also feature comfortable memory protein cups and a memory foam, padded headband. Both of these components make them ideal to wear for long periods.
They have up-to-date Bluetooth technology for a stable, wireless connection. They conveniently fold-away, which makes them a solid travel option, as they can be easily placed inside a bag when folded into a compact shape. With a 20-hour battery life from a single charge, there's also no need to worry about being caught short on a long journey.
To enhance durability, the headband also features a stainless-steel slider that won't break anytime soon, we think.
They have large, 40mm drivers that perform very well thanks to the over-sized neodymium magnets that are incorporated into them. The audio signal processing technology is programmed into the circuitry to optimize bass frequencies and provide deeper high-quality audio. The sound is also completely free from distortion and we found it to be very dynamic too.
Pros:
+ Durable build
+ Fold-away design
+ Optimized bass signal processing and great sound quality
+ Skin-friendly, memory protein leather
+ Bargain
Why We Liked It - They're portable, durable, and comfortable to wear. We were big fans of the excellent sound quality that they also deliver. The price is hard to believe, making them a great budget option, in our opinion.
7. Sony Noise Canceling Headphones Over Ear
Our second selection from the skilled engineers at Sony is one of its most popular and admired products. It has been critically acclaimed for providing one of the best versions of noise cancellation technology on the market.
This model is the third version that Sony has produced of these earphones. With each new edition, the quality has been improved, and that's resulted in this highly impressive product. It's got a slim, lightweight headband that features an ergonomic design so that it remains comfortable when worn for long periods. This product features high-grade components that have been manufactured with a lot of attention to detail. Not only does this product look good, but it is equally as impressive when it comes to what is inside it too.
These headphones feature high-end, large aperture, liquid crystal diaphragms, that provide a smooth but dynamic response. They are compatible with high-resolution audio files because they can process 32-bit signals, as well as the standard 24-bit signals. The audio is rich and smoothly balanced, delivering pristine definition across a broad range of frequencies.
They offer many modern conveniences, thanks to their current stable Bluetooth connectivity and fantastic, award-winning, noise-isolating microphone.
This product can also be used with Sony's headphone app. Assisted by the app, users can micro-adjust the settings to suit their preferences. These wireless headphones utilize the smart listening feature by Adaptive Sound Control. They are also Alexa compatible, and of course, provide hands-free calling.
Despite their advanced noise-canceling capabilities, the energy consumption is noticeably low. A full charge can provide up to 30 hours of battery life. They also benefit from a rapid recharge function, providing 5 hours of playtime from a short, ten-minute charge.
Pros:
+ Critically acclaimed model
+ Premium diaphragms
+ Superior, noise-cancelation technology
+ Rapid recharge function
+ Comfortable design
Why We Liked It - We love the app-assisted personal optimization options, which provide more detailed equalization of sound, allowing for intuitive audio control. They're extremely comfortable too. The price, of course, is reasonable, as well.
8. Paww WaveSound 3 Bluetooth 5.0 Over-Ear
Made by Paww, the WaveSound 3 headset is an improved version of the much-loved WaveSound product that's sold very well over the last decade. It features an over-ear design, effective wireless technology, and is very reasonably priced, costing much less than one hundred bucks.
They have large 40mm diaphragms which are driven by beryllium magnets, which are used in most high-end headsets. These components enhance performance, accuracy, and sound quality. This product reproduces exquisite, well-balanced sound, which is loaded with accurate detail. They are equipped with expertly engineered electronics and are custom-tuned to the company's own optimized, dynamic, response patterns. In our opinion, the sound is simply sublime.
Another top feature of this product is Bluetooth 5.0 technology, which is the most up-to-date version of Bluetooth. That means that you get a strong, stable, and secure connection at all times. This product also features AptX technology, which ensures that there's little to no latency when connected via Bluetooth.
They have an ultra-light soft protein padded ear cup design. Each ear cup is free to swivel. The comfort-coated foldable headband also means that you can wear them for hours. They barely weigh 7 Oz. They fold compactly to store when not in use.
They also feature active noise cancellation technology, which means that external sounds won't distract you from listening to your music in stunning detail.
Pros:
+ Beryllium drivers
+ Bluetooth 5.0 technology
+ Low latency
+ Noise-canceling technology
+ Comfortable
Why We Liked It - Featuring advanced technology, like ANC and AptX, these headphones are a pleasure to use. The price tag is very reasonable, considering all the cutting-edge technology integrated into them. We found them to be very comfy to wear too. This is simply a fantastic product.
9. Mpow H5 Active Noise Canceling Headphones
There aren't many other products around that deliver the same quality as Mpow's H5 model for the same price. For less than fifty bucks, these headphones deliver a lot of quality across the board. Durability is one of the best features of this product, as it has been subjected to a bending machine so that it will withstand more than 10,000 bends without it breaking. Not only is it durable, but it is also highly flexible, which contributes to the comfort it offers, and which we'll now move onto.
The ear cups are lovely and soft, as they have been padded with memory protein. The headband and ear cups are also adjustable. It's easy to find a position that delivers premium comfort.
Unlike the previous Mpow product we've included in today's article, this one offers active noise cancellation, which is a superb feature for anyone who commutes or travels regularly, as it helps to block out external noise.
While Bluetooth 4.1 technology might not be the most up-to-date version currently available, it's still highly effective and ensures you get a strong, stable connection with very little latency. You can also connect to these headphones wirelessly with a range of 30ft.
The battery is incredibly impressive, especially given that this is an active noise-canceling headset. The rechargeable lithium-ion battery can offer up to 30 hours of playtime from a single charge, although the ANC will cause the battery life to reduce more quickly.
Pros:
+ Active noise-canceling technology
+ Comfy to wear
+ Highly durable headband
Why We Liked It - This product offers incredible value for money. For just fifty bucks, you get a headset that includes active-noise canceling technology. We also were impressed by the durability, comfort, and sound quality that these budget, wireless headphones offer. A superb bargain.
10. Sennheiser RS 175 RF Wireless Headphone
Last on our list is an exceptional product from Sennheiser, which is a company you'll likely know, as it's one of the leading manufacturers of high-end audio equipment in the world today. The level of standards when it comes to the build quality is evident with this product. It features an ergonomic design that delivers enhanced comfort. Not only are they a dream to wear, but these headphones also offer crystal-clear, detailed audio too.
One of the reasons why they deliver such good sound quality is that they feature large-aperture, dynamic drivers that offer enhanced processing capabilities. There are in-built EQ settings so that you can choose one that is designed for your needs. For example, the Bass Boost setting will add more beef to the low-end, while film fans will enjoy the Surround Sound setting when using these headphones to watch movies.
It's easy to control volume, as well as skip, pause, or play tracks, as there are intuitive controls integrated into the ear cups. This product comes with a charging dock. And it's possible to connect to several devices at once, with it being easy to toggle between the devices too.
These headphones also feature one of the best pieces of active noise-canceling technology on the market too. It's highly effective and can reduce the sound of a jet engine into a whisper. The wireless range is also impressive. You can connect to a device up to 328ft, as long as the signal isn't impeded.
Pros:
+ High-end wireless headphones
+ 328ft range
+ Ergonomic design
+ Active noise cancellation technology
Why We Liked It - This is an excellent product. We loved the accurate and detailed sound quality that they delivered. We're also big fans of the ergonomic design, which provides you with a comfy, secure fit. You get what you pay for with Sennheiser, and that means that you get exceptional quality.
Over-Ear Headphones Buyers Guide
What To Look For When Buying Over-Ear Headphones?
If you've never bought over-ear headphones before, then you might wonder what it is that you should be looking out for. We're now going to look at those key features so that you can then make an informed choice.
Open Vs Closed?
Closed-back headphones direct the sound toward the listener, immersing them in audio. They help to shut out background noise, which makes them great for noise cancellation. Some audiophiles, however, think that the sound quality can come across as a little synthetic.
Closed-back headphones are best for public settings, as those around you are less likely to be able to hear what you're listening to. You will also be unable to hear the noise that the people around you are producing too. Closed-back headphones can be uncomfortable for long listening sessions, as you can become overheated if they don't feature a breathable design.
Open-back headphones are more natural sounding. They give the sound a more spatial quality. Open-back models can demonstrate directional sound, giving users a more multi-dimensional listening experience.
That means, however, that the bass has less of an impact as compared with closed-back models. Some find the audio too airy. The lack of noise isolation means that you can hear everything going on around you, and there is also sound leakage, so the people around you will also be able to hear what you're listening to. That being said, an open-back set can be safer when traveling, as it can give listeners a better awareness of their surroundings.
Semi open-back headphones are a good compromise. They offer the dimensional sound advantages of an open-back headset. They still filter the audio straight to the listener and provide a little noise isolation, but they are cooler and comfier. The drivers are more efficient, thanks to the extra airflow. This means bass and treble frequencies are often far more defined.
Wired Vs Wireless?
The most important thing to think about is your lifestyle. This will indicate whether you need a wired or wireless pair. If you're looking for a way to privately listen to your tunes and intend to use your headphones as an extension of your mobile, iPod, or other devices, then, ultimately, a wireless set may benefit you, as they usually feature touch controls. This is best for easy switching between calls and audio.
If this is the case, look for a wireless pair with Bluetooth and NFC. Get a decent mic with active noise cancellation technology if you want to have the option to make voice calls, as well as to be able to use a voice-controlled assistant, such as Alexa or Siri.
However, one feature you'll need to be aware of with a wireless set is battery life. Good battery life for over-ear headphones is at least fifteen hours. Anything below this is sub-standard, in our opinion. You should only consider less than ten hours if you're purchasing earbuds rather than headphones. For wireless headphones, then you should be looking at around twenty hours, we think.
You can get wireless, over-ear headphones with and without noise-canceling technology. However, be aware that if you activate the noise-canceling technology when wearing wireless headphones, then it will drain the battery quicker. The good news is that most headsets include the option to switch this technology on and off.
If you want to monitor or mix audio you will, ideally, want a more direct signal. In that case, go for a wired headphone.
For studio use, the set you select will need to operate with higher resolution audio. Live use will need zero latency. The clarity, fidelity, comfort, build-quality, and durability of over-ear headphones are paramount. Studio use means long listening sessions and much more general wear and tear as you work between headphones and speakers.
It's important that the ear cups can rotate. This makes them more flexible, which relieves pressure on your head, reducing the possibility of fatigue. They should be adequately cushioned to provide comfort. The cushioning should be skin-friendly and breathable, ensuring that you are less likely to suffer from hot ears and sweaty ear-cups.
We suggest going for coiled cords, as they are tougher but still provide good reach. They should have reinforcement where they meet the headphones or be detachable.
Once you know what you want and expect from your headphones, then you can narrow down the choices and the market becomes easier to navigate.
Conclusion
If you're serious about sound quality, then choosing over-ear headphones is certainly the best option. The only reason to choose an earbud option is if over-ear headsets are too bulky. Otherwise, you're better with over-ear models, as they deliver a much more immersive listening experience.
No matter what your budget is, you'll be able to find a high-quality product, as you will have learned from the wide range of products that we have reviewed in our article. You can get great value for money from a budget model or you can pay the big bucks to get headphones that deliver a premium experience that will suit both audiophiles and studio engineers. The key, regardless of how much you spend, is that you choose a product that delivers durability, comfort, and includes effective components. You might also want to consider the advanced technology that's included in each headset too.
Once you've worked out if you want open-back or closed-back headphones, decided if you want a wireless or wired model, and defined what levels of comfort you require, then you should be in the best position to invest your money. We can certainly recommend any of the ten products on our list. We hope that you've found this article valuable.
Expert Tip
If you still aren't sure about what type of headphones to opt for, then read our 10 Best Beyerdynamic Headphones article for an in-depth overview of one of the leading brand's ranges of products.
Did you Know
Beyerdynamic produced one of the world's first dynamic-balance headphone models in the 1930s. That was just a decade after the company was founded. Bayerdynamic and Sennheiser are two of the oldest manufacturers of headphones in the world.
If you've enjoyed this review by Music Critic, please leave a positive rating:
[vc_separator